Article
Learning Hub
Pricing
Timber Cladding
How much does timber cladding cost?
Timber cladding is a fantastic way to elevate the look of your home or office. However, something that holds many people back is the fear of how much it costs. Timber cladding doesn't have to be wildly expensive.
Here at Mortlock Timber, we offer our own style of timber cladding we call Trendplank. In this article, we'll break down the cost of our timber cladding and walk you through the different factors which might affect the final price.
How much does Timber Cladding cost?
Trendplank timber cladding comes in a wide variety of options which will affect the final price one way or another.
The factors that affect how much timber cladding costs include:
Timber type or species
Board size
Finishes
Installation and labour cost
Timber Type
For an 18mm thick board, the average cost ranges from $110 – $350 per square metre, depending on the type of timber chosen.
Different timber species are more or less expensive, depending on their properties, the amount of transport and handling, and the scope of processing they require.
The table below shows the different types of timber we offer and their relevant price ranges indicated with a $ symbol. The higher the price the more $ symbols are shown.
| Timber Type | Price Range | Timber Type | Price Range |
| --- | --- | --- | --- |
| American Oak | $$$$ – High | Vic Ash | $$- Med-Low |
| Burnt Ash | $$$ – Medium | Pacific Teak | $$- Med-Low |
| Blackbutt | $$ – Med-Low | Spotted Gum | $$ – Med-Low |
| Ironbark | $$ – Med-Low | Jarrah | $ – Lowest |
| Vacoa | $ – Low | | |
Read more about: What is the best timber to use for exterior cladding?
Board Size
Board size simply refers to the dimensions of each timber board. The thicker the board the higher the cost will be.
Generally the same thickness board, regardless of the width, will be similar average price per m2 (depending on the timber species). Typically thicker boards are mixed with thinner boards.
The two main considerations when selecting a size are:
The thicker the board the higher the purchase price per square metre.
The narrower the board, the more lineal metres of timber you need to install per m2. This means installation costs will increase by selecting a narrower board.
Our cladding profile, Trendplank, is available in two standard sizes:
Custom sizes are available on request as per table below:
Finishes
Timber finishes are the coatings that are applied to the surfaces of the timber to help protect it and preserve its beauty. There are many different types of finishes available, each varying in project suitability and cost.
The most popular finishes we offer at Mortlock Timber are:
Clear Cutek Oil
Clear Cutek Oil is a penetrating oil that is designed for external use and can also be used for internal applications. It works by penetrating the timber to protect it from the inside out. Commercial and house cladding exposed to the weather will need regular re-application of oil to preserve its appearance.
Average cost: $12 – $35 p/m2
Fireshield TIMBERCLEAR
Fireshield TIMBERCLEAR 1FR clear timber intumescent coating is a factory-applied coating that achieves a Group 1 and 2 fire rating to internal timber surfaces. TIMBERCLEAR 1FR can only be used on internal surfaces.
Average cost: $80 – $140 p/m2
Enviro Clear (water-based)
Enviro Clear is a water-based low volatile organic compound (LVOC) product for interior use only. It is a film-forming, a non-yellowing coating which is easy to clean and requires minimal maintenance.
Average cost: $60 – $100 p/m2
Sioox Wood Protection (water-based)
Sioox wood protection is a water-based impregnation system that can last up to 7 years. It is based on proven silicate technology and natural products to give timber long-life surface protection. Over time the coating develops a beautiful natural silver-grey nuance as the timber matures.
Average cost: $75 – $100 p/m2
Please note: the pricing above is indicative and does not include the timber. It only includes the price to factory apply these finishes. For an accurate quote, please contact us!
Timber used for exterior cladding will need regular maintenance if exposed to weather elements. Interior wall cladding is much more low maintenance.
Read more about: How long does timber cladding last?
Installation
The price for installation depends on a wide range of different factors. For example, to just install the cladding this could be as low as $50 p/m2.
If the project is complex and includes several corners in the façade this would include more accessories like corner trims and end stops which would be additional costs that drive up the installation price.
Then there's the scope of work that the builder requires the installer to include in his quote. This could include constructing the wall frame, battening out the wall and wrapping the building in sisalation. All of these services will drive up the total cost of new cladding.
Please note: Mortlock Timber is a manufacturer of timber products only and does not offer installation services.
How does Timber Cladding compare to other cladding options?
There are several options when it comes to choosing a cladding material. In addition to hardwood timber cladding, there is timber weatherboard cladding, vinyl cladding, uPVC cladding and stone cladding.
With the exception of stone cladding, many of the other options have a cheaper average cost per square metre compared to hardwood timber cladding. However, it is also important to consider installation costs, maintenance costs, durability and appearance when investing in internal or external cladding.
Few house cladding options compare with the aesthetic standard that can be achieved with timber cladding. Timber ages well, in the long run, is a durable material and remains a popular choice because of its natural beauty.
View our Timber Cladding pricing and product guide
For in-depth information about the range of products we offer, please fill out the form below to download our Architectural Timber Pricing and Product Guide. Inside you will find illustrations, specifications, portfolio photo examples and a hardwood timber price guide to assist with budgeting.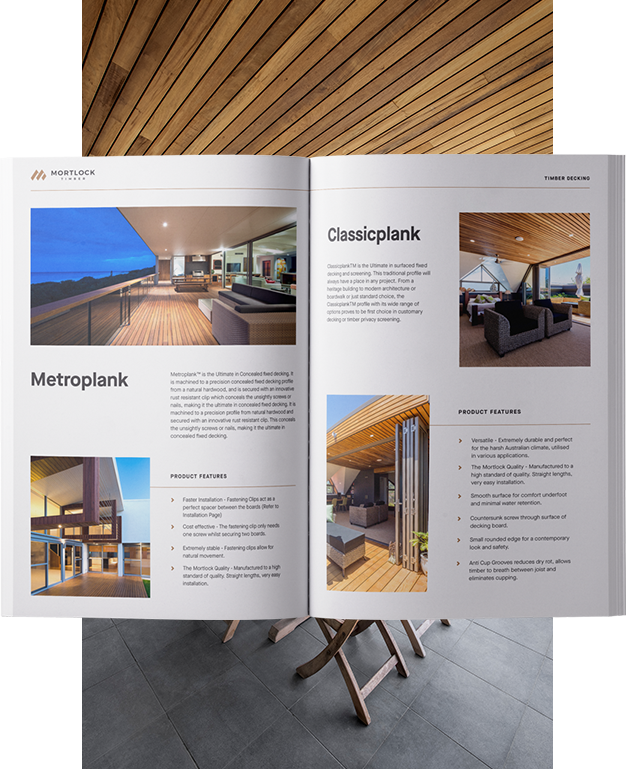 We are committed to bringing you timber products that add value and endure for years to come, even in heavy traffic and harsh weather conditions. We understand the value of efficiency when it comes to installation and keeping hardwood timber costs down. That's why we've spent decades perfecting our designs to make them easier to handle, less wasteful and more efficient to install. This efficiency allows us to offer you premier products that are more cost-effective so that you can experience greater savings on timber wall costs, timber ceiling costs, timber cladding costs and timber decking costs.
Download our Pricing and Product Guide for our complete hardwood timber price list including timber decking prices, timber wall prices, timber ceiling prices and timber cladding prices.