What is the Best Timber to use for Exterior Cladding?
Exterior timber cladding is used in modern architectural designs all over the world to create some of the most impressive residential and commercial buildings. Since the Australian climate can be particularly tough, you might be wondering what the best timber to use for exterior cladding is.
In fact, the failure or early aging of external timber is typically not due to the wood species chosen. Instead, the fault is usually because the timber has not been treated correctly, installed optimally or maintained properly.
When timber suppliers understand the unique properties and suitability of each species, timber, even exterior cladding, can have an impressively long life. In fact, quality architectural timber should be able to withstand the harsh elements and maintain its natural beauty for years to come.
Mortlock Timber offers specially selected timber species that are suited to exterior uses, these include:
Timber species are also available in different finishes which include:
Shou Sugi Ban finish (charred timber)
Natural Oil
Sioox Weather Protection (weather timber look)
Custom Stain Options
Is your timber treated properly?
The durability and longevity of products such as timber decking and cladding can be enhanced by treating the timber. The treatment process helps the wood repel termites and resist the growth of fungi.
Although the specific process varies depending on the wood species, treating timber usually involves inserting preservatives into the timber cells via a carrier agent such as water or oil. In Australia, particular standards and minimum preservative penetration requirements must be met.
Consider natural protection: Shou Sugi Ban.
Shou sugi ban is a traditional Japanese method of charring timber with fire to make it more durable. The black carbon layer that forms on the surface of the wood protects the wood from moisture and harsh weather elements.
Although shou sugi ban was traditionally used on Japanese Cedar, Mortlock Timber has refined the process to translate on a wide range of hardwoods. Burnt Ash, Fine Sawn Jarrah and Spotted Gum are particularly suited to the shou sugi ban method because of their durability and stability.
The shou sugi ban technique is making a modern comeback, thanks to its handmade process and striking aesthetic. Shou sugi ban cladding is surprisingly versatile and has been used in modern architectural projects as both interior and exterior Timber wall. Far superior than black paints and stains, shou sugi ban is the artisanal choice.
Want durable cladding? Design makes all the difference.
When exterior timber is exposed to the elements, it's the design that often determines how well it performs. Timber naturally moves, expands and retracts in response to the environment. The most durable designs find harmony with this phenomenon and work with the natural movements of timber rather than ignoring them.
Our Trendplank profile is a concealed fixed cladding system which has been expertly designed to allow for the natural movements of timber. The boards are installed using 'end matching', which is a tongue and groove profile that improves waterproofing. The Trendplank profile can be created with a wide range of hardwood timber species, allowing you to achieve the look you want. 
Using timber is less exposed areas like ceilings and soffits also reduces maintenance, with little or no exposure to rain or the suns UV rays, the timber is protected and no maintenance. For example the Aria Apartments project in Swanbourne used our Trendplank cladding in Blackbutt timber on the exterior ceiling of the communal area. Using timber in this way means timber can still be used to create warmth and atmosphere with maintenance.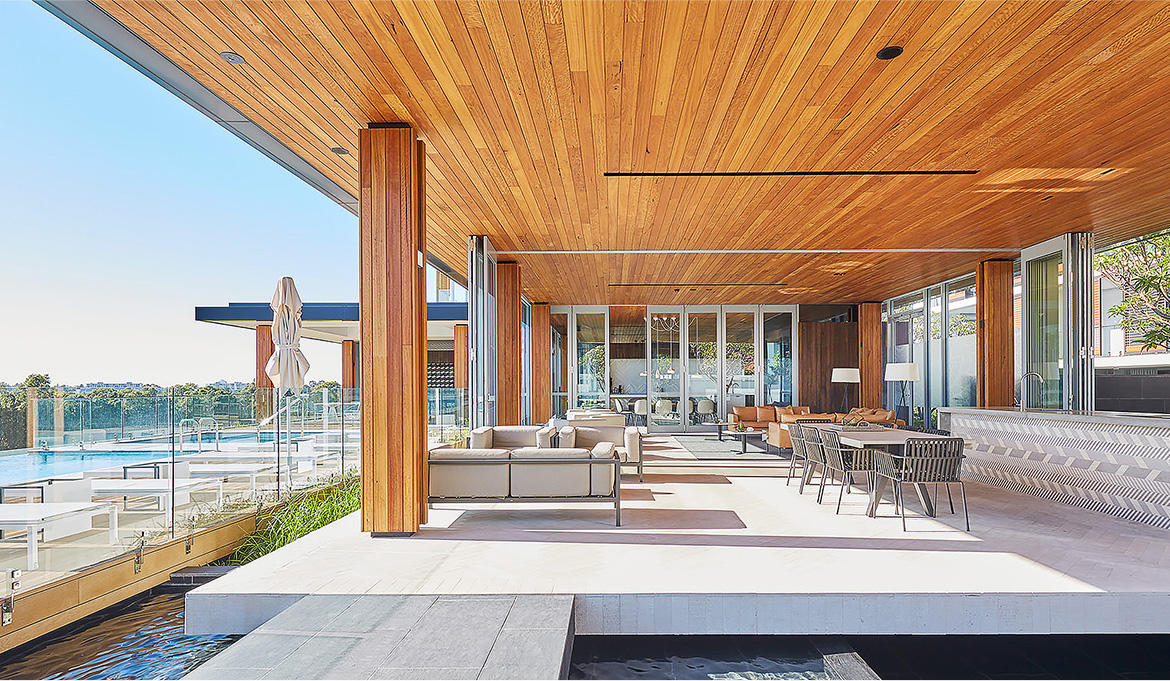 Maintenance: Giving your timber a bit of love.
When coated properly, designed well and chosen suitably, timber requires little maintenance.
In exterior applications that are exposed to harsh sun, it is important to check the timber as UV light can lead to yellowing or silvering of the timber. Preserving the aesthetic integrity and restoring the natural colour of timber is easily done by regular cleaning and recoating. Although it varies from project to project, recoating exterior timber every 12-18 months is recommended to preserve its appearance and natural colour.
The other option to reduce maintenance is to allow the timber to weather. This means very little maintenance even on external timber, however the colour of the timber will fade to a silver grey colour, this can sometimes reduce the maintenance from 12-18 months up to 4-5 years depending on the application and location of your project.
Take your modern architectural design to the next level.
Timber exteriors are an excellent way to elevate any residential or commercial project. Wood is one of the most environmentally friendly building materials and offers sensory beauty in a way that synthetic materials cannot compete with.
In this Eagle Bay residence, floor to ceiling windows are paired with Pacific Teak timber to create a warm and light-drenched home. The Trendplank profile emphasises the simplicity and elegance of the architectural design.
The Cradle Mountain Visitor Centre showcases how Silvertop Ash can add a flash of warmth and texture to commercial buildings. The natural elegance of the Trendplank profile makes the Visitor Centre blend harmoniously with the landscape.
Whatever project you are working on, Mortlock Timber has timber features for every design. Thanks to our treatment processes and advanced designs, we offer a wide variety of timber species that work excellently for exterior applications. Browse our timber cladding solutions or get in touch to order a sample today.
View our pricing and product guide
For in-depth information about the range of products we offer, please fill out the form below to download our Architectural Timber Pricing and Product Guide. Inside you will find illustrations, specifications, portfolio photo examples and a hardwood timber price guide to assist with budgeting.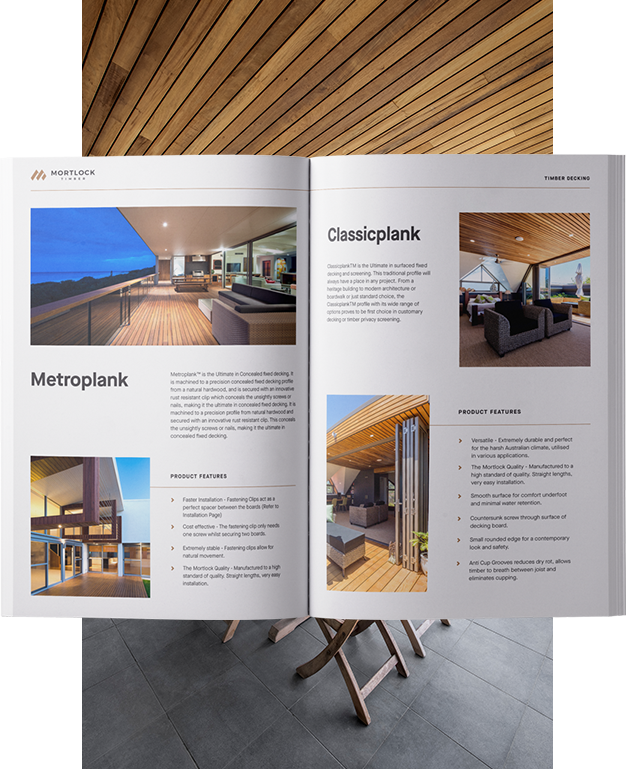 We are committed to bringing you timber products that add value and endure for years to come, even in heavy traffic and harsh weather conditions. We understand the value of efficiency when it comes to installation and keeping hardwood timber costs down. That's why we've spent decades perfecting our designs to make them easier to handle, less wasteful and more efficient to install. This efficiency allows us to offer you premier products that are more cost-effective so that you can experience greater savings on timber wall costs, timber ceiling costs, timber cladding costs and timber decking costs.
Download our Pricing and Product Guide for our complete hardwood timber price list including timber decking prices, timber wall prices, timber ceiling prices and timber cladding prices.