Article
Learning Hub
Timber Cladding
Timber Walls
Trendplank
How long does Timber Cladding last?
Timber cladding for ceilings and walls is often chosen for its warmth and textural beauty as well as its superior sustainability. In the harsh Australian climate, can timber maintain its structural and aesthetic beauty?
With the right treatment processes, design and maintenance, architectural timber is incredibly durable, even when exposed to the elements.
How long can timber cladding last?
When treated properly and designed to a high standard, timber cladding has an excellent lifespan. Several factors play into the longevity of timber , including the treatment process, the coating products and techniques and the design of the cladding profile.
Mortlock Timber provides project specific warranties that take into account these factors. For accurate information about the longevity of timber in your project, speak with one of our timber specialists. Our extensive industry knowledge and experience means we can offer innovative solutions to maximise durability for your project needs.
Does the timber species affect the durability of cladding?
One of the most common questions we get asked is 'what is the best timber species for exterior cladding?' The Australian climate is particularly tough and so choosing durable architectural timber is important to ensure cladding performs well when exposed to harsh elements.
Different timber species have different durability classes however when timber ages prematurely, it is typically not due to the wood species chosen. The fault usually lies with incorrect treatment of the timber, poor design or incorrect installation.
When treated, installed and maintained properly, all Mortlock Timber products perform well in exterior applications. Our timber specialists understand the unique properties of each timber species, which means we can assist selecting the most suitable species for any particular application.
As a guide below are a list of our popular timber species and there relevant durability class:
| | |
| --- | --- |
| Timber Species | Durability Class |
| American White Oak | Class 3 |
| Blackbutt | Class 1 |
| Burnt Ash | Class 1 |
| Ironbark | Class 1 |
| Jarrah | Class 2 |
| Pacific Teak | Class 2 |
| Spotted Gum | Class 1 |
| Vacoa | Class 2 |
| Vic Ash | Class 3 |
Timber Durability Classes Explained
Source: www.woodsolutions.com.au/durability
Durability is expressed as one of four classes. The value for each species is based on trials of the resistance to both decay and termites of untreated heartwood in the ground. The classes are:
Class 1- Timber of the highest natural durability, expected to have a life greater than 25 years in the ground and greater than 40 years exposed above ground.
Class 2 – Timber of high natural durability, expected to have a life of about 15 to 25 years in the ground and 15 to 40 years exposed above ground.
Class 3 – Timber of moderate natural durability, expected to have a life of about 5 to 15 years in the ground and 7 to 15 years exposed above ground.
Class 4 – Timber of low durability, expected to have a life of 0 to 5 years in the ground and 0 to 7 years exposed above ground.
Mortlock Timber only recommends choosing a durability class 1 or class 2 timber for exterior cladding. Even though the life expectancy of the classes might be high the timber does still need maintenance as per our maintenance guide
Preserving the natural beauty of timber
When exposed to UV rays and other environmental elements, timber tends to lose its natural colour. The tannins in the timber undergo a chemical reaction in which they oxidise. The result is a change of colour or 'greying' of the timber over time.
In some architectural designs, the natural discolouration of the timber is embraced. For example, allowing timber to grey in modern beach shacks is quite popular. However, if you want to preserve the colour of the timber, you can do so through regular maintenance, cleaning and coating with oil.
How to maintain your timber for a longer life
The premium timber products at Morlock are manufactured and engineered to be highly durable and require minimal maintenance, especially when not exposed to direct sunlight.
As mentioned above, UV rays can discolour timber over time. To preserve the beautiful colour and texture of timber, it should be cleaned regularly, at least once a year. Then it should be recoated with oil. Although it varies from project to project, recoating exterior cladding every 12-18 months is recommended to preserve its appearance. Our maintenance guide can be view HERE
Leaving the timber to weather to a silver grey colour does mean less maintenance however if a silvered weathered look is your preference its recommended you choose a stable timber species to assist in choosing a timber species you can FIND OUT MORE HERE
Design tips for consistent colouring
If consistent timber colouring is important for your project, it's important to consider how your cladding will age over time. Areas that are exposed to UV rays or more sunlight throughout the day will discolour at a faster rate than areas that are covered.
To ensure your timber ages in sync, design so that all of the cladding is exposed to UV rays. If the project is intended to embrace the greying of the timber, this will ensure consistent colour across the whole project. Regular recoating with oil will achieve a more consistent appearance with this design technique too.
Alternatively, you can achieve consistent colouring by designing timber elements to be completely protected from UV rays. For example, using it for the underside of outdoor ceilings or walls that are covered by awnings.
In action: Scarborough Beach Pool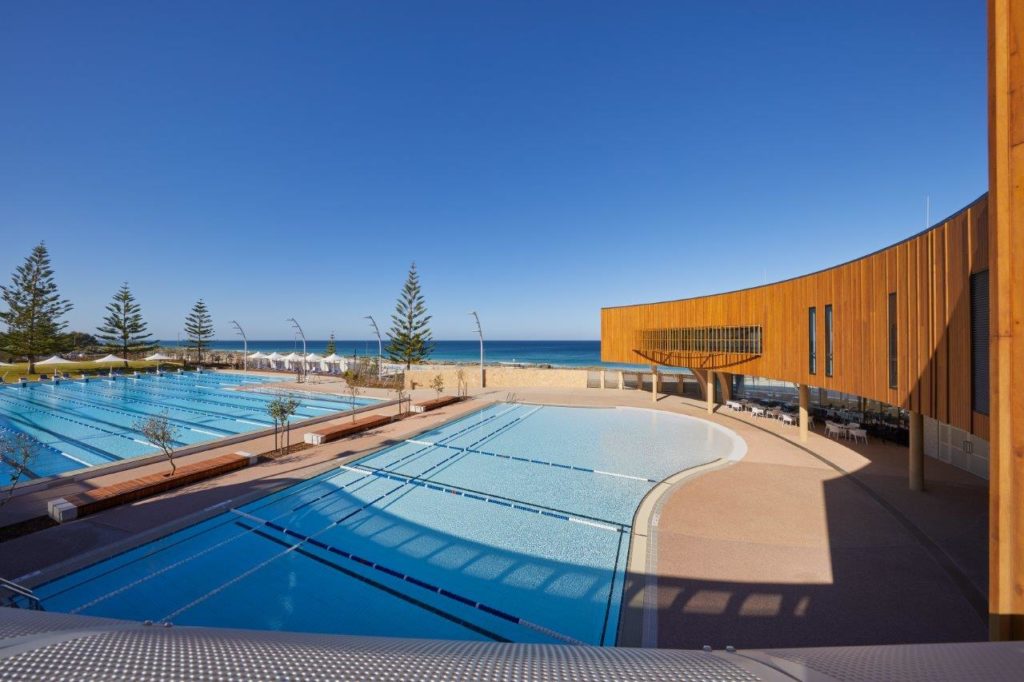 The elegant Scarborough Beach Pool building showcases how timber can be used in an outdoor design that is exposed to harsh coastal elements.
Designed by Christou and built by Cooper & Oxley, this project used timber products from Mortlock Timber to achieve a sophisticated building that harmonises with its environment. The building was designed with sustainability as one of its core elements and the timber cladding is an essential part of achieving that.
Mortlock Timber's Trendplank profile with pacific teak battens and cladding was used because of its superior durability and striking aesthetics. Our Classicplank blackbutt was also used to create an attractive timber decking that can cope with high traffic, sun and salt.
Morlock Timber offers a wide range of premium timber features for every design. Speak to our timber experts about your next project.
View our pricing and product guide
For in-depth information about the range of products we offer, please fill out the form below to download our Architectural Timber Pricing and Product Guide. Inside you will find illustrations, specifications, portfolio photo examples and a hardwood timber price guide to assist with budgeting.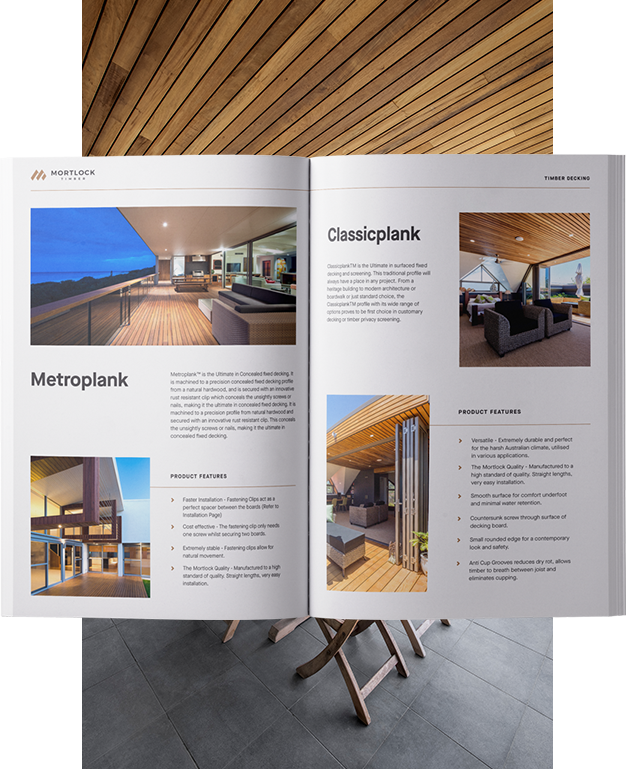 We are committed to bringing you timber products that add value and endure for years to come, even in heavy traffic and harsh weather conditions. We understand the value of efficiency when it comes to installation and keeping hardwood timber costs down. That's why we've spent decades perfecting our designs to make them easier to handle, less wasteful and more efficient to install. This efficiency allows us to offer you premier products that are more cost-effective so that you can experience greater savings on timber wall costs, timber ceiling costs, timber cladding costs and timber decking costs.
Download our Pricing and Product Guide for our complete hardwood timber price list including timber decking prices, timber wall prices, timber ceiling prices and timber cladding prices.