PREMIUM ARCHITECTURAL
TIMBER SUPPLIERS
Mortlock Timber is a leading manufacturer and supplier of architectural timber in Australia. Born out of a long family history in timber, the Mortlock Timber team has a combined industry experience of over 80 years, and many of our staff are third generation timber and building industry specialists. Our specialist knowledge and passion to be the leading hardwood suppliers enables us to help you bring your dreams to reality with confidence.

View Our Pricing
and Product Guide
Get in-depth information about our architectural timber products by downloading our Pricing and Product Guides. Inside you will find illustrations, specifications, portfolio photo examples and a pricing guide to assist with budgeting. 
For immediate access to our product guide as well as full access to all our other specific product flyers and resource downloads, please fill out your information by clicking below.
Timber Walls
Make a lasting impression and add sophistication to any outdoor or indoor space with superior timber wall cladding. Our timber cladding products are sustainable, durable and versatile, bringing warmth and beauty to high end commercial and residential projects of all kinds. From interior timber batten feature walls to large scale, robust exterior cladding projects – our award winning timber cladding is used by leading architects and builders across Australia. We also offer premium charred timber cladding which is manufactured in house.
Timber Walls Products
Whether you're looking for a beautiful timber feature wall to serve as a centrepiece that ties a design together, or a functional product that can provide weather-proofing or fire rating while still looking great, we have a timber wall product that will work for your next project.
We offer a wide range of timber wall solutions that are suited to a large number of applications & purposes, in a stunning variety of timber species and finishes. Check the table below to easily compare how our timber wall products weigh up in some core aspects.
Timber Ceilings
The products in our timber ceiling cladding range are ideal for creating inviting spaces, whether they be indoor or outdoor, commercial or residential. Our timber ceilings are made from sustainably sourced hardwood timber, with a range of attractive and durable species and finished to choose from. We will support you with the highest quality products and customisable solutions so that you can deliver first class craftsmanship to your clients. Our timber ceiling products have been cleverly designed for ease of installation and minimal waste, without compromising on quality.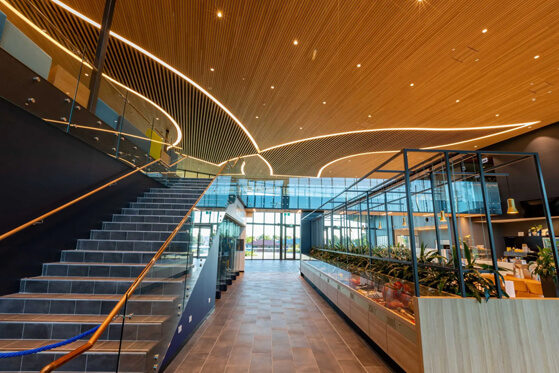 Timber Ceiling Products
At Mortlock Timber, we are committed to quality. Our products are precision machined from sustainably managed species of natural timber and then carefully crafted to provide maximum durability and a refined aesthetic profile that never fails to impress.
Shou Sugi Ban
Shou Sugi Ban charred timber cladding brings an elegant, timeless aesthetic to any project. Also known as Yakisugi or Japanese burnt timber cladding, Shou Sugi Ban is a traditional Japanese method of charring timber with fire. The process results in a black carbon layer on the timber boards which protects the material and reduces its maintenance requirements
Success stories
"Their customer service is very good. They're always responsive, and have the answers and information you need on hand. Mortlock really has been a welcome addition to the West Australian building industry. "I certainly highly recommend them." - Clayton Lindley ,Naked Architecture
Success stories
"EIW chose Mortlock Timber's "Trendplank and Proplank products to successfully realise this vision. "The beauty of that space in the foyer is the use of different materials that we've used, including timber, natural stone and water" - EIW Architects ,Corpus Christi College
Success stories
"We have a great relationship with Mortlock, they offer a full range of quality products, propretary systems and are always there to help" - Kyle Medcalf ,The Hardwood Co
Success stories
"Its an excellent product, very easy to use and I'd highly recommend it for other builders to use" - Solwest ,Proplank Timber