Article
Information
Learning Hub
Shou Sugi Ban
Timber Cladding
What is Shou Sugi Ban?
The traditional Japanese method of Shou Sugi Ban has become a modern architectural trend thanks to its natural beauty and excellent durability. Find out what Shou Sugi Ban is, why it's so popular and how you can use it in your next project.
WHAT IS SHOU SUGI BAN?
Shou Sugi Ban (also known as Yaki Sugi) is a centuries-old Japanese method of preserving wood by charring it with fire without combusting the whole piece. The result is a striking black carbon coating that helps protect the wood.
Although it might seem counterintuitive, charring the wood actually makes it stronger and more durable. The carbon layer, which is coated with natural oil, provides a protective barrier against moisture, making it ideal for external applications.
Shou Sugi Ban was traditionally applied to Japanese Cedar. Nowadays, the technique is used on a number of hardwood timbers with excellent results. The process involves charring the wood with a blowtorch or specialised machine, cooling the timber and then coating it with oil. The final appearance can vary depending on the specific techniques applied and the type of wood used.
TRADITIONAL TECHNIQUE, MODERN AESTHETIC
Shou Sugi Ban fell out of fashion when plastics and other synthetic materials became cheaper alternatives, but it is now making a comeback in modern architecture. And it's easy to see why. With more people looking for natural building materials that are beautiful, sustainable and durable, Shou Sugi Ban ticks all the boxes.
When you approach a building clad in with charred wood, the impression is immediately striking. From far, the charcoal colour looks sleek and sophisticated. Up close, the natural textures of the wood can be seen shining through the charcoal layer. The result is an elevated minimalist aesthetic.
WHY AUSTRALIAN ARCHITECTS LOVE SHOU SUGI BAN
Shou Sugi Ban timber is incredibly versatile. It has been used in modern architectural projects to line both interior and exterior walls, as well as ceilings and decking.
Leading architects in Australia and around the world look to Shou Sugi Ban for its unique beauty and incredible durability. Compared to black paints and stains, Shou Sugi Ban achieves a higher standard of consistency and a superior quality finish.
WHAT IS THE BEST TIMBER FOR SHOU SUGI BAN CLADDING?
Not all wood types are suitable for using the Shou Sugi Ban method. A stable hardwood timber with a lower density typically gives the best result.
High density timbers, like many Australian hardwoods, won't produce a deep protective char layer. Soft timbers like pine can form a very deep char layer – sometimes too deep – which means the charcoal can chip off easily.
At Mortlock Timber, we recommend Thermally Modified American Ash (which we call Burnt Ash) which is a durability class 1 species, with 700kg/m3 density. This timber is stable and has the right density to achieve a 2-3mm charred surface.
OTHER TIMBERS YOU CAN USE FOR SHOU SUGI BAN
You can use other timbers for Shou Sugi Ban, depending on your personal preferences and budget. In addition to Burnt Ash, at Mortlock Timber we also offer Spotted Gum and Jarrah options.
Spotted Gum is mainly used where a BAL (Bushfire Attack Level) rating of 29 is required. Jarrah is mainly used as a budget option or where a BAL19 rating is required.
While not as stable as Burnt Ash, we have been able to char these species without cupping and warping. However, they don't produce a deep charred surface like Burnt Ash so they do require more maintenance over time.
Further information on the timber options for Shou Sugi Ban can be found in our DESIGN & INSTALLATION GUIDE.
Read more: How much does Shou Sugi Ban charred timber cost?
ACHIEVING THE RIGHT CHAR DEPTH
The charcoal layer needs to be as even as possible because areas of the timber that are not charred properly will weather unevenly. Uneven charing can lead to patches in your façade where exposure has worn away the thinner char, reducing the overall aesthetic appeal.
A 2-3 mm char layer is required for best performance when exposed to weather. Different wood species will give you a variety of results and selecting the ideal one is important.
WHAT IS THE SHOU SUGI BAN PROCESS?
To achieve the desired char depth and evenness, the charring process should be performed in a controlled environment. A specially designed machine with a cooling system is required to combat these issues.
Being a natural material and artisanal process, every piece of Shou Sugi Ban timber will be slightly different. The unique appearance is what gives Shou Sugi Ban its distinct aesthetic and charm.
USING SHOU SUGI BAN FOR INTERIORS
When using Shou Sugi Ban cladding for interior settings, we recommend you apply an interior timber coating to bind the surface together as the charcoal layer can rub off when touched. For exteriors, allow the to weather for a month or so to eliminate the rubbing off of the charcoal.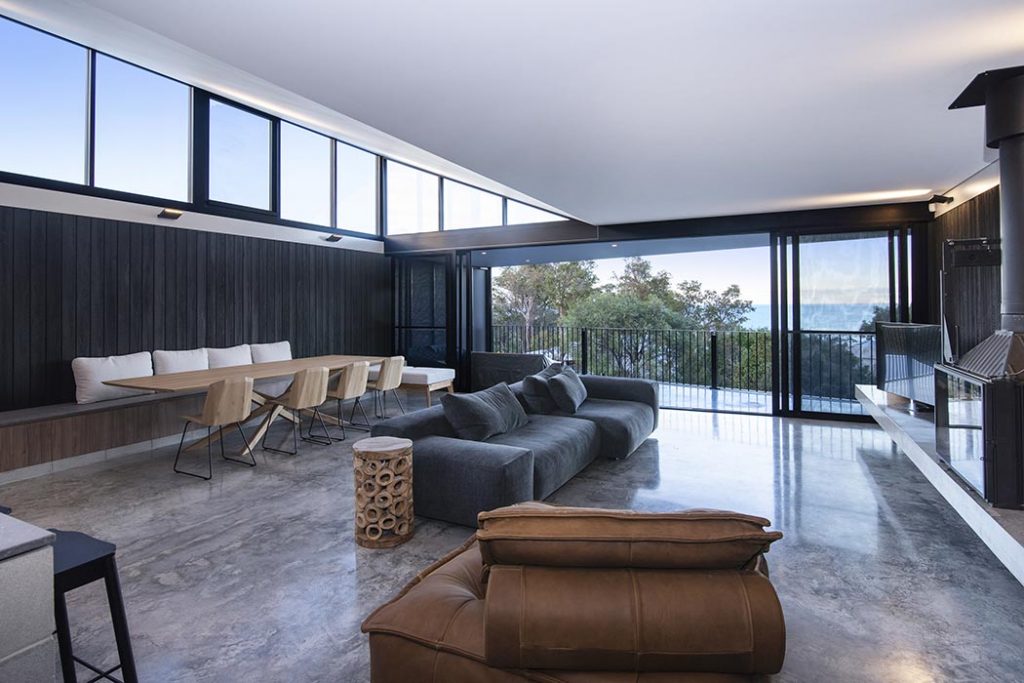 HOW TO MAINTAIN SHOU SUGI BAN
Shou Sugi Ban offers excellent durability, but like any timber product that's exposed to sunlight, it requires maintenance over time to preserve its structural and aesthetic integrity.
Our Shou Sugi Ban cladding is supplied with a factory coat of oil prior delivery. Once the cladding is installed, we recommend a second coat of oil is applied, and a third coat when the project is completed. The second and third coats need to be spaced 4-6 weeks apart to allow the oil to soak into the timber.
Shou Sugi Ban can last up to 5-10 years without maintenance, but we recommended re-coating to keep it hydrated and water resistant. The frequency of maintenance coats will depend on the level of exposure the surfaces have to the weather.
As a rough guide, you should re-coat Burnt Ash Shou Sugi Ban every 3 to 4 years, and Spotted Gum and Jarrah every 18 months to 2 years.
Read more: How to maintain Shou Sugi Ban charred timber for maximum durability.
HANDMADE SHOU SUGI BAN AT MORTLOCK TIMBER
At Mortlock Timber, we believe in the power of quality timber to transform a building. For over three years we've been refining and perfecting our Shou Sugi Ban process to ensure a consistent finish every time.
Shou Sugi Ban is a delicate process, requiring careful attention to detail. We manufacture in-house so that we can control the quality from start to finish. The result? We offer the finest quality timber cladding Shou Sugi Ban that can be used in a wide range of architectural applications.
Shou Sugi Ban is just one of the premier timber products we offer. At Mortlock Timber, we have timber features for every design. Leading architects across Australia love the beauty and durability of our timber products, and we know you will too.
Get in touch to discuss your project today or download our product and pricing guide.
View our Shou Sugi Ban pricing and product guide
For in-depth information about the range of products we offer, please fill out the form below to download our Architectural Timber Pricing and Product Guide. Inside you will find illustrations, specifications, portfolio photo examples and a hardwood timber price guide to assist with budgeting.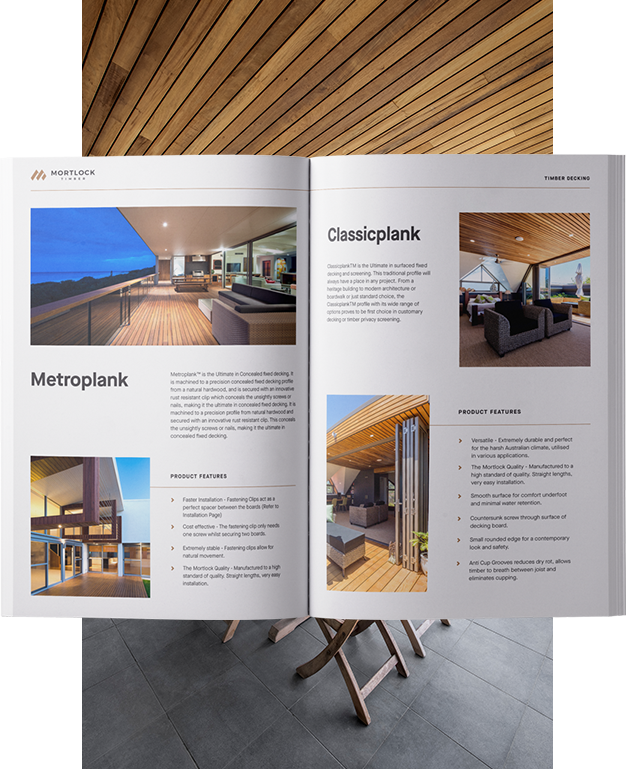 We are committed to bringing you timber products that add value and endure for years to come, even in heavy traffic and harsh weather conditions. We understand the value of efficiency when it comes to installation and keeping hardwood timber costs down. That's why we've spent decades perfecting our designs to make them easier to handle, less wasteful and more efficient to install. This efficiency allows us to offer you premier products that are more cost-effective so that you can experience greater savings on timber wall costs, timber ceiling costs, timber cladding costs and timber decking costs.
Download our Pricing and Product Guide for our complete hardwood timber price list including timber decking prices, timber wall prices, timber ceiling prices and timber cladding prices.