Article
Learning Hub
Pricing
Shou Sugi Ban
Timber Ceiling Tiles
Timber Ceilings
Timber Cladding
Timber Walls
Video
Shou Sugi Ban Timber Cladding, does the charred surface rub off?
On exterior Shou Sugi Ban the charcoal layer will rub off on your hands or clothes when you touch it, this is the loose particles on the surface of the timber.
As the Shou Sugi Ban is exposed weather the loose particles that causes this issue will wash off the timber from the wind and rain over a few months and the rubbing off will stop.
So, what about Shou Sugi Ban not exposed to weather?
If your looking for Shou Sugi Ban timber cladding for interiors or areas not exposed to weather, Mortlock Timber use a different timber coating on the surface which binds the char layer together and eliminates the rubbing off.
You do need to be aware that the charcoal layer is not as hard as timber, if its knocked hard enough it can break the coating on the surface and it will cause minimal rubbing off. This can be easily touched up with the same coating
So, what about other companies claiming that the charcoal on their Shou Sugi Ban product does not rub off, even in exterior applications?
They are either using a different coating, or the char layer is not thick enough.
In that case what coating product does Mortlock use?
For external Shou Sugi Ban timber cladding Mortlock Timber factory applies a coat of Cutek CD50 Black Ash oil, the Black Ash colour tone helps bind the char layer together to reduce the wearing. This oil makes it easy and cost effective to maintain the timber cladding compared to the WOCA Exterior Wood Oil. Further information can be found at: https://www.cutek.com.au/product/cd50/
For interior and none exposed applications Mortlock Timber factory applies WOCA Exterior Wood Oil. WOCA exterior oil seals the charred surface of the timber and virtually eliminates the char layer wearing off. No maintenance is required for interior Shou Sugi Ban applications. Further information can be found at: http://www.wocadenmark.com/shop/product/exterior-wood-oil
For full maintenance information on Mortlock Shou Sugi Ban Cladding visit: https://www.mortlock.com.au/news/how-to-maintain-shou-sugi-ban-cladding-for-maximum-durability/
Related Articles:
View our pricing and product guide
For in-depth information about the range of products we offer, please fill out the form below to download our Architectural Timber Pricing and Product Guide. Inside you will find illustrations, specifications, portfolio photo examples and a hardwood timber price guide to assist with budgeting.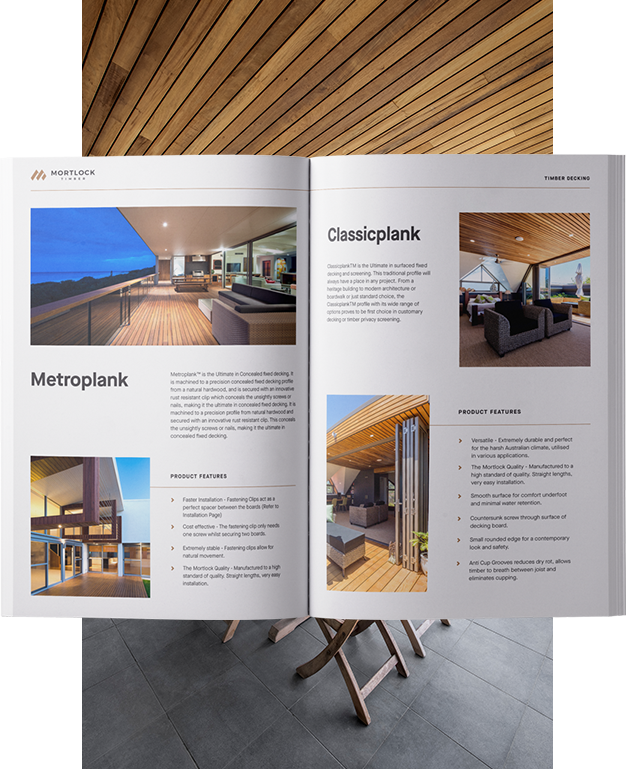 We are committed to bringing you timber products that add value and endure for years to come, even in heavy traffic and harsh weather conditions. We understand the value of efficiency when it comes to installation and keeping hardwood timber costs down. That's why we've spent decades perfecting our designs to make them easier to handle, less wasteful and more efficient to install. This efficiency allows us to offer you premier products that are more cost-effective so that you can experience greater savings on timber wall costs, timber ceiling costs, timber cladding costs and timber decking costs.
Download our Pricing and Product Guide for our complete hardwood timber price list including timber decking prices, timber wall prices, timber ceiling prices and timber cladding prices.