Article
Learning Hub
Pricing
Proplank Timber Battens
Timber Ceiling Tiles
Timber Ceilings
How much do click-in timber batten ceilings and walls cost?
Timber ceiling and wall cladding is a great way to transform a room, bringing warmth and beauty. Here at Mortlock Timber, we've developed a capable click-in batten system, Proplank, which can be used with almost any timber species. This system is versatile, modular and adaptable to suit any project.
There is a range of factors that impact the cost of our Proplank cladding system, so when you're looking to take advantage of this fantastic feature timber styling option here are some things to keep in mind.
How much does timber ceiling cost? And what factors move the price up or down?
The Proplank system comes with a large range of options so the price range is very broad. As a guide, our most popular options are between $250 p/m2 and $500 p/m2.
If you would like a more accurate price, there are 4 main selections that need to be made:
These are:
Timber Species
Timber Finish
Batten Size
Batten Spacing
In this article, we will dive into each of the factors above and analyse how they influence the final timber ceiling cost.
Timber Species.
Different timber species come in at different price points. Below is a list of the different timber species that are part of our standard Proplank range, from the highest to lowest cost.
American White Oak: $$$$$
Burnt Ash: $$$$
Blackbutt: $$$
Spotted Gum: $$$
Pacific Teak: $$$
Vic Ash: $$
Jarrah: $
Using American White Oak will drive the cost of your wooden ceiling up. A good alternative to American White Oak is Vic Ash. While the grain pattern is slightly different, both are similar in colour which means you can achieve a similar look for less.
Blackbutt, Spotted Gum and Pacific Teak are all similar in price with Vic Ash and Jarrah being the two lower-priced options. All of our timber species are high-quality premium products that are suitable for architectural projects.
Timber Finish
Selecting a finish for your Proplank battens will also increase or decrease timber ceiling prices. Below are the standard coating products available for factory application.
In short, the guide below shows lists the finishes from the highest cost to the lowest cost:
Fireshield: $$$$ = Highest Cost
Enviro Clear: $$$
WOCA Wood Oil: $$
Natural Oil: $ = Lowest Cost
Natural Oil.
The natural oil or Cutek clear oil is the standard coating we supply unless others are requested. It is also the lowest cost option.
Cutek Oil is an oil-based coating that works by penetrating the surface of the timber. It can have a slight yellowing effect on some timbers and will highlight timber colour and natural features. Clear Oil will weather naturally without peeling or blistering. Please note, when exposed to the weather, regular maintenance and re-coating of battened ceilings are required.
WOCA Wood Oil
WOCA wood oil is a special water-based composition of oil components ensuring that the product is water-dilutable and friendly to the environment. WOCA makes timber extremely water repellent and is a non – yellowing oil. This natural option enhances the natural colour and grain of the wood without changing the colour. You will find the timber looks untreated.
Where WOCA is used for interior projects it can cause a slightly rough surface, if this is undesired the Enviro Clear option is recommended. WOCA is recommended for stained timber options or if the yellowing that Cutek causes on lighter coloured timbers is not desired. WOCA costs more than Cutek Oil.
Enviro Clear
Enviro Clear is a water-based LVOC product for interior use only. It is a film-forming, non-yellowing coating which is easy to clean and requires minimal maintenance. Timber is sanded, and factory coated prior to delivery with Enviro Clear providing a premium smooth furniture grade finish for interiors.
Enviro Clear is a great option for high traffic areas which require an easy to clean surface such as cafes, bars, and health environments. It is also used where a premium interior finish is required. Enviro Clear will increase the cost compared to the Natural Oil and WOCA Wood Oil coatings.
Fireshield
Fireshield TIMBERCLEAR 1FR is a clear timber intumescent coating that is used to achieve a Group 1 and 2 fire rating to internal timber surfaces. Fireshield is used in areas that require a group 1 or 2 fire rating. It is the most expensive coating Mortlock offers.
Batten Size
Proplank offers a range of batten sizes. Using narrower deeper battens will drive the cost up as more LM (lineal meters) of timber is required per m2.
For example, if you select a 30mm wide x 60mm deep blackbutt batten with a 20mm spacing the cost will be approx. $180 p/m2 more than using a 30mm wide x 40mm deep blackbutt batten which offers the same coverage.
Also, if you flip the batten around so the 60mm is the width with 30mm depth this will reduce the LM (lineal meters) of timber required per m2 by 7.5LM per m2 and reduce cost by $280 p/m2.
The video below demonstrates how changing the batten size will increase or decrease the price
Batten Spacing
Batten spacing is the distance between each batten as per diagram below. Spacing between the battens affects the cost because wider spacing between the timber battens means less LM (lineal meters) of timber per square metre and narrower spacing means more LM (lineal meters) of timber per square metre.
For example, a 30x30mm batten with a 20mm space between each batten means 20 LM (lineal meters) of timber are needed to cover 1 square meter, if you increase the spacing to 30mm this means 16.67 LM (lineal meters) of timber are needed to cover 1 square meter, 3.34 LM less than the 20mm spacing option.
If you were using a 30×30 Spotted Gum timber batten and increased the spacing from 20mm to 30mm this would reduce the cost by approx. $40 p/m2.
Other factors that affect cost.
In addition to the four main factors discussed above, the following factors may affect the wood ceiling cost.
Choosing to use random lengths (supplied standard) or specified/set lengths will also have an impact on the pricing.
Random Lengths
Random lengths mean the timber is supplied in mixed lengths. For Proplank this means you will receive lengths ranging from 1.2m up to 3.9-4.2m lengths with 90% of the lengths being 2m and above. Random lengths are used where large areas are being lined with Proplank and batten ends will need to be joined within the ceiling or wall area. This is the standard option and the most cost effective.
Specified Lengths
Specified lengths (also referred to as set lengths) means you choose what lengths you would like supplied. Specified lengths are mainly used in areas where walls or ceiling have a set length. For example, for a 2.7m high wall you would choose to use all 2.7m lengths.
Supplying specified lengths requires more labour and often more waste timber materials. To get the lengths required it means Mortlock needs to sort through several random length packs of timber to pull out the required lengths which increases the overall cost.
Larger projects will bring the m2 rate down in two ways:
Less machine set up time per m2. Depending on the complexity of the project a larger project (150m2 and above) will often reduce the cost of Proplank per m2. It means Mortlock can run more timber with less setup time per LM of timber.
Installation. The Proplank system was designed for larger projects. For smaller projects (30m2 or less), it can cost less to create your own panels by screw fixing square battens to MDF then installing the panels. This is because of the cost of components that make up the system. Generally, above 30-50m2 the speed of installation using the Proplank system starts to outweigh the extra cost for the components.
Customised Projects
For projects around 80m2 and above Mortlock offers customised timber profiles and finishes which includes a wide variety of stains and timber coating types, batten shapes and size to suit your exact requirements. Using the standard range available will keep the cost down.
Mortlock Timber is able to guide you through the process of designing a feature timber batten wall or ceiling that meets your budget and design intent.
For more information about our timber products or to request a quote, please get in touch with our team today.
View our Click in Battens pricing and product guide
For in-depth information about the range of products we offer, please fill out the form below to download our Architectural Timber Pricing and Product Guide. Inside you will find illustrations, specifications, portfolio photo examples and a hardwood timber price guide to assist with budgeting.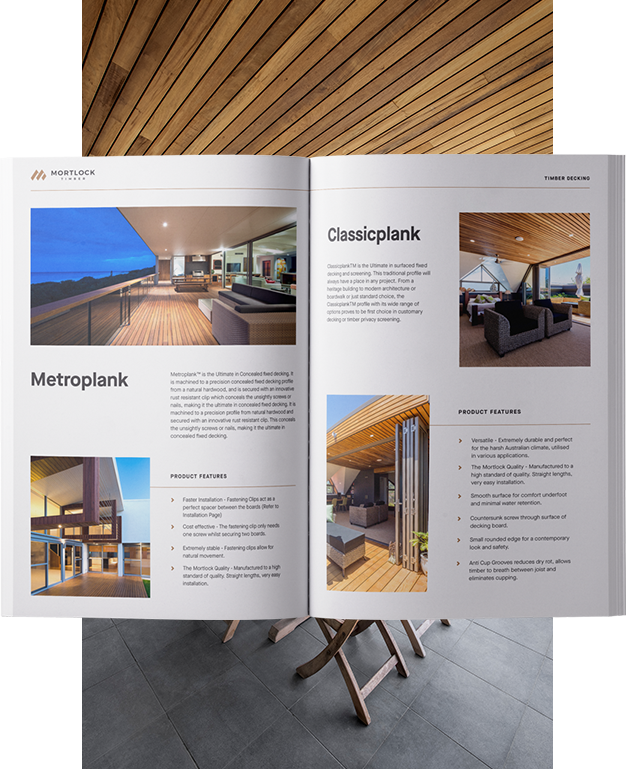 We are committed to bringing you timber products that add value and endure for years to come, even in heavy traffic and harsh weather conditions. We understand the value of efficiency when it comes to installation and keeping hardwood timber costs down. That's why we've spent decades perfecting our designs to make them easier to handle, less wasteful and more efficient to install. This efficiency allows us to offer you premier products that are more cost-effective so that you can experience greater savings on timber wall costs, timber ceiling costs, timber cladding costs and timber decking costs.
Download our Pricing and Product Guide for our complete hardwood timber price list including timber decking prices, timber wall prices, timber ceiling prices and timber cladding prices.