Article
Learning Hub
Shou Sugi Ban
Timber Cladding
Timber Walls
Trendplank
Vacoa
Mortlock Timber's Timber Cladding Profiles
Timber cladding is a great way to embrace the natural beauty of wood in your next project, whether that's an eye-catching commercial space, a residential oasis or something in between.
In this article, we walk you through the different timber cladding profiles we offer at Mortlock Timber, the advantages they offer and how they can be used in a variety of applications.
What are the different types of wood cladding?
Mortlock Timber supplies a number of timber cladding profiles and a wide range of timber species, finishes, corner trims and end stops to suit both commercial and residential projects.
Our timber cladding profiles include:
Trendplank
Trendplank is a concealed fixed cladding system which can be used for interior and exterior applications. It is a popular profile for curved external walls, internal feature walls, ceiling lining, timber screens and more.
The Trendplank profile has been expertly designed to allow for natural timber movement, meaning it can cope with challenging Australian climates.
It is compatible with a wide range of timber species and finishes and can be supplied in varying lengths to allow for high levels of customisation. We can supply the boards to meet local fire resistance standards if required.
Read more: Timber cladding for buildings in bushfire areas.
Shou Sugi Ban
Shou Sugi Ban is a traditional method of charring timber with fire to increase its durability and moisture resistance. The result is a striking carbon black timber that can be used to elevate modern architectural designs.
Our Shou Sugi Ban cladding is made with the Trendplank timber cladding profile and can be used in both external and internal applications.
Due to the charring process, Shou Sugi Ban needs to be made with highly stable timber. We recommend Burnt Ash (thermally modified American Ash) because it's extremely stable and able to form a thicker char layer compared to other types of wood. The thicker char layer means the product is more weather resistant and needs less maintenance over time.
Learn more about Shou Sugi Ban: What you need to know about charred timber.
Vacoa Cladding
Vacoa is a thermally modified pine that has excellent stability and weather resistance. The thermal modification process is non-toxic and removes all resins inside the wood to prevent tannin leaching.
Vacoa cladding is a popular choice for external cladding, ceiling lining and timber screens because of its durability and affordability.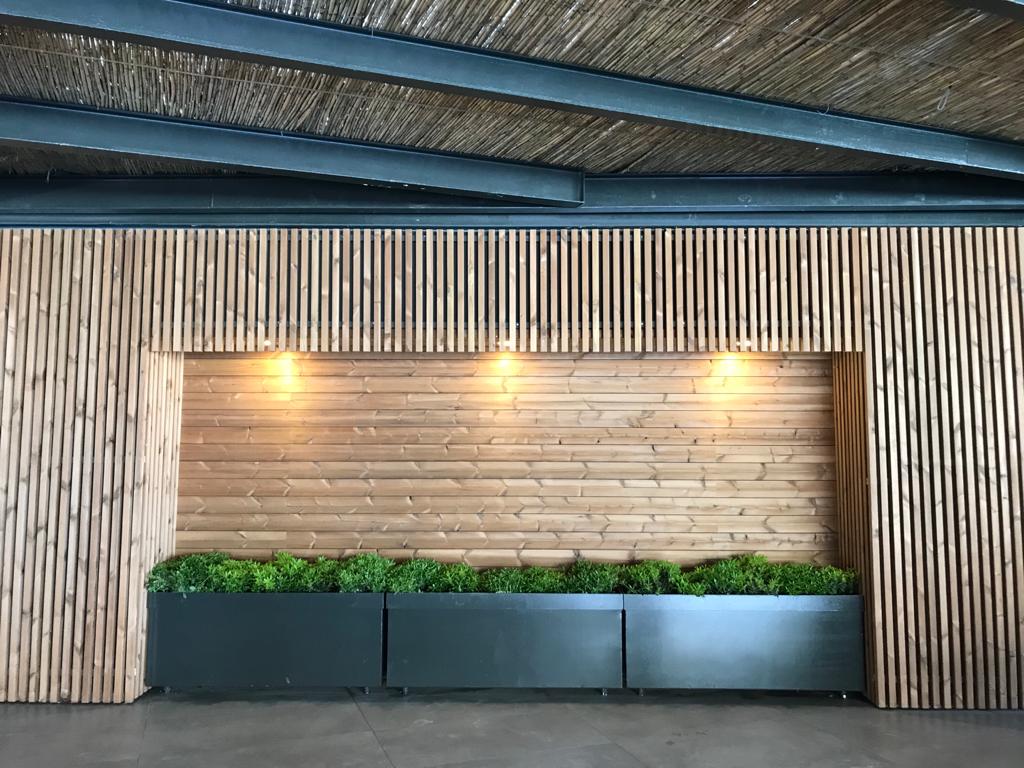 Vacoa boards can be finished with natural oil or stained to achieve the desired aesthetics. Stains range from black and stone grey through to a red-brown hazelnut and deep brown walnut.
What is the best timber for exterior cladding?
For external cladding, it is crucial to choose a timber species and cladding profile that are highly durable and able to cope with weather elements.
For projects in bushfire-prone regions, choosing a species that has natural fire resistance properties is essential.
Check out our guide to the Best Timber for Exterior Cladding for more information.
How to use our timber cladding profiles
Our timber cladding profiles are used by leading architects and builders across Australia to bring stunning residential and commercial projects to life.
External walls
Timber cladding on the exterior of buildings can create a warm and inviting atmosphere. Our Trendplank profile can be installed vertically, horizontally and around convexly curved walls, depending on the requirements of your project.
We recommend choosing a timber species and finish that can cope with high sun, wind and rain exposure. Thermally modified timbers like Burnt Ash and Vacoa are popular choices, as are hardy Australian hardwoods like Ironbark, Jarrah and Spotted Gum.
Internal walls
Timber lining can be used on internal walls to create an attractive surface texture and improve acoustic quality in the space. An overlapping sequence of different board lengths and widths can be used to create feature walls.
We can supply boards with a clear timber intumescent coating to achieve a Group 1 fire rating in indoor and undercover settings.
Curved walls
Curved walls can be created with our Trendplank profile, Shou Sugi Ban and Vacoa cladding to a certain radius.
For a board size of 70x18mm, the minimum radius is 700mm. However, we can create custom profiles to meet tighter radius requirements if needed.
We recommend running a sealant in the tongue and groove join to ensure water resistance levels are kept high.
Ceilings
Timber ceilings are an excellent architectural feature for both residential and commercial projects. Whether you're after a striking charred timber ceiling or a warm natural timber look, our cladding systems can help you achieve the look you're going for.
What are the advantages of choosing Mortlock's timber profiles?
Our timber profiles have been used in high profile projects across Australia. To see what our products are like for yourself, you can order a sample from us today.
Reasons to choose Mortlock Timber include:
Cost-effective installation
Our timber cladding profiles are designed with quick and intuitive installation in mind to help minimise material and time wastage on site.
End matching is a tongue and groove system applied to the end of the boards so that they can be joined off the stud. This saves time with measuring and means boards don't need to be trimmed, reducing material waste.
Learn more: What is end matched timber?
Durability
Our timber cladding profiles have been designed to perform well even in challenging Australian climates. Working with nature, our profiles allow for natural timber movement and our end matching profile improves water resistance.
Learn more: How long does timber cladding last?
Environmental advantages
Wood is a renewable resource and when sourced sustainably, it is one of the most environmentally friendly building materials.
All of our timber is sourced from sustainably managed forests that meet local regulations. We offer many Australian hardwood timbers which have a smaller footprint due to shorter transport distances.
Get in touch about your project today
Whatever vision you have in mind, we want to help you bring it to life. We work closely with architects and builders across Australia to ensure you get the highest quality result every time. Download our product and pricing guides or call our friendly team on 1800 953 004 to see how we can help.
View our timber cladding pricing and product guide
For in-depth information about the range of products we offer, please fill out the form below to download our Architectural Timber Pricing and Product Guide. Inside you will find illustrations, specifications, portfolio photo examples and a hardwood timber price guide to assist with budgeting.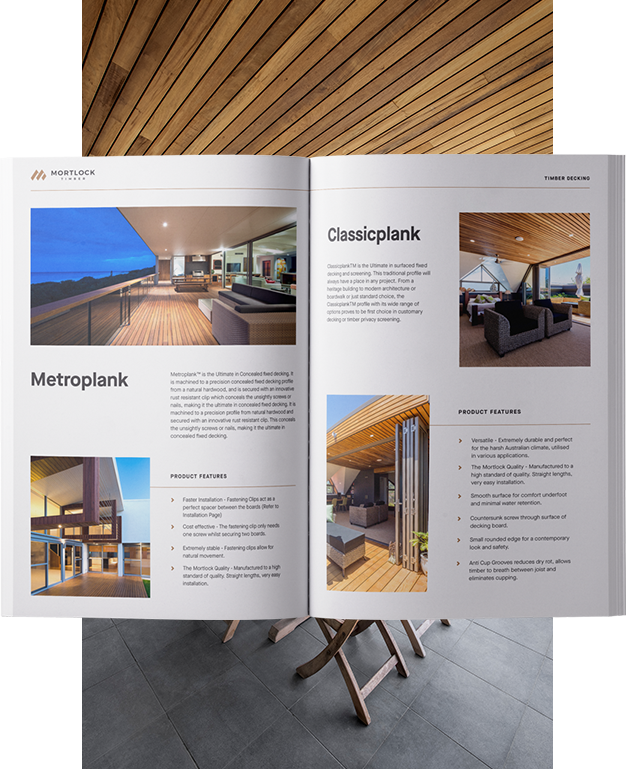 We are committed to bringing you timber products that add value and endure for years to come, even in heavy traffic and harsh weather conditions. We understand the value of efficiency when it comes to installation and keeping hardwood timber costs down. That's why we've spent decades perfecting our designs to make them easier to handle, less wasteful and more efficient to install. This efficiency allows us to offer you premier products that are more cost-effective so that you can experience greater savings on timber wall costs, timber ceiling costs, timber cladding costs and timber decking costs.
Download our Pricing and Product Guide for our complete hardwood timber price list including timber decking prices, timber wall prices, timber ceiling prices and timber cladding prices.