Article
Learning Hub
Proplank Timber Battens
Timber Ceiling Tiles
Timber Ceilings
Timber Cladding
Timber Decking
Timber Walls
What is end matched timber and what are the benefits?
End matching is a type of join between timber battens. End matched tongue and groove panelling means the timber battens or boards have a tongue machined on one end of the board and a groove machined on the other end of the board. It is a stronger and more waterproof joint compared to butt joining timber.
End matching can also reduce waste from 10% to as low as 5% depending on the product as it means you do not have to trim boards or battens to join over a stud, fixing batten or mounting rail. Not having to trim the boards also saves on installation time.
At Mortlock Timber, we offer a number of end matching timber products which can be used for a fast, low waste and high quality result. In this article, we take a closer look at the benefits of end matched tongue and groove panelling and some example applications of how it can be used.
For more information, please get in touch with our timber experts. We can offer project support and advice to help you bring your vision to life in the best way possible.
WHAT ARE THE BENEFITS OF END MATCHED PANELLING?
End matched panelling boards offer a number of benefits. Not only do they create a strong, waterproof joint, less waste is created during the process and installation requires less time.
CREATES A STRONGER, MORE WATERPROOF JOINT
The tongue and groove elements interlock together seamlessly, creating a tight and secure join that improves strength and weatherproofing properties. End matched tongue and groove timber cladding is a reliable choice for a wide range of applications – both horizontal and vertical, indoor and outdoor – with a diverse selection of timber species.
REDUCES WASTE
End matched timber boards decrease labour time for two reasons. Firstly, the timber comes pre-cut, which means it does not need cutting on site. Blemishes, cracks and defects will have already been cut out before the boards are delivered which means all the boards will be usable.
Secondly, unlike traditional wood siding which must be secured to a stud, end matched boards can stop and start anywhere, and be secured in place anywhere along the board. This means the installer does not need to stop and start to cut plank ends. They can simply fit each plank together with the pre-cut tongue and groove design, which makes for a faster process.
IT LOOKS GREAT
The final result of a wall or ceiling that has used end matched wood panelling is fantastic. The joins are inconspicuous and the style complements the natural beauty and warmth of timber very well. Need advice about which timber species to use with end matched cladding? Check out our guide to the best timber to use for exterior cladding.
End matched wall panelling options at Mortlock Timber
At Mortlock Timber, we offer end matching as an optional extra for our Proplank, Trendplank and Shou Sugi Ban timber cladding product ranges.
Proplank – attractive click in timber battens which are easy to use, cost-effective and highly durable.
Trendplank – a concealed fixed timber cladding which has been expertly designed to accommodate for natural timber movement.
Shou Sugi Ban – a striking black timber cladding option made using the traditional Japanese method of charring wood with fire. Our Shou Sugi Ban cladding is made using the Trendplank profile.
End matching is an optional extra and will be listed in your quote if it has been allowed for. If it is not listed in your quote, it means your timber will not be end matched.
INSTALLING PROPLANK END MATCHED TIMBER BATTENS
Installing Proplank end matched battens is simple and efficient. Simply push the tongue and groove together. Click the batten into the clips which are fastened to the mounting rail. Click a loose clip over the end matched join ensuring the clip is evenly positioned over each batten.
INSTALLING TRENDPLANK AND SHOU SUGI BAN TONGUE N GROOVE TIMBER CLADDING
The installation method for Trendplank end matching is the same whether the cladding is vertical or horizontal. Sikaflex 11 FC or similar needs to be applied to the gap, then boards are pushed together. Excess sealant should be cut off once dry. Where cladding is installed vertically the tongue should be installed facing upwards.
Need guidance on timber cladding for your next project?
If you are planning a project that requires timber end matched tongue and groove panelling, chat with the timber specialists at Mortlock Timber. Our quality wood products can be used for a wide range of applications, including indoor and outdoor commercial and residential projects.
For more information about our unique tongue n groove design or the ceiling and wall panel options we offer, get in touch today. We look forward to helping you bring your vision to life.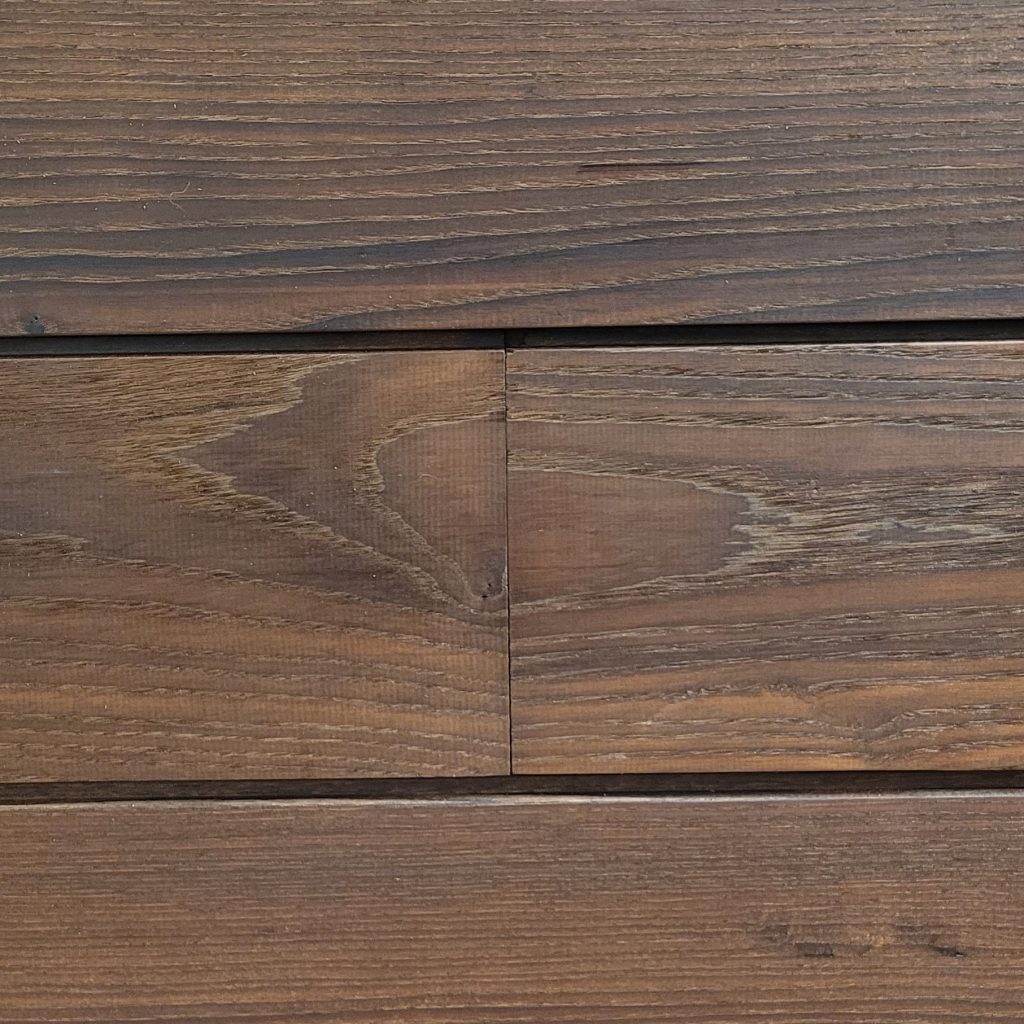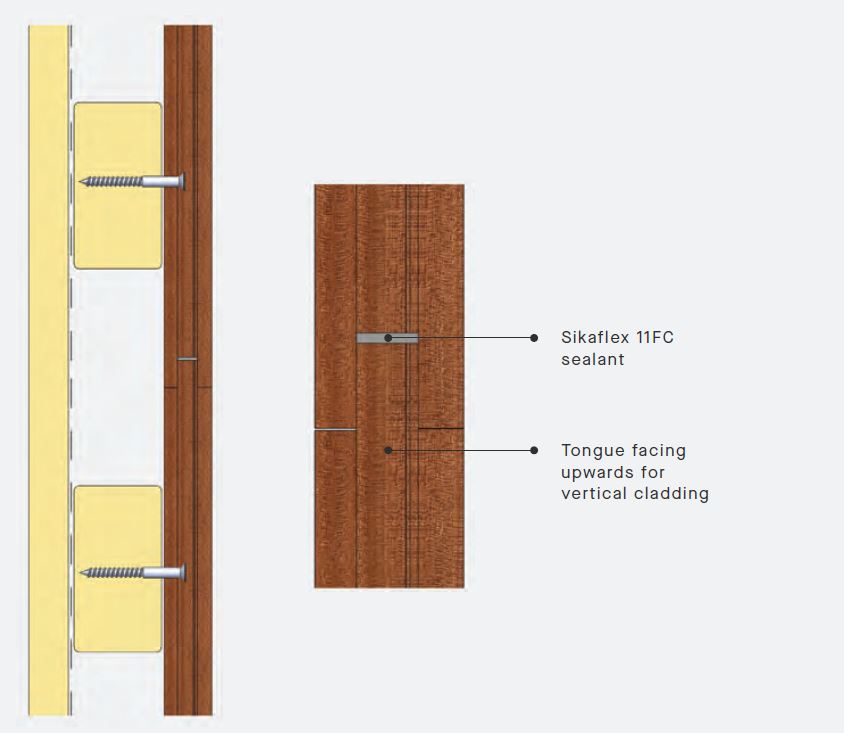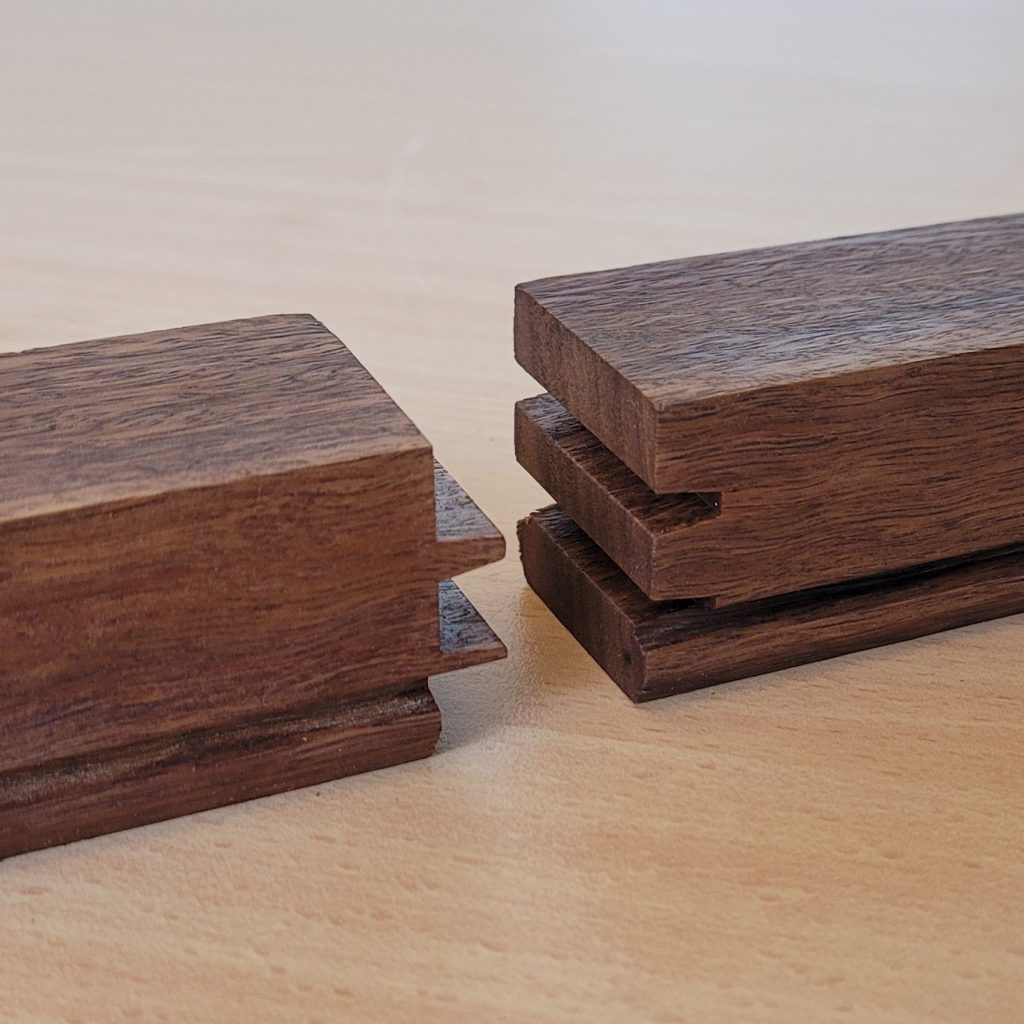 View our pricing and product guide
For in-depth information about the range of products we offer, please fill out the form below to download our Architectural Timber Pricing and Product Guide. Inside you will find illustrations, specifications, portfolio photo examples and a hardwood timber price guide to assist with budgeting.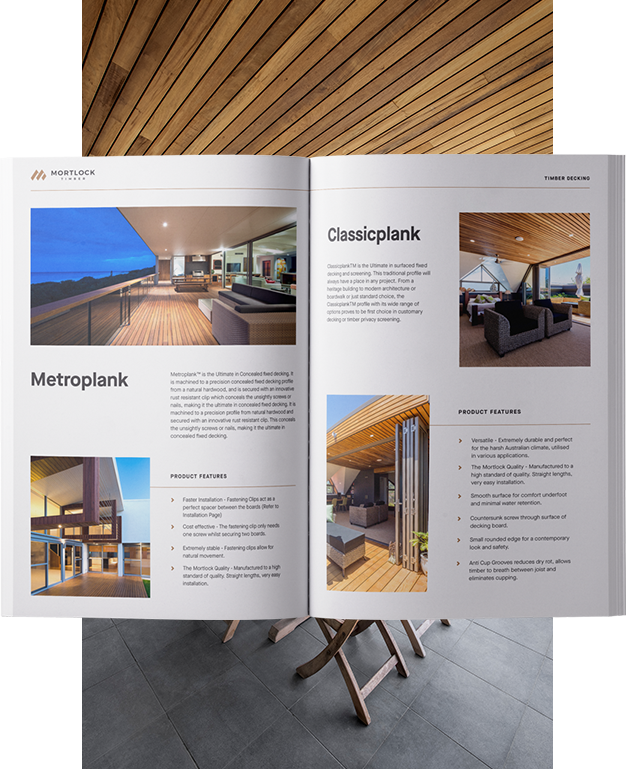 We are committed to bringing you timber products that add value and endure for years to come, even in heavy traffic and harsh weather conditions. We understand the value of efficiency when it comes to installation and keeping hardwood timber costs down. That's why we've spent decades perfecting our designs to make them easier to handle, less wasteful and more efficient to install. This efficiency allows us to offer you premier products that are more cost-effective so that you can experience greater savings on timber wall costs, timber ceiling costs, timber cladding costs and timber decking costs.
Download our Pricing and Product Guide for our complete hardwood timber price list including timber decking prices, timber wall prices, timber ceiling prices and timber cladding prices.