Article
Information
Learning Hub
Timber Cladding
Pros and Cons of Timber Cladding
Weighing up your options for exterior cladding? With so many designs, materials and information out there, it's hard to know where to start.
Timber cladding is a popular choice for homes and businesses across Australia. Its natural look, eco-friendliness and versatility make it a trusted and durable solution for many. However, like all building materials, timber cladding has its pros and cons, and it's important to consider these carefully before making a decision on whether it's right for you. This blog looks at the pros and cons of timber cladding, and ways to make this building material work for you.
Pros of timber cladding
Wood cladding has been around for centuries – and has been used to great effect on different projects from homes to highrises. But no matter the project, the benefits of timber cladding are always the same. Here are the most important reasons why you should use timber cladding:
1. Timeless aesthetic
One of the main advantages of timber cladding is its visual appeal. The timelessness of wood cladding makes it a prime solution for a range of projects that want to stand out. The warm and natural look of wood can give any building a unique and attractive appearance. This can add value to the property and increase resale value. If you're wanting to renovate your home – timber cladding can be a worthwhile investment.
2. Sustainability
Timber is a sustainable resource, making it an environmentally friendly building material. Unlike synthetic materials, wood products are biodegradable and can be recycled many times over. Here at Mortlock Timber, our commitment to sustainable forestry means we only source certified timber that meets strict environmental standards. Learn more about why timber is a sustainable resource here.
3. Durability
Timber cladding is an extremely durable material that with proper maintenance, can last for decades. This is particularly the case with hardwoods such as ironbark or jarrah where the density and natural growth patterns make for highly durable and weather-resistant exterior cladding.
4. Insulation
Timber is a natural insulator, and helps reduce heat loss and gain in a building. This is because wood is made up of tiny air pockets that trap air and slow down the transfer of heat – therefore reducing thermal conductivity. This can lower heating bills and make the building more energy-efficient. Check out our blog on why wood is an excellent insulator – especially in the Australian climate.
5. Versatility
Any builder will tell you that timber is as versatile as it gets. And timber cladding is no different. Whether it's modern, traditional or somewhere in between, timber cladding is ideal for a range of styles and designs. At Mortlock Timber, we don't just stock a wide range of high quality timbers, we also install exterior cladding using innovative techniques like our Trendplank profile which can complement and enrich a wide range of applications.
6. Carbon storage
Trees absorb carbon dioxide during their growth, removing it from the atmosphere and helping fight global warming and climate change. They are so efficient that around 50% of the dry weight of wood is actually carbon. Even when used for construction, this carbon remains locked in the wood. This makes timber an excellent material, because instead of releasing carbon dioxide during its creation – like most construction materials – it actually stores it.
Cons of timber cladding
Like other external cladding materials, timber has its drawbacks. Compared to some other materials out there, and depending on your project there might be some local factors that can make timber cladding a challenge. Here are some key drawbacks of timber cladding:
1. Suitability
For a start, not all timbers can be used for exterior applications. However, there are many durable Australian hardwoods that are perfectly suited for exterior use, such as Blackbutt, Ironbark, and Jarrah. There are also thermally modified timbers, like Vacoa, which are more cost-effective and have been treated to increase their durability to the elements.
2. Maintenance
One of the disadvantages of wood cladding is that it requires regular maintenance to keep it looking its best. Whether it's the climate, local weather patterns, or simply its natural ageing process over time, timber cladding can require targeted or general maintenance every now and then. This could include cleaning, staining or painting, which can be time-consuming and costly.
There is a solution to this issue, in the form of weathered timber. This is a type of wood that has been treated to give it more durability and protection against the elements and normal wear and tear. Also, its natural weathered appearance creates a stunning visual impact.
3. Fire risk
When you build with natural materials like timber, fire risk is a consideration you cannot ignore. If you're building in a fire prone area, it's important to keep this in mind – and mitigate appropriately. Read this blog for more information on BAL ratings and building in bushfire areas.
The good news is that there are now many types of high BAL rated timber available, such as Blackbutt, Ironbark, and Spotted Gum. These three timbers can reach a rating of BAL-29, which falls under the category of high risk areas for bushfires.
4. Termites
Timber cladding can also be vulnerable to attack from termites, which can cause significant damage if not taken care of early on. Avoiding termites is easy when you know what type of timber to build with.
Some hardwood timber species are naturally termite-resistant, such as teak, jarrah and red ironbark. It's important to research these options when choosing a timber cladding material.
5. Pricing
Timber cladding can be more expensive than other construction materials, such as synthetic cladding. However, there are now cost-effective timbers available, such as Vacoa and Spotted Gum, which look just as stunning and can be used for both interiors and exteriors.
The verdict
External timber cladding is a popular and versatile building material, with many benefits for homes and businesses around Australia. And like any building product, it has its challenges when it comes to ensuring its long term durability and sustainability.
Choosing the right wood siding is essential if you want to make sure your exterior cladding will stand the test of time. With the right timber species and a quality design, you can make the most of timber cladding's unique advantages.
Contact the Mortlock Timber team today to learn more about the pros and cons of timber cladding and how we can support your next project. You can call us on 1800 953 004 or leave an enquiry through our website.
View our pricing and product guide
For in-depth information about the range of products we offer, please fill out the form below to download our Architectural Timber Pricing and Product Guide. Inside you will find illustrations, specifications, portfolio photo examples and a hardwood timber price guide to assist with budgeting.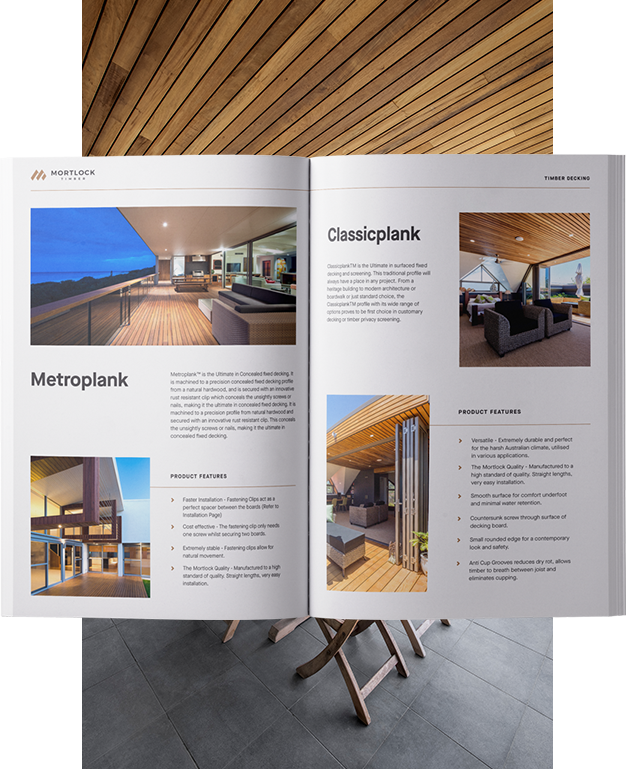 We are committed to bringing you timber products that add value and endure for years to come, even in heavy traffic and harsh weather conditions. We understand the value of efficiency when it comes to installation and keeping hardwood timber costs down. That's why we've spent decades perfecting our designs to make them easier to handle, less wasteful and more efficient to install. This efficiency allows us to offer you premier products that are more cost-effective so that you can experience greater savings on timber wall costs, timber ceiling costs, timber cladding costs and timber decking costs.
Download our Pricing and Product Guide for our complete hardwood timber price list including timber decking prices, timber wall prices, timber ceiling prices and timber cladding prices.