Is Jarrah and its use in building sustainable?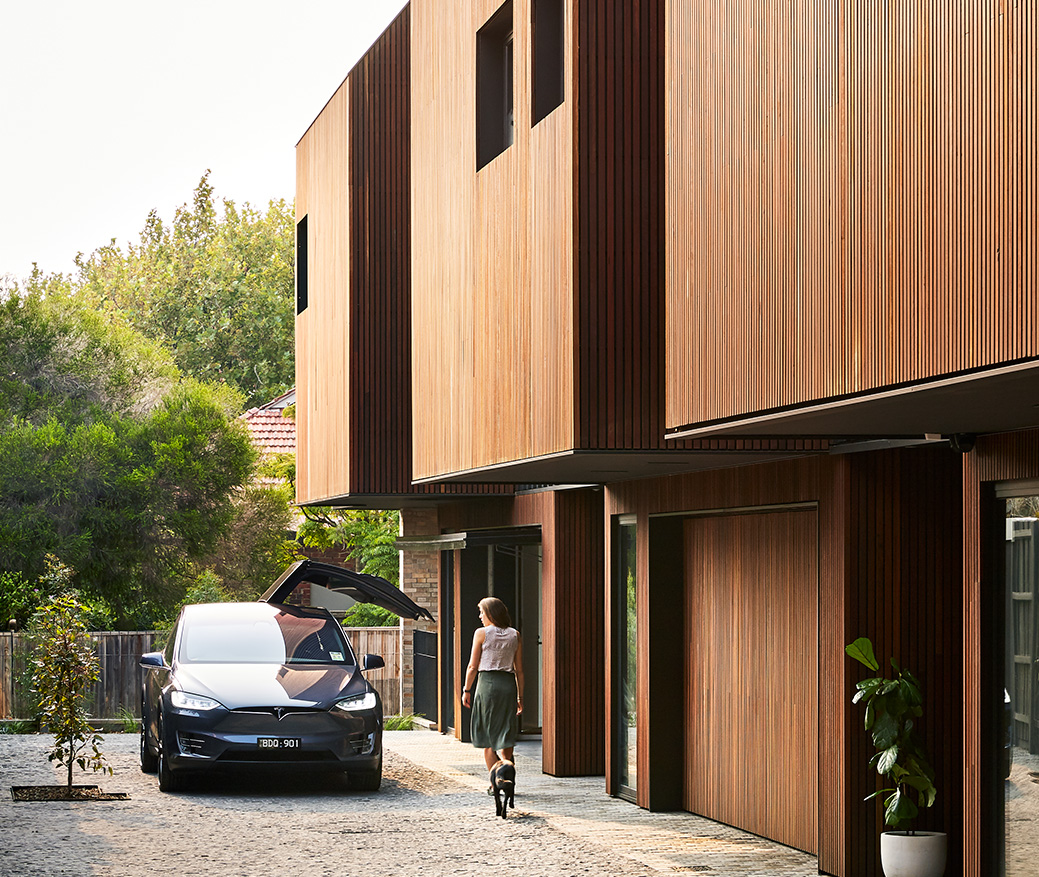 Australian jarrah wood is a sustainable and renewable resource, harvested exclusively from new growth forests in Western Australia. Thanks to its attractive appearance and excellent versatility, jarrah is a top choice for architects and designers looking for environmentally friendly solutions. Below, we explain how jarrah forests are managed in Australia and the environmental benefits that jarrah timber offers architectural projects.
Is jarrah sustainable?
Jarrah trees (eucalyptus marginata) for timber production are grown exclusively in south-west Western Australia. The timber industry in Western Australia is governed by strict state government regulations to ensure ecologically sustainable forest management and the protection of national parks, reserves and old growth forests.
Jarrah wood is harvested in a rotational manner, exclusively from new growth forests. The harvested forest areas are regenerated, so that there is an abundant supply of timber for future generations. Conservation practices are used to ensure that all existing understorey and overstorey species are present after the harvesting event.
How is jarrah managed in Western Australia?
The harvesting of jarrah in Western Australia is managed by the Forest Products Commission under the Forest Management Plan. Strict regulations are in place to ensure harvesting is done in a sustainable way that protects forest ecosystems and cultural interests while minimising the spread of weeds and diseases.
All old growth forests of jarrah are protected in Western Australia, and harvesting in old growth forests has been banned since 2001. Harvesting takes place exclusively in carefully selected patches of regrowth forest, and no more than 1% of the forest area is harvested in any given year.
Before harvesting can even begin, the forest area undergoes rigorous planning and assessment. Harvesting patches are chosen selectively, under scientific guidance, to ensure sustainable forest management.
After a harvesting event, another harvest in that given area will not occur for another 25 to 40 years. The forests are regenerated after each harvest and silviculture treatments are used to conserve the jarrah forests and improve their productivity.
Environmental benefits of jarrah
In addition to the sustainability of jarrah forest management, jarrah offers a number of other environmental advantages as a building material.
Jarrah wood is:
Readily recycled
Highly durable, with a long service life
A carbon storer – jarrah forests play an important role in tackling climate change
A natural material with biophilic properties (What is biophilic design in architecture?)
A local resource – using locally sourced timber reduces the environmental impact of transport and storage
Beyond jarrah trees, timber in general offers a number of environmental benefits over other building materials. Read more about the benefits of using wood.
Can jarrah be recycled?
Jarrah wood is widely recycled in Australia and beyond. Recycled timber is regularly salvaged from old houses, bridges, railway sleepers and warehouses, and repurposed for new projects. Unlike many other building materials which have a single purpose, jarrah can be given a new life through the recycling process.
The properties of jarrah wood make it particularly ideal for recycling. Being highly durable and resistant to termites, jarrah holds its structural and aesthetic integrity for a long time. It's also easy to work with and can be readily machined into custom dimensions.
Is jarrah wood sustainable for local projects?
As a native West Australian timber, jarrah is an ideal choice for local building projects in Western Australia and surrounding states. Selecting local timber dramatically reduces transport costs and the associated environmental footprint. Compared to materials imported from overseas or interstate, jarrah timber harvesting and manufacturing is significantly more energy efficient.
Using local materials has additional benefits of creating more local jobs and supporting local industries.
For architects and designers who are interested in creating built environments that are connected to nature, there are also aesthetic and philosophical benefits to using locally sourced timber. Designs that use jarrah timber feel grounded in the local environment and create a tangible connection to nature.
Is jarrah durable?
Jarrah wood is a strong and highly durable Australian hardwood, and when treated properly it has an excellent life expectancy. Rated Class 2 for durability, jarrah products can be expected to last 15 to 40 years for above-ground applications and 15 to 25 years for in-ground applications.
Jarrah is resistant to termites, rot and marine borers, and performs well even when exposed to tough weather conditions. Our jarrah decking and cladding is suitable for both interior and outdoor use, and is a top choice for high traffic locations. Jarrah is also naturally fire resistant and suitable for bushfire prone areas (BAL 12.5 and 19).
Not all jarrah products are manufactured to the same standard of quality. To improve the longevity and sustainability of using jarrah, we recommend using high quality, architectural standard products. Speak to our team about our range of finishes, treatments and profiles to maximise performance and minimise waste for your project.
Jarrah in sustainable architecture
Jarrah has long been a popular choice for sustainable architecture projects in Australia and beyond. At Mortlock Timber, we're committed to supporting architects and builders in creating environmentally conscious built environments. Our jarrah decking, cladding and timber batten products have been used by leading architects and designers looking for eco-friendly solutions.
All of our timber is sourced from sustainably managed forests and our products are designed to minimise waste without compromising on performance and durability. Download our product guide or speak to our team about how we can help you bring your vision to life.
View our pricing and product guide
For in-depth information about the range of products we offer, please fill out the form below to download our Architectural Timber Pricing and Product Guide. Inside you will find illustrations, specifications, portfolio photo examples and a hardwood timber price guide to assist with budgeting.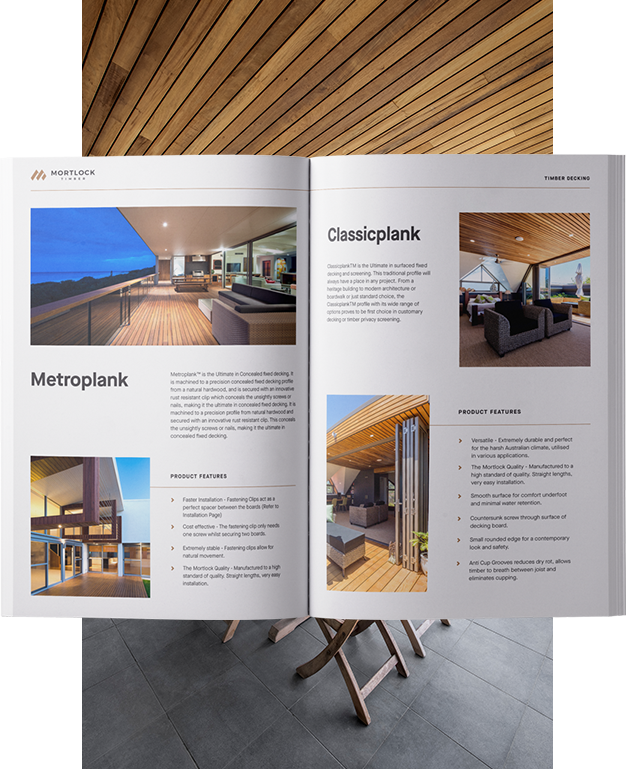 We are committed to bringing you timber products that add value and endure for years to come, even in heavy traffic and harsh weather conditions. We understand the value of efficiency when it comes to installation and keeping hardwood timber costs down. That's why we've spent decades perfecting our designs to make them easier to handle, less wasteful and more efficient to install. This efficiency allows us to offer you premier products that are more cost-effective so that you can experience greater savings on timber wall costs, timber ceiling costs, timber cladding costs and timber decking costs.
Download our Pricing and Product Guide for our complete hardwood timber price list including timber decking prices, timber wall prices, timber ceiling prices and timber cladding prices.