Examples of Sustainable Architecture to inspire your next project
Sustainability is fast becoming one of the most important considerations when designing human-centric homes, workplaces and public buildings. With the impacts of climate change more pressing than ever, there's a huge demand for sustainable buildings that cater to current communities without negatively impacting future generations.
Architects, designers and builders stand to benefit from embracing green architecture principles. From green buildings powered by solar energy to passive design homes made from local materials – here are 8 sustainable architecture examples to inspire your next project:
Architect: Seamus Ryan Architects
Builder: Tedex
Concrete House is a luxury, contemporary home designed with passive design principles to optimise its sustainability and connection to the natural surroundings.
The home is powered by renewable energy sources, including rooftop solar panels, solar battery storage and a geothermal heat pump. A high level of thermal insulation, triple glazed windows and an airtight membrane help maximise energy efficiency in the home. Optimum temperatures and a steady supply of fresh air is maintained by a heat recovery ventilation system.
Natural materials are used throughout, including charred timber, stone cladding and off-form concrete finishes. Combined with the panoramic ocean views, the natural materials help create a connection to the natural environment, in accordance with biophilic design principles.
Architect: Alexander Symes
Builder: AJP Constructions
When designing Light House, the team at Alexander Symes wanted to retain as much of the original house as possible while radically transforming the feel. Biophilic design strategies were used throughout the indoor and outdoor spaces, including the entryway via a green roof and a fluid connection between the living room and garden.
Sustainable materials – including timber cladding – were a core element of the building design, selected for their carbon neutral and carbon negative properties. Other sustainable architecture examples used in the project include double glazed windows, insulation, solar panels and rainwater tanks.
Architect: Loop Design Build
The Okapa Rise residence is a bush retreat set on 10,000m2 property just outside of Dunsborough. The green architecture design pairs contemporary features with sustainable practices to create a meditative space to unwind and connect with nature.
The living area features full height double glazed windows to allow impressive views of the sky and bush. It also maximises the amount of sunlight the room receives during the colder months, allowing reduced energy consumption on heating.
Sustainable building materials are used throughout, including spotted gum cladding, rammed limestone walls and jarrah floorboards. The materials have been chosen to minimise environmental impact and create a seamless connection between the built environment and the surrounding natural environment.
Architect: Hassell
The award-winning EZONE Student Hub is a shared space for students, researchers and industry partners on the Crawley campus of the University of Western Australia. Architects at Hassell used innovative sustainable design measures to create a modern and inviting space that encourages collaboration and connection.
Photovoltaic skylights are used in the ceiling, generating free and clean energy while improving thermal comfort in the indoor spaces. The distinct geometric veil that cocoons the building helps mitigate glare and heat for improved energy efficiency. The building also features a wind turbine and battery storage for charging electric cars. Sustainable materials were used throughout, including Mortlock Timber's Classicplank Timber Decking in spotted gum.
Architect: BVN
Winner of the 2020 Milo Dunphy Award for Sustainable Architecture, the Marrickville Library is a hub of information and connection for the local community. Combining a contemporary structure, innovative technologies and sustainable building design principles, the library is an inspiring sustainable architecture example.
Recycled and local materials were used where possible, and the sculpted forms of the ceiling ensure maximum natural light filters through. Energy costs are kept low thanks to the cooling system which relies on natural ventilation for most of the year, with a mixed system for extreme weather. A rainwater collection system and shared outdoor green space further help reduce the carbon footprint of the building.
Architects: DKO architects and Breathe Architecture
Builder: Ironside
The 2021 winner of the Sustainable Building Awards for a multi-residential dwelling, Breese Street was designed with sustainable living at the core. Its operation is fossil fuel free and carbon neutral, boasting a 7.5-star NatHERs sustainable rating.
The building is powered by renewable energy, with over 30 kilowatts of solar photovoltaic panels on the rooftop and hydronic heating and ceiling fans throughout. Building materials were carefully chosen with the lifecycle in mind and sourced locally where possible. The design includes a green roof with native plants, a beehive and a community vegetable garden.
Architect: Woods Bagot
The Hayesbery is an innovative and sustainable workspace, designed to encourage innovation, collaboration and wellbeing. The series of interlinked spaces allow for flexibility and adaptability, whether they are being used for independent and collaborative work, social events or wellness activities.
Natural light is a key feature of the construction, meaning artificial lighting isn't needed throughout the day. An outdoor work area encourages connection with nature, inviting the benefits of biophilic design including increased productivity and mental wellbeing. Other sustainable features include two 100kW solar panel systems, rain water storage for irrigation, natural ventilation, indoor plants and recycled materials.
Supporting Australian architects in sustainable projects
Mortlock Timber is committed to supporting Australian architects, designers and builders to bring their vision to life. Our sustainably and ethically sourced timber products have been used on award-winning sustainable building projects across the country.
Looking for more inspiration? Read about the advantages of timber as a building material or check out these best places to find architecture inspiration. You can also find more sustainable architecture examples on our portfolio page.
To see what's possible with our architecture timber products, download our product and pricing guide or call us on 1800 953 004.
View our pricing and product guide
For in-depth information about the range of products we offer, please fill out the form below to download our Architectural Timber Pricing and Product Guide. Inside you will find illustrations, specifications, portfolio photo examples and a hardwood timber price guide to assist with budgeting.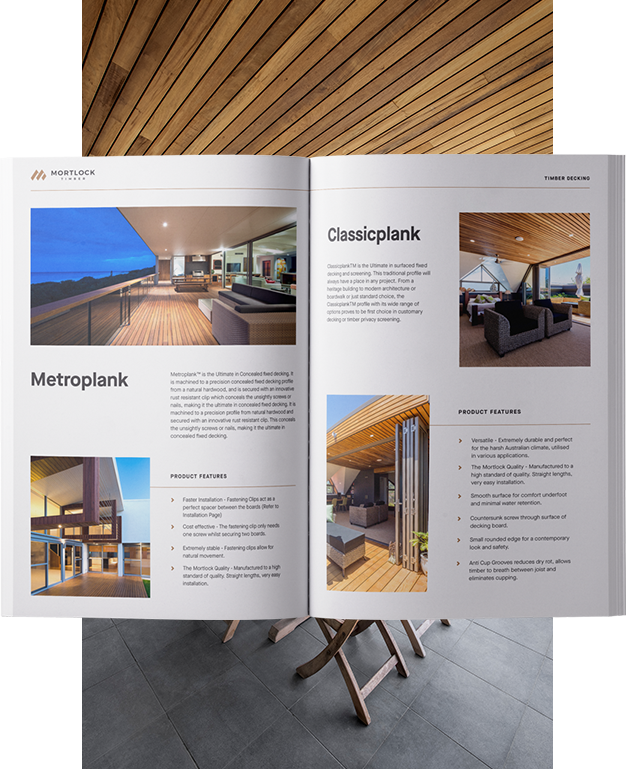 We are committed to bringing you timber products that add value and endure for years to come, even in heavy traffic and harsh weather conditions. We understand the value of efficiency when it comes to installation and keeping hardwood timber costs down. That's why we've spent decades perfecting our designs to make them easier to handle, less wasteful and more efficient to install. This efficiency allows us to offer you premier products that are more cost-effective so that you can experience greater savings on timber wall costs, timber ceiling costs, timber cladding costs and timber decking costs.
Download our Pricing and Product Guide for our complete hardwood timber price list including timber decking prices, timber wall prices, timber ceiling prices and timber cladding prices.