Article
Information
Learning Hub
The Best Places to Find Inspiration for your Next Architectural Project
From nature to video games, travel and history – architects are good at finding inspiration in unlikely places. Sometimes all you need is a good article to read, innovative case studies to flick through or a quick video to watch on the train to work.

Whether your next project is a high rise building or a petite family home, online blogs and magazines are a great place to start looking for ideas. They're also good at connecting you with a community of like-minded designers and new opportunities in the industry.

To help you get started, we've put together a list of the top 10 places to find architecture inspiration online. Happy reading!
Arch Daily is an international hub for architects and designers. It features contemporary inspiration, industry knowledge and innovative ideas from leading architects around the world.
In addition to showcasing award winning designs, Arch Daily has a helpful collection of articles which explain key design principles, building materials and architectural movements.
There's also a 'Folders' feature which allows you to collect articles that inspire you in one place. You can use this to curate inspiration for your next project or view folders from other uses with titles such as 'Library' or 'Accessibility' or 'Green Building'.
Where to start: Carbonized Wood: A Traditional Japanese Technique that has Conquered the World
The Design Files is an Australian design blog, covering local architecture, landscaping, interior design, art and more. Founded in Melbourne by stylist Lucy Feagins, the website celebrates Australian creations and creators with an emphasis on engaging story telling.
The architecture section of the blog covers everything from award winning houses and sustainable tiny homes to innovative renovations and nature-inspired designs. Their curated list-based articles are a great place to dive in.
Where to start: 9 Outrageously Beautiful Australian Coastal Homes
The Local Project is an Australian magazine showcasing architecture and interiors from leading and emerging designers. On the website you'll find bite-sized articles and longer project features with an emphasis on human-centred design.
In addition to its insightful articles and high quality imagery, The Local Project has a solid collection of video content. This allows you to get a three dimensional sense of the buildings and interior spaces as well as a more personal understanding of what inspired the design.
Where to start: Closely Entwined – Riley's Terrace by Adele McNab Architecture
Green Magazine publishes Australian and international stories about sustainable architecture and design. The online and print magazine features residential, commercial and landscape projects which work with nature rather and embrace sustainable practices.
The tips section of the website contains case studies and industry advice for architects working on new projects. Here you can learn about topics such as passive design, sustainable building materials, solar power, biophilic design and more.
Where to start: Nesting With Style
Design Milk is a progressive design blog with a solid architecture section. The website showcases emerging talent and innovative designs from around the world, with an emphasis on sustainable and inclusive projects.
In addition to the architecture inspiration, Design Milk introduces its audience to the creative thinkers, industry leaders and up and coming talent behind the work. Their Friday-5 series is a fun way to peek behind the designs and understand what inspires the people that make them.
Where to start: 10 Modern Houses Inspired by Barns
Dezeen is an online design magazine showcasing architectural projects and news from around the world. Their stories cover everything from Japanese architecture to residential extensions, rustic cabins, high rise buildings and more.
Dezeen also hosts industry events, runs an annual awards programme, manages an international jobs board and curates an online showroom where architects and designers can showcase their work.
Where to start: Japanese architecture informs design of Minnesota house by Salmela Architect
Dwell is an Australian magazine devoted to residential architecture and design. It features architectural ideas, home tours, renovation inspiration, design news and more.
They have a solid collection of Australian homes, but international designs are heavily featured too. The image-rich articles explore every type of home from luxury estates to tiny homes, apartments, suburban residences and off grid getaways.
Where to start: A Timber-Clad Home in Australia Is a Striking Place to Grow Old In
Architectural Digest is an online and print architecture magazine featuring architecture inspiration and industry news. Originally launched in California, the magazine now published nine international editions.
The website has a section dedicated to celebrity real estate, giving you a peek into homes of famous people like Vanessa Hudgens, Tom Brady and Adam Levine. Plus, there's plenty of video content to get through.
Where to start: 9 Stunning Homes Around the World that Defy Gravity
DesignBoom is an online hub for the latest news and issues affecting the architecture and design industries. With branches in Milan, Beijing and New York, DesignBoom offers interviews, case studies and breath-taking architecture inspiration from across the world.
Where to start: Cantilevered wooden house by Ciguë floats lightly above verdant field in France
Frame is an architectural magazine based in Amsterdam. It showcases innovative architectural spaces from around the world, including homes, workplaces, retail venues and institutions.
The website has a helpful search function, allowing you to filter articles by material, location, colour, type of space and more. Frame also runs an awards programme and hosts physical and virtual events for industry professionals.
Where to start: A Small Czech Town Boasts a Leading Example of Intuitive, Biophilic Residential Design
In their own words, ArchiPro is an all-in-one platform that helps Aussies find trusted products and professionals for their building project. They're a marketplace for stunning home interior pieces, beautiful building materials and more. They're also a source of inspiration; their showcase of projects is expertly curated and laid out in a way that's both easy to navigate and pleasing to the eye.
Finally, once you're bursting with inspiration, both for material choice and design style; ArchiPro connects you with professionals to bring your vision to reality.
Where to start: Lloyd House by Dieppe Design, a stunning renovation of a unique heritage home.
Particularly close to our hearts is Havenist. A Western Australia magazine, Havenist features stunning local projects and dives deep into the creative process behind them. Inspired by local creative genius, let this fantastic online magazine inspire you in your next project.
Havenist also makes it easy to find the products shown in their features, with their marketplace feature making it simple to navigate to the retailer's product listing. With a magazine available in both print and digital, keep a finger on the pulse and be endlessly inspired.
Where to start: Horse Stud, a modern interpretation of the idyllic country dream.
See Mortlock Timber in action
Keen on using timber in your next project?
Check out our guide to architectural timber features and our post on the benefits of timber as a building material for some quick inspiration.
Mortlock Timber supplies a range of premium timber products that have been used by leading Australian architects to create stunning timber ceilings, walls, decks and more. Visit our portfolio to see products like Shou Sugi Ban and Trendplank in action.
Download our Product and Pricing guide for more information.
View our pricing and product guide
For in-depth information about the range of products we offer, please fill out the form below to download our Architectural Timber Pricing and Product Guide. Inside you will find illustrations, specifications, portfolio photo examples and a hardwood timber price guide to assist with budgeting.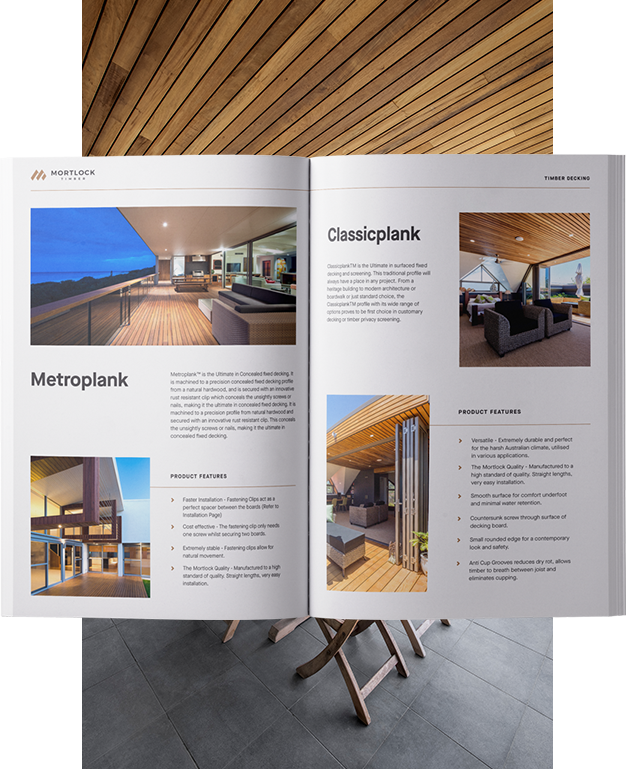 We are committed to bringing you timber products that add value and endure for years to come, even in heavy traffic and harsh weather conditions. We understand the value of efficiency when it comes to installation and keeping hardwood timber costs down. That's why we've spent decades perfecting our designs to make them easier to handle, less wasteful and more efficient to install. This efficiency allows us to offer you premier products that are more cost-effective so that you can experience greater savings on timber wall costs, timber ceiling costs, timber cladding costs and timber decking costs.
Download our Pricing and Product Guide for our complete hardwood timber price list including timber decking prices, timber wall prices, timber ceiling prices and timber cladding prices.