Timber's making a comeback: Why are so many public projects featuring wood so heavily?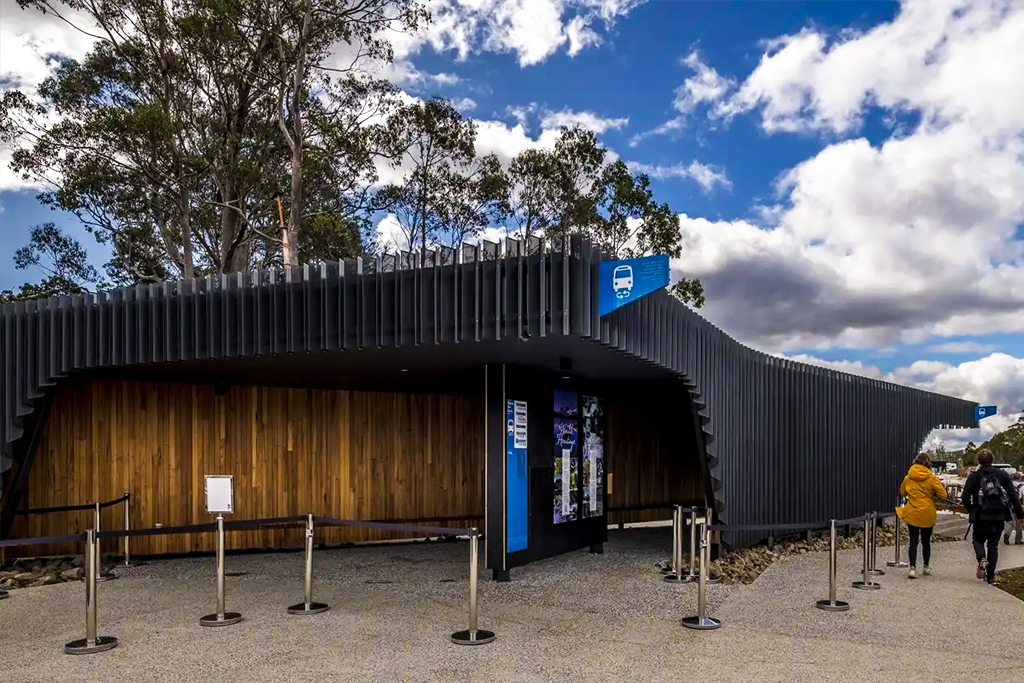 Public building projects must meet sustainability goals, stand the test of time and contribute to the local community. When you consider the advantages of timber as a building material, it's easy to see why timber is being used by architects and designers across Australia.
Not only is timber one of the most environmentally friendly building materials, it also contributes to the health and wellbeing of building occupants. And thanks to advances in technology, timber is more durable and long-lasting than ever before.
Below we explore in more depth the many advantages of timber as a building material for public indoor and outdoor spaces.
Sustainability & Environmental Impact
When designing a public project, sustainability and the environmental impact are crucial factors to consider. Harvested from sustainably managed forests, timber is one of the most environmentally friendly building materials available.
Timber is a renewable resource: for every tree that is harvested, several more are planted which ensures we will not run out of the material. Wood is also a carbon positive product, storing carbon dioxide throughout the manufacturing process.
In comparison, building materials like steel, aluminium and concrete tend to be large emission producers. These materials also require a lot more energy during their manufacturing process than timber does.
Recycling: Thinking Long Term
An important part of designing environmentally friendly public buildings is thinking long term about what will happen to the materials at the end of their life. Many building materials cannot be recycled and some can have damaging consequences to the environment and soil.
On the other hand, timber can be recycled at the end of its life. As a natural, non-toxic material, it will not break down into environmentally harmful substances. This is one of the reasons why hardwood is a better option in the composite decking vs wood debate.
Celebrating Local Woods
The goal of most public projects is to activate local spaces and celebrate the environment and culture unique to that place. Building with local timber species can contribute to this goal. By using native timbers, your project will stay deeply connected to the local area and blend in with the surrounding environment harmoniously.
Choosing Australian hardwood timber species like jarrah, blackbutt and spotted gum is also better for the environment. Local woods require less transportation and storage, which means reduced carbon emissions throughout the process.
FEATURED PROJECT:
The Cradle Mountain Visitor Centre in Tasmania used our Trendplank timber cladding profile with Silver Top Ash – a beautiful local timber species which grows in Tasmania, Victoria and New South Wales. The visitor centre is architecturally beautiful and engaging, while blending in with the natural environment of Cradle Mountain National Park.
Energy Efficient Designs
As a natural insulator, timber is an excellent choice for energy efficient building designs. The structure of timber contains many tiny air pockets throughout. These air pockets break up the pathway of heat, slowing down heat transfer.
The insulating power of timber not only helps create a more comfortable indoor environment, but it can also reduce the energy consumption of a building. Artificial heating and cooling becomes far more energy efficient when effective insulating materials are used.
Durability & Longevity
When properly manufactured and maintained, wood is a durable building material that can last for a very long time. Thanks to advances in preservative technology, modern timber products have enhanced durability and longevity.
Hardwood timber is naturally resistant to heat and can cope with frost, corrosion and pollution. Many timber species are also naturally resistant to termites, rotting and fire. During the case of a fire, the charcoal layer that is formed on the surface of the timber acts as an insulating barrier that slows down the combustion rate.
FEATURED PROJECT:
In the outdoor sections surrounding Mandurah Forum, our Marineplank blackbutt decking has been used. This highly durable and robust decking can cope with high foot traffic and exposure to sun and salt.
Bringing Beauty Into Public Spaces
Hardwood timber has long been celebrated as one of the most beautiful building elements available. With its rich colours, interesting textures and tactile nature, timber can bring warmth and life to any architectural design. Whether it is used as decking, ceiling cladding or a striking wall feature, more and more architects are choosing timber to bring an element of natural beauty.
Many public buildings are designed with functionality in mind, but incorporating beauty should also be a key consideration. Aesthetically pleasing buildings encourage people to engage with the space and create a positive emotional connection with the building. Beautiful spaces can also contribute to a greater sense of satisfaction and wellbeing.
FEATURED PROJECT:
The Scarborough Beach Pool building uses our Trendplank cladding profile in pacific teak and our Classicplank decking profile in blackbutt. These timber elements help create a striking and beautiful building that is durable enough to cope with high traffic, sun and salt.
Health & Wellbeing
Creating public spaces which assist the health and wellbeing of the community is important. The building materials chosen can actually have a significant impact on people's mood, mental state and sense of satisfaction. Studies across the world have shown the positive effects that wood offers.
The term 'biophilia' describes how connection to nature is critical to our wellbeing. According to Planet Ark, interiors that feature wood elements can have similar health benefits as spending time in nature. By incorporating natural looking wood elements in public building designs like office spaces and waiting rooms, you can contribute to improved wellbeing for staff and visitors.
Need assistance with timber for your public project? Get in touch with Mortlock Timber today – we look forward to helping you bring your vision to life.
View our pricing and product guide
For in-depth information about the range of products we offer, please fill out the form below to download our Architectural Timber Pricing and Product Guide. Inside you will find illustrations, specifications, portfolio photo examples and a hardwood timber price guide to assist with budgeting.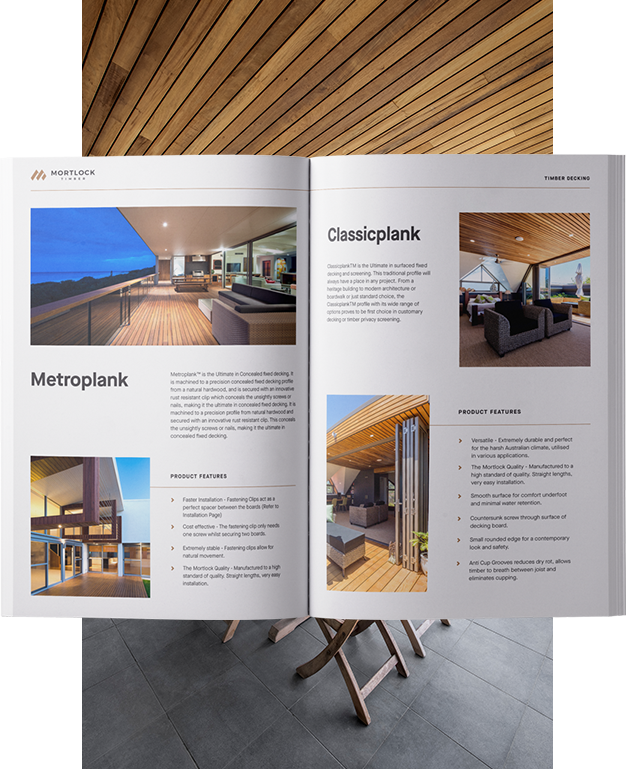 We are committed to bringing you timber products that add value and endure for years to come, even in heavy traffic and harsh weather conditions. We understand the value of efficiency when it comes to installation and keeping hardwood timber costs down. That's why we've spent decades perfecting our designs to make them easier to handle, less wasteful and more efficient to install. This efficiency allows us to offer you premier products that are more cost-effective so that you can experience greater savings on timber wall costs, timber ceiling costs, timber cladding costs and timber decking costs.
Download our Pricing and Product Guide for our complete hardwood timber price list including timber decking prices, timber wall prices, timber ceiling prices and timber cladding prices.