Article
Information
Learning Hub
Shou Sugi Ban
Timber Cladding
Can You Get Different Shou Sugi Ban Textures?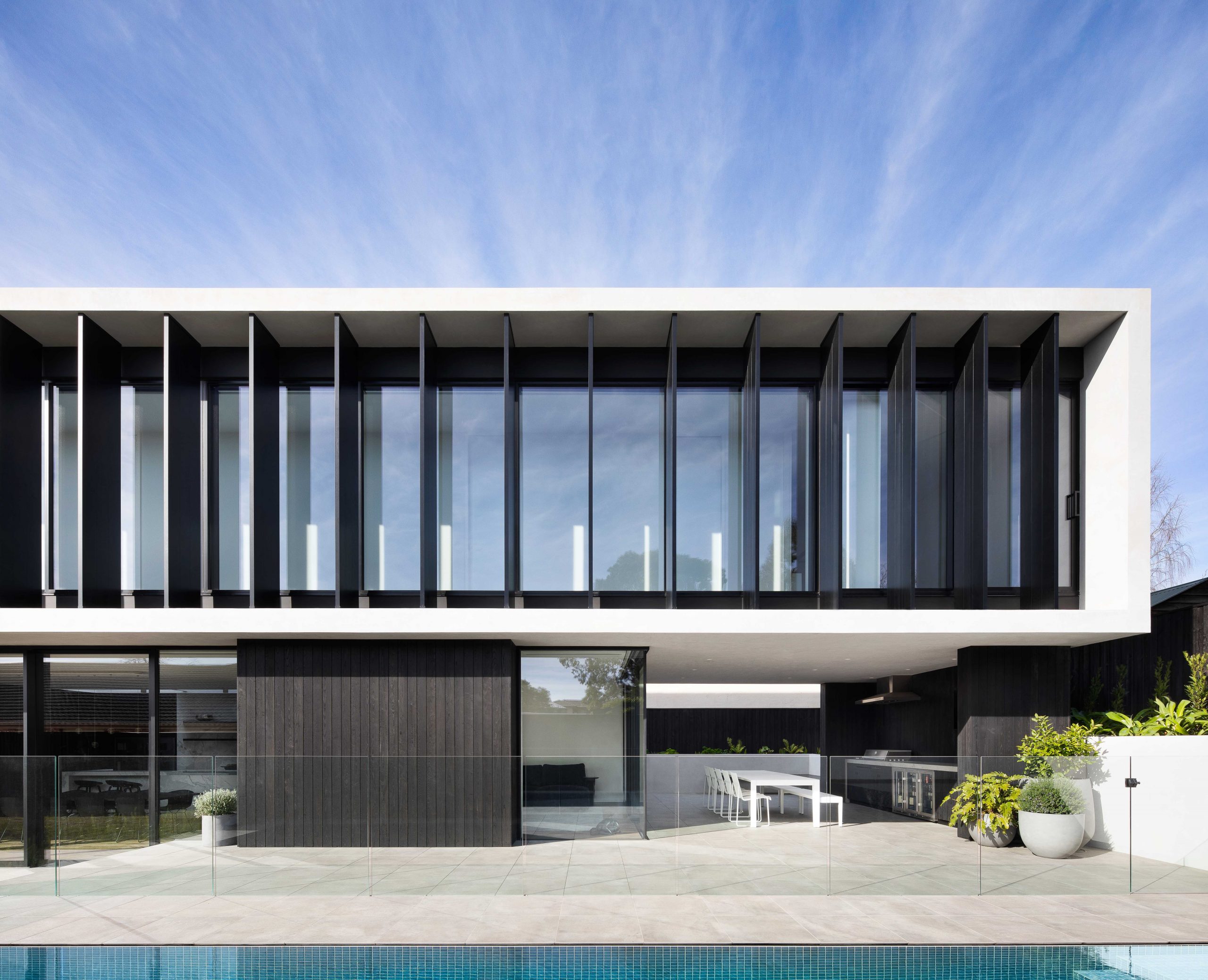 Charred timber cladding, also known as Shou Sugi Ban or yakisugi, has its roots in 18th Century Japan but is making a modern comeback. Loved for its striking appearance, subtle textures and high natural durability, Shou Sugi Ban cladding is used widely for internal and external applications alike.
While the charring process is carried out to a high degree of consistency, charred timber naturally varies in texture depending on the wood species, the hardness of the wood and the Shou Sugi Ban techniques used.

In this guide, we cover:
Plus, we've included some photo guides to demonstrate the variations in Shou Sugi Ban texture.
What is the Shou Sugi Ban process?
Shou Sugi Ban is a traditional Japanese process that involves lightly charring the external surface of the timber so that it forms an even black carbon layer. While the burning process is simple in theory, it requires a high level of skill and technique to ensure an even char layer across the surface of the timber. An even layer is important to prevent uneven weathering of the wood over time.
At Mortlock Timber, our Shou Sugi Ban products are made in house using a purpose built machine that exposes the timber to fire at a consistent pace. This allows us to have full control over the quality of the charred wood at every step of the process. Our system also includes a unique cooling process which helps us achieve a consistent and even finish. We can supply Shou Sugi Ban boards hand brushed with a wire brush to emphasise the natural textures and grain patterns.
Find out more: What is Shou Sugi Ban?
Why are there variations in Shou Sugi Ban texture?
While Mortlock Timber offers the most consistent charred timber on the market, you should still expect to see varying levels of charring on the surface of the boards. As timber is a natural product, the hardness of each piece of timber varies. Generally, the harder the timber, the longer it takes to char. So slight variations in timber hardness can result in varying levels of char layer with Shou Sugi Ban cladding.
While a high level of consistency and quality is important, variations in Shou Sugi Ban texture form part of the natural beauty of the product. Indeed, architects and designers are drawn to Shou Sugi Ban for its distinct aesthetic and textural beauty.
Below are some example images of what level of texture variation you should expect to see.
Burnt Ash Shou Sugi Ban
Burnt Ash is thermally modified American Ash, a strong and resilient hardwood timber grown predominantly in North America. The chemical-free thermal modification process uses heat and steam to improve the durability and rot resistance of the wood. Burnt Ash is one of the best timbers for Shou Sugi Ban, due to its high stability and relatively low density. Compared to Australian hardwood timbers, Burnt Ash is able to achieve a deeper char layer, reducing maintenance requirements and improving durability of the Shou Sugi Ban product.
The photos below showcase the variation in Shou Sugi Ban texture you can expect when using Burnt Ash timber.
Jarrah Shou Sugi Ban
Jarrah is a cost-effective timber which produces a beautiful result when put through the charring process. Fine sawn jarrah performs second to Burnt Ash, allowing a deeper penetration of the char layer and reduced maintenance needs over time. Charred jarrah cladding and battens can be used in bushfire zones where BAL19 is required.
The images below highlight the textural variation you can expect with Jarrah Shou Sugi Ban products.
Spotted Gum Shou Sugi Ban
Spotted Gum allows an attractive natural texture to shine through when it has undergone the charring process. Due to its naturally high fire resistant properties, charred Spotted Gum battens and cladding are often used in bushfire zones where BAL29 is required. Not as stable as Burnt Ash, Spotted Gum timber can't achieve the same depth of char and requires more maintenance over time (read our Shou Sugi Ban maintenance guide for more information).
A lightly charred Spotted Gum board can have a smooth and subtle appearance, while a heavier char can result in a crackled, rustic texture.
Our Shou Sugi Ban Projects
Charred wood is a beautiful addition to residential and commercial projects, offering a timeless aesthetic while allowing natural Shou Sugi Ban textures to shine through.
At Mortlock Timber, our Shou Sugi Ban cladding is made using our Trendplank profile. Trendplank is a versatile and high performing concealed fixed timber cladding, suitable for walls and ceilings in internal and external applications. Expertly designed to allow for natural timber movement, Trendplank improves the durability, aesthetic appeal and ease of installation for charred timber products.
Our Shou Sugi Ban products have been used by leading architects and builders across Australia with stunning results. Below are some examples of our products at work.
Shou Sugi Ban Project Images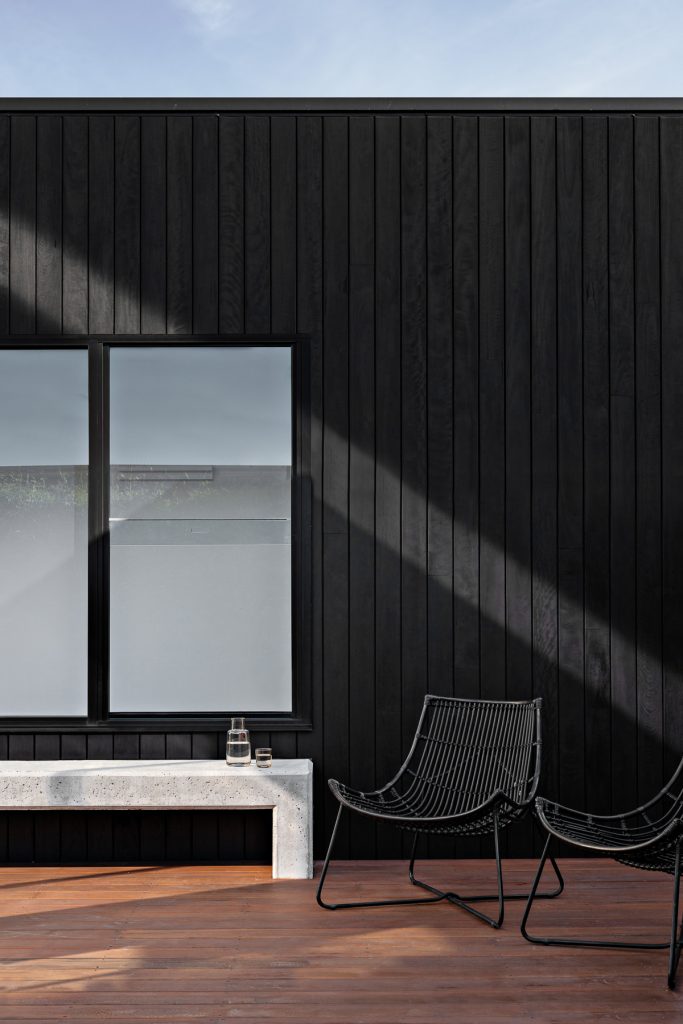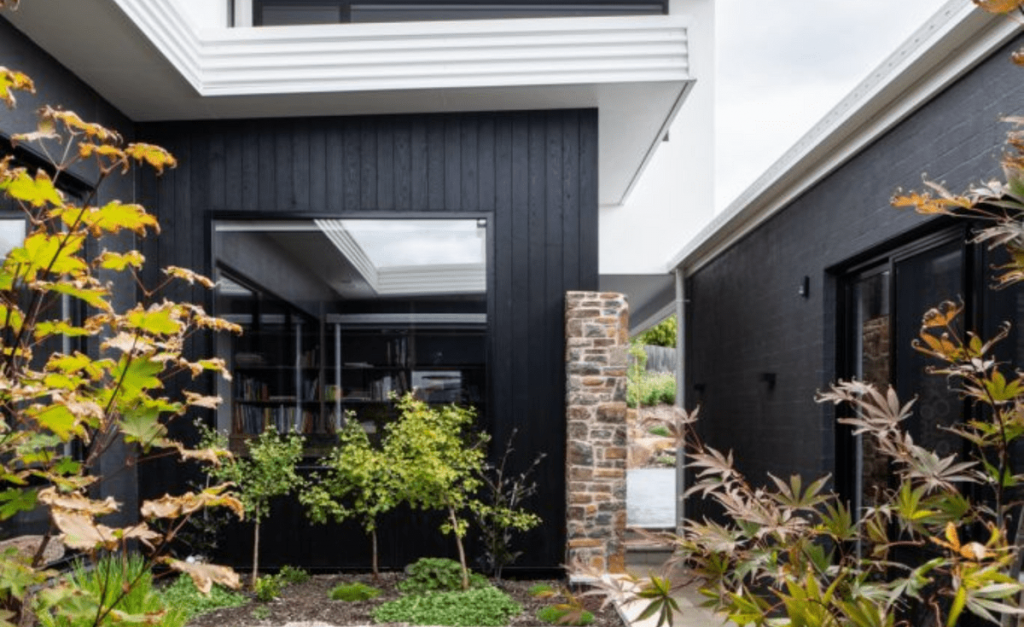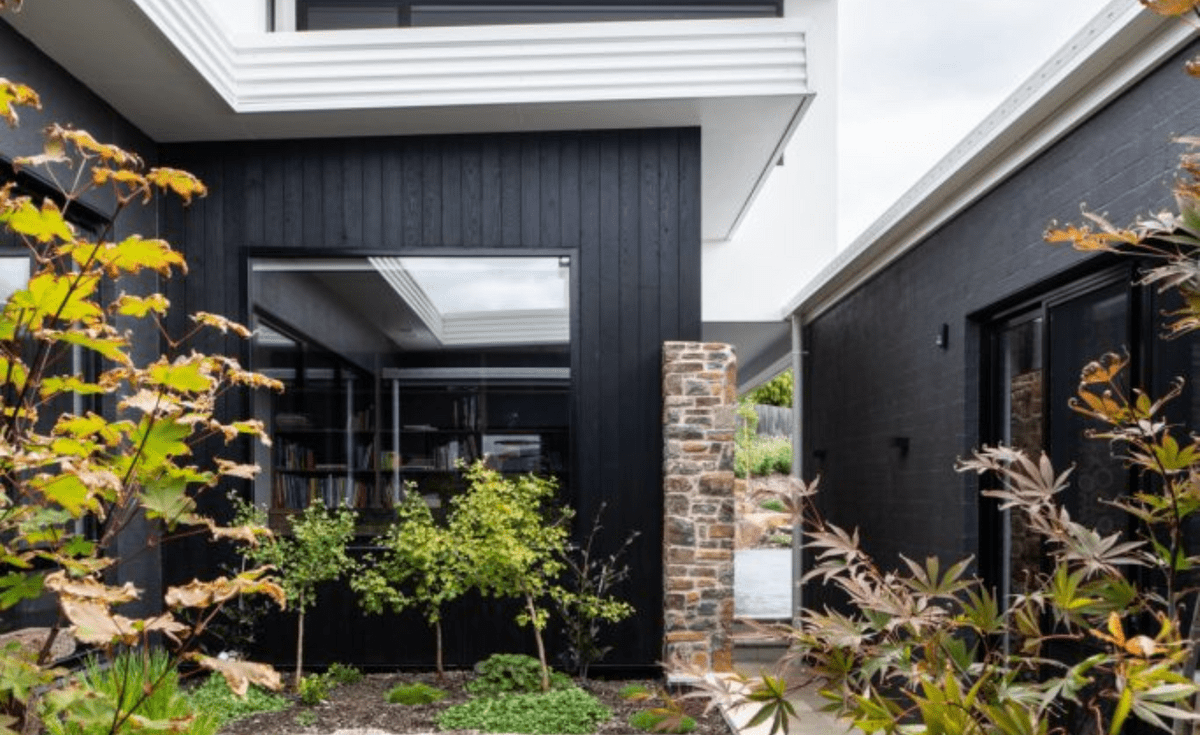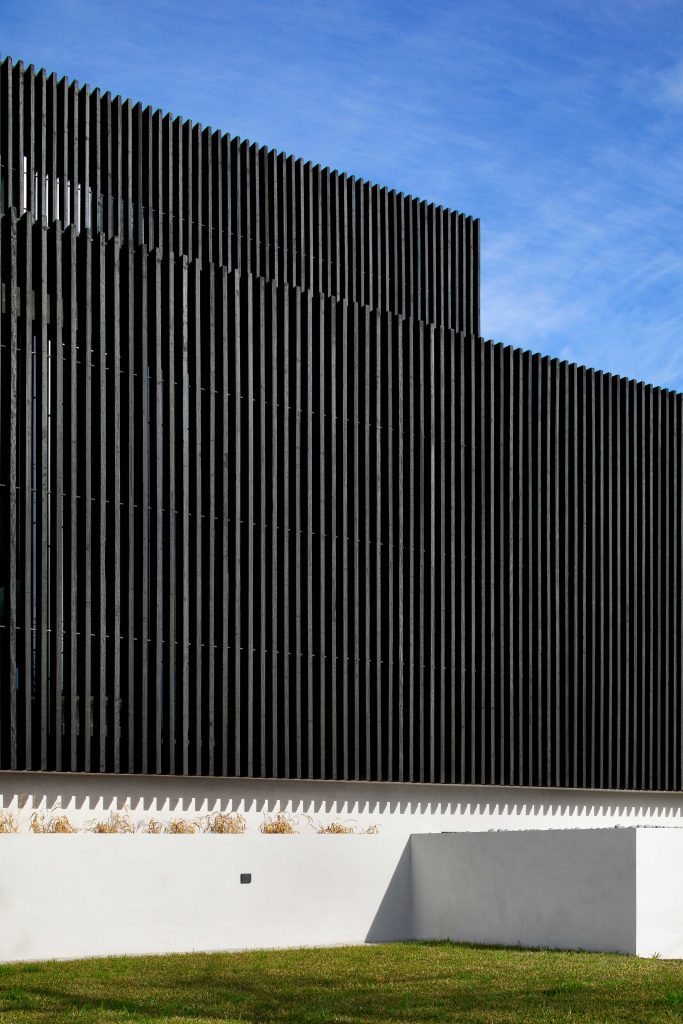 Got questions? Ask our team of experts.
For more information about Shou Sugi Ban texture or Shou Sugi Ban architectural timber cladding, get in touch with the team Mortlock Timber. We'll work closely with you to ensure you're getting the quality, appearance and durability you need for your project. Call us today on 1800 953 004.
View our Shou Sugi Ban pricing and product guide
For in-depth information about the range of products we offer, please fill out the form below to download our Architectural Timber Pricing and Product Guide. Inside you will find illustrations, specifications, portfolio photo examples and a hardwood timber price guide to assist with budgeting.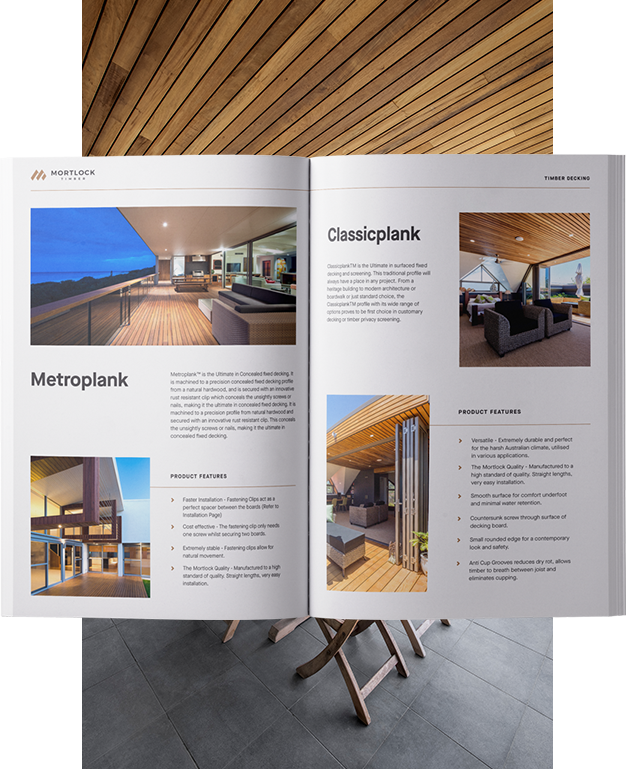 We are committed to bringing you timber products that add value and endure for years to come, even in heavy traffic and harsh weather conditions. We understand the value of efficiency when it comes to installation and keeping hardwood timber costs down. That's why we've spent decades perfecting our designs to make them easier to handle, less wasteful and more efficient to install. This efficiency allows us to offer you premier products that are more cost-effective so that you can experience greater savings on timber wall costs, timber ceiling costs, timber cladding costs and timber decking costs.
Download our Pricing and Product Guide for our complete hardwood timber price list including timber decking prices, timber wall prices, timber ceiling prices and timber cladding prices.