Article
Learning Hub
Timber Cladding
Timber Walls
Trendplank
5 of Australia's Most Stunning Timber Cladding Options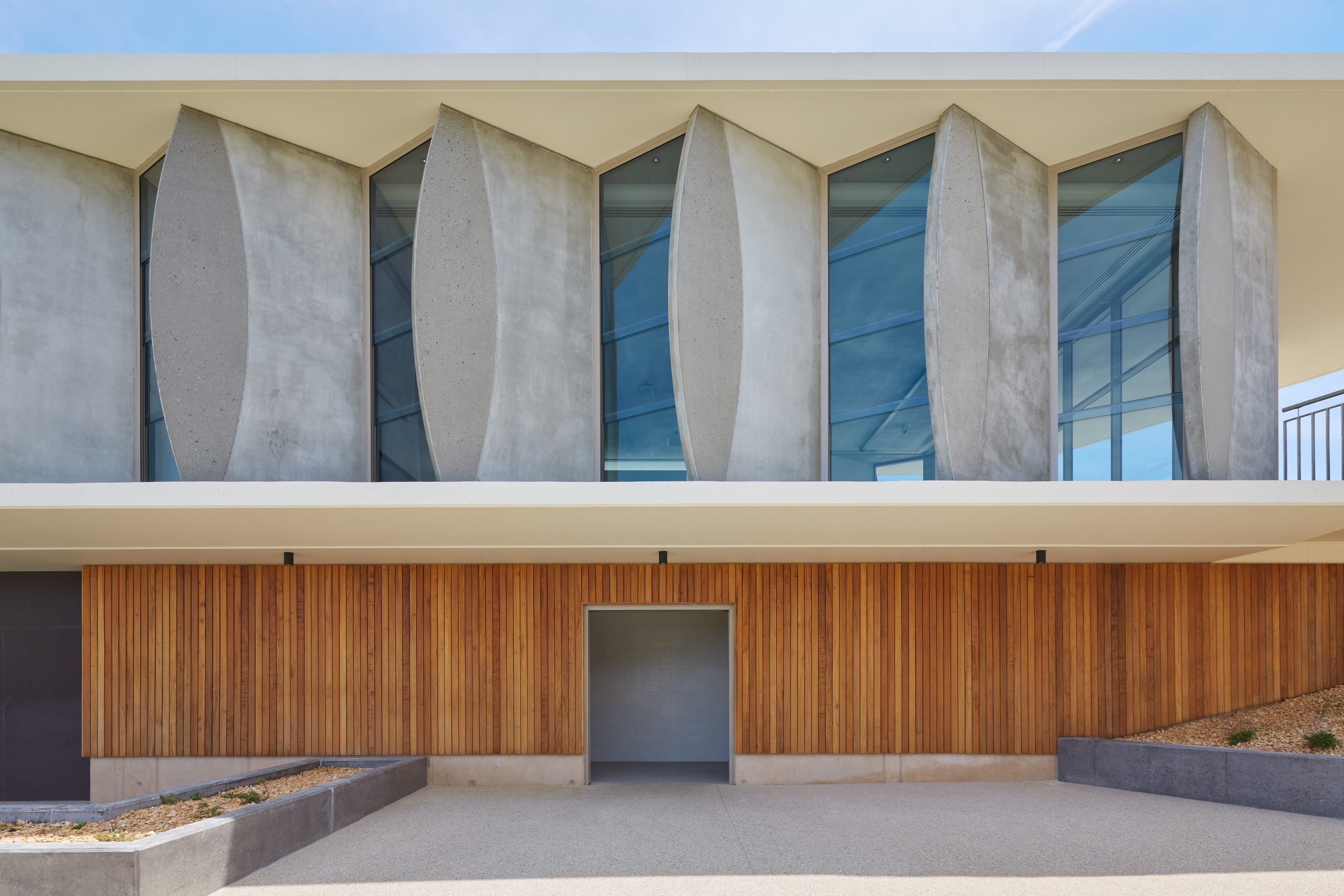 If you're looking to update your home's exterior or build a new home with eye-catching street appeal, timber cladding could be the way to go.
Wood is a stylish, sustainable and incredibly versatile cladding material, and with so many different options out there, it's a great way to customise the appearance of your home.
Plus, if you need more reasons to use a natural cladding material, there's a growing body of research that suggests using wood in our built environments can make us feel happier, less stressed and more productive. Using wood cladding as a part of larger biophilic design principles at home could improve your family's well being.
Not sure what's possible? Here are 5 stunning house cladding options to consider.
1. Pacific Teak Cladding

Pacific teak is an attractive timber species that is exceptionally stable and easy to work with, making it ideal for external cladding applications, even in challenging climates.
Pacific teak cladding is used in this riverside residence to provide an elegant and inviting exterior. The creamy hues of the timber complement the understated tones used in the rest of the home and provide an eye-catching contrast to the blue of the nearby river.
Above the outdoor entertainment area, pacific teak cladding is used on a curved wall to provide texture and warmth. For projects like this, it's important to use a cladding product that allows for natural timber movement. We recommend Trendplank cladding which uses a tongue and groove profile to increase weatherproofing and minimise material waste during installation.
Pacific teak cladding is a popular choice for creating external feature walls, such as in this Churchlands residence. The natural colour variations in the boards gives an element of texture to the house which is complemented by the native garden at the side and the warm lights within.
2. Spotted Gum Cladding

Spotted gum is a native Australian hardwood, known for its excellent durability and fire resistance properties. Its colours range from soft light browns to earthy red-brown hues, which can be enhanced further with various finishes.
Spotted gum exterior cladding is used in this Augusta residence to create a bold look. The warm red-brown tones of the wood make the home stand out from a landscape that is dominated by blues and greens.
Spotted gum cladding has been used to create both internal and external feature walls in this Moreing Road Residence. The natural textures of spotted gum soften the smooth, hard materials used throughout the rest of the home.
Australian hardwoods like spotted gum are often used in conjunction with natural stone cladding or stone feature walls to help the house feel part of the surrounding landscape.
One advantage of Australian hardwoods like spotted gum, jarrah and blackbutt are their natural fire-resistant properties. This makes them a good choice for bushfire prone areas. Spotted gum can be used for BAL 12.5, 19 and 29 ratings.
3. Shou Sugi Ban Charred Timber Cladding

Shou Sugi Ban is a distinct black cladding made from charring the outer layer of the boards with fire. This type of cladding has its roots in 18th Century Japan, where it was found charring the timber actually improves its weatherproofing properties. Modern Shou Sugi Ban products require less maintenance than un-charred timber, especially if the ideal char thickness is achieved.
It's important to choose the right timber species if you want to use charred timber cladding for your home. At Mortlock Timber, we recommend Burnt Ash (thermally modified American ash) because it is highly stable and forms the ideal thickness char layer during the Shou Sugi Ban process.
In this Lane Cove residence, Shou Sugi Ban cladding is used in different layers of the home's exterior to provide visual interest. It forms part of the home's minimalist colour palette which allows the surrounding greenery to provide a natural frame.
Shou sugi ban is popular in minimalist home designs that draw on Japanese design principles. The effect of charred cladding is often subtle and understated, achieving harmony with the other elements in the design. Black window and door frames are used in this Bulli Residence to further enhance the effect of the Shou Sugi Ban exterior cladding.
4. Weathered Timber Cladding

Weathered timber cladding is a popular house cladding option for coastal residences and luxury beach homes. Left to weather naturally, timber species like pacific teak and burnt ash take on an attractive silvery hue.
Weathering should be done with timber species that are highly stable to avoid cupping and warping over time. We recommend pacific teak and burnt ash because of their high stability which means they have minimal shrinkage and expansion.
One of the advantages of weathered timber is the reduced maintenance requirements, although you will still need to perform some maintenance to ensure the wood remains weatherproof. In general, recoating is required every 12-18 months if you want to preserve the colour of the timber but weathered timber can go 4-5 years or longer without maintenance.
5. Vacoa Cladding

Vacoa is a knotty Nordic pine that has been treated with a thermal modification process to make it more durable and weatherproof. It's ideal for external cladding projects and can tolerate challenging Australian climates well. Vacoa can also be used for interior wall cladding and ceiling cladding.
The thermal modification process changes the wood at a cellular level, improving its stability and making it resistant to rot. All resins are removed during thermal modification, meaning there's no risk of tannin leaching with Vacoa cladding.
Vacoa exterior wall cladding can be finished in a number of ways, one of the most popular being fine sawn. A fine sawn finish adds extra protection to the surface and allows any oils you apply to penetrate deep into the wood.
Get accurate pricing and product info

Want to take a deeper dive into the different house cladding options in this article? Download our pricing and product guide. It's got details about sizing, finishes, installation, fire ratings, pricing and more. Plus, there's more real-life inspiration about how to use house cladding and helpful illustrations so you can wrap your head around the more technical details.
View our Timber Cladding pricing and product guide
For in-depth information about the range of products we offer, please fill out the form below to download our Architectural Timber Pricing and Product Guide. Inside you will find illustrations, specifications, portfolio photo examples and a hardwood timber price guide to assist with budgeting.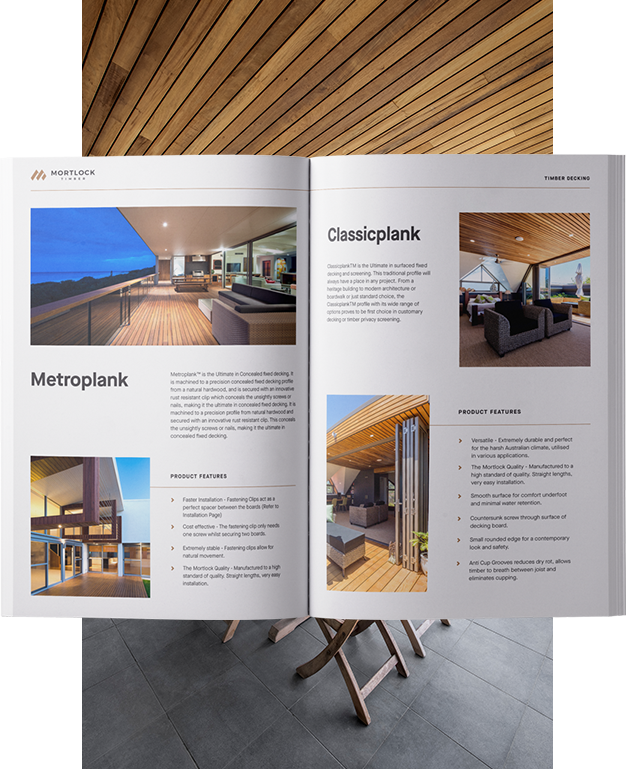 We are committed to bringing you timber products that add value and endure for years to come, even in heavy traffic and harsh weather conditions. We understand the value of efficiency when it comes to installation and keeping hardwood timber costs down. That's why we've spent decades perfecting our designs to make them easier to handle, less wasteful and more efficient to install. This efficiency allows us to offer you premier products that are more cost-effective so that you can experience greater savings on timber wall costs, timber ceiling costs, timber cladding costs and timber decking costs.
Download our Pricing and Product Guide for our complete hardwood timber price list including timber decking prices, timber wall prices, timber ceiling prices and timber cladding prices.