Article
Learning Hub
Pricing
Timber Decking
How Much Does Timber Decking Really Cost?
When it comes to decking, we understand that price matters (along with many other factors). One of the most common questions we are asked is "how much does timber decking cost?"
As you might imagine, the problem with answering this question is the fact that timber decking comes in so many different timber species and can be installed in different designs and environment types. It can be tough to truly know the price of a fully installed timber deck.
However, planning and budgeting is an important part of any decking project. We've put together a guide on the cost of timber decking to get you started. For an accurate project-specific quote, get in touch with our timber specialists at Mortlock Timber.
How much does Timber Decking cost?
Most decking projects cost between $300 – $400 per square metre and can be as high as $500 p/m2. This includes all the materials supplied and installed.
Average timber decking cost by size:
$6400 to $10,000 for a 20m2 deck
$9600 to $15,000 for a 30m2 deck
$12,800 to $20,000 for a 40m2 deck
How do you estimate the cost of a deck?
Timber deck price estimations are based on the total cost of materials and installation including:
Digging stump holes
Installing concrete stumps
The subfloor, including joists and bearers
Installing the decking
However, it's important to remember that the final price of a hardwood deck can vary depending on a number of other factors such as:
Height from the ground
Shape / design
Material selected
Additional options like edging timber screening and other finishing touches.
TIMBER SPECIES FOR DECKING – COST GUIDE
What's the best type of wood for decking?
Choosing the right timber species for your deck is critical for a long-lasting timber deck. Lower durability timbers like treated pine decking are a cheaper option and may be suitable if you are looking for temporary decking.
However these timbers are not as durable or long-lasting as some hardwood timber options. The longevity and durability of timber species should be taken into account when considering the lifetime cost of decking.
Another option is composite decking, which is made from wood fibres, plastic and binding agents. Composite decking usually requires less maintenance than hardwood decking but can heat up in the sun to the point where it is too hot to walk on barefoot. For more information about the pros and cons, read our article on composite decking vs wood.
Composite vs timber decking costs
The average cost for a composite deck is between $120 to $200 per square meter for the materials. In comparison, the most common hardwood timber species cost between $60 to $140 per square meter. More luxurious wooden decks may have a higher initial cost, but in most cases, timber decking is less expensive than composite decking.
Hardwood timber decking cost by species
At Mortlock Timber, we offer a range of tried and tested hardwoods for decking such as Jarrah, Merbau, Blackbutt and more. Choosing the best timber for decking comes down to aesthetic preferences and environmental factors.
Our most popular species include:
Blackbutt $110 – $200 p/m2
Burnt Ash $150 – $280 p/m2
Fijian Mahogany – $100 – $130 p/m2
Ironbark $110 – $200 p/m2
Pacific Teak $110 – $200 p/m2
Spotted Gum $110 – $200 p/m2
Jarrah $85 – $200 p/m2
Pricing above is indicative and is only for the supply of the decking material. It does not include GST or installation. The price range is for the most popular options, it does not cover every option available for each species. For accurate pricing please contact us to discuss your project.
All of these are quality timbers that can be used for exposed and covered decking. While there are advantages and drawbacks with each timber, you can be sure these are the safest options for decking in Australia's harsh climate.
Other factors that affect decking prices
Ground Height
It is recommended where decking is exposed to the weather that it has 300-400mm ground clearance. Adequate ventilation is critical for preserving the structural integrity of your decking.
This means you need a timber or steel subframe underneath the decking to elevate it off the ground. The higher the elevated deck is off the ground, the more material you are going to need which drives the cost up.
Timber Board Size
Standard decking board sizes are:
At Mortlock, we offer additional board sizes of:
These larger board sizes are generally used for commercial projects and high traffic areas. For residential projects, a 19mm or 20mm thick decking board is generally durable enough.
Choosing a 30 and 40mm thick board means more timber per m2, bigger screws and a heavier deck. All of these factors will drive the cost up. In fact, choosing a 30 or 40mm thick board size can add between $80 – $200 per m2 for the timber decking material depending on the timber species selected.
Substructure Materials
The substructure underneath the decking is usually made from treated pine. However in some cases a hardwood substructure is required for fire purposes. Hardwood substructures are more expensive and will drive up the overall cost of the decking.
Decking Contractor Costs
At Mortlock Timber, we manufacture and supply quality hardwood decking. We are not deck builders and do not provide installation services. Therefore we do not control the price of installation.
Can I build my own deck?
It is possible to build your own deck if you have adequate construction skills, however installing to a high quality finish can be difficult if you have no experience. While we do provide materials directly to customers, we highly recommend you engage a decking contractor or a qualified carpenter to install your deck and help you work out the quantity of material required.
Using a decking contractor or a qualified carpenter means your deck will be installed correctly and in accordance with the relevant building regulations in your state. Decking contractors can also help ensure you have local council approval for your new deck.
What is the cost of installing a deck?
Average decking installation prices range from $150 to $210 per square metre. However, the price of decking installation may vary from contractor to contractor. The best way to get an accurate quote for labour costs is to speak directly with a decking builder.
Mortlock Decking Options
The specific decking profile you choose may affect the final decking price. At Mortlock, we offer three premium decking options.
Metroplank Concealed Fixed Decking
Metroplank is a concealed fixed decking system which hides the screws from the surface of the board. It is expertly designed to cater for the natural movement of timber. This classy profile is ideal for alfresco areas and verandahs.
Marineplank Decking
Marineplank Decking is a profile specially designed to be installed around pools and areas that are fully exposed to weather. However Marineplank is a highly versatile profile and can be used for all decking applications.
It is profiled with a slight domed top surface. This increases water run-off meaning the timber is less likely to move and will last much longer than traditional flat top decking.
3. Classicplank Decking
Classicplank is a premium grade traditional flat top decking with a timeless and elegant finish. Whilst we recommend to use this for covered outdoor areas, some timber species are suited to fully exposed applications.
Download our Decking Price Guide
For specific pricing on our timber profiles and species, download our decking pricing guides by filling in the form below. Need more information or advice about your decking project? Our team is here to help.
View our pricing and product guide
For in-depth information about the range of products we offer, please fill out the form below to download our Architectural Timber Pricing and Product Guide. Inside you will find illustrations, specifications, portfolio photo examples and a hardwood timber price guide to assist with budgeting.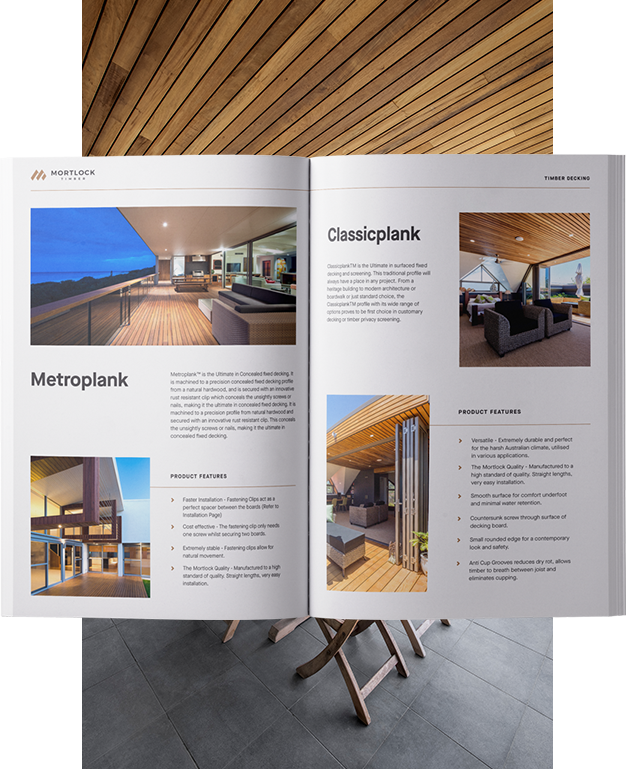 We are committed to bringing you timber products that add value and endure for years to come, even in heavy traffic and harsh weather conditions. We understand the value of efficiency when it comes to installation and keeping hardwood timber costs down. That's why we've spent decades perfecting our designs to make them easier to handle, less wasteful and more efficient to install. This efficiency allows us to offer you premier products that are more cost-effective so that you can experience greater savings on timber wall costs, timber ceiling costs, timber cladding costs and timber decking costs.
Download our Pricing and Product Guide for our complete hardwood timber price list including timber decking prices, timber wall prices, timber ceiling prices and timber cladding prices.