Article
Learning Hub
Timber Decking
Video
Composite vs Real Timber Decking: Pros and Cons
Are you looking to invest in a quality deck that looks great and lasts for a long time? There are many options available, two of the most popular being composite decking and timber decking. Both materials have their advantages and limitations. Weighing up the pros and cons can help you discover which option is most suitable for you.
Below we compare composite decking vs wood decking so that you can make an informed decision and get a deck that you can enjoy for years to come.
Materials
Timber decking can be made from a wide range of hardwood timber species including jarrah, merbau, blackbutt and more. Choosing the best timber for decking will depend on a number of factors like where your deck will be installed, how much sunlight it will be exposed to and your preference of appearance, texture and colour.
Composite decking is made from a combination of wood fibres and plastic which are held together using binding agents. The final product has a number of beneficial properties that the individual materials alone don't have. As with timber decking, you should consider the location and weather conditions as well as your appearance preferences before deciding if composite decking is right for you.
Appearance
One of the major reasons why people choose timber decking is the natural beauty and richness of the material that other options can't compete with. Depending on the species you choose, colours can range from deep reds to luminous golds. Some species like jarrah age gracefully even without regular recoating in oil and many people celebrate the natural weathered grey look of aged timber.
Composite decking is manufactured to mimic the appearance of natural timber, however most can be easily distinguished from real timber. That's because most composite boards look more even in colour and texture than real wood. Cheaper brands can look tacky and unattractive so it's important to compare your options.
Cost
Composite decking typically costs between $120 to $200 per m2 for the materials. In comparison, the most popular hardwood timber options generally cost between $60 to $140 per m2. Rarer, more luxurious timber species may cost more, but in most cases using timber will cost you less than composite decking.
Installation
Composite decking is often easier to install than timber decking because the composite boards are supplied in one length, usually longer than 4.2m. On the other hand, timber planks are usually supplied in random lengths which can add extra time to the installation process. Composite decking is not as flexible as real timber and may need extra supporting elements during installation.
Maintenance
One of the main advantages of composite decking is its minimal maintenance requirements. It typically doesn't require painting, staining, oiling or varnishing however some composite decking brands do require sealing to maintain the colour of the decking. It's important to understand the maintenance that will be involved before purchasing your decking materials.
Timber requires more maintenance to preserve its appearance. Some species require cleaning and oiling less often, but the biggest factor is exposure to the sun. Overtime UV rays will remove the natural colour pigments in the wood, creating a greying effect. Always check with your timber supplier about the frequency and best methods for maintaining your timber decking.
Durability & Longevity
Composite decking is considered highly durable and will last a long time with minimal maintenance. Timber decking can also be highly durable when looked after properly. Hardwood options like jarrah, ironbark and burnt ash outperform cheap options like treated pine and will last much longer.
Some timbers like blackbutt and spotted gum are naturally fire resistant, making them an excellent choice for areas that are prone to bushfires. Timber species like jarrah and ironbark are naturally resistant to termites and rotting and an option like pacific teak performs well in coastal areas where high salt levels are an issue.
Liveability
Well maintained timber decking is generally more user friendly and pleasant to walk on than composite decking. When exposed to the hot sun, composite decking can become extremely hot to the point where you cannot walk barefoot on it. In contrast, timber regulates heat better and is cooler to walk on during the summer months.
When timber decking is not well maintained it can lose its structural integrity and may even splinter. Composite decking does not have this problem and requires little maintenance to keep it in good condition.
Environmental Impact
Timber is a renewable resource that has a low carbon footprint. When sourced from sustainably managed forests, timber is a more environmentally friendly choice than composite decking and other artificial alternatives. By selecting local Australian timber species such as jarrah, blackbutt and spotted gum, emissions due to transport can be significantly reduced.
The plastics used in composite decking are not a renewable resource. Some brands use recycled plastic materials which reduces their environmental impact somewhat. At the end of its life, composite decking is more difficult to recycle than timber and the recycling process of composite decking produces more carbon emissions.
Composite Decking vs Wood – Which one is right for you?
If you are looking for a highly durable, low maintenance option, composite might be right for you. However, if natural timber appearance, liveability and sustainability are important factors to you, timber decking might be a better option.
At Mortlock Timber, we only supply high quality, durable timber decking in a range of timber species. Our timber decking profiles – Marineplank, Classicplank and Metroplank – have been expertly designed for superior durability and unmatched aesthetics.
If timber decking is your preferred option, get in touch with our team of timber specialists today to find out more about our decking profiles and options. We look forward to working with you to bring your vision to life.
VIDEOS BELOW PROVIDE A 60 SECOND OVERVIEW OF OUR MOST POPULAR TIMBER DECKING PROFILES.
View our pricing and product guide
For in-depth information about the range of products we offer, please fill out the form below to download our Architectural Timber Pricing and Product Guide. Inside you will find illustrations, specifications, portfolio photo examples and a hardwood timber price guide to assist with budgeting.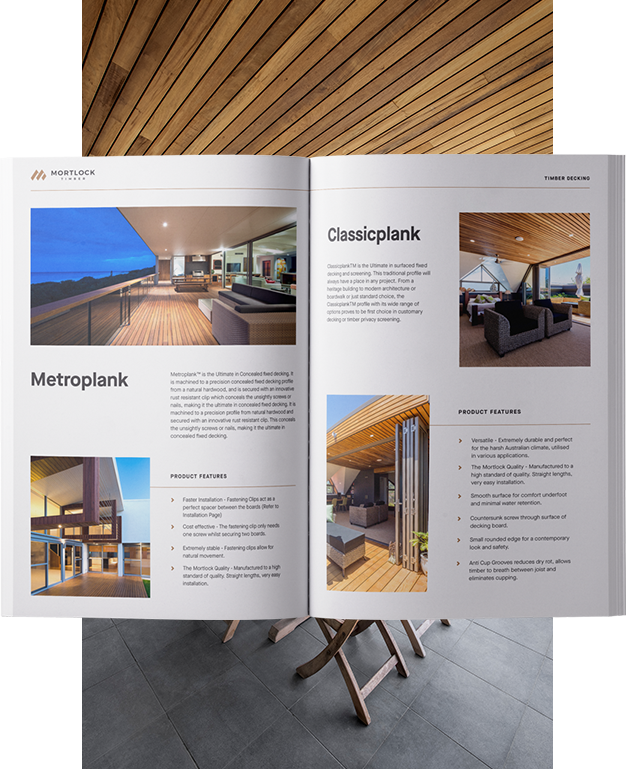 We are committed to bringing you timber products that add value and endure for years to come, even in heavy traffic and harsh weather conditions. We understand the value of efficiency when it comes to installation and keeping hardwood timber costs down. That's why we've spent decades perfecting our designs to make them easier to handle, less wasteful and more efficient to install. This efficiency allows us to offer you premier products that are more cost-effective so that you can experience greater savings on timber wall costs, timber ceiling costs, timber cladding costs and timber decking costs.
Download our Pricing and Product Guide for our complete hardwood timber price list including timber decking prices, timber wall prices, timber ceiling prices and timber cladding prices.