Article
Information
Learning Hub
Timber Ceilings
Modern Timber Ceiling | 8 Real Life Examples Of What Is Possible
Modern timber ceiling design is a chance to make a statement with your home. Whether it's adding a distinct warmth or character to your space, highlighting natural features of the timber, or embracing trends like biophilic design, the benefits of using timber cladding on your ceiling are numerous.
With many different products on the market, knowing where to source quality timber products, let alone design a modern ceiling design that highlights your home's best features can be challenging. This blog walks you through eight real-life examples of how to use modern timber ceiling design in your home or commercial space.
Why use timber on our ceilings?
Timber is a natural building material that boasts several important features that make it the ideal choice for ceilings. First and foremost, timber's sustainability and durability make it a natural choice for modern interiors. As a building product, timber is a sustainable choice and represents a lower carbon footprint compared to other building products.
Architectural timber cladding is also highly practical and comes in a range of colours and textures, allowing you to achieve a range of looks, from sleek-modern to rustic and charming. It is also a versatile material that can be used in any space, from commercial buildings to residential homes. The use of timber in a modern timber ceiling can add warmth to a cold, industrial space, or complement the natural surroundings of a rural home or residence. Let's take a closer look at how timber ceilings can transform interiors:
1. West Coast Eagles – statement ceilings that tell a story
The West Coast Eagles' home base facility Lathlain WA, takes inspiration from their brand and national standing as one of Australia's most successful AFL clubs. The concept takes on core elements of their brand story to deliver a spectacular result.
The stunning statement ceiling extends seamlessly from the exterior to the interior. It is made up of 60×20 Victorian Ash Proplank Battens working together to create a cohesive look between the two areas.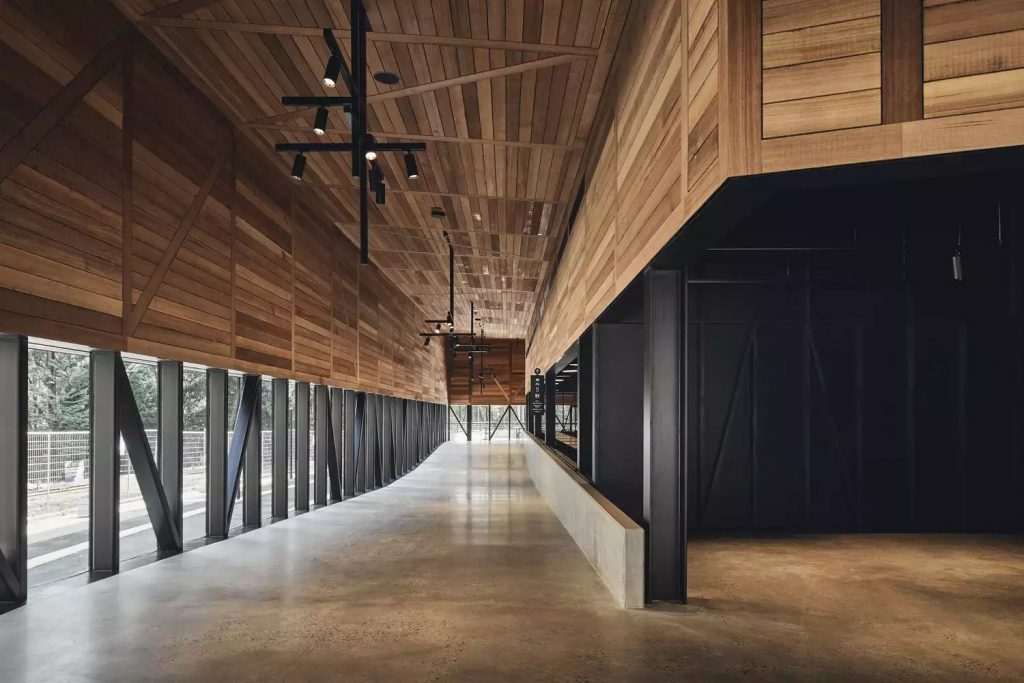 Timber ceilings have the unique ability to connect inside and outside spaces. Located in the beautiful Emerald Park Lake in VIC, the newly built Lakeside Visitor Centre highlights the natural surroundings by showcasing feature timber ceiling and wall cladding. The main ceiling is constructed from 145×15 custom profile Tasmanian Oak ceiling slat with a fine-sawn finish, while the use of geometrical patterns on the slats adds character to the space.
Custom Profile Shou Sugi Ban Charred Silvertop Ash accents the Tasmanian Oak with subtleties that bring out contrasting colours. This design choice not only makes the building stand out but also seamlessly connects it to the surrounding bushlands.
3. Fyansford – gable roof design is the perfect excuse for a custom ceiling
Our Fyansford project showcases how gable roof design naturally induces stunning natural timber ceiling customisations. Using 60×20 Proplank Silvertop Ash click-in battens, this design is a nod to the Scandinavian style, which is a timeless trend that we are seeing more and more of.
Being a versatile timber, Silvertop Ash was the obvious choice for accents throughout the home that reflect the hero ceiling – for example, a feature wall and door.
As a social and community hub, the Aquinas College Chapel is a school landmark and a place of coming together, worship, and reflection. Having opened in 1966, the refresh included new stunning geometric installations featuring 70×18 Trendplank Timber Cladding that completely overhauled the space, in particular the ceilings, which give the space a new and refined acoustic.
This space shows what is possible when design meets the harmony of sound, community and history, and is therefore no surprise that it won the prestigious Gerry Gauntlett Award in 2020.
Feature ceilings needn't play by the rules, and nor should they. In Eden, we worked with our partners to create a rare combination of timeless architecture that would reflect the upscale living in Perth's leafy Western Suburbs. In collaboration with Topend Ceilings, we developed ceiling panels that had timber battens pre-fixed to a ply backing sheet at the factory and were pre-finished for convenient installation on-site. This approach saved on resources and allowed for a seamless installation process.
6. The Comets Soccer Club – simple, yet refined modern timber ceiling design
Without being overstated, this ceiling design reflects excellence simply via the simple, yet refined forms that give it a clear edge over the usual.
With 30×20 Victorian Ash Linear Timber Lining Battens, this is the perfect example of how Proplank can give an elegant design that is built for a purpose. We Pre-oiled the Victorian Ash battens before installing them with 20mm spacing for an extra touch of texture throughout the space.
At Maddock's HQ, ceilings were more than just a feature – they were a double feature that together with the flooring made this space unique in its way. The parallel lines represent strength and unwavering continuity – just what you would expect from one of Melbourne's top law firms. And that's exactly what this project aimed to achieve in the design.
By mirroring the lines and contrasting the depth of the Ultraplank 80×19 Pacific Teak Flooring with the Trendplank 70×18 Pacific Teak Ceiling Lining, the result is a symmetrically aligned space that exudes trust and confidence. 
Situated in Western Australia's Darling Ranges, the Zig Zag Cultural Centre is a stunning example of a custom timber ceiling that complements the heritage buildings and surrounding landscape. The use of timber and corrugated metal roofs adds to the cultural significance of the Centre, which offers a range of diverse cultural activities in a charming boutique-style gallery setting.
With Metroplank 85×20 Jarrah for Secret Fixed Decking, and Ultraplank 130×19 Jarrah flooring, this project showcases how combining local materials can not only pay homage to the homegrown timber in WA but also create stunning design pieces on the exterior and interior alike.
Source quality timber for your next project
If you're looking to take your project to the next level, a custom modern timber ceiling could be just the thing to make it stand out. Whether you're a designer, builder, or just someone with a passion for innovative design, Mortlock Timber has the expertise and resources to help you bring your vision to life.
Our commitment to quality and sustainability means that you can trust us to provide the best possible materials for your project.
Get in touch with our team today and start exploring the possibilities of a custom timber ceiling.
View our pricing and product guide
For in-depth information about the range of products we offer, please fill out the form below to download our Architectural Timber Pricing and Product Guide. Inside you will find illustrations, specifications, portfolio photo examples and a hardwood timber price guide to assist with budgeting.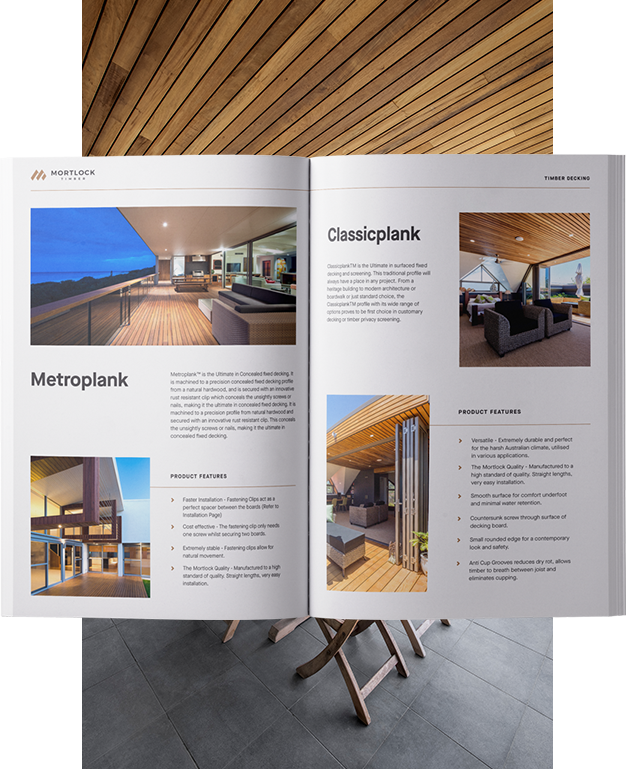 We are committed to bringing you timber products that add value and endure for years to come, even in heavy traffic and harsh weather conditions. We understand the value of efficiency when it comes to installation and keeping hardwood timber costs down. That's why we've spent decades perfecting our designs to make them easier to handle, less wasteful and more efficient to install. This efficiency allows us to offer you premier products that are more cost-effective so that you can experience greater savings on timber wall costs, timber ceiling costs, timber cladding costs and timber decking costs.
Download our Pricing and Product Guide for our complete hardwood timber price list including timber decking prices, timber wall prices, timber ceiling prices and timber cladding prices.