Article
Learning Hub
Trendplank
What Is a Rainscreen and How Can It Transform Your Building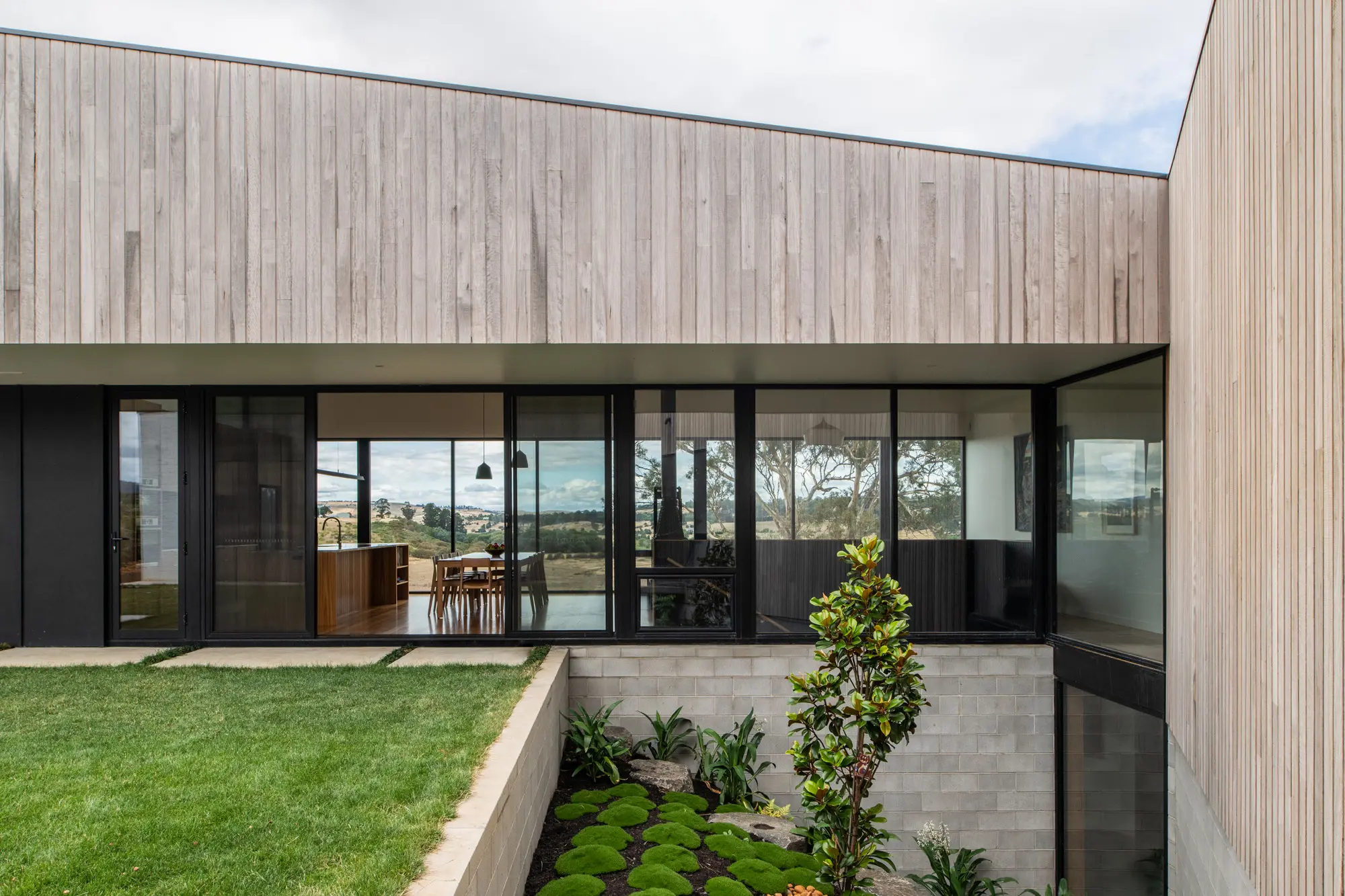 At first glance, the façade of a modern building can be deceivingly simple. Behind the external surface, however, often lies a meticulously designed system that serves crucial roles in the durability and performance of the structure. Discover the rainscreen—a component that might not be familiar to many outside the world of architecture and construction, but is indispensable in contemporary building design.
What is a rainscreen?
At its core, a rainscreen is a protective layer or system fixed to the outside of a building, separated by a small gap. Contrary to what its name might suggest, the primary function of a rainscreen isn't merely to shield a building from rain. Instead, it serves as a part of a holistic design strategy that helps manage moisture and enhance thermal performance.
Benefits of rainscreens
The environment throws a host of challenges at the exteriors of our buildings. From pouring rain to moisture-laden air and blazing sun, over time these can penetrate traditional exterior surfaces. The result is trapped moisture which can cause structural damage and create a haven for mould growth. Fortunately, the rainscreen acts as the first line of defence against these challenges.
Perhaps the most ingenious feature of the rainscreen system is the ventilated air gap. This small, intentional space between the rainscreen and the building's main exterior wall serves two primary functions:
Moisture management: This gap allows any incidental moisture—whether it's water that's penetrated the outer layer or condensation forming within—to drain away effectively. Simultaneously, the ventilation facilitates the drying out of any damp materials.
Thermal performance: The air gap also plays a role in thermal insulation. It helps in reducing thermal bridging (where heat bypasses the insulation layer through more conductive materials) and thus contributes to the overall thermal efficiency of the building.
These are just the two of the many benefits a rainscreen system offers. Let's dive into some more compelling reasons for incorporating rainscreens into a building's design:
Energy conservation: The ventilated air gap in a rainscreen system acts as a thermal break, reducing the transfer of external temperatures to the internal environment. This means interiors remain cooler in summer and warmer in winter without excessive reliance on heating or cooling systems.
Cost savings: As a result of this enhanced insulation, property owners can see a noticeable reduction in energy bills. Over the lifetime of a building, these savings can amount to a significant sum, making rainscreens an investment that pays off. In addition, rainscreens can reduce the need for frequent repairs and replacements, leading to long-term cost savings.
Structural integrity: Moisture is a primary enemy of many building materials. By preventing prolonged moisture exposure and water penetration, the structural components are less prone to decay, ensuring longevity.
Diverse cladding options: Rainscreens can be paired with a variety of cladding materials, including timber, metal, stone, or modern composite materials, allowing architects to achieve the desired aesthetic.
The role of timber cladding in rainscreens
In contemporary architecture, cladding serves as the protective skin of a building, guarding it against environmental adversities while defining its aesthetic persona. Among the varied cladding materials available today, timber cladding stands out for its unique blend of natural allure, robustness, and ecological sensitivity.
Contrary to some misconceptions, when sourced and treated right, timber is a remarkably durable material. It can withstand rain, sun, or wind, and with proper care, can serve a building for decades.
When used as cladding in conjunction with rainscreens, timber aids in minimising thermal bridges and ensures that interiors remain temperate This enhances the buildings thermal efficiency and reduces dependence on artificial heating or cooling solutions.
Architectural timber cladding also adds another layer of defence to rainscreen systems. Its natural propensity to breathe means it can adapt to changing humidity levels, reducing risks associated with condensation. When installed correctly with a ventilated gap, it ensures swift moisture evaporation and drainage.
In short, timber enhances the effectiveness of rainscreens while adding beauty to the exterior walls of a building. This makes it an especially desired material for rainscreen cladding and is often used in modern constructions.
Our timber cladding system
At Mortlock Timber, we have perfected the art of timber cladding in rainscreen walls with our unique Trendplank cladding system. Designed to provide both protection and great aesthetics, you can choose your exterior cladding from a variety of timber species and finishes. Explore our past projects and discover how Trendplank has been successfully implemented in a variety of buildings.
Riverstone Residence
Located in Launceston, Tasmania, the Riverstone Residence stands vulnerably exposed from every angle. The building was envisioned to serve as its own wind barrier, therefore it required a strong and durable rainscreen system to withstand the wet Tasmanian weather. The obvious choice was Trendplank and the architects decided to opt for a Fine Sawn Spotted Gum finish that would mature beautifully with time, harmonising with the surrounding natural terrain.
Scarborough Beach Pool
Another project heavily exposed to the elements is the Scarborough Beach Pool. With strong sun, winds, and regular rain in winter, this building required a reliable rainscreen cladding system to act as a water-resistive barrier. Once again, the designers opted for the Trendplank range and decided to cover the exterior walls with Pacific Teak Batten & Board Cladding.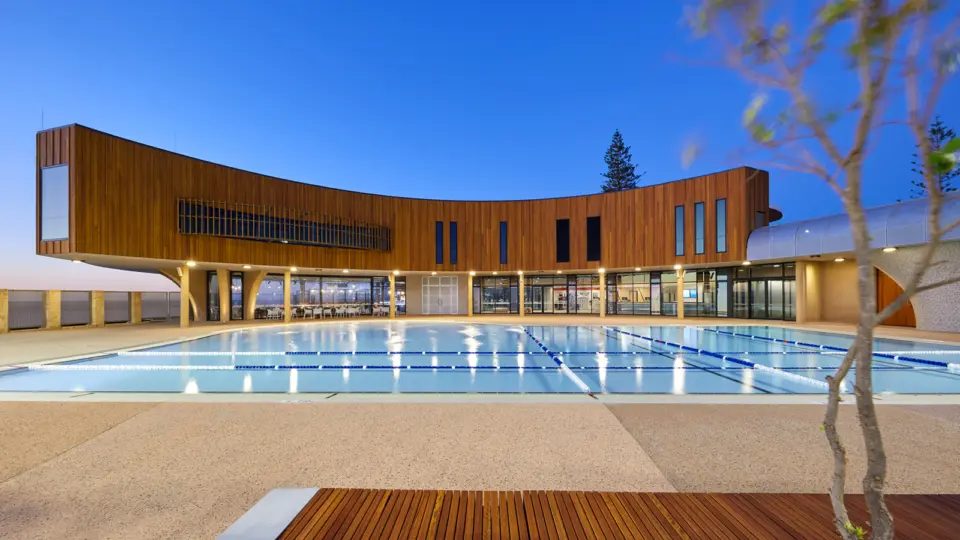 Eagle Bay Residence
Our last mention is the Eagle Bay Residence located in Western Australia. Because of its coastal location, this luxury home required exterior cladding that would withstand the incoming breeze and precipitation from the ocean. Trendplank Pacific Teak cladding was chosen because it provided great thermal insulation, acted as a barrier to water penetration, and offered stunning aesthetics. If you enjoyed our Trendplank range and want more information, feel free to contact our friendly team today. We can provide you with our selection of timber species and finishes, but also quotations for your new construction project. Get in touch now!
View our pricing and product guide
For in-depth information about the range of products we offer, please fill out the form below to download our Architectural Timber Pricing and Product Guide. Inside you will find illustrations, specifications, portfolio photo examples and a hardwood timber price guide to assist with budgeting.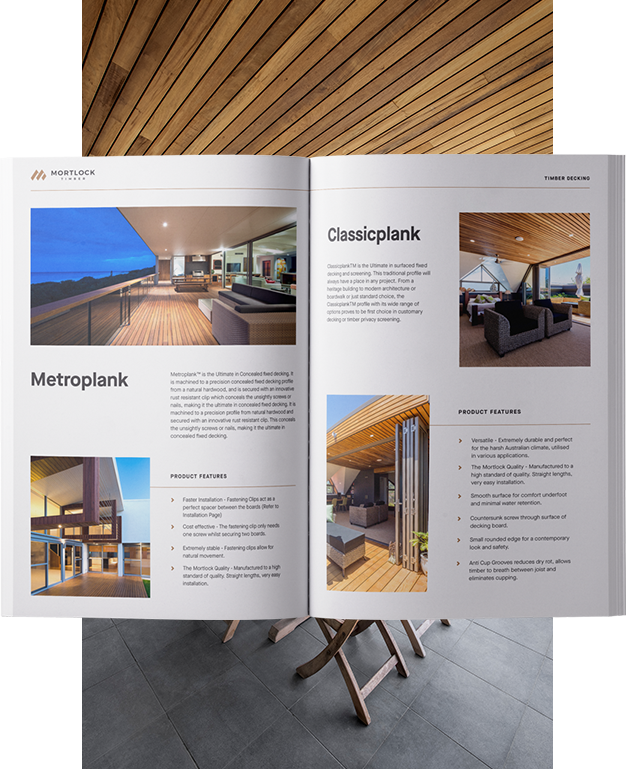 We are committed to bringing you timber products that add value and endure for years to come, even in heavy traffic and harsh weather conditions. We understand the value of efficiency when it comes to installation and keeping hardwood timber costs down. That's why we've spent decades perfecting our designs to make them easier to handle, less wasteful and more efficient to install. This efficiency allows us to offer you premier products that are more cost-effective so that you can experience greater savings on timber wall costs, timber ceiling costs, timber cladding costs and timber decking costs.
Download our Pricing and Product Guide for our complete hardwood timber price list including timber decking prices, timber wall prices, timber ceiling prices and timber cladding prices.