Article
Learning Hub
Spotted Gum
Spotted Gum: Advantages and Disadvantages + Everything You Need to Know
Spotted Gum is a popular Australian hardwood timber used for architectural timber cladding, feature walls, batten screens, timber decking and more. Known for its high durability, resistance to fire and attractive grain, Spotted Gum could be the ideal timber for your residential or commercial project.
In this guide, we look at the key Spotted Gum advantages and disadvantages you should be aware of. Plus, some examples of how Spotted Gum is being used in architectural designs across Australia today.
What is Spotted Gum timber?
Spotted Gum is a premium Australian hardwood timber. Thanks to its striking appearance, natural durability and fire resistance properties, it's a popular choice for internal and external applications alike.
Spotted gum trees (Corymbia maculata and Corymbia citriodora) grow on the east coast of Australia, predominantly in Victoria, New South Wales and Queensland. The wood often has an attractive wavy grain, which can produce a desirable fiddleback feature. Thanks to its natural beauty, it's regularly used in feature walls and architectural cladding for its unique appearance. Colours vary from dark chocolate brown to light brown, with the sapwood being very pale. The Queensland kind used here at Mortlock Timber has deeper and richer shades of colour with more natural variations than the New South Wales one, which tends to be much lighter and more uniform in colour.
What is spotted gum timber used for?
Spotted Gum timber has a long history being used in the construction industry, including wharf and bridge construction, railway sleepers and ship building. Because of its attractive appearance, Spotted Gum is regularly used for architectural purposes, including external cladding, feature walls, ceiling lining and hardwood decking. Its natural strength and durability make it a good choice for outdoor use in both commercial and residential building designs. As one of Australia's hardwoods that's naturally resistant to fire, Spotted Gum is often used in bushfire prone areas.
Also read: Timber Cladding for Buildings in Bushfire Areas
Spotted Gum advantages and disadvantages
Spotted Gum is a strong and durable hardwood timber, with natural resistance to termites and fire. The wood machines well and is easy to work with thanks to its naturally greasy texture. The harvesting and manufacture of Spotted Gum timber is strictly regulated by local and federal laws, which means Spotted Gum is more sustainable than many timber species sources internationally.
As a premium Australian hardwood, Spotted Gum decking, cladding and batten products tend to be more expensive than other timber species. Unseasoned, Spotted Gum timber is vulnerable to corrosion damage, so it is important to choose properly seasoned and treated products. Due to the high oil content in Spotted Gum timber, it can be resistant to some types of adhesives.
More Spotted Gum advantages and disadvantages are listed below:
Spotted Gum advantages
Reasons to use Spotted Gum timber in your project:
Natural fire resistance (suitable for use in bushfire prone areas with Bushfire Attack Levels of 12.5, 19 and 29)
Highly durable (Class 1 durability rating)
Resistant to termites
Low risk of staining or leaching (lower tannin content)
Easy to work with (being naturally greasy, spotted gum machines well)
Sourced from sustainably managed forests, compliant with Australian Standards
Excellent timber to use for Shou Sugi Ban treatment
Spotted Gum disadvantages
Factors to be aware of when using Spotted Gum:
Resistant to some adhesives (due to the high oil content)
Vulnerable to corrosion damage when unseasoned
Higher price (tends to cost more than other timber decking and cladding species)
Spotted Gum architectural examples
Spotted Gum is a highly versatile hardwood timber, used by leading architects and designers throughout Australia. Here are some examples of how our Spotted Gum architectural products have been used in residential and commercial designs.
1. Proplank Spotted Gum battens in townhouse complex
Proplank Spotted Gum battens are used in this Ruskin Street residence in Elwood, Victoria. The colour variation in the Spotted Gum cladding from pale to dark brown provides texture and visual interest, while anchoring the home in its surrounding environment. Offering both natural beauty and durability, Proplank Spotted Gum battens are the ideal choice for creating a sanctuary that feels luxurious.
2. Spotted Gum feature ceilings in Eden Apartments
Spotted gum battens are used to create a stunning feature ceiling for Eden Apartments in Floreat, Western Australia. The warm, natural tones of the wood create an impressive, luxurious ambiance, while remaining thoughtfully restrained and gentle. Spotted Gum is an excellent complement to the colder concrete and black accents used throughout the building.
3. Spotted Gum cladding in luxury hotel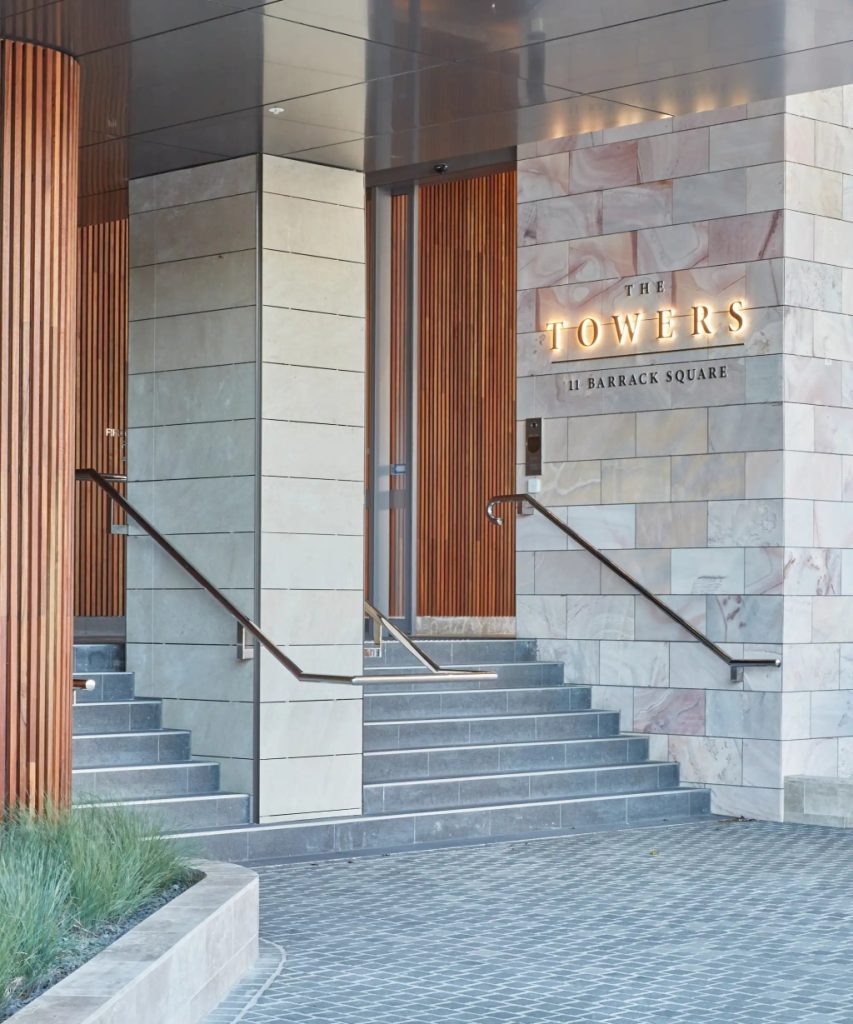 In the Ritz Carlton Perth, Spotted Gum is used as a subtle and refined feature. Creating layers of texture, the Spotted Gum cladding ties the design together, acting as a bridge between the stone facade and the rest of the room. The cladding provides a sense of nature and separation from the urbanscape, while remaining warm and welcoming.
4. Spotted Gum and Shou Sugi Ban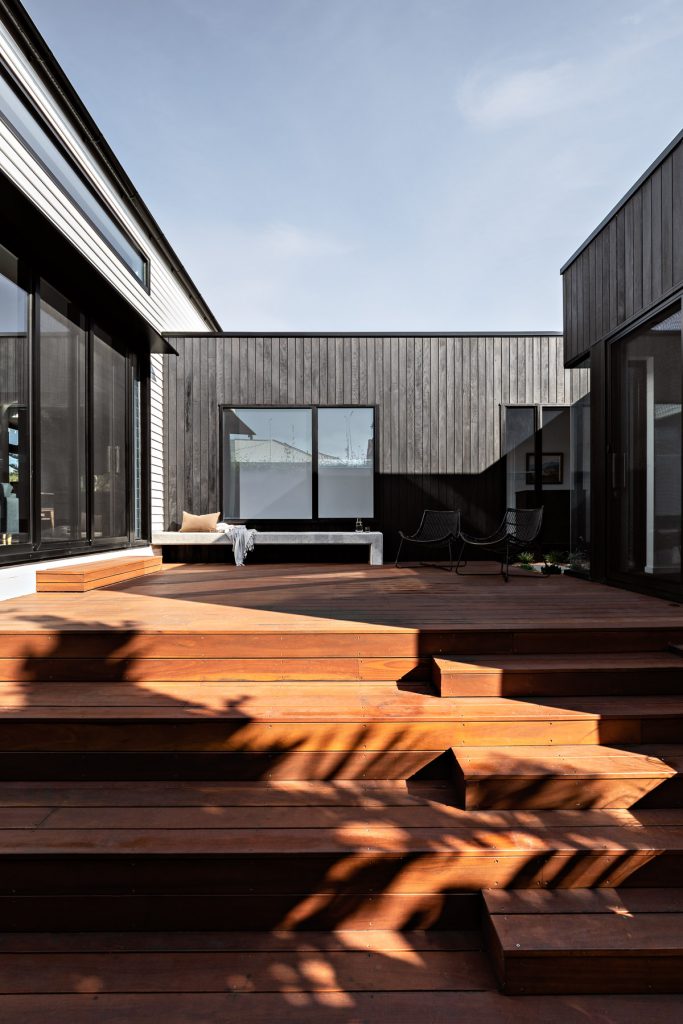 The Bulli residence in Wollongong, New South Wales, is a perfect example of how Spotted Gum can be treated using the Japanese technique known as Shou Sugi Ban. The charred timber gives the home a sleek contemporary design that is sought by many architects, while also making the Spotted Gum more resistant to the elements.
Spotted Gum timber products at Mortlock Timber
Spotted Gum is a favourite Australian hardwood, and for good reason. Architects and designers speak highly of its durability and natural beauty, while builders appreciate how easy it is to work with. At Mortlock Timber, we supply sustainably sourced Spotted Gum architectural timber across Australia, and our products have been used in award-winning designs by preeminent architects and builders.
If you have questions about Spotted Gum advantages and disadvantages that relate to your project, don't hesitate to get in touch. Our team of timber experts can work with you to make sure you get the best product for your project.
Download our pricing guide today or call us on 1800 953 004.
View our pricing and product guide
For in-depth information about the range of products we offer, please fill out the form below to download our Architectural Timber Pricing and Product Guide. Inside you will find illustrations, specifications, portfolio photo examples and a hardwood timber price guide to assist with budgeting.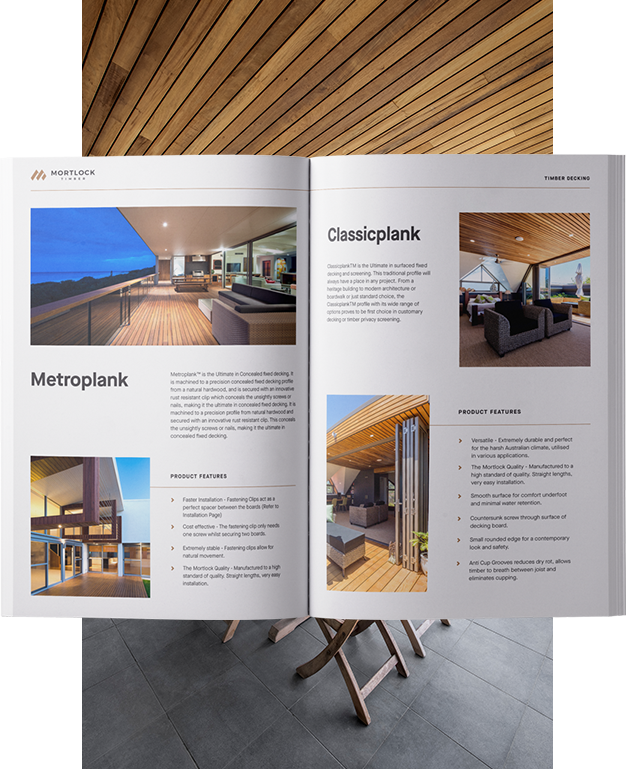 We are committed to bringing you timber products that add value and endure for years to come, even in heavy traffic and harsh weather conditions. We understand the value of efficiency when it comes to installation and keeping hardwood timber costs down. That's why we've spent decades perfecting our designs to make them easier to handle, less wasteful and more efficient to install. This efficiency allows us to offer you premier products that are more cost-effective so that you can experience greater savings on timber wall costs, timber ceiling costs, timber cladding costs and timber decking costs.
Download our Pricing and Product Guide for our complete hardwood timber price list including timber decking prices, timber wall prices, timber ceiling prices and timber cladding prices.