How to Create the Ultimate Outdoor Dining Area
When it comes to designing the ideal outdoor dining area, experts recommend that you take time to think about what the space will be used for. Whether you want a peaceful alfresco dining area for family meals or an outdoor dining room where you can host guests, it's important to create a space that allows you to do more of what you love.
Creating an outdoor space that offers shelter and warmth will encourage you to use it all year round, not just in the warmer months. To help you get started designing the perfect space for your backyard, here are 5 inspiring outdoor dining ideas.
1. Keep it classy with a hardwood timber deck
When designing your ideal outdoor space, the flooring is a great place to start. A good foundation will stand the test of time and help tie everything else together.
Hardwood timber decks are one of the best options for Australian homes. Not only will a timber deck add natural warmth and texture to your outdoor dining area, it is easy to maintain and much more durable than composite or pine options.
For a meaningful touch, consider choosing a local Australian hardwood species such as jarrah, blackbutt or spotted gum. Locally grown species can make your outdoor space feel at harmony with the local landscape. Plus transporting and harvesting local species produces less emissions.
A timber deck is a great way to introduce a natural element into your outdoor dining space and will complement a wide range of design styles including minimalist, rustic and classic outdoor spaces.
2. Add interest with a live edge dining table
If you're looking to make a statement with your outdoor furniture, consider a live edge dining table. These beauties are made from hardwood timber and showcase the natural textures of wood.
Look for an outdoor dining table that has an epoxy resin finish for greater durability and lower maintenance in outdoor settings. Epoxy resin creates a thick, glossy surface which is easy to clean and helps outdoor dining furniture cope well with moisture.
When it comes to choosing dining chairs, look for a style that will complement your space but will also be easy to look after and durable enough to cope with exposure to weather.
Benches make for a flexible seating option and can look classy with long dining tables. If your outdoor dining area is exposed to sunlight or doesn't have shelter from rain, consider outdoor dining furniture which can be easily packed away or stacked up and stored when not in use.
Chairs with inbuilt upholstery may get dirty outside and will need more maintenance. Consider hardwood chairs or steel chairs which can be kept clean with a simple dust. When entertaining, bring out cushions to soften up the seating areas.
3. Get cooking with an outdoor kitchen
If you're ready to embrace the outdoor dining experience, chances are you'll love cooking outdoors too. Whether you simply want a barbecue outside or a second kitchen with a stovetop and sink, having outdoor cooking capabilities will encourage you to make the most of the space.
Consider having an outdoor fridge for easy-access drinks when you are hosting guests. Access to hot water is convenient too. Stainless steel benchtops and deep sinks make it easier to clean up after using the barbecue.
Pizza ovens are a popular choice for outdoor kitchens and can be used for baking pizzas and loaves of bread, roasting vegetables and smoking meat. Woodfired pizza ovens offer the extra benefit of providing warmth which can be desirable in the cooler months.
4. Create ambience with the right lighting
The right lighting can help you set a relaxed and inviting atmosphere in your outdoor dining space.
Install up lights under trees in your garden to help make the garden glow and provide soft light for the dining space. Outdoor pendants are a good choice if you want to add visual interest above the dining table.
String lights are a classic lighting option which can be installed above the outdoor eating area either around the perimeter or above the table in a zigzag pattern. Look for warm lights rather than cool lights to create that cosy ambience.
Recessed lights are installed flush with the ceiling and are a good choice if you are looking for minimal and unobtrusive lighting. Consider adjustable lights which you can make brighter or softer as you require.
5. Decorate your outdoor dining area with foliage
Introducing greenery into an outdoor area can help create a relaxed and tranquil atmosphere. Whether they're planted in the garden or in attractive pots, plants can help soften smooth, hard surfaces. Trees and large bushes will also help provide shade during warmer weather.
Group potted plants together for a fuller effect and choose a range of pot sizes to create more visual interest. Consider planting herbs near the outdoor kitchen for easy access when cooking.
If your space is looking a little monochrome, choose flowering plants to add a pop of colour. Consider the amount of light and shade your outdoor space receives throughout the day when choosing which type of plants to introduce.
For smaller spaces, you can save floor space by making the most of vertical space. Pot plant hangers, vertical gardens and climbing plants are all great options for decorating an outside space.
Outdoor dining ideas that will make you want to get outside more
Designing the ideal outdoor area can be overwhelming, but by pairing a few simple ideas together, you can create a space that you'll love spending time in all year round. Don't forget to start with a good foundation.
For tailored advice about creating a timber deck for your outdoor dining area, get in touch with Mortlock Timber. We offer a range of premium decking options which are designed for the Australian climate.
Request a Quote
Our consultants are able to assist with budgeting and quotations for projects large or small. To make large scale projects and tenders easier, we are able measure from PDF drawings which are returned with a detailed BOQ and quotation for cross referencing. We also offer face to face proposal presentation where required. Please provide your details below including a brief description or project reference and one of our consultants will be in touch.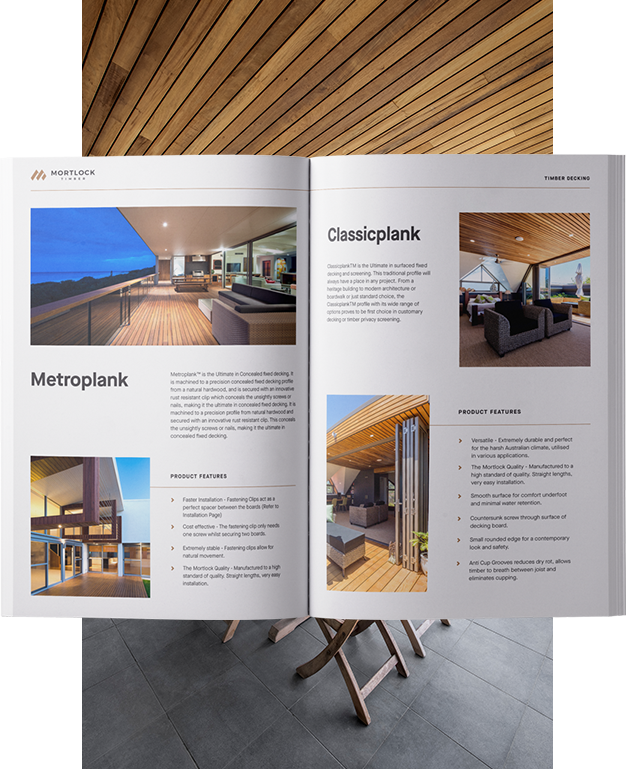 We are committed to bringing you timber products that add value and endure for years to come, even in heavy traffic and harsh weather conditions. We understand the value of efficiency when it comes to installation and keeping hardwood timber costs down. That's why we've spent decades perfecting our designs to make them easier to handle, less wasteful and more efficient to install. This efficiency allows us to offer you premier products that are more cost-effective so that you can experience greater savings on timber wall costs, timber ceiling costs, timber cladding costs and timber decking costs.
Download our Pricing and Product Guide for our complete hardwood timber price list including timber decking prices, timber wall prices, timber ceiling prices and timber cladding prices.