What is the Difference Between Hardwood and Softwood? All Pros and Cons
For anyone looking to incorporate natural timbers into their architectural design, the question of whether to use hardwood or softwood can be a tough one. Each with its own set of characteristics and price points, the differences between hardwood and softwood alternatives can be of critical importance not only in the design but also in the building and maintenance phases.
In this guide, we will take a look at what is the difference between hardwood and softwood, examining the pros and cons of each one – and seeing how these timber types translate into some of Australia's most cutting-edge architectural designs.
What is the difference between hardwood and softwood?
Hardwood and softwood both have different physical properties and the growth patterns of the trees from which the timber was produced vary.
Hardwoods (angiosperm trees) are often deciduous trees – meaning they shed their leaves annually, while softwood (gymnosperm trees) comes from species known as evergreen trees such as conifers and pines that do not shed their leaves.
Softwood trees often have a lighter complexion and are typically easier to work with .
Softwood is derived from trees with non-porous wood that lacks xylem vessels and results in a softer and lower-density timber when compared to hardwood. The tree species is what determines whether timber is considered hardwood or softwood – and not the density of the timber itself.
Species of hardwood trees
With many different species of hardwood on the market, our team at Mortlock Timber are proud to source the highest quality hardwood products. Here is a selection of hardwood:
Spotted Gum
Spotted gum is one of Australia's premium native hardwoods with a striking appearance and a bushfire rating of BAL 29. At Mortlock Timber, we use spotted gum for a wide range of applications from indoor and outdoor design, to walls and cladding.
Ironbark (Grey Ironbark)
Ironbark is native to New South Wales. Its appearance can be anything from dark red to dark brown to pale brown. Ironbark's tough exterior makes it the perfect choice for heavy-duty applications including wharf and bridge members, poles, and railway sleepers.
Jarrah
Jarrah is a slow-growing native to Western Australia and is renowned for its durability, versatility and rich red-to-blond colouration that sets it apart from other hardwood species. Here at Mortlock Timber, we recommend jarrah timber for its high density and resistance to harsh weather conditions and other natural stressors like termites and borers.
Burnt ash
Burnt Ash is extremely durable and stable, allowing for even charring and providing a thicker layer of char for superior durability and minimal maintenance.
Examples of softwood trees
While hardwoods are highly sought after, and make for great exterior cladding and structural design, softwood trees like pine trees are also highly versatile and provide a completely different texture and feel. Here are some examples of popular softwoods:
Vacoa (Nordic Pine)
Vacoa is a sustainable Nordic knotty pine material produced in Europe and modified by a thermal heat and steam process which increases its durability. Vacoa Timber's durability makes it a stable choice for exterior applications.
Cypress pine
Cypress pine is highly durable, stable, and rot-resistant timber, making it suitable for building and heavy construction. Although technically a softwood, many of its qualities reflect hardwood's strength and durability.
Hardwood: pros and cons
Hardwoods are ideal for architectural timber cladding. They provide a stunning finish while their fire-resistant properties and durability make them a solid investment for exterior cladding such as this Trendplank Spotted Gum Cladding used to great effect in our Sanctuary Circle project in Cowaramup, Western Australia.
Project: https://www.mortlock.com.au/project/sanctuary-circle/
Hardwood timbers like Burnt Ash have a lot to offer when designing modern interiors that reflect the natural surroundings. For example, architect Woods Bagot used Burnt Ash T&G timber lining and Proplank battens to create a modern and simplistic interior finish that complements the green landscape at the Deakin University Law School Building in Victoria.
Project: https://www.mortlock.com.au/project/deakin-law-school/
However, hardwood isn't always the best choice for projects that require a high level of machining. Not only is hardwood more difficult to work with, but they also grow far slower than their softwood counterparts, making them more expensive to source.
Given their low workability, hardwood timber flooring in high-traffic zones can be more cumbersome and costly to refinish than softwood floors, but lasts much longer than softwoods due to being harder wearing.
Softwood: pros and cons
Softwood timber is far more workable when compared to hardwood, and has a wide range of applications in interior design – making it an ideal source of timber for feature walls, ceilings, doors and windows.
One of softwood's main disadvantages is its low density, meaning it is more fragile and prone to marks, dents and environmental factors. Untreated softwood is, therefore, not very well suited to Australia's environment. It's also more susceptible to white fungi, which is a type of mould that grows on timber.
Easy to cut and build with, softwoods like Nordic Pine are a great choice for any indoor or outdoor cladding designs. Treated pine, like Vacoa timber cladding, is an ideal way to make the most of this versatile timber while ensuring it's able to withstand the harsh and ever-changing Australian climate.
Choose the right timber for your project with Mortlock Timber
Whether you are building new, renovating or eyeing your next big project, Mortlock Timber is ready to help you bring your vision to life. Our award-winning and sustainably sourced timber products reflect the unique variety of native Australian hardwood and softwood that can ensure the integrity of your design.
To discover more about how we use softwood and hardwood products, browse our extensive portfolio, or reach out to our team on 1800 953 004.
View our pricing and product guide
For in-depth information about the range of products we offer, please fill out the form below to download our Architectural Timber Pricing and Product Guide. Inside you will find illustrations, specifications, portfolio photo examples and a hardwood timber price guide to assist with budgeting.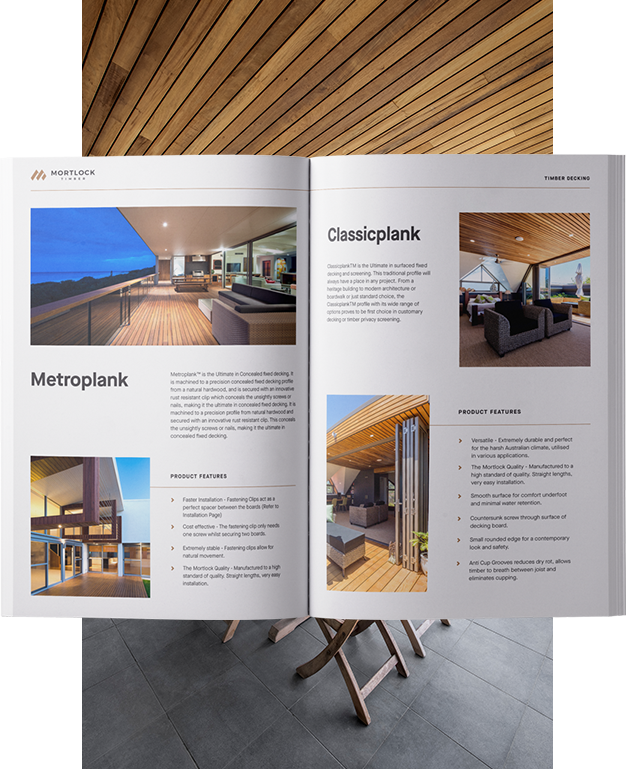 We are committed to bringing you timber products that add value and endure for years to come, even in heavy traffic and harsh weather conditions. We understand the value of efficiency when it comes to installation and keeping hardwood timber costs down. That's why we've spent decades perfecting our designs to make them easier to handle, less wasteful and more efficient to install. This efficiency allows us to offer you premier products that are more cost-effective so that you can experience greater savings on timber wall costs, timber ceiling costs, timber cladding costs and timber decking costs.
Download our Pricing and Product Guide for our complete hardwood timber price list including timber decking prices, timber wall prices, timber ceiling prices and timber cladding prices.