Article
Information
Learning Hub
Timber Decking
Everything you need to know about Jarrah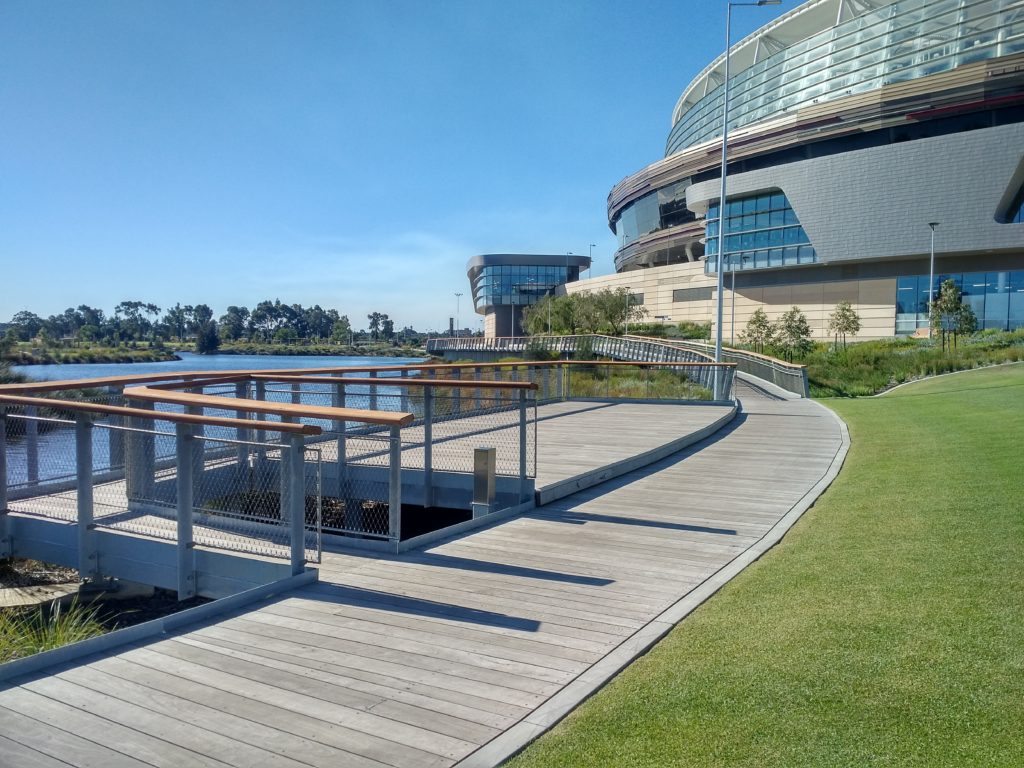 Jarrah is a highly sought-after timber that only grows in southwest Australia. It's hardy, resilient and beautiful – perfect for use in sustainable architecture and design. In this article, we explore the origins, characteristics and attributes of Jarrah, as well as its sustainability credentials. We'll also take a look at some examples of how it's being used in sustainable residential and commercial projects by leading architects and designers.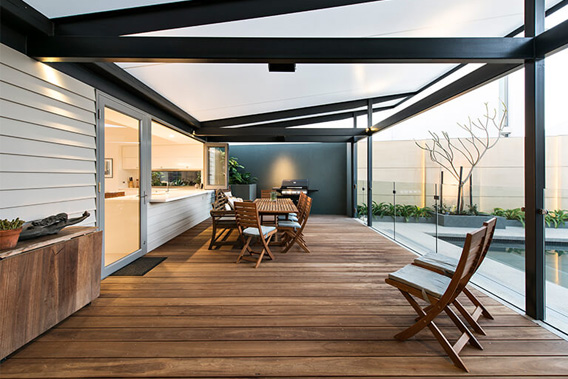 Jarrah tree description
The Jarrah tree (or Eucalyptus Marginata) is a tall, straight Australian hardwood which can grow up to 50 metres high and 3 metres wide. Its grey-coloured bark is rough and fibrous with long furrows. The tree puts on an impressive display of cream-coloured flowers from June to January and provides a habitat for native fauna such as possums and birds.
The heartwood of Jarrah is a rich reddish-brown while the sapwood can range from pale yellow to orange. The grain is typically coarse and even, with some trees displaying an attractive fiddleback grain that is often used for creating architectural interest.
Where is Jarrah grown?
Jarrah is native to the southwest of Western Australia. The tall, impressive trees can be found from Gingin, north of Perth, all the way to Albany on the south coast. Jarrah trees are well adapted to the nutrient poor soils and rain levels of the region and are able to regenerate successfully after bushfires.
Jarrah is only grown and harvested in southwest Australia, though the timber is internationally recognised and used in projects all over the world. Jarrah sustainability is protected by strict harvesting guidelines and policies.
Is Jarrah a hardwood or softwood?
Jarrah is a native species of hardwood. Like all hardwoods, jarrah is an angiosperm meaning it produces flowers and seeds. Many Australian native species of hardwood have excellent durability and fire resistance properties and jarrah is no exception. Thanks to its high density, hardness and strength, jarrah is ideal for a range of hardwood applications including flooring, furniture and cladding.
What are the advantages of Jarrah?
Jarrah has a number of properties which make it ideal for construction, timber decking, wall cladding, outdoor furniture and more. The advantages of jarrah wood include:
Good resistance to rot, termites and marine borers – jarrah can cope with tough Australian conditions.
High density (820kg/m3) which gives the timber excellent strength and durability.
Natural fire resistant properties – jarrah is bushfire compliant (BAL 12.5 and 19).
Hard wearing and durable with a Class 2 durability – jarrah performs well even when exposed to the elements.
Little tannin leaching – less risk of stains over time.
Natural beauty – the close grain and rich reddish-brown colour of the wood make it a popular design choice.
Jarrah sustainability – strict policies are in place to ensure jarrah harvesting in Western Australia is managed in a sustainable and environmentally sound way.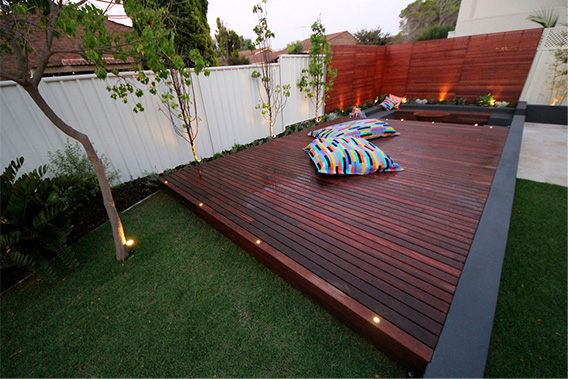 How long does Jarrah last?
Jarrah is in durability Class 2 which means it can be expected to last 15 to 40 years for above-ground applications and 15 to 25 years for in-ground applications. For the best performance and longevity, it's important to choose high quality timber products that are optimised for Australian conditions. In exterior applications, regular maintenance can extend the life of jarrah cladding and decking.
Also read: What is the best timber for exterior cladding?
Is Jarrah sustainable?
Jarrah is a sustainable, exclusively sourced from regrowth forests in Western Australia. Strict regulations are in place to ensure jarrah sustainability is managed in a way that balances ecological, economical socio-cultural factors.
The guidelines and policies outlined in the The Forest Management Plan and the WA Regional Forest Agreement are regularly reviewed to ensure world-class standards are upheld. All native forests that are harvested in Western Australia are regenerated or replanted every year. Jarrah can be recycled and repurposed for other uses.
UPDATE: Even though Jarrah is very sustainable timber, the West Australian Government has made the decision to ban logging any native timbers by the end of 2023.
How long does Jarrah take to grow?
Jarrah trees have a relatively slow growth rate and can take 250 to 400 years to reach a 70cm diameter. Old growth forests are old areas of forest where the jarrah trees are in the late to over-mature growth stages. All old growth forests in Western Australia are protected and no harvesting of jarrah trees occurs in these regions.
In West Australian forests approved for jarrah harvesting, harvesting occurs with intervals of 25 to 40 years to allow sustainable growth and regeneration. No more than one per cent of the forest is harvested at any one time to ensure a sustainable supply of jarrah into the future.
How much does Jarrah Decking cost?
Jarrah decking typically costs $100 – $200 p/m2 and above, not including installation costs or GST. However the price of jarrah decking or jarrah cladding may vary depending on factors such as the size of the boards, finishing options and profile specifications.
Also read: How much does timber decking really cost?
At Mortlock Timber, our sustainable forestry practices have not only allowed us to use this material as an environmentally friendly product, but also to share it internationally at a very reasonable cost. When used right here in Australia, it becomes even more affordable due to the simple and short-distance logistics, local harvesting, refining and manufacturing.
Download our product pricing guide or contact us on 1800 870 452 for a project-specific quote.
Applications – Jarrah in action
Jarrah is used in a wide range of applications, including furniture and cabinetry, wharf and bridge construction, ceiling and wall cladding and timber decking.
Our architectural jarrah products have been used in high-end commercial and residential projects by some of Australia's leading architects and designers.
Zig Zag Cultural Centre
Jarrah flooring, decking and batten lining was used in the Zig Zag Cultural Centre to create an inviting space in harmony with its surroundings.
Cape Naturaliste Lighthouse
Our hard-wearing Marineplank jarrah cladding was used at Cape Naturaliste Lighthouse to create an attractive walkway.
Freshwater Residence
Jarrah timber screening was used to create privacy and visual interest in this Freshwater Residence in Margaret River.
Swan Valley Providore
Our Jarrah decking and Jarrah flooring was used in the Swan Valley Providore to help create an exceptional experience for visitors.See more examples of jarrah in action on our projects page.
Order a Jarrah sample from Mortlock Timber
Here at Mortlock Timber, sustainably harvested Australian jarrah wood is one of our most popular materials. Our jarrah cladding and decking is used in high-end residential and commercial designs as well as public buildings and community projects in Australia and beyond.
To order a sample or request a quote, get in touch with our friendly team of timber experts on 1800 870 452.
View our pricing and product guide
For in-depth information about the range of products we offer, please fill out the form below to download our Architectural Timber Pricing and Product Guide. Inside you will find illustrations, specifications, portfolio photo examples and a hardwood timber price guide to assist with budgeting.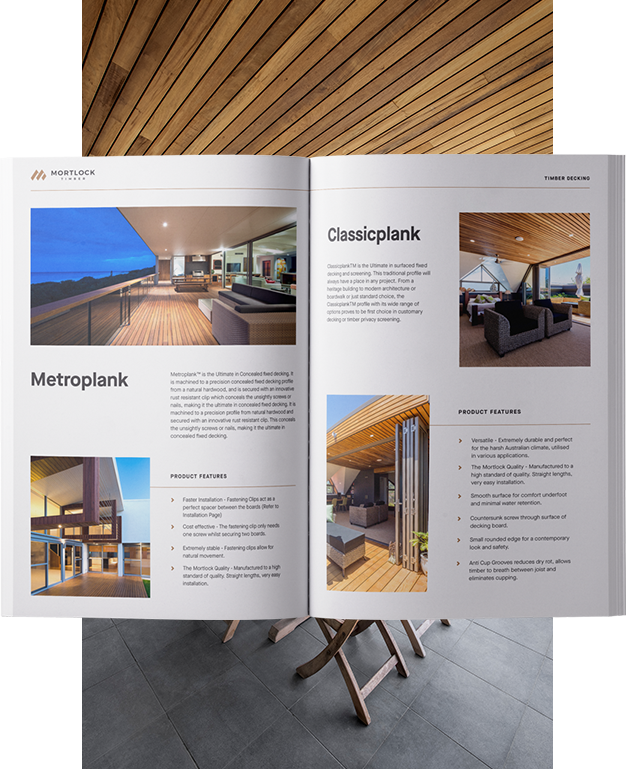 We are committed to bringing you timber products that add value and endure for years to come, even in heavy traffic and harsh weather conditions. We understand the value of efficiency when it comes to installation and keeping hardwood timber costs down. That's why we've spent decades perfecting our designs to make them easier to handle, less wasteful and more efficient to install. This efficiency allows us to offer you premier products that are more cost-effective so that you can experience greater savings on timber wall costs, timber ceiling costs, timber cladding costs and timber decking costs.
Download our Pricing and Product Guide for our complete hardwood timber price list including timber decking prices, timber wall prices, timber ceiling prices and timber cladding prices.