Article
Information
Learning Hub
Timber Ceilings
Concrete and Timber architecture | 5 stunning completed projects
Stuck on what materials to use on a project, but know that sustainability and durability are definitely must-have features?
Concrete and timber represent a dynamic combination that can achieve multiple different aesthetics while remaining a practical cost-effective alternative.
In this guide, we explore how external vertical timber cladding and concrete and timber architecture have been used in five distinct styles to create visually stunning results.
Timber and concrete are complementary materials
When combined, external timber cladding brings a natural touch to what would otherwise be simplistic concrete. Likewise, when paired with smooth monochromatic surfaces like concrete, products like Proplank also bring textural elements to the overall design thus balancing the natural features of both materials. 
brings a natural touch to what would otherwise be simplistic concrete. Likewise, when paired with smooth monochromatic surfaces like concrete, products like Proplank also bring textural elements to the overall design thus balancing the natural features of both materials. 
Let's take a closer look at five completed projects that combine these materials to make stunning homes.
1. Sandringham – Pacific Teak battens paired with a bold concrete façade
It's easy to make a statement with a bold concrete façade, but elevating the design can be difficult without the right timber combinations. At our Sandringham project, we paired 30×40 Proplank Click In Pacific Teak Battens on the first-floor exterior, dual garage, and exterior fence to create a bold, yet layered elevated design.
Our Proplank batten system has been developed to reduce installation expenses and time while maintaining high standards of quality and durability. The use of steel clips and nylon spacer brackets enables easy and secure attachment of the battens, resulting in an aesthetically pleasing and dependable outcome.
At Sandringham, we have combined smooth and horizontally inclined concrete features with vertically aligned Proplank battens, achieving contrasting lines to build interest and maximise this dramatic effect.
2. Concrete House – timber and concrete belong together
Concrete House in City beach is an example of how concrete and timber work together in multiple formats to achieve stunning results. 
Whether it's Shou Sugi Ban Burnt Ash Timber Cladding or Proplank Tas Oak Timber Battens, Concrete House combines these cladding styles with off-form concrete to accentuate simplistic forms and grayscale colour schemes.
By seamlessly integrating eco-friendly design principles with minimalist aesthetics characterised by long planar geometries and monochromatic tones, Concrete House shows that concrete and timber architecture belongs as much on the interior as the exterior.
3. Ardross WA – maximising design practicality
Concrete and timber architecture are so much more than a design trend. As a practical combination that brings together two highly durable and versatile building materials, combinations like the feature cladding in our Ardross project show how using our 30×40 Pacific Teak Proplank Timber Battens can generate a privacy screen that extends down to the front entrance for a seamlessly executed statement look. 
If you're inspired by what you see, speak to our team here at Mortlock Timber. We are more than happy to share good practices when it comes to combining timber cladding with concrete to achieve timeless design.
4. Merino Way Residence – modern living in harmony with nature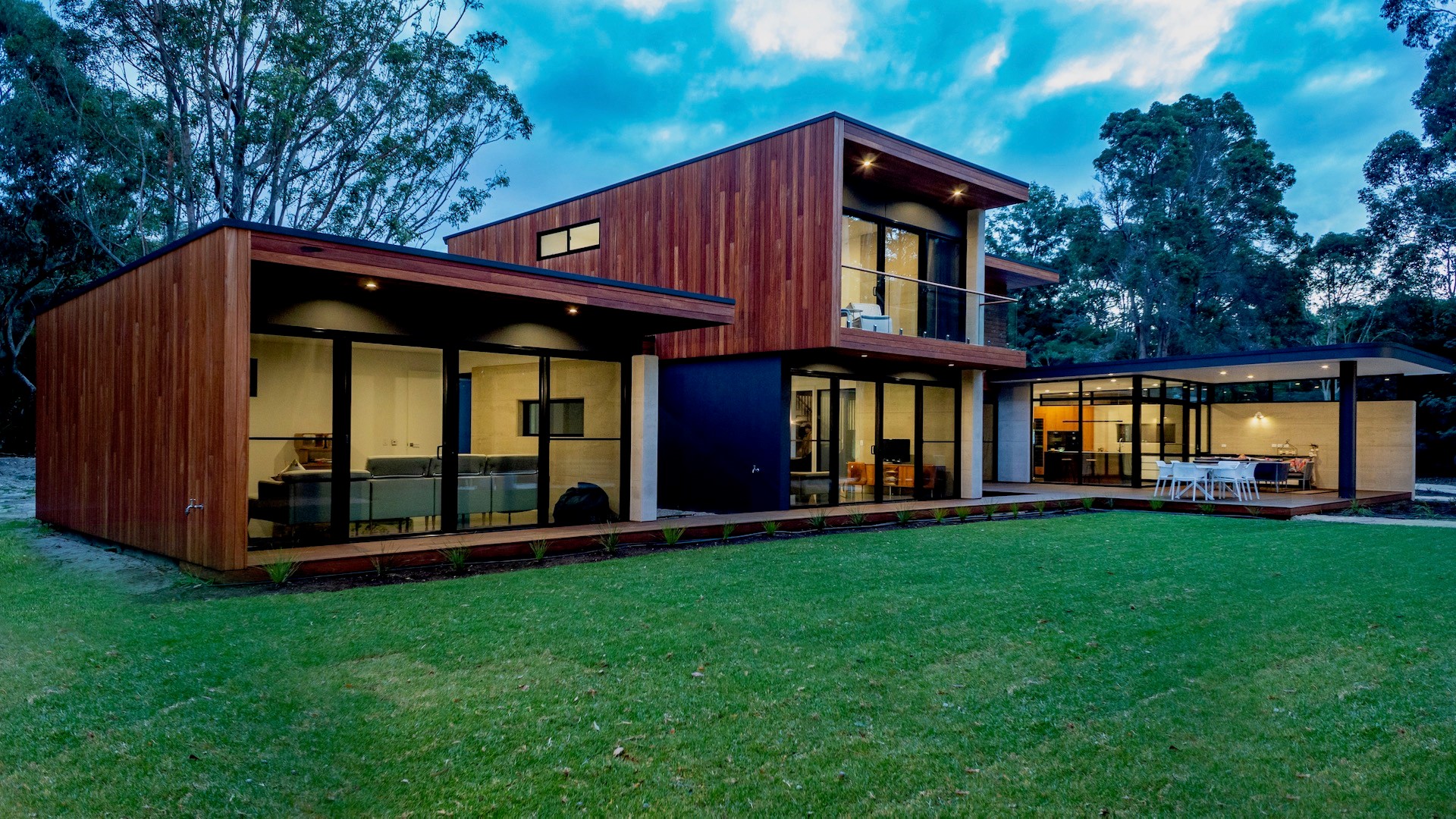 Building in harmony with the surrounding natural environment is a chance to embrace external timber cladding in new and innovative ways. 
External cladding can bring out the textures of the surrounding environment, while concrete can ground the structure by giving depth and class. In our Merino Way Residence, we used Trendplank 120×18 with pre-oiled Blackbutt to build connectivity with the surrounding forests.
As a natural material, timber reacts to the environmental conditions it is exposed to. Trendplank has been designed to embrace the inherent movement of timber, striking a balance with its surroundings by accommodating the appropriate degree of movement.
For projects wanting to take advantage of smooth installation techniques, Trendplank offers an efficient installation process by end matching, which allows for joining off-stud. This technique uses a tongue and groove profile, improving the water resistance of the boards and eliminating the need for measuring and cutting the board ends.
Low-maintenance coastal living can be an oxymoron unless done right. Wind, salt, and weather pose challenges for the design of any coastal home. When it comes to the materials used, high durability and versatility is a must. 
Our Gracetown Residence combines the careful use of timber and concrete to achieve the balance needed for easy and relaxed coastal living. Pacific Teak was a natural choice to withstand the coastal environment, allowing it to age gracefully and blend seamlessly into the seaside town's surroundings.
Special care was taken to ensure continuity in all aspects of the design. We chose Metroplank for the decking which uses a clever clip design allowing for natural timber movement while improving the durability and livability of the outdoor spaces.
Source quality cladding materials with Mortlock Timber
Whether you're embarking on a new concrete and timber architecture project, or looking to upgrade or renovate an existing space, our team here at Mortlock Timber is ready to assist you in selecting the right timber cladding products for your design.
With a wide range of quality timbers available, including innovative assembly and installation techniques, Mortlock Timber is your one-stop shop for sustainable and exquisite timber design products. Reach out to our team today and get your project off the ground.
View our pricing and product guide
For in-depth information about the range of products we offer, please fill out the form below to download our Architectural Timber Pricing and Product Guide. Inside you will find illustrations, specifications, portfolio photo examples and a hardwood timber price guide to assist with budgeting.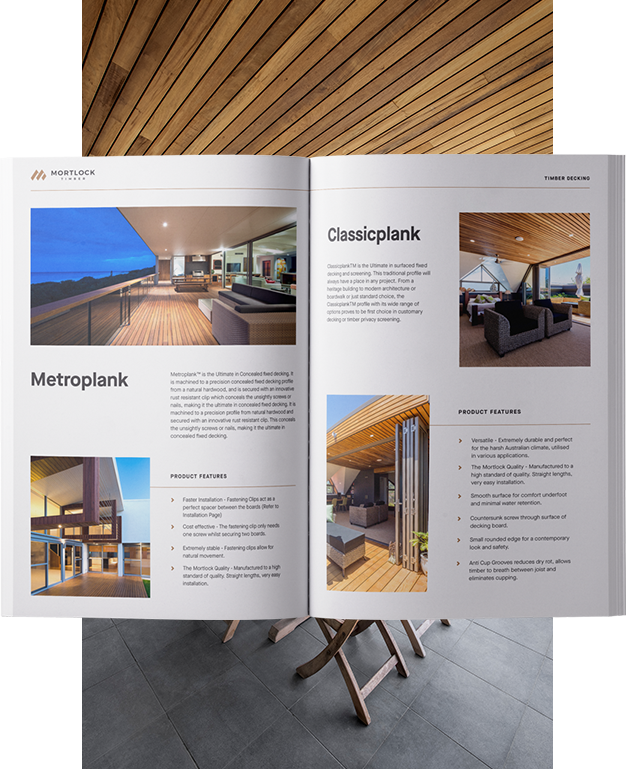 We are committed to bringing you timber products that add value and endure for years to come, even in heavy traffic and harsh weather conditions. We understand the value of efficiency when it comes to installation and keeping hardwood timber costs down. That's why we've spent decades perfecting our designs to make them easier to handle, less wasteful and more efficient to install. This efficiency allows us to offer you premier products that are more cost-effective so that you can experience greater savings on timber wall costs, timber ceiling costs, timber cladding costs and timber decking costs.
Download our Pricing and Product Guide for our complete hardwood timber price list including timber decking prices, timber wall prices, timber ceiling prices and timber cladding prices.