Article
Information
Learning Hub
Timber Ceilings
Using Cutek CD50 oil with natural timber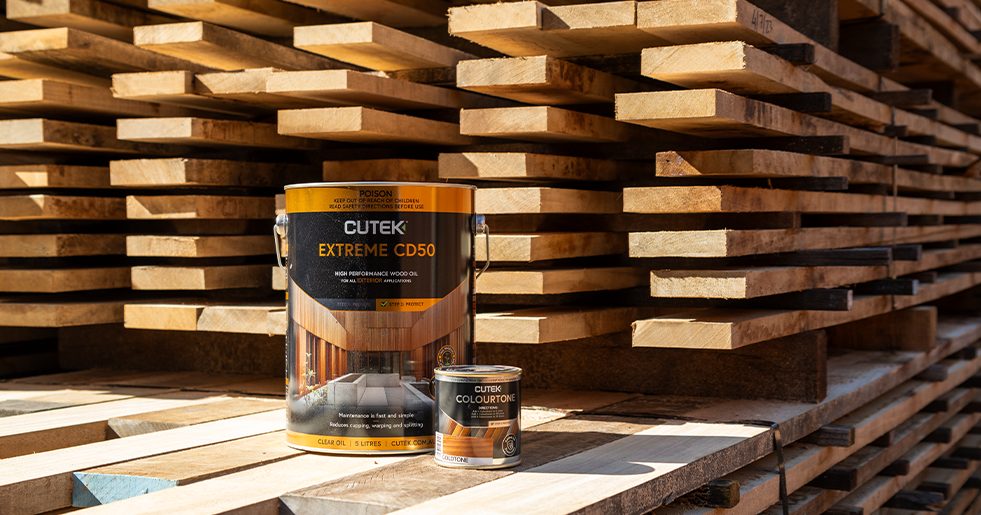 Architectural designs are planned and built to stand the test of time, prioritising the longevity of structural elements and architectural elements. Architectural timber with the right treatment processes and maintenance, is incredibly durable.
Even when exposed to the natural elements, timber with the correct production process and coating will be a highlight on design project. Cutek manufactures Extreme CD50, an oil-based wood stabiliser with a self-healing effect. This clear oil penetrates the wood, nourishing it from within. and enhancing its natural beauty. All the while providing robust and long-lasting protection.
It's one of our most popular coatings here at Mortlock Timber as it is a cost-effective option for architects and builders that want to achieve an amazing result with a versatile product.
In this blog we will be covering the following: 
Let's get into it.
What is Cutek Extreme CD50 oil?
Cutek's Extreme CD50 is an oil-based wood stabiliser with a self-healing effect. The clear oil penetrates the wood, nourishing it from within, enhancing its natural beauty and protects it.
Cutek's Extreme CD50 offers a significant benefit as it is manufactured in Australia, enabling the oil to adapt to the country's conditions and naturally silver the timber over time.
Where you can use Cutek Extreme CD50 oil
Cutek Extreme CD50 is an oil-based wood stabiliser with a self-healing effect. The clear oil penetrates the wood, nourishing it from within, enhancing its natural beauty and protects it. 
This oil has a significant benefit as it is manufactured in Australia, enabling the oil to adapt to the country's conditions, not flake or peel and naturally silver the timber over time.
How is Cutek Extreme CD50 applied to timber?
Cutek Extreme CD50 is a penetrative oil and is often applied using a lambswool brush or mop. This allows the oil to soak into the wood and actively drive out moisture, minimising cupping, warping and splitting.
Cutek Extreme CD50 will diffuse deeply into the wood core and stay mobile inside it to continue to repel and displace moisture. This oil gives the timber a matte finish but as it is an oil-based product, it will darken the timber.
Mortlock Timber and Cutek Extreme CD50 oil
At Mortlock Timber, we apply Cutek CD50 to a timber board using a machine which coats all four sides of the timber. This first coat is completed inside our factory before the product is delivered to sites, saving time and resources for those installing on a project.
How to maintain Cutek Extreme CD50
Maintaining wood coated with Cutek Extreme CD50 is a relatively simple process. This oil is designed to fade naturally over time, avoiding issues like flaking or peeling. When applying more coats of Cutek Extreme CD50 during the process, it will necessitate additional time between coats for a project.
To achieve optimal results with Cutek Extreme CD50, it is recommended to mix it with Cutek Colourtone. This combination provides UV colour protection and slows down the silvering process. While applying Cutek Extreme CD50 alone allows the wood to naturally lighten, silver, and grey when exposed to sunlight, it still maintains its protective characteristics.
The maintenance of timber with Cutek Extreme CD50 does not require stripping or sanding the coat. Simply clean the surface and reapply the oil every two to seven years. This applies even if the weathering off approach is desired for a project. The maintenance intervals and rate of fading will vary depending on the wood species, the specific situation, design, and the degree of exposure to the elements.
One coat of Cutek CD50 Clear should be applied to all surfaces of the timber prior to delivery. The time taken for Cutek CD50 to diffuse into the timber varies significantly, depending on aspect, species, ambient temperature, porosity, and moisture content of the timber.
A third coat of Cutek CD50 Clear should be applied once construction is complete. A fourth coat should be applied within 6 months of third coat. Maintenance coats can be applied as often as every 12-18 months to reduce minor surface checking and maintain stability. Typically, weathered surfaces can be left up to 4-5 years without recoating.
Cutek Colourtone
If your design project requires you to maintain the applied timber product's natural colour for longer, Cutek's Colourtone is the most optimal choice.
As mentioned above, the Cutek system works to fade over time instead of peeling or flaking. Exterior timber applications will require a follow-up application after six months if the desired outcome is to keep the colour of the natural timber. This will provide the most optimal result and enhance the durability as the timber becomes rougher and more absorbent of pigment over time. 
Colour durability varies widely according to many factors including the age and porosity of the wood, species, situation, exposure to the weather and how rough the wood surface is.
Even very light wood coloured species can become an almost solid Black, Grey, Red, Brown or Gold if the wood surface is suitably rough and more coats or a higher pigment loading has been added. For harder timbers like spotted gum and jarrah, Cutek Colourtone does not change the colouration as much.
For softer timbers like cedar, it tints the timber more. See more examples of the Cutek Colourtone system here.
As Mortlock only pre-oils with Cutek clear oil (and no Cutek Colourtone) the second coat applied on site will not darken as much as timber that has been oiled with Cutek clear oil and Cutek Colourtone from the start. A second coat of Cutek CD50 with Colourtone should be applied once installation is complete. Any second coat should only be applied once the first coat has completely penetrated and is dry.
Please note that the colour, species, age and condition of your timber to be coated will impact the final colour and finish of all CUTEK® products.
Cutek Extreme CD50 and Eagle Bay Residence
The Eagle Bay Residence is uniquely located on a coastal lot with direct frontage to the beach and clear uninterrupted views of Geography Bay in Western Australia's south-west.  Our Trendplank 120×18 Pacific Teak Cladding provided a robust material that ages naturally and creates a silver-grey patina reminiscent of coastal driftwood and the indigenous coastal heath colours.
Throughout this project there are timber cladding areas of the residence that are not as exposed to the weather as other areas. This results in the timber not being as weathered as much.
The use of this natural material and the selected coating ensured that it aged gracefully, achieving the desired effect. The outcome is truly remarkable, showcasing the timeless beauty of the ageing process of natural timber.
See more photos of the Eagle Bay Residence project.
Your vision, our expertise.
At Mortlock Timber we understand that projects don't stop at its completion date. While the longevity of structural elements are crucial for projects which are designed to stand the test of time, architectural elements such as our timber products are just as important.
While the timber features are showcased on day one, ensure the protection of the timber and showcase its natural beauty for many years to come. Cutek's Extreme CD50 oil will unlock the aesthetic you want for your design project.
Finding the perfect timber coating for your project involves striking a balance between functionality and visual appeal. We encourage you to consult with our experienced team to ensure that your project stands the test of time.
To discuss your project, see pricing and receive samples, get in touch with us today! Call 1800 870 452 or request a quote.
View our pricing and product guide
For in-depth information about the range of products we offer, please fill out the form below to download our Architectural Timber Pricing and Product Guide. Inside you will find illustrations, specifications, portfolio photo examples and a hardwood timber price guide to assist with budgeting.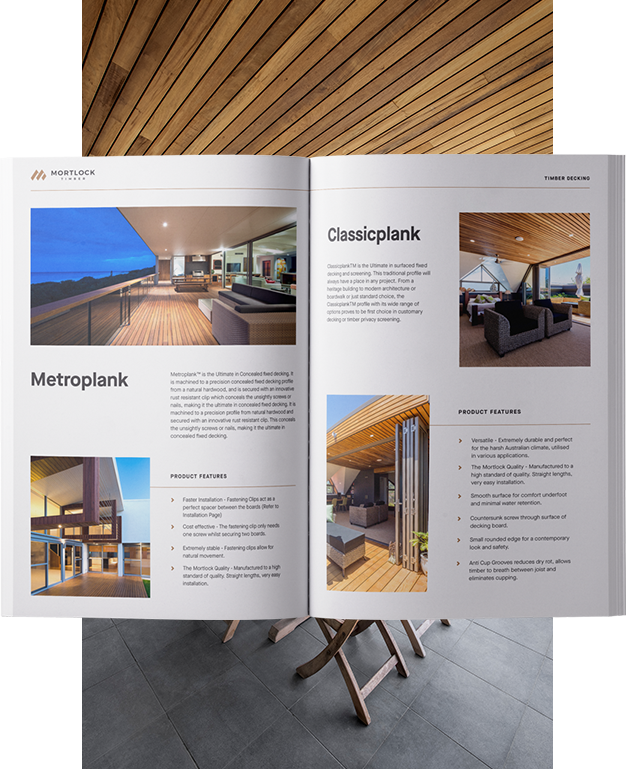 We are committed to bringing you timber products that add value and endure for years to come, even in heavy traffic and harsh weather conditions. We understand the value of efficiency when it comes to installation and keeping hardwood timber costs down. That's why we've spent decades perfecting our designs to make them easier to handle, less wasteful and more efficient to install. This efficiency allows us to offer you premier products that are more cost-effective so that you can experience greater savings on timber wall costs, timber ceiling costs, timber cladding costs and timber decking costs.
Download our Pricing and Product Guide for our complete hardwood timber price list including timber decking prices, timber wall prices, timber ceiling prices and timber cladding prices.