Article
Learning Hub
Timber Decking
Keeping your timber deck properly maintained will keep it stunning for years to come!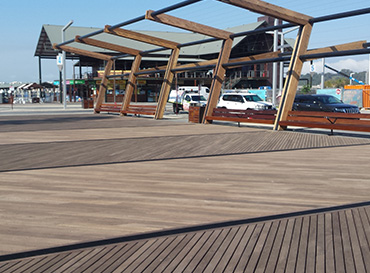 Just like any other investment, it's important that you know how to care for your timber decking to ensure it retains its value over time.
Real timber decking has a richness and beauty to it that alternatives simply can't compete with. Proper cleaning and maintenance will help preserve the appearance and structural integrity of your deck so that you can keep enjoying it for years to come.
Below we discuss the most important aspects of timber decking maintenance, information that will help you maintain the unique colour and shape of your deck for longer.
Is decking high maintenance?
Hardwoods like jarrah, blackbutt and ironbark are the best timbers to use for decking because of their superior durability and longevity. However, even the most robust hardwoods require some maintenance to preserve their appearance.
The biggest factor is exposure to the sun. Over time this can remove the colour pigments in the wood, causing a greying effect.
Some people purposely leave their deck to age into a weathered grey look, but if you want to maintain the unique colour of your deck you will need to recoat it with oil periodically. This will also help prevent splintering and bowing of the wood.
The exact recommendations for recoating depend on the species of wood and the environmental conditions, but once every 6 month to 2 years is standard. It's important to check with your timber supplier about the frequency and best methods for Australian timber deck maintenance.

Download Mortlock Timber Maintenance Guide Now.
What's the best way to clean a timber deck?
Cleaning your timber deck is an important aspect of maintenance as it will reduce the build up of dust and grit.
Before cleaning, remove all furniture, plants and other objects from the deck. Use a broom to sweep away any loose dirt and large particles. Then hose it down with water and use a mop to dislodge any remaining dirt and grime.
If your deck has a stain, try removing it manually with water before using any cleaning chemicals as these can sometimes strip the top layer of oil off. If you must use a cleaning chemical, it's not recommended to do so more often than every 2-3 years. You should also re-apply a coating of oil to your deck as soon as possible once it has dried.
How much decking oil do I need?
How often you need to recoat your timber deck with oil depends on a number of factors including the species of timber and the environmental conditions it's exposed to.
Timber absorbs moisture in the atmosphere to equalise its moisture content with the ambient conditions. This means factors like the rainfall level, humidity and amount of exposure to the sun can all affect the frequency of recoating.
A deck that is in direct sunlight for most of the day may need three or more coats a year compared to a deck that is covered in shade, which may be fine with one coat a year.
In addition to asking for your timber supplier's recommendations, it's best to inspect your deck every 6 months to see if it requires coating. This is the best way to catch early signs of drying and splitting which should be dealt with as soon as possible.
How do you maintain a timber deck with oil?
Oiling your deck is important for protecting it from moisture and the sun, and will help prevent warping and splitting issues. Before applying any oil to your timber decking, it's important that the boards are clean and completely dry.
At Mortlock Timber, we recommend oiling your timber decking with a deeply penetrating oil such as Cutek CD50. This type of oil is easy to apply, doesn't peel or crack and will help emphasis the natural grain of the wood.
You can use a paintbrush, fabric mop or lambswool applicator to apply the oil. The natural fibres of lambswool are ideal for a smooth and fast application.
The oil should be applied in long and steady strokes the same direction as the boards. Aim for an even coverage but try to avoid going over the same spots repeatedly as the oil will soak in by itself.
A second coat should be applied once the first coat is dry. Follow the manufacturer's recommendations for drying times and be aware that oil will dry faster in warmer weather and when exposed to direct sunlight.
Speak to the specialists about Australian timber deck maintenance
There's a lot of timber decking maintenance information out there. If you are in doubt about how to look after your deck, speak to the experts.
At Mortlock Timber, we supply high quality architectural timber for a wide range of residential and commercial projects. Our decking profiles – Metroplank, Classiplank and Marineplank – are built for durability and perform well even in harsh Australian climates.
We can provide expert and transparent advice about choosing the ideal timber species and profiles for your specific application as well as the best maintenance practices to preserve your timber deck.
If you are considering a hardwood deck for your project, get in touch with our team of timber specialists to see how we can assist. We look forward to helping you bring your vision to life.
View our pricing and product guide
For in-depth information about the range of products we offer, please fill out the form below to download our Architectural Timber Pricing and Product Guide. Inside you will find illustrations, specifications, portfolio photo examples and a hardwood timber price guide to assist with budgeting.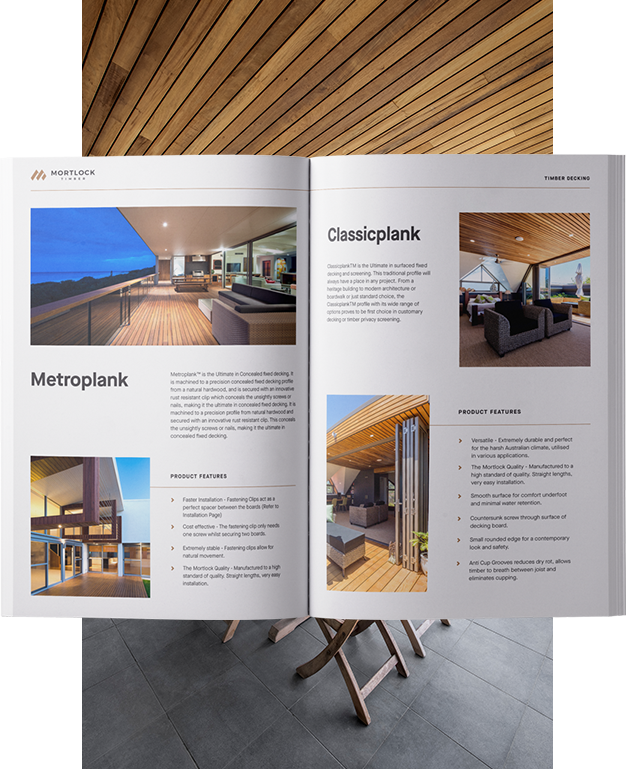 We are committed to bringing you timber products that add value and endure for years to come, even in heavy traffic and harsh weather conditions. We understand the value of efficiency when it comes to installation and keeping hardwood timber costs down. That's why we've spent decades perfecting our designs to make them easier to handle, less wasteful and more efficient to install. This efficiency allows us to offer you premier products that are more cost-effective so that you can experience greater savings on timber wall costs, timber ceiling costs, timber cladding costs and timber decking costs.
Download our Pricing and Product Guide for our complete hardwood timber price list including timber decking prices, timber wall prices, timber ceiling prices and timber cladding prices.