The Wedgetail Residence: Built On Integrity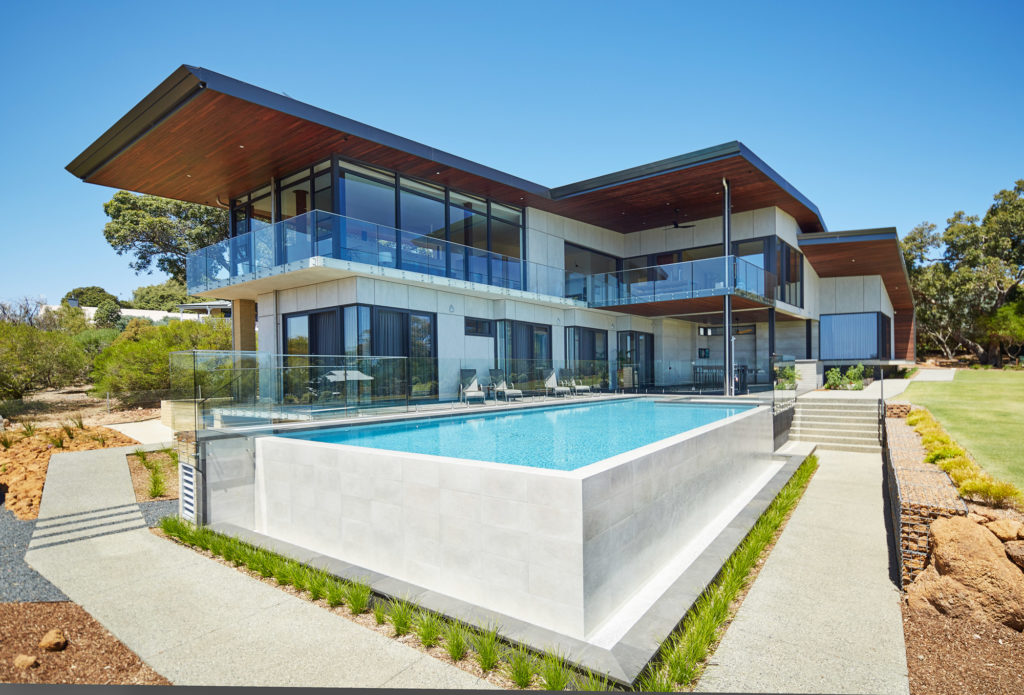 The European owners of the stunning, award-winning Wedgetail Residence in Eagle Bay, Western Australia, originally had their hearts set on a Tuscan villa. Then, architects Clayton Lindley of Naked Architecture and Andrew Hagemann of Fringe Architects won their hearts with a striking contemporary design, even more sympathetic to the site's elevated setting and beautiful surroundings.
As well as reflecting a more modern feel than a traditional villa, the approximately 4002 metre private residence has been designed to maximise the spectacular view over Geographe Bay. Finished in 2016, the home won the HIA South West and West Australian Outdoor Project of the Year 2017.
A material difference
Lindley and Hagemann made a commitment to select building materials based on their integral finishes. Everything had to be maintenance-free, current, robust and fire-resistant.
The materials used include Stabilised Rammed Earth (SRE) for the internal walls, face block, Colorbond steel, and CSR Barestone cladding.
And although a decking product, Lindley and Hagemann chose Mortlock Timber's Metroplank Jarrah Decking for the home's alfresco ceiling. "As a local and very durable hardwood, Jarrah very much fitted the characteristics that we were looking for," says Lindley.
They also selected Mortlock Timber Satinplank timber lining for the extensive soffits and main ceilings.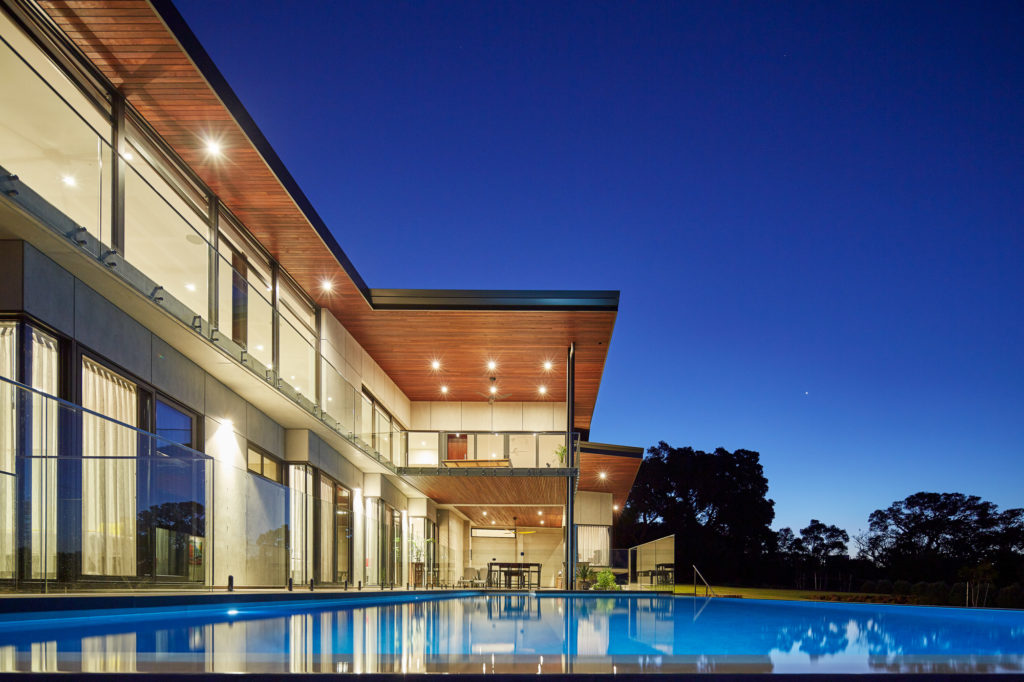 When stability counts
The builders, Tallwood Construction, specialise in high-end residential homes. Naturally, the integrity of the materials they work with are critical to the durability of the houses they build, and to their own reputation.
Tallwood's site supervisor, Brarnt Cumming, says their first time working with Mortlock Timber went well. After using a wide range of similar products over the years, he was delighted with the performance and stability Metroplank and Satinplank demonstrated.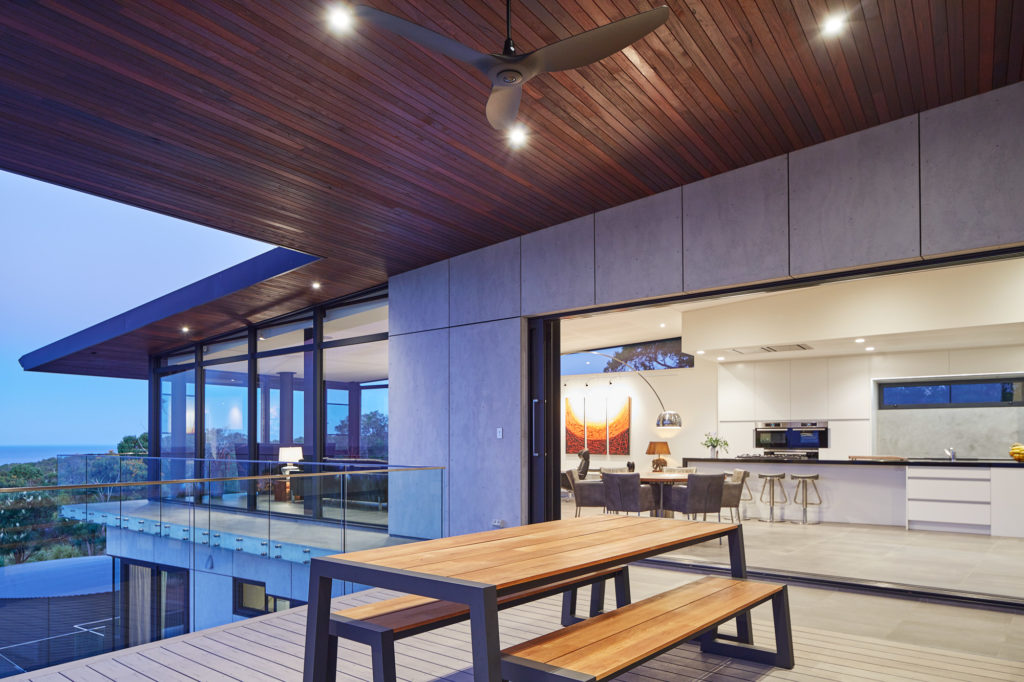 The Mortlock Timber difference
Mortlock's range of available timbers – mostly Australian hardwoods – and their well-documented products are high on the list of the benefits of working with the company, says Lindley. "Mortlock's are a reliable source of both supply and information. Their products are hard-wearing and well-finished. It saves us having to try to find those products through a timber mill."
As well as being impressed with the quality of their products, Lindley appreciates Mortlock Timber's attention to detail. "Their customer service is very good. They're always responsive, and have the answers and information you need on hand."
"Mortlock really has been a welcome addition to the West Australian building industry," says Lindley. "I certainly highly recommend them."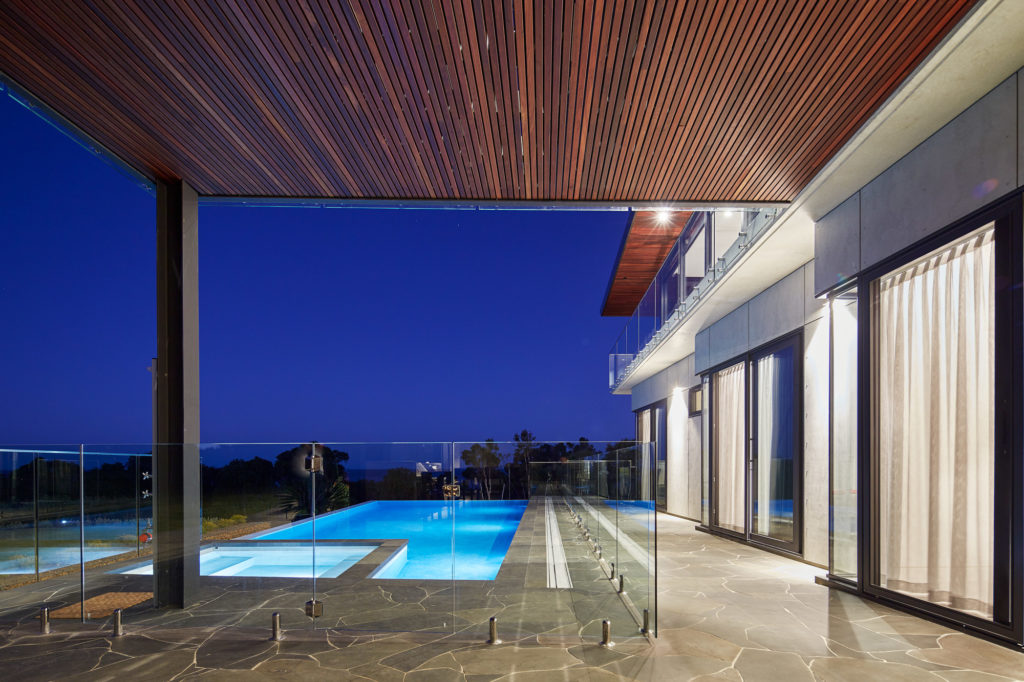 At a glance:
Client:
Private residence
Location:
Wedgetail View, Eagle Bay, Western Australia
Project partners:
Mortlock Timber Group – timber ceiling products
Naked Architecture and Fringe Architects – architects
Tallwood Construction – builders
View More Images:
Mortlock Timber Group products:
Metroplank 85×20 Jarrah Decking
Mortlock Timber's Metroplank Jarrah pre-oiled concealed fixed timber decking is the result of over 20 years of testing and experience. The profile and clip design allows for exactly the right amount of natural timber movement, and has been successfully used in commercial areas as well as luxury residential homes in some of Australia's most high-profile suburbs. Metroplank Decking can be used with PROPLANK profiled timber battens to reduce the installation and material costs of lining ceilings and walls. LEARN MORE
Satinplank 80×14 T&G v-joint lining
Mortlock Timber's Satinplank timber lining is a high-quality range of pre-oiled, end-matched natural timber lining products, precision machined from sustainably-managed species, and which require minimal maintenance. Comprised of precision-machined tongue and groove lining boards and proprietary trim profiles, the timber lining is milled from species including Jarrah, Spotted Gum, and Pacific Teak. Installed to timber battens with adhesive and stainless brads, Satinplank timber lining has a V-joint secret-nail profile for faster installation.
View our pricing and product guide
For in-depth information about the range of products we offer, please fill out the form below to download our Architectural Timber Pricing and Product Guide. Inside you will find illustrations, specifications, portfolio photo examples and a hardwood timber price guide to assist with budgeting.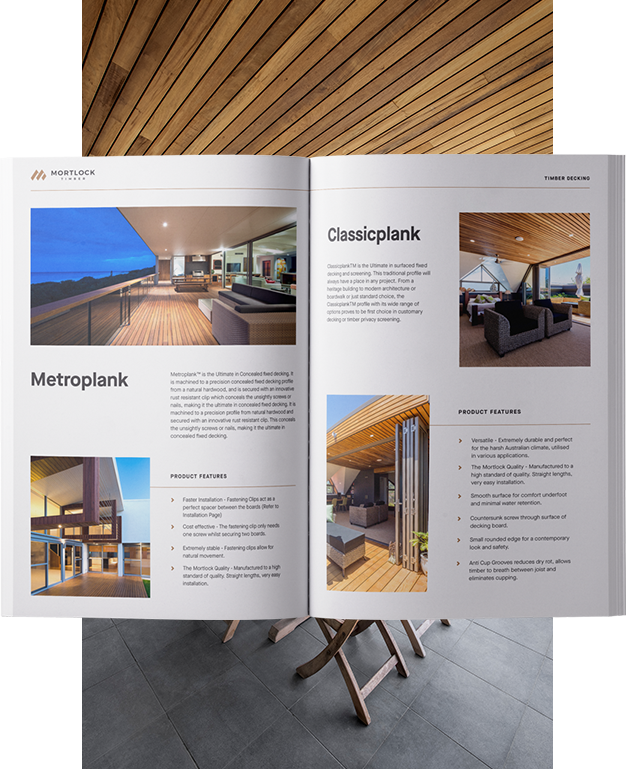 We are committed to bringing you timber products that add value and endure for years to come, even in heavy traffic and harsh weather conditions. We understand the value of efficiency when it comes to installation and keeping hardwood timber costs down. That's why we've spent decades perfecting our designs to make them easier to handle, less wasteful and more efficient to install. This efficiency allows us to offer you premier products that are more cost-effective so that you can experience greater savings on timber wall costs, timber ceiling costs, timber cladding costs and timber decking costs.
Download our Pricing and Product Guide for our complete hardwood timber price list including timber decking prices, timber wall prices, timber ceiling prices and timber cladding prices.