Incredible Timber Features to Complement Every Architectural Design!
In the past few years wood has made a name for itself as one of the most popular building materials for modern houses. Architects all across the globe have taken notice of timber and are using it in creative ways to bring their visions to life.
Why are so many architects turning to timber?
Harvested from sustainably managed forests, timber is one of the most environmentally friendly building materials. It is incredibly versatile, and used in all sorts of applications inside and outside residential and commercial buildings. What's more, the nature of the material allows for creative uses and flexible designs.
Hardwoods have always been popular for their textural beauty, but perhaps never more so than now when people are looking for natural materials to build their homes with. Timber is sensory in a way that synthetic materials cannot compare with. Some even argue that wood has biophilic benefits, meaning that it helps people feel more connected to nature in their own homes.
Versatile, sustainable and attractive to all the senses – it's easy to see why timber is one of the most sought-after building materials. From off the grid tiny homes to sleek mid-century houses, modern architecture designs are using wood in a mirriad of creative and innovative ways.
In this post we take a closer look at just some of the ways timber is being used to create a diverse range of stunning modern homes.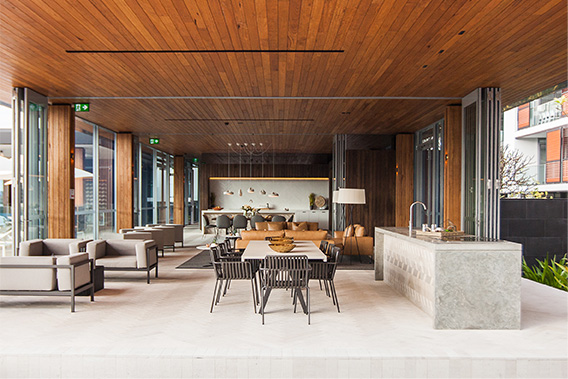 Timber Wall Cladding
Timber cladding is the tried and true way to add warmth and beauty to any architectural design. Whether it's used as the base material or as an accent, timber cladding finds the perfect balance between refined and rustic.
Studio Apartment
https://www.instagram.com/p/B1vOvLwFKv8/
Although spaciousness was once the most desirable aspect of a home, more and more people are wanting to build smaller homes. For some it is a choice to be more environmentally conscious while others subscribe to the idea that less is more.
Small doesn't have to mean settling for less beauty and appeal. In fact, timber cladding has been used in studio apartments and other small homes to create a big impact. The warmth and texture of real timber paired with innovative architectural designs is hard to look past.
Barn / Modern Farmhouse
https://www.instagram.com/p/B5lMqLWHLMG/
The iconic barn shaped house is returning in full force with timber's increasing popularity. Timber cladding creates the perfect rustic backdrop for a range of creative modern elements such as steel framed windows and asymmetrical shapes.
Timber Decking
With so much of the Australian lifestyle revolving around the outdoors, timber decking has always been a value-adding feature. From verandahs to poolside flooring, timber decking helps create outside spaces that are just as much part of the home as the indoors.
Beach House
https://www.instagram.com/p/B8vH85AFdEx/
Since such a high proportion of the Australian population lives near the coast, it's no wonder that beach houses remain one of our most iconic architectural styles. Timber decking is the perfect way to encourage more time outdoors, especially when there is a pool involved.
Energy Efficient Home
https://www.instagram.com/p/CABs3IrlK9H/
More and more people are wanting to create a home that aligns with their values about the environment. One key element in this process is connecting the home with nature. Decking is an excellent way to join indoor spaces with the outdoors, inviting more fresh air, sunlight and nature into the home.
Timber Ceiling Cladding
Although they are often overlooked, ceilings have a dramatic effect on how a space feels. Timber cladding is frequently used on ceilings to create a sophisticated look, open up a space or improve the acoustics. Ideal for both indoor and outdoor ceilings, timber cladding adds a touch of luxury.
Modern Industrial
https://www.instagram.com/p/B_MWOzAlojP/
The appeal of modern industrial architecture is the harmony it finds between rawness and elegance. The boxy shapes of the modern industrial style are beautifully complemented by the warm tones of timber ceiling cladding. The rich textures of real timber provide balance to the cooler and harsher elements such as brick, steel and stone.
Mid Century Home
https://www.instagram.com/p/CFK-c7En7lz/
Popularised from the 1930s to the 1960s, mid-century homes are futuristic, functional and minimalist. These qualities are probably why the style remains popular today. Ceiling timber cladding is a wonderful complement to the clean lines and angular structures found in mid-century houses.
Charred Architectural Timber
Shou Sugi Ban, a traditional method of charring timber with fire, is making a comeback in modern architectural designs of all styles. The striking charcoal black timber can be used as wall or ceiling cladding in exterior and interior applications. Beyond its beautiful aesthetic, Shou Sugi Ban architectural timber is appealing for its excellent durability and sustainability.
Off-Grid Cabin
https://www.instagram.com/p/CDjOlUrFK0y/
Shou Sugi Ban arose in 18th Century Japan out of the need for a more sustainable method of protecting homes from the weather. It's fitting then that the technique is being used in modern designs to create self-sustaining homes. Unlike other techniques which rely on harsh chemicals, Shou Sugi Ban creates a highly durable and low-maintenance timber by only using fire and a coat of natural oil.
Modern Home
https://www.instagram.com/p/CFOMPsfIiz4/
Although Shou Sugi Ban is an 18th Century technique, it fits seamlessly into modern designs. The sleek, sophisticated black timber contrasts with other materials in a surprising way. Up close, the natural textures of the timber can be seen through the carbon coating, adding a touch of personality.
Endless Possibilities With Architectural Timber
Timber has the power to transform spaces and create homes that align with modern values. When you consider how sustainable, versatile and attractive it is, it's no wonder more and more leading architects are turning to timber.
At Mortlock Timber, we want to empower you to bring your vision to life, no matter how unique or complex. Our range of premier architectural timber products have been used across Australia by leading architects and builders to create iconic and stunning residential and commercial designs.
Ready to see how timber can transform your next project? Get in touch with us today to see what's possible!
View our pricing and product guide
For in-depth information about the range of products we offer, please fill out the form below to download our Architectural Timber Pricing and Product Guide. Inside you will find illustrations, specifications, portfolio photo examples and a hardwood timber price guide to assist with budgeting.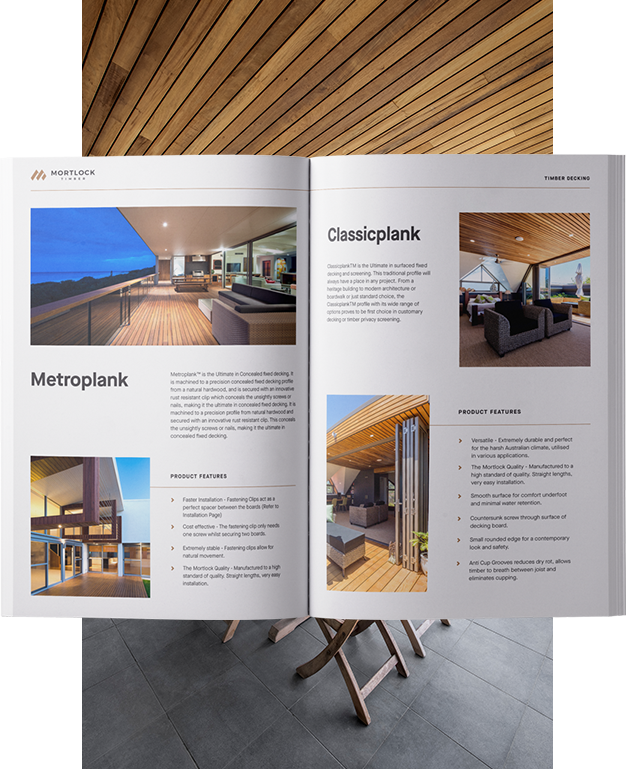 We are committed to bringing you timber products that add value and endure for years to come, even in heavy traffic and harsh weather conditions. We understand the value of efficiency when it comes to installation and keeping hardwood timber costs down. That's why we've spent decades perfecting our designs to make them easier to handle, less wasteful and more efficient to install. This efficiency allows us to offer you premier products that are more cost-effective so that you can experience greater savings on timber wall costs, timber ceiling costs, timber cladding costs and timber decking costs.
Download our Pricing and Product Guide for our complete hardwood timber price list including timber decking prices, timber wall prices, timber ceiling prices and timber cladding prices.