5 Ideas for the Perfect Outdoor Entertaining Area
Blessed with good weather most of the year round, Australians love their outdoor spaces. Whether you enjoy having guests over for a party or just want a calming oasis of your own, creating the ideal backyard outdoor entertaining area takes some careful planning.
Here are 5 great outdoor entertaining ideas to help you get started.
1. Introduce natural textures with hardwood timber decking
Choosing the right flooring is a great place to start when designing your outdoor entertaining space. Timber decks are an Australian favourite and can be designed to suit almost any space.
Hardwood timber decking is easy to maintain and will last a lot longer than composite or pine decking options. Plus there really is no competing with the warmth and richness of real hardwood timber.
Timber species come in a range of colours and textures, from the deep reddish brown of Jarrah to the creamy blonde of Blackbutt. Make sure you choose a timber species that complements the rest of your home and keep in mind that some species will perform better in sunlight, while others are more suited to shade.
If you've already got an outdoor space with flooring but want to add some warmth with real timber, wall and ceiling cladding are great outdoor entertaining ideas. The texture and colour that timber cladding offers can soften modern spaces which have lots of concrete, tiles or other smooth materials.
2. Make your space inviting year round with a pergola
A pergola provides shade from the glaring sun and shelter from rain, hail and other wintery weather. This will make things more comfortable for you and your guests all year round and it will also protect your furniture, decking, decor and any other materials in your outdoor area.
One of the most popular options for Australian homes is the Stratco pergola which is made from durable steel and offers a clean, modern look. Steel pergolas can be powder coated or painted with corrosion resistant finishes to suit the style of your home.
Pergolas typically refer to outdoor coverings which allow partial sun and shade. This means they can be designed to embrace the sun when you want it and keep you protected when you need.
Other outdoor structures to consider are gazebos, patios and pavilions. Consider talking with a specialist who can help you find the best solution for your space so that you can maximise its use in warm weather as well as the cooler months.
3. Get more use out of your space with the right outdoor furniture
When it comes to furnishing your backyard outdoor entertaining area, start by thinking about how much room you have and what you want to use the space for.
For example, if you love having family meals outside, look for an attractive dining table and chairs. If you want an inviting space to host parties, maximise the comfy seating options. If you're wanting to create your own backyard oasis, consider a hammock or daybed with comfortable cushions where you can relax.
You don't want to overcrowd the space, but you don't want it to look empty either. If space is a bit tight, look for furnishings that can have a double use such as an ottoman that can double as a seat or a bench.
Outdoor furniture needs to be durable, especially in the Australian climate where the sun will make almost every material deteriorate over time. More delicate furniture, such as wicker chairs, should be kept in the shade to protect it. Sturdier materials like teak and powder coated aluminium can cope better with sunlight.
It's also worth considering how much maintenance you want to be doing to keep your outdoor chairs in good condition. Upholstery can get dirty when kept outside and will need cleaning every few months.
4. Embrace the benefits of nature with plants
Foliage helps make a space feel more tranquil and inviting and there are many ways to introduce greenery into your outdoor entertainment space.
When choosing plants, it's important to work with your space. Consider the level of shade and direct sunlight that your space receives throughout the day. Plants that grow well in shady areas include maidenhair ferns, caladiums and elephant ears.
If you've got a bit of a green thumb, consider putting in garden beds and even growing some fresh herbs and vegetables. If you want something a bit easier to maintain, pot plants are a great choice. Pick a variety of pot sizes to create visual interest.
For outdoor areas which don't have much floor space, you can introduce greenery by creating a vertical garden or hanging plants in macrame hangers. Alternatively, plant some climbers like wisteria, bougainvillea or creeping fig. These can look fantastic on blank walls or over pergolas.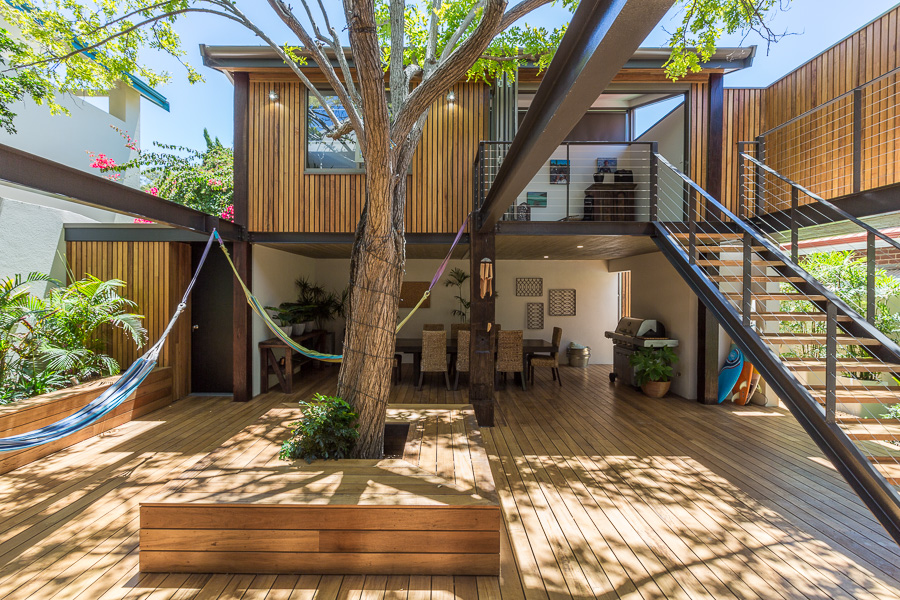 5. Keep things cosy with outdoor heating
Wondering how to make your outdoor area cozy during the cooler months? Outdoor heaters and fireplaces are a great addition to any outdoor area and can maximise the use you get out of your space.
Fireplaces provide ambiance as well as warmth. For small outdoor spaces, consider a fireplace built into a wall to keep the floor free. If you want more of a statement, stainless steel and cast iron fire pits come in a wide range of styles. Creating seating areas around the fireplace will help make it a focal point.
For those who want heating that can also be used in their outdoor kitchen, pizza ovens are a great way to add warmth while providing more cooking space.
If you're looking to save floor space, bar heaters can be installed on the walls or ceilings above the outdoor dining area and near any extra seating. They are usually pretty discrete, but do the job well.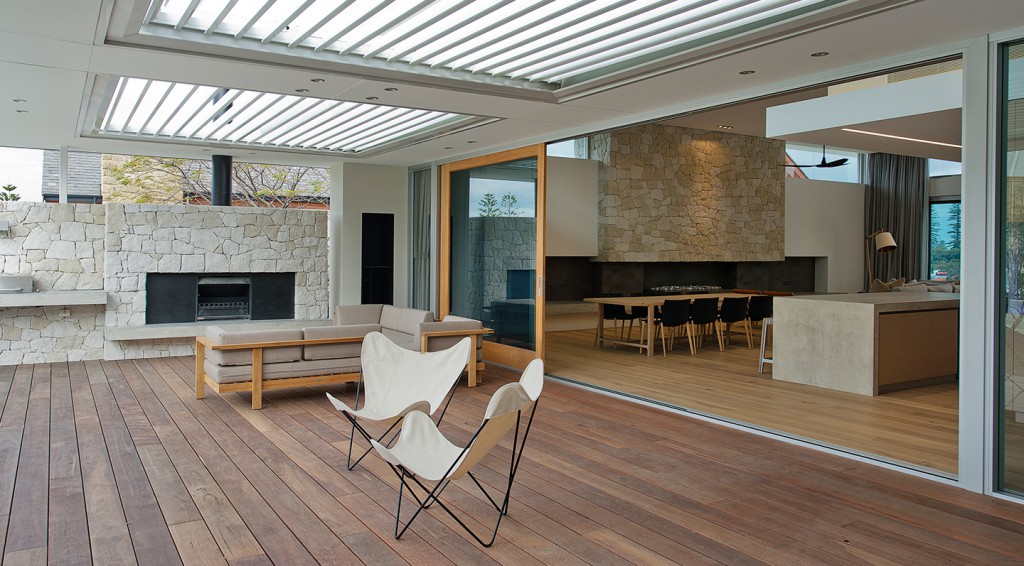 Hopefully you've found some inspiration from these outdoor entertaining ideas. Designing the ideal outdoor space can take time, but the result is worth it. Having an outdoor space that you can love and enjoy for years to come is a great asset.
Need help with timber decking for your backyard outdoor entertaining area? Give Mortlock Timber a call to discuss your project.
Request Sample
To experience the quality and finish of our products, we encourage you to complete this form to request a sample. Our team will be in touch with you to provide you with samples of your choice, and from our experienced team's recommendations.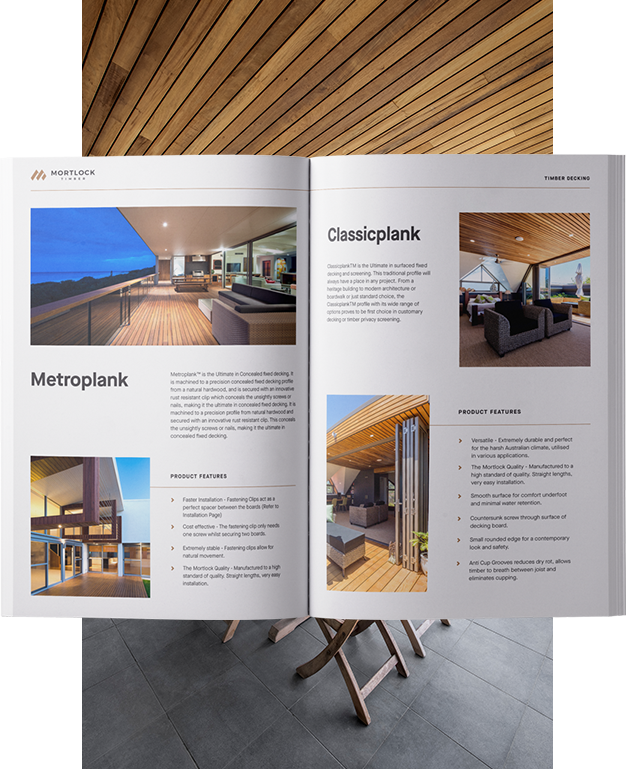 We are committed to bringing you timber products that add value and endure for years to come, even in heavy traffic and harsh weather conditions. We understand the value of efficiency when it comes to installation and keeping hardwood timber costs down. That's why we've spent decades perfecting our designs to make them easier to handle, less wasteful and more efficient to install. This efficiency allows us to offer you premier products that are more cost-effective so that you can experience greater savings on timber wall costs, timber ceiling costs, timber cladding costs and timber decking costs.
Download our Pricing and Product Guide for our complete hardwood timber price list including timber decking prices, timber wall prices, timber ceiling prices and timber cladding prices.