10 Benefits Of Using Wood in 2023
Wood is a natural resource that has supported humanity since the earliest of times. Today, this precious material is more in demand than ever before as a sustainable source of prime building material – from architectural timber cladding in homes to commercial builds and beyond. In this blog, we'll take a look at 10 benefits of using wood.
1. Durability
Wood is a durable material that is commonly used in both homes and commercial buildings across the world. Modern wood contains preservatives that increase its natural durability, as do the right finishes, which also enhance the natural features of the timber. If properly looked after, wood can last hundreds of years. Moreover, it's important to note that different types of timber have different standards when it comes to durability. Check out our blog on timber durability classes for more on this.
2. Strength
Wood is a strong material that has been used to support structures in buildings of all sizes for thousands of years. For example, when compared to steel and concrete, Radiata Pine structural timber has a strength-for-weight ratio 20% higher than structural steel and 400% higher than non-reinforced concrete in compression. That's pretty impressive for a natural material like wood.
3. Climate change friendly
Believe it or not, one of the many advantages of wood is its positive environmental impact.
To tackle climate change, we must remove carbon from the atmosphere as well as reduce new carbon emissions into the atmosphere. Wood manages to achieve both of these. Trees and wood products have the ability to store carbon, hence decreasing its amount in the atmosphere. When the trees are harvested and turned into wood products, the carbon captured by the tree during its growth remains stored in the wood. In fact, 50% of the dry weight of wood is actually carbon.
The production and processing of wood is also highly energy efficient. This means wood products have a very low carbon footprint compared to other materials that have to be mined. Wood can often substitute materials such as steel, aluminium, and concrete that require substantial amounts of energy to produce.
4. Promotes health and wellbeing
There's no question about it – natural materials like wood are an excellent way to include health-positive materials in your building.
Indeed, one of the many benefits of using wood is the real and measurable health and well-being benefits that come with it. Exposure to wood can help lower the heart rate and stress responses and encourages greater interaction between people.
5. Sustainable and renewable resource
Responsibly sourced wood is both sustainable and renewable. Unlike mined resources that are depleted over time, forests will regrow and provide an endless supply of timber. Other benefits of wood include carbon storage, oxygen generation, and a natural habitable for many creatures.
As mentioned before, the production and processing of wood uses much less energy than most other building materials. This gives wood a significantly lower carbon footprint, making it an ideal substitute for materials that require larger amounts of energy to be produced. Another benefit is that wood products store the carbon that trees have removed from the atmosphere during their growth.
6. Promotes sustainable forestry and local jobs
The increasing demand for responsibly sourced wood products can be fulfilled by expanding the practice of well-managed forests and plantations. By managing increased demand, and ensuring that sustainable practices remain at the core of timber growing and production, using wood in 2023 means supporting local and sustainable industry.
Since woodwork is often done on-site or pre-fabricated locally, choosing wood for your construction project means supporting local jobs, and overall, the local economy. At Mortlock Timber, we value sustainable forest management and supporting the people behind the scene. Find out more about how we value sustainability here.
7. Natural insulator
One of the major advantages of wood is its ability to insulate.
Wood itself is a natural insulator because of air pockets within its cellular structure. Studies have shown that when it comes to insulating properties, wood is 15 more effective than masonry, 400 times more effective than steel, and 1,770 times more effective than aluminium. When designed in the right way, wood can be the perfect insulator for a variety of projects.
8. Fast and efficient to build with
Wood construction is fast and efficient. Whether that's interior furnishings, structural elements, or cladding, wood is a well-known and respected building material that has stood the test of time. Due to its malleability and workability, wood can easily be shaped and tempered to the desired size and structure.
9. Cost-effective
Of the many benefits of using wood, this one can come as a surprise.
Comparative studies have shown that, in terms of direct building expenses, timber frames are consistently the most cost-effective solution. Wood is easy to source, especially if you are working hand-in-hand with a local sustainable wood supplier like Mortlock Timber.
10. Aesthetically pleasing
Wood isn't just a practical building material. It's also a modern luxurious design choice for your project.
With many different species of timber, it's no surprise that timber is sought after for its unique natural and stunning look. Here at Mortlock Timber, we source only the best quality local and international woods for projects that want to enhance their design qualities.
Source quality with Mortlock Timber
Wood is an essential building material that has, and will support the building industry for many centuries to come. With an abundance of sustainable timber right at our own backdoor, it's easier than ever to get your hands on some of the best quality wood right here with Mortlock Timber. Contact our team today to find out more about how you can source the best quality timber for your project.
View our pricing and product guide
For in-depth information about the range of products we offer, please fill out the form below to download our Architectural Timber Pricing and Product Guide. Inside you will find illustrations, specifications, portfolio photo examples and a hardwood timber price guide to assist with budgeting.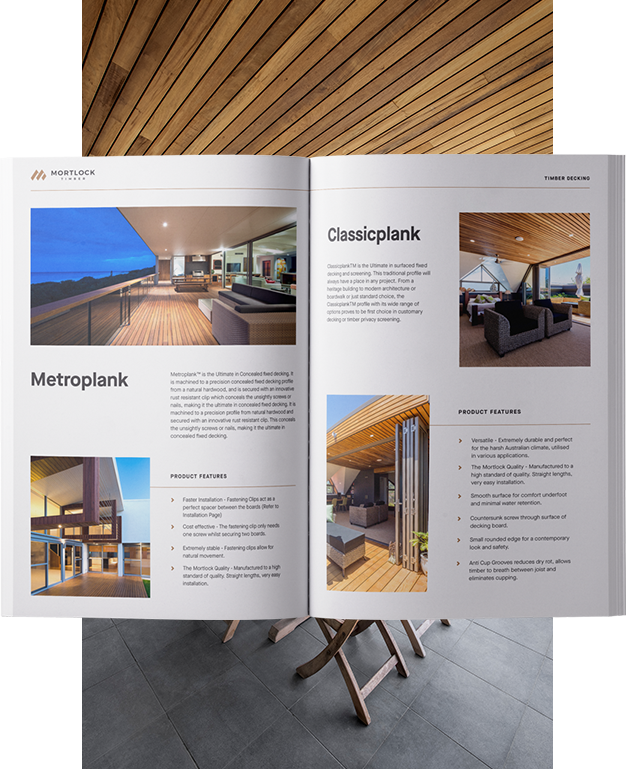 We are committed to bringing you timber products that add value and endure for years to come, even in heavy traffic and harsh weather conditions. We understand the value of efficiency when it comes to installation and keeping hardwood timber costs down. That's why we've spent decades perfecting our designs to make them easier to handle, less wasteful and more efficient to install. This efficiency allows us to offer you premier products that are more cost-effective so that you can experience greater savings on timber wall costs, timber ceiling costs, timber cladding costs and timber decking costs.
Download our Pricing and Product Guide for our complete hardwood timber price list including timber decking prices, timber wall prices, timber ceiling prices and timber cladding prices.