Article
Information
Learning Hub
Timber Battens
Timber Cladding
Architectural Timber Facade Screens: Inspiration & Ideas
Timber facade screens remain a staple feature in architectural design thanks to their versatility and adaptability. They shine in natural landscapes and urban settings alike. Commonly used to provide privacy and create visual appeal, real timber facades also act as a dynamic interface between the inside and outside spaces.
In this article, we look at the advantages of timber facade screens– and how they're being used in award-winning architectural designs today.
WHY TIMBER SCREENS REMAIN AN ARCHITECTURAL FAVOURITE
Natural timber screens are highly versatile and adaptable, used to create visually appealing ceilings, privacy screens, curved feature walls and more.
Timber faCade screens are used to:
Allow natural light inside, while maintaining the privacy and a visual connection to the outdoor space.
Soften hard surfaces and create visual complexity.
Invite dynamic play with light and shadow. The linear shadows cast by timber battens can create an attractive feature that changes throughout the day.
Create functional window screens. This allows the architectural façade to open and close as required.
5 WAYS TO USE TIMBER FACADE SCREENS
The beauty and versatility of timber facades as demonstrated by leading architects and designers in Australia.
1. Blend With The Environment & Age Naturally Overtime
The Jan Juc Studio by Eldridge Anderson Architects is a perfect example of how timber battens can create a conversation between the built environment and the surrounding natural landscape. The Burnt Ash timber facade that cloaks the home is both a visual and functional element.
When required, the facade over windows and doors can be opened to increase light, ventilation and visual connection to the outside. This allows the family to respond to changes in the seasons, and live more in harmony with their environment.
The timber screen is coated with Sioo:x Weather Protection, which allows the wood to age naturally over time while minimising maintenance requirements. For the designers, this ageing to a silvery-grey was an intentional choice. They envisaged the facade acting like a backdrop to the main stars– the foliage and forest surrounding the home. As the wood pales over time, it also acts as a blank canvas that light and shadow can play on.
2. A Dynamic Facade– Timber Batten Window Coverings
PICTURES: https://www.cumulus.studio/riverstone
Installed over windows, timber battens help create a dynamic architectural design. A great example of this is the Riverstone homestead designed by Cumulus Studio. Here, rough sawn spotted gum timber screening is used on the entire west wall. By covering traditional house elements like the windows with timber battens, the home appears distinctly barn-like. And from a distance, the building acts almost like an extension of the rolling hill it's situated on.
The screened windows on the west wall remain functional and can be opened as needed. Closed, the screening provides a sense of security and protection for the home, given its exposed position. Opened, the windows invite light, air and visual connection into the home. In this way, the timber façade screen becomes a dynamic element of the house, allowing the building to respond and adapt to the natural elements.
3. Achieving Privacy While Staying Connected to Place
This residential design in Sandringham NSW uses batten screening to create a private home sanctuary. Unlike more solid screening materials, the Proplank click-in timber battens allow the occupants to still feel visually connected to the street. The soft tones of the Pacific Teak wood gently ground the building, providing balance to the more boxy, geometric shapes above.
4. Textural Complexity With Charred Timber Battens
In this Glen Iris residence, charred timber screen battens were used to add textural complexity to the structured design. By allowing light and air through, the battens open up the home visually, both from the outside and inside perspectives.
Charred timber battens– crafted using the ancient Japanese Shou Sugi Ban technique– echo the monochromatic palette used throughout the house. Almost counterintuitively, the black battens encourage light and airy feeling when you approach and enter the home. They provide the perfect contrast to natural light during the day and allow the house to glow from the inside at nighttime.
5. Mimic Nature With a Curved Facade
Timber facade screens can be used to create curved shapes and organic lines, making them a popular choice in biomimetic architectural designs such as the Scarborough Beach Pool. Featuring both curved cladding and curved timber batten screens, the building feels dynamic and in-motion, much like the Indian Ocean it overlooks.
The Proplank click-in timber batten profile can be used for convex and concave curves, allowing for virtually limitless design possibilities. By using curved batten screens over balconies and viewpoints, the Scarborough Beach Pool design enables a stronger connection with the coastline. The screens allow visitors to view out over the expansive ocean, while still feeling sheltered.
Also read: Drawing Inspiration From Nature: Biomimetic Architecture Examples
TIMBER FACADE SCREENS FROM MORTLOCK TIMBER
Our real timber screens have been used widely in residential and commercial designs, in both rural and urban settings across Australia. Designed for ease of use and minimal wastage, Proplank click-in battens are ideal for ceilings, walls, privacy screens and more.
To find out more about our timber façade products, download our product and pricing guide or call our team on 1800 870 452.
View our pricing and product guide
For in-depth information about the range of products we offer, please fill out the form below to download our Architectural Timber Pricing and Product Guide. Inside you will find illustrations, specifications, portfolio photo examples and a hardwood timber price guide to assist with budgeting.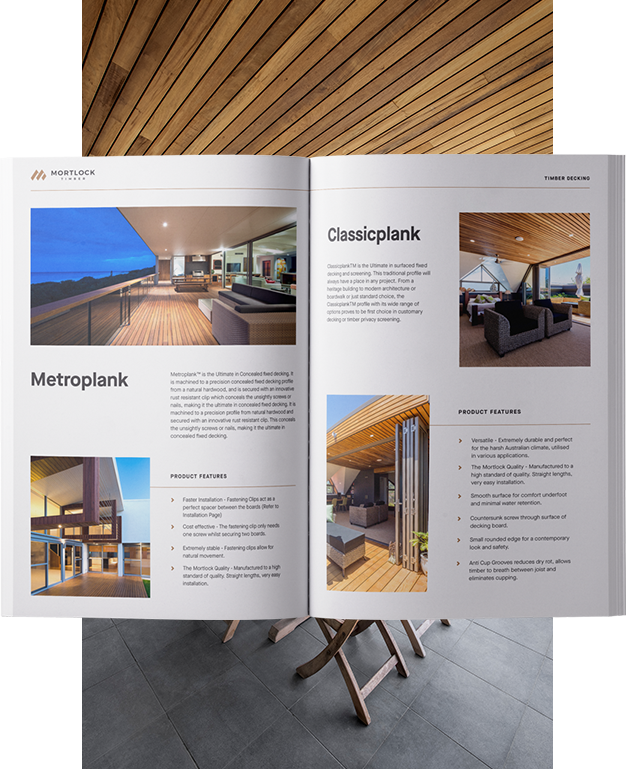 We are committed to bringing you timber products that add value and endure for years to come, even in heavy traffic and harsh weather conditions. We understand the value of efficiency when it comes to installation and keeping hardwood timber costs down. That's why we've spent decades perfecting our designs to make them easier to handle, less wasteful and more efficient to install. This efficiency allows us to offer you premier products that are more cost-effective so that you can experience greater savings on timber wall costs, timber ceiling costs, timber cladding costs and timber decking costs.
Download our Pricing and Product Guide for our complete hardwood timber price list including timber decking prices, timber wall prices, timber ceiling prices and timber cladding prices.