Article
Information
Learning Hub
Drawing Architectural Inspiration From Nature: Biomimetic Architecture Examples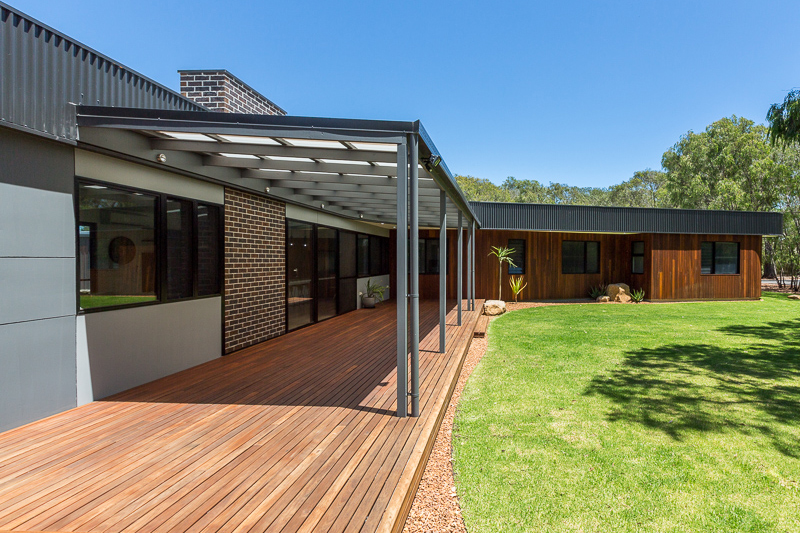 The natural world is a bountiful source of inspiration when it comes to architectural designs. Architects look at everything from natural forms and shapes to the molecular structure of proteins and the physiology of the human body.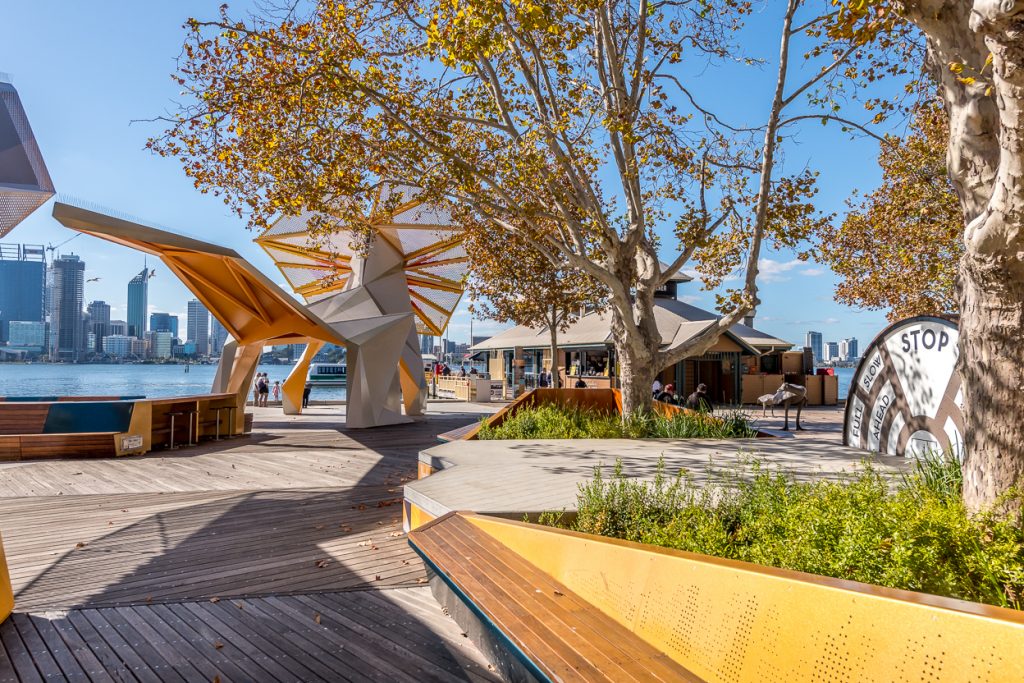 The natural environment can offer us clever ideas and solutions to structural problems, energy efficiency and human well-being. And of course, Mother Nature has inspired some of the most visually beautiful architectural projects in the world.
How architects take inspiration from nature
Two ways that designers draw architecture inspiration from nature are biophilic design and biomimicry.
Biophilic design recognises that humans have an innate connection with nature. By creating a built environment that encourages that connection, you can tap into a range of benefits for humans. For example, biophilic design can help improve productivity and employee satisfaction in workplaces and it has been connected to improved health and wellbeing.
Biomimicry or biomimetic design takes inspiration from the systems, patterns and solutions found in nature. One of the ideas underpinning biomimicry is that nature does things in the most efficient way without loss. That's why biomimetic design is also usually a step in the direction of sustainable design too.
5 Biomimetic Architecture Examples to inspire your next project
As awareness around the benefits of sustainable design grows, we are seeing more and more modern architecture examples that borrow ideas from nature. Whether it's off-grid homes, soaring sustainable skyscrapers or interactive community spaces – Mother Nature is inspiring all kinds of architectural projects.
Here are 5 biomimetic architecture examples from around the world:
The Gherkin is a commercial skyscraper in the heart of London. The architects at Foster and Partners used biomimicry to create the highly energy efficient building which has half the energy consumption of a similarly sized skyscraper.
The Gherkin achieves efficient ventilation and natural lighting using a system similar to the natural process that sponges and anemones use to feed. Norman Foster was particularly inspired by the Venus flower basket sponge which directs seawater to flow through its body in order to feed. The Gherkin responds organically to air flow by using spiralling windows which automatically respond to changes in light and let fresh air into each floor. What's more, venting flaps in the walls allow hot air to travel upwards and out of the building.
The Eden Project is an educational and social enterprise, connecting humans with nature and demonstrating sustainable ways of living. A vast array of indoor gardens, artworks and edible plants can be found in the Eden Project's iconic bubble-shaped biomes.
These interconnected structures were designed by Grimshaw Architects who were inspired by patterns found in nature. The design draws heavily on the geodesic system which is based on molecular structures. The hex-tri-hex frames also call to mind the airiness of bubbles as well as the repeating geometric patterns found in bee hives.
The architecture of the Core building at The Eden Project is based on the growth blueprint of plants and fibonacci spirals found on pinecones and sunflowers. Nature-inspired sustainable features such as natural light, solar energy, water harvesting and natural materials are used throughout to improve energy efficiency and cut down on waste.
This sub-centre library in Beijing takes its inspiration from ginkgo forests. The impressive building features tall trunk-like pillars and a ceiling 'canopy' of textured tiles throughout. A completely transparent facade encourages visual connection between outdoor and indoor spaces. Inside, warm-coloured timber is used to create a landscaped space which mimics the organic curves of a valley.
Much like a forest makes use of solar energy to function, the library uses integrated photovoltaic construction elements on the roof to generate free, clean energy. Natural lighting is optimised in the space with lowered glass on the eastern and western walls and an active shading device on the southern and western facades.
Bunjil Place is a multi-use civic building, housing a library, performance theatre and several flexible spaces for events, lectures and community gatherings. In designing the project, the architects at FJMT took inspiration from the culture of the traditional land owners of the Wurundjeri, Bunurong and Boon Wurrung people.
Particularly striking is the roof design which mimics the spread wings of 'Bunjil' the eagle. The wings are made from a timber gridshell which only touches the ground in two places. The facade under the wings is made from glass, which stretches 12 metres high. The result is a sense of weightlessness and lifting up, like an eagle soaring in the air.
The twin timber skyscrapers known as 'the Dutch Mountains' are set to be a visible landmark in the city of Eindhoven in the coming years, much like real mountains are a natural beacon for the surrounding environment. The design features two soaring peaks and a green valley between them. It draws heavily on natural principles, including passive climate regulation and a natural irrigation system that collects rainwater from the roof and delivers it to the plants in the valley below. The building will be constructed primarily from bio-based materials with timber being particularly crucial to the design, promising to "fix a large quantity of CO2 for a long time."
Bring your vision to life
Whatever project you're working on, Mortlock Timber is ready to help you bring your vision to life. Our award-winning timber products have been used by leading architects and designers across Australia, including in sustainable design projects and organic architecture.
Download our product and pricing guide or call our team on 1800 953 004.
View our pricing and product guide
For in-depth information about the range of products we offer, please fill out the form below to download our Architectural Timber Pricing and Product Guide. Inside you will find illustrations, specifications, portfolio photo examples and a hardwood timber price guide to assist with budgeting.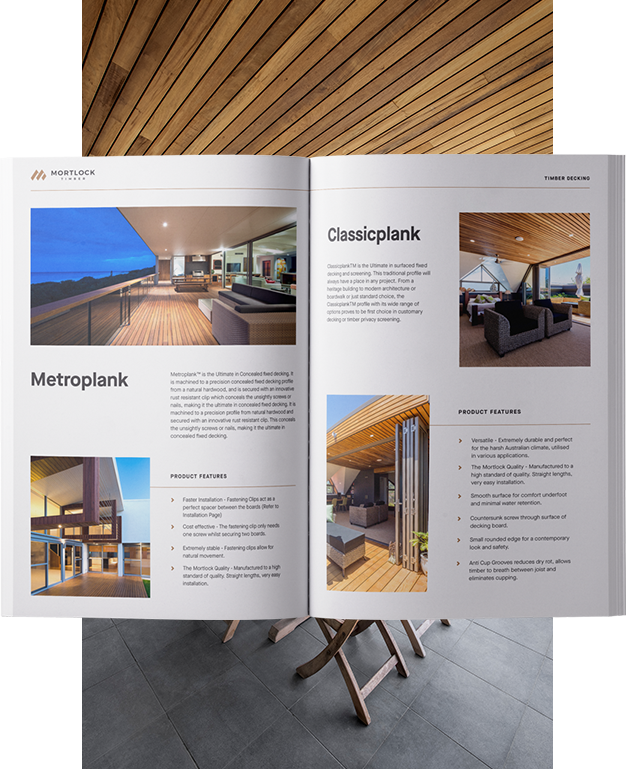 We are committed to bringing you timber products that add value and endure for years to come, even in heavy traffic and harsh weather conditions. We understand the value of efficiency when it comes to installation and keeping hardwood timber costs down. That's why we've spent decades perfecting our designs to make them easier to handle, less wasteful and more efficient to install. This efficiency allows us to offer you premier products that are more cost-effective so that you can experience greater savings on timber wall costs, timber ceiling costs, timber cladding costs and timber decking costs.
Download our Pricing and Product Guide for our complete hardwood timber price list including timber decking prices, timber wall prices, timber ceiling prices and timber cladding prices.