Article
Information
Learning Hub
Shou Sugi Ban
5 Stunning examples of Japanese inspired architecture right here in Australia
Japanese architecture is inspiring architects all over the world, including right here in Australia.
Traditional elements used in Japanese interiors such as shou sugi ban timber cladding, sliding doors and earthen floors are popular in residential architecture. Ancient Japanese design philosophy has a wealth of ideas to draw on as well.
Key Japanese design principles include the art of simplicity (Kanso), creating tranquillity, stillness and solitude through the use of open space (Seijaku) and choosing natural materials and patterns over artificial options (Shizen).
Japanese architecture could be a great place to start if you're looking to create designs with minimal carbon footprint. In fact, Japanese architecture shares many principles with biophilic design and sustainable design, offering architects clever ways to work with nature and the surrounding environment.
To see how homegrown architects are using Japanese design to inspire their own designs, here are 5 great examples of Japanese inspired architecture in Australia:
1. Leichhardt Machiya House, Sydney
Architect / Studio Haptic
Photographers / Justin Alexander & Simon Whitbread
Read more / The Local Project
This family home in Sydney suburb Leichhardt was inspired by traditional Japanese wooden townhouses called machiya. It's a style of housing that was particularly popular with merchants and craftspeople in Kyoto because of the way the front of the home could double as a shopfront.
While the rear of the property is designed for privacy, the front of the property is more flexible. Timber screens allow natural light into the home and provide privacy when closed. When opened up, they create a flexible front space which the designers describe as a "semi-public workspace".
The courtyard is the central part of the house, providing natural light and a connection to nature. Large sliding glass doors allow for a natural flow between indoor living spaces and the outside.
2. Franklin House, Victoria
Architect / Ola Studio
Builder / Sinjen
Photographer / Derek Swalwell
Read more / Design Boom
Designers at Ola Studio were given the brief to create a "Japanese inspired fuzzy white cocoon". The result is Franklin House – a private and peaceful home with a simple and organic aesthetic.
Traditional Japanese architecture thinks of a home as part of its natural environment, with a mutual relationship between nature and human-made elements. Franklin House was designed in response to its beachside setting and neighbouring elements to create a sense of belonging and connection to nature.
Wood is used on the floors, ceilings and walls to create a calming atmosphere. The minimal palette used throughout evokes peacefulness and tranquillity while natural textures, such as timber and concrete, create visual interest.
From the street the house has a simple, understated appearance which opens into a spacious oasis when you enter the property. The indoor space is flexible and able to cater for one person as well as a large family coming and going.
3. Elwood House, Melbourne
Architect / Splinter Studio
Builder / Sinjen
Photographer / Jack Lovel
Read more / Arch Daily
Elwood House is a renovated Californian bungalow with a simple Japanese aesthetic. It has the cosy feel of the original 1920s building while providing a sense of peaceful escape for the resident.
The Japanese influence is most notable in the use of natural materials and textures throughout. Dark local timbers, such as blackbutt and spotted gum, are used in the interior, playing attractively with the natural light.
The home is grounded by its surrounding landscape, and has a strong connection to the garden. An outdoor timber deck and pergola create a tranquil escape that connects to the indoor living area.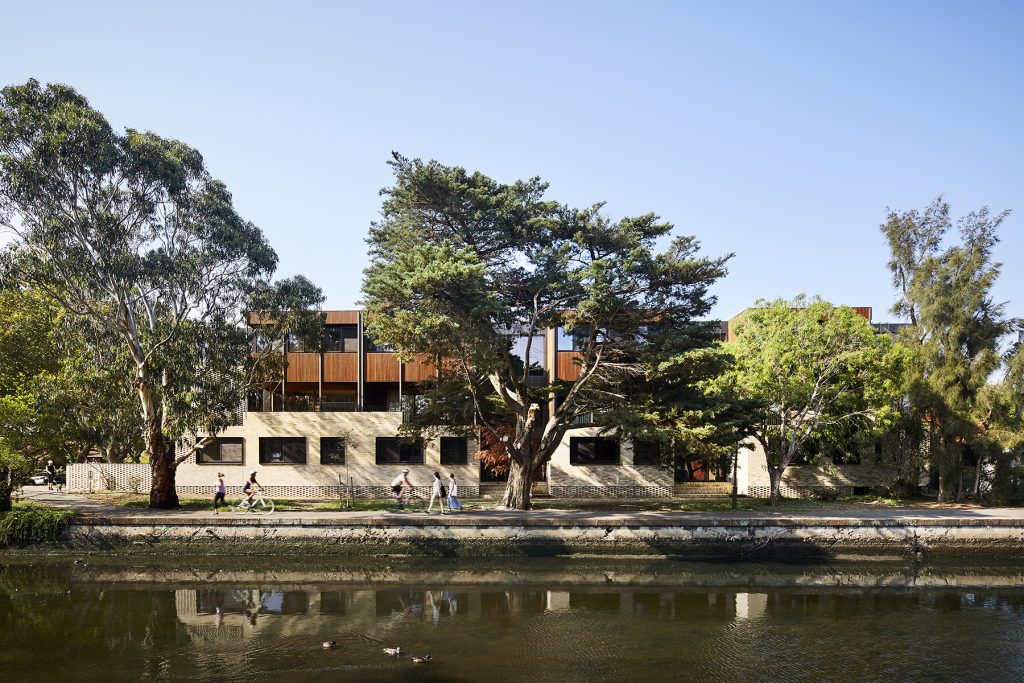 4. Bruny Island Hideaway
Architect / Maguire and Devine
Builder / Merlin Constructions
Photographer / Robert Maver
Read more / The Design Files
The highly crafted minimalism of Japanese interiors was the inspiration for this off grid tiny home. At just 28 square metres, every element of the design had to be purposeful and essential.
The hideaway is located in bushland on Bruny Island, just off the coast of Tasmania. The designers wanted to create a simple and elegant form which felt like a stress-free escape from everyday life. Almost all of the furniture is built into the structure to reduce clutter and preserve the visual simplicity.
Borrowing principles from biophilic design, natural materials and textures were used throughout to maintain a connection to nature. The interior is lined with pine and large windows provide unencumbered views of the surrounding landscape.
5. Komeyui Japanese Restaurant, Melbourne
Architect / Baenziger Coles
Builder / Unita
Read more / Komeyui Japanese Restaurant
Komeyui is an award winning Japanese restaurant in Melbourne owned by Mr Motomu Kumano. It offers customers authentic handmade Japanese cuisine and a unique dining experience.
The restaurant is set up to encourage customers to gather around a table with family and friends while sharing a range of dishes. The interior has a modern and minimalist Japanese aesthetic, with thoughtful details throughout.
Traditional Japanese charred timber cladding – shou sugi ban – was a natural choice for the design. Eye catching and elegant, it's the perfect complement for the natural wood, beige tones and gold accents used elsewhere.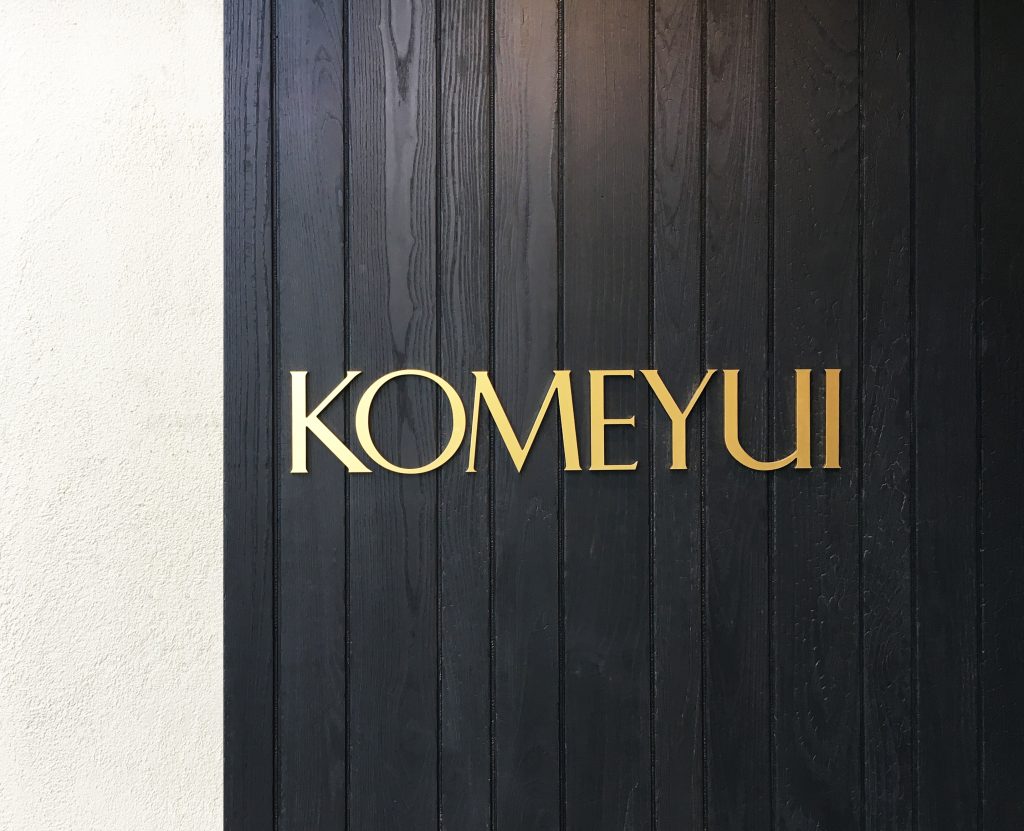 Your own Japanese inspired architecture in Australia
Whether you're working on a family home, commercial space or public project, Japanese architecture has a wealth of inspiration.
Looking to incorporate elements from traditional Japanese architecture into your next project? Check out our range of shou sugi ban cladding, timber battens and more.
Download our pricing and product guide or get in touch with the team at Mortlock Timber to discuss how we can help bring your project to life.
View our Shou Sugi Ban pricing and product guide
For in-depth information about the range of products we offer, please fill out the form below to download our Architectural Timber Pricing and Product Guide. Inside you will find illustrations, specifications, portfolio photo examples and a hardwood timber price guide to assist with budgeting.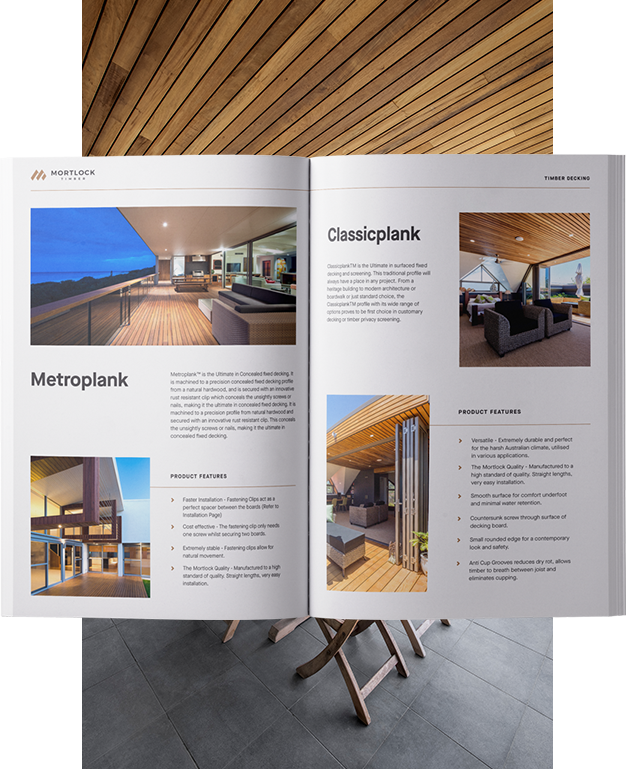 We are committed to bringing you timber products that add value and endure for years to come, even in heavy traffic and harsh weather conditions. We understand the value of efficiency when it comes to installation and keeping hardwood timber costs down. That's why we've spent decades perfecting our designs to make them easier to handle, less wasteful and more efficient to install. This efficiency allows us to offer you premier products that are more cost-effective so that you can experience greater savings on timber wall costs, timber ceiling costs, timber cladding costs and timber decking costs.
Download our Pricing and Product Guide for our complete hardwood timber price list including timber decking prices, timber wall prices, timber ceiling prices and timber cladding prices.