You Spoke, We Listened: Welcome to Our New Website!
We are proud to introduce to you our new and 一 we hope you agree 一 improved website. After many months of planning and bringing it to life, our new website is now easier to navigate and highlights our architectural timber products more effectively. We hope our customers will find all the important information readily available and easy to access. It is always our goal to make your journey with Mortlock Timber a smooth and pleasant one from start to finish. As we continue to provide you with the highest quality timber products, we also strive to give you the highest standard in service too.
We are excited to share our new website with you. Let's take you through the journey that got us here.
What You Were Telling Us About Our Old Website
Realising that our old site was hard to navigate and needed information to be more accessible to the user, we turned to Dilate Digital's web design service to help us create a new website that would address these issues. We also wanted the new website to highlight our premier timber products and beautiful designs more effectively. Finally, it was time for a new logo that better reflects who we are and where we're going.
COVID-19 had a big impact on how we build relationships with our clients. With limited customer visits, our online presence has never been so important. Feedback from you, our valued clients, indicated that you wanted to be able to research more about our products and to do so faster. You also wanted to be confident that Mortlock was the right choice for you before committing.
Your feedback was invaluable to us. We listened and we made it our goal to bring you information that is easier to access. We wanted you to feel like you had what you needed to support you right through your whole project process – from the initial idea right through design, construction, and completion of your project.
We made it our priority to provide you with information and detailed pricing guides to assist with product selection. We understand that time efficient processes are very important for architects and builders and so we wanted a website that provides you with everything you need to make fast decisions.
Our Goals For The New Website
With the help of the team at Dilate Digital, we set about making a number of clear goals for our new website, centred around making your experience better. Specifically, our goals included:
Improving load time and accessibility to create a better user experience throughout the website.
Providing clear, in-depth information about our quality products for those interested in architectural timber decking, Timber Wall and cladding.
Creating a visually appealing website and logo which would reflect who we are: a design-driven lifestyle brand that has become Australian architects' choice for timber.
Highlighting past projects we have been involved in to better show the scope of our client base and the diversity of our products' applications.
Highlights of Our New Website
We are proud to say that all the goals we set have been achieved in the new website. Let's introduce you to some of the fantastic features:
Faster load time. We now have incredibly fast page loads thanks to Gatsby – an open source framework for building websites.
Improved navigation. Our new website is easy to navigate, information is more accessible and clients can find what they need much faster.
Accessible information. Our new website features more digestible, easy-to-read information that is more targeted to our architect and builder clients.
Beautiful design. Our custom website design by Dilate has been built specifically to meet our goals.
On point rebranding. We now have a new logo design that is more in-line with our standards and values of providing elegant, first-class architectural timber products.
Stand-out products. The website design, photos and content work together to highlight the range of beautiful products we offer and appeal to our clients who have an excellent eye for design.
What's Next For Mortlock?
Our brand won't stop here. We committed to making it as easy as possible for clients to interact with us. Into the future, we will be consistently evolving and refining our products and website to assist our clients in making informed decisions and choosing the correct product to suit their design intent. It is our priority to make it as easy as possible for our clients to understand how our products work, order the correct timber and components for their project and not under or overprice their projects.
We understand the positive contribution that architectural design projects make to our cities. We know the value that builders and developers bring as they help homeowners create spaces they love to live in. At Mortlock Timber, our goal is to make it an easy and enjoyable experience for architects and builders every step of the way.
View our pricing and product guide
For in-depth information about the range of products we offer, please fill out the form below to download our Architectural Timber Pricing and Product Guide. Inside you will find illustrations, specifications, portfolio photo examples and a hardwood timber price guide to assist with budgeting.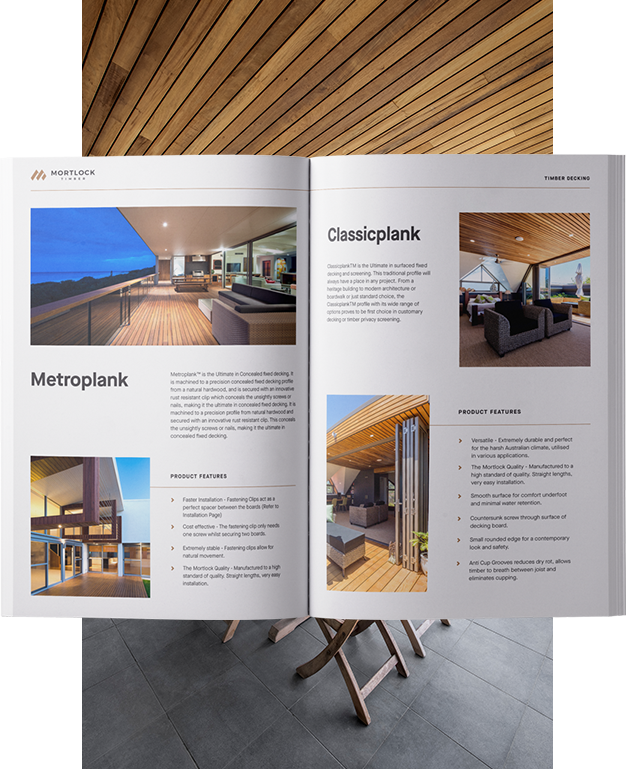 We are committed to bringing you timber products that add value and endure for years to come, even in heavy traffic and harsh weather conditions. We understand the value of efficiency when it comes to installation and keeping hardwood timber costs down. That's why we've spent decades perfecting our designs to make them easier to handle, less wasteful and more efficient to install. This efficiency allows us to offer you premier products that are more cost-effective so that you can experience greater savings on timber wall costs, timber ceiling costs, timber cladding costs and timber decking costs.
Download our Pricing and Product Guide for our complete hardwood timber price list including timber decking prices, timber wall prices, timber ceiling prices and timber cladding prices.