Article
Information
Learning Hub
Timber Ceilings
Using Enviro Clear for Internal Timber Applications
If you are looking for a high-grade timber coating for your design project, you are wanting to choose one that looks and feels superb. Enviro Clear's smooth and film-forming coating is ideal for timber used for internal installation. It is of pre-catalysed clear lacquer with amazing quality and a high build, which is perfect for a lot of our partners to use on design projects.
In this blog we will look to highlight which type of projects Enviro Clear is selected for, its benefits and the effect it has on our natural timber products.
Here is what we will cover:
Let's get into it!
What is Enviro Clear?
Enviro Clear is a product used on architectural timber products at Mortlock Timber. It is a smooth, film-forming coating that is used exclusively for internal timber installations.
The appearance of this coating resembles a clear to milky, yellow one, that has a slightly sweet odour.
It is a furniture grade finish which is available in different gloss levels and stains. It has little to no change on the natural colour of the timber it is applied to. While it enhances the natural timber, the coating contains UV absorbers to protect the timber substrate from UV light to a degree.
Where to use Enviro Clear
Enviro Clear which helps achieve a minimal-maintenance coating for internal applications. Enviro Clear is a clear lacquer-based product for interior use only. It is a film forming coating which is easy to clean and requires minimal maintenance.
Where Cutek Oil is used for interior projects, it can cause a slightly rough surface, if this is undesired the Enviro Clear option is recommended. You can only use Enviro Clear for internal applications and cannot use it on fine sawn timber. The 10% gloss of the coating allows our timber products to keep their natural look. This coating also yellows less than Cutek CD50 oil.
How Enviro Clear is applied and maintained
Compared to a penetrative oil that sinks into the timber, the Enviro Clear Coating is a film forming coating that sits on top of the timber surface. This coating is factory applied using an inline spray machine.
It is a 2-coat process with a light sand in between coats. Once coated, Enviro Clear does not require a recoat as it is a coating that seals the timber.
If repair is required on architectural timber with Enviro Clear applied to it, ensure the surface is clear of any substance and contaminants. If necessary, lightly sand the areas impacted, clear away any residue and then apply a fresh later of Enviro Clear using a brush or roller.
Applying Enviro Clear to Mortlock Timber products
When it comes to the natural timber product Enviro Clear can be applied to, our Proplank Timber Battens are a popular option. Enviro Clear helps achieve a minimal-maintenance coating for internal applications.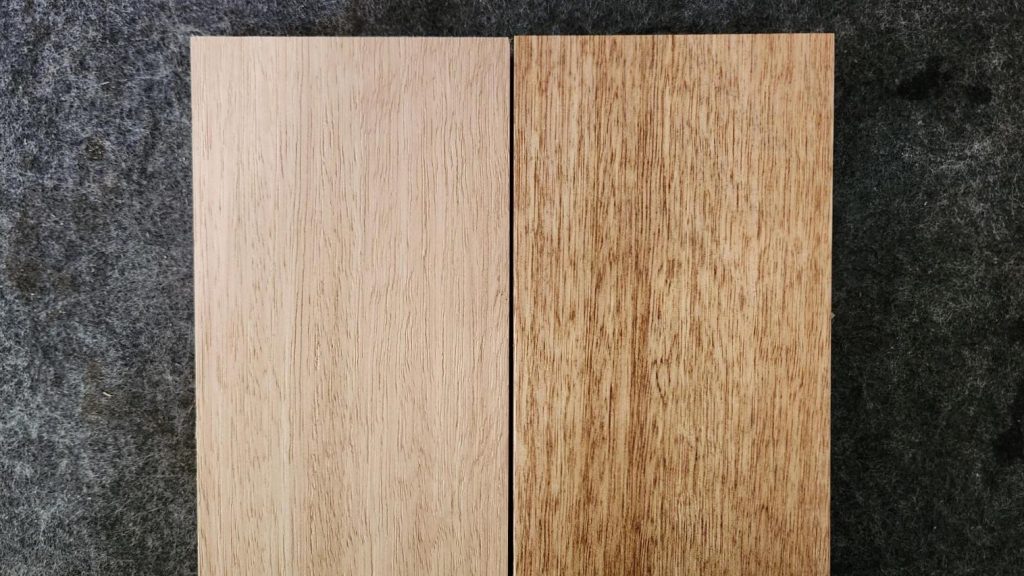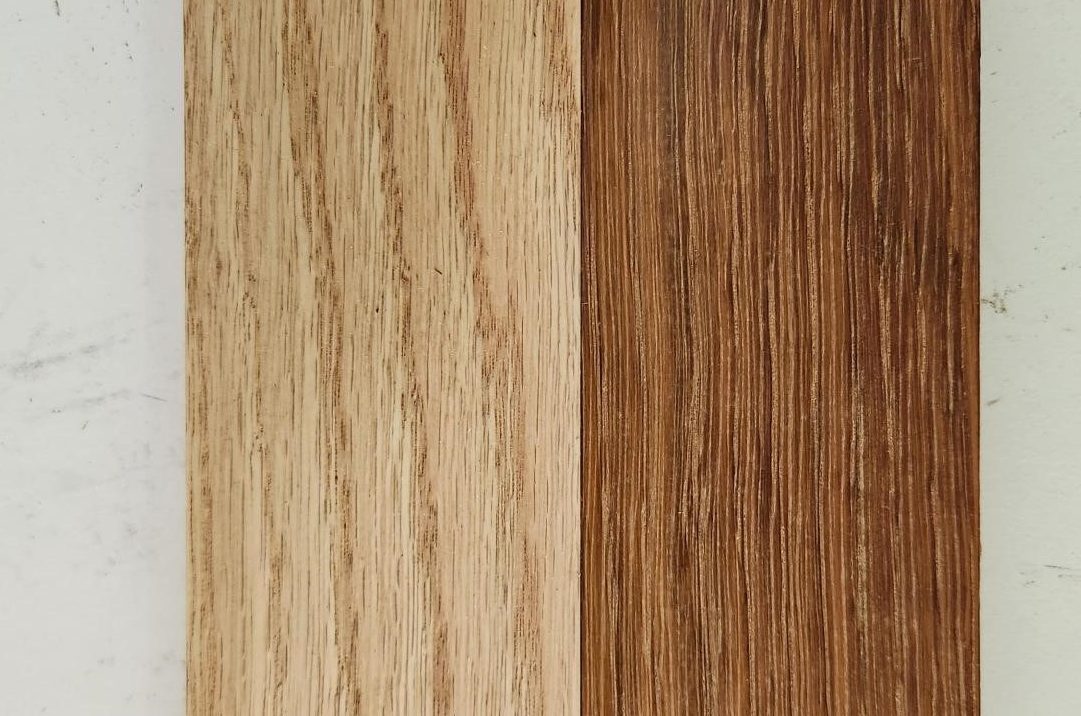 Benefits of Enviro Clear
Aesthetic appeal
If you are looking to enhance the natural beauty of your internal timber, this coating provides a glossy or satin finish that highlights the wood's grain, texture and colour variations. While other internal coatings can cause a rough surface, Enviro Clear covers the fibres and removes the rough feeling and look of the timber.
Enhanced Durability
Enviro Clear is one our most durable interior coating. It provides a robust protective layer for the timber and shield it from various external factors including abrasion and chemicals.
This protection helps to extend the lifespan of the timber, reducing the need for frequent maintenance and replacement.
Water resistance
Enviro Clear creates a barrier that attempts to resist the penetration of water to prevent moisture from seeping into the wood. Although it creates this barrier, it is not resistant in rain or areas with a high degree of moisture.
Easy maintenance
Enviro Clear is a coating that is easy to maintain. As it creates a smooth, no-porous surface, substances such as dust, dirt and spills can be wiped away with minimal effort.
At Mortlock Timber, as we advise using this coating in high-traffic areas where cleanliness is essential. No recoating of this coating is required, unless damage occurs.
Scratch, wear and chemical resistance
The durable nature of Enviro Clear helps to resist scratches, chemicals and general wear and tear. This is will often maintain the timber's surface and appearance, however, the thin film coating does not guarantee it will prevent indentation of the timber.
Your vision, our expertise.
At Mortlock Timber we understand the challenges right throughout the lifecycle of a project. Ultimately, finding the perfect timber coating involves striking a balance between functionality and visual appeal. We encourage you to consult with our experienced team to ensure that your project stands the test of time.
To discuss your project, see pricing and receive samples, get in touch with us today! Call 1800 870 452 or request a quote. 
To discuss your project, see pricing and receive samples, get in touch with us today! Call 1800 870 452 or request a quote.
View our pricing and product guide
For in-depth information about the range of products we offer, please fill out the form below to download our Architectural Timber Pricing and Product Guide. Inside you will find illustrations, specifications, portfolio photo examples and a hardwood timber price guide to assist with budgeting.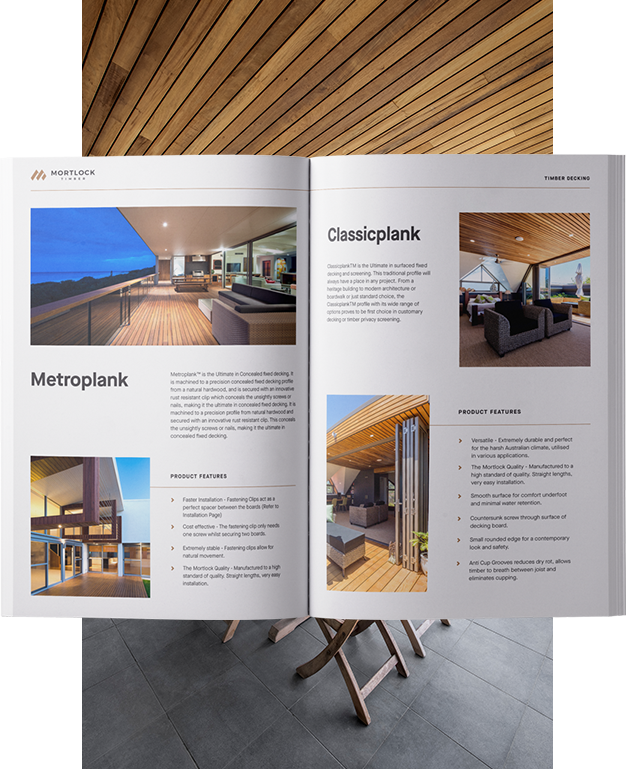 We are committed to bringing you timber products that add value and endure for years to come, even in heavy traffic and harsh weather conditions. We understand the value of efficiency when it comes to installation and keeping hardwood timber costs down. That's why we've spent decades perfecting our designs to make them easier to handle, less wasteful and more efficient to install. This efficiency allows us to offer you premier products that are more cost-effective so that you can experience greater savings on timber wall costs, timber ceiling costs, timber cladding costs and timber decking costs.
Download our Pricing and Product Guide for our complete hardwood timber price list including timber decking prices, timber wall prices, timber ceiling prices and timber cladding prices.