Interior Wall Panelling Design Ideas | With Real-life Examples
Are you looking to update your home or business with exquisite interior wall panelling, but short on ideas or where to start?
Whether you're building new, renovating, or simply curious about how interior wall panelling and cladding can transform your space, our expert team has an exciting portfolio of projects that show just how versatile interior wall (and ceiling) panelling can be.
Today, we'll walk you through some stunning interior wall panelling design ideas, giving you a hint of what's possible for your project.
1. Proplank with Blackbutt battens
One of the most stunning ways to include an interior accent wall is by using a technique called Proplank. Proplank uses a series of parallel timber battens to create stunning feature walls, or even ceilings (more on this later). Timber battens can be suspended from the ceiling or screwed directly onto the ceiling or wall – giving your interior space height and or length – depending on the application.
For Iglu, a 448-bed project designed by Bates Smart in South Yarra, Victoria, we used Proplank 60×20 Blackbutt battens with 20mm spacing to achieve a series of unique feature walls for this project. The choice of spacing provides for a lightly textured interior wall which highlights the natural warmth of the Blackbutt timber. This style can be used in a variety of applications – from feature walls to outdoor settings as well.
2. Wall blades
For a bold, striking look, wall blades allow you to play with texture, and deliver statement design on your interiors. Our custom wall for the Corruption & Crime Commission Office in Northbridge, WA, reflects our team's ability to design and deliver high-end timber projects that reflect our client's dreams.
As one of the more customisable interior wall panelling design ideas, wall blades allow you to play with shapes and texture on a whole new level and elevate your space beyond the ordinary. If you find this project inspiring, feel free to reach out to our team with your ideas.
3. Proplank with integrated lighting
Proplank also opens you up to a range of options when it comes to the choice of timber species, finishes, sizes and spacing configurations. In our recent build at Toyota Kewdale, we finished their interior panelling with widely spaced Proplank using 60×40 Vic Ash battens and integrated lighting.
The widely spaced Vic Ash battens, aside from being a design feature on its own, also created room to integrate custom lighting in between. This was replicated in the ceilings, creating a stunning focus piece.
If you want to learn more about this project, or how to implement Proplank panelled walls in your project, contact the team here at Mortlock Timber. We'll be happy to answer any questions you may have.
4. T&G Lining Board
Old school T&G (tongue and groove) lining board is a fantastic way to create seamless flat and rounded feature walls. We used 60×19 Burnt Ash T&G Lining Board to great effect in our interior renovation of Deakin Law School featuring a design by Woods Bagot.
T&G lining board allows you to create simple, timeless interior spaces with the timber's natural hues, and textures. At Deakin Law School, we combined elements of Proplank to create points of interest and contrast.
5. Shou Sugi Ban Cladding
Shou Sugi Ban wall cladding is one of the major trending interior wall panelling design ideas in 2023. Shou Sugi Ban (also known as Yakisugi or Japanese burnt timber cladding), is a traditional Japanese method of charring timber as a finish. This reduces maintenance and brings an elegant classy element into your interior design.
In South Melbourne, VIC, we used Shou Sugi Ban Burnt Ash Cladding to elevate the interior of Komeyui, a modern Japanese Restaurant offering exquisite Japanese cuisine. Our team opted for two contrasting panelling dimensions to layer the design and create a modern, fresh look.
Ceiling panelling ideas?
If you are interested in wall panelling, why not check out what can be done on ceilings too? Here at Mortlock Timber, we encourage exploring how the innovative use of wood panels can deliver unique and extraordinary design. Our team can assist you in sourcing quality timber for any project, be it home offices, dining rooms, custom ceilings, and other wall panelling ideas.
Here are two ceiling cladding ideas to inspire your next project.
1. Ceilings in Proplank
When it works on your walls, why not put it on your ceilings? With Proplank, that's definitely an option, as you can see from this beautiful design in our recently finished Scandinavian gable roof design in Fyansford, VIC. The living room and open plan kitchen benefit from the stunning ceiling and wall panelling in Silvertop Ash accented by multiple skylights which allow natural light to flood the space and accent the natural wood surfaces.
With Mortlock's easy-to-install clip-in system at work, this build highlights how the simple use of 60×20 Proplank Silvertop Ash battens can replicate modern, Scandinavian luxury in your home or business. If you want to learn more about how we use Proplank in our projects and design or want to realise your own wall panelling ideas, get in touch with our team.
2. Feature ceiling battens
Nothing says luxury quite like feature ceilings. With enormous appeal and design potential, customising your ceiling with wooden panels can create stunning one-of-a-kind features in your home, business or elsewhere.
At Eden Apartments in Floreat, WA, our team worked with Topend Ceilings to pre-fix 60×40 Spotted Gum feature ceiling battles to prefinished plywood backing sheets for easier onsite installation. The project, which is set amongst Perth's leafy western Suburbs was elevated with feature lights, accenting the timber batten's natural features. The result was a refined and elegant space fit for modern luxury living.
Start your interior panelling project with Mortlock Timber
Whether you're building new, renovating, or just curious about interior wall panelling design ideas, Mortlock Timber is here to help you design and implement your dream wall and ceiling cladding project. With locally sourced, sustainable timber and over 80 years of combined experience, our team's specialist knowledge is on standby for your next interior cladding project. Get started with confidence and contact our team today.
View our pricing and product guide
For in-depth information about the range of products we offer, please fill out the form below to download our Architectural Timber Pricing and Product Guide. Inside you will find illustrations, specifications, portfolio photo examples and a hardwood timber price guide to assist with budgeting.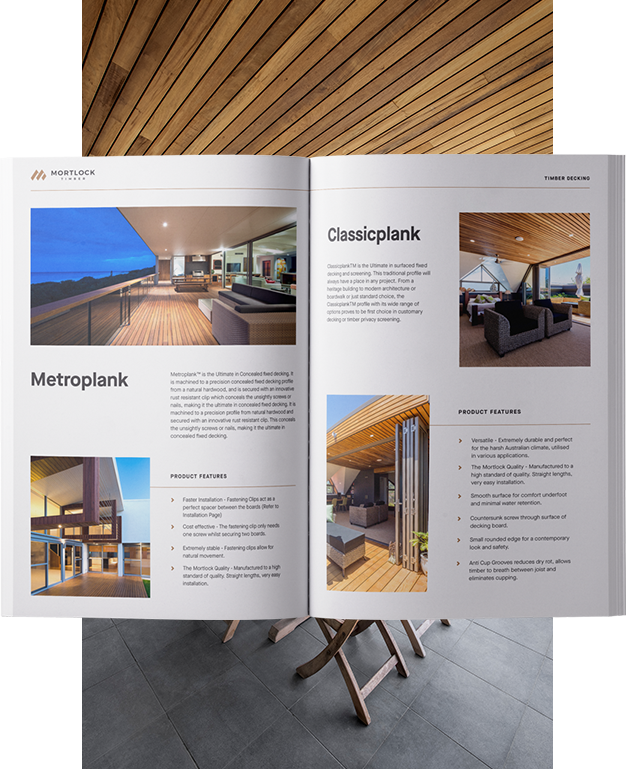 We are committed to bringing you timber products that add value and endure for years to come, even in heavy traffic and harsh weather conditions. We understand the value of efficiency when it comes to installation and keeping hardwood timber costs down. That's why we've spent decades perfecting our designs to make them easier to handle, less wasteful and more efficient to install. This efficiency allows us to offer you premier products that are more cost-effective so that you can experience greater savings on timber wall costs, timber ceiling costs, timber cladding costs and timber decking costs.
Download our Pricing and Product Guide for our complete hardwood timber price list including timber decking prices, timber wall prices, timber ceiling prices and timber cladding prices.