Timber Decking Overview
About Timber Decking
Timber's natural high resistance to weather, rot, termites, and even marine borers, makes this the ideal timber for decking.
Timber is a popular timber in Australia and has been used as an exterior timber in construction since the 1840's because of its durability and strength. Timber trees can be found in forests from Perth to Albany in the southwest of Western Australia where the soil is rich in iron and aluminium.
From boardwalks in extreme environments to veranda and alfresco decking, Timber's striking appearance and long-term durability makes it Australia's premium choice.
Where can Timber Decking be used
alfrescos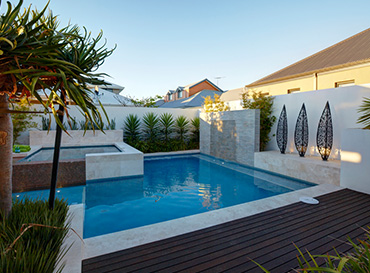 pool decks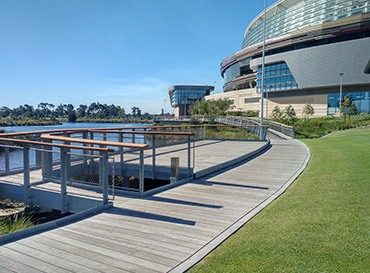 boardwalks
Marinas
gardens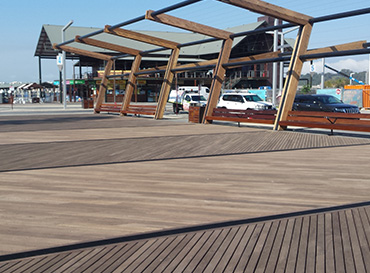 commercial projects
renewable
Natural sustainable, renewable resource
support
Supporting sustainable forestry in WA
Pre-Finished
Decking available pre-oiled ready for installation
Durable
Weather and termite resistant to last for years to come
Why use Timber Timber Decking
Timber is an excellent choice for outdoor applications as it is naturally resistant to weather, rot and termites. It is also resistant to marine borers, making it a good choice for harsh marine applications such as wharf and bridge construction.
Timber's natural colour ranges from a deep brown-red to blonde. Paired with its durable qualities, this makes it a desirable species for architectural design and decorative elements. It is often used for floorings, linings, furniture, joinery and parquetry.
Timber is one of the Australian hardwood species that has natural fire resistant properties (BAL 12.5 & 19), making it an ideal choice for outdoor decking applications where durability and safety are paramount.
Thanks to its durability and strength, Timber is a highly versatile timber which is used for both structural and design applications. As it is both a highly practical and aesthetic timber, Timber is an ideal choice for public spaces, commercial buildings and high end residential properties.
Mortlock Timber's Timber decking and cladding products are manufactured in Western Australia. As a locally sourced and manufactured timber, Timber is a sustainable option.
Sustainable Jarrah
sustainability
New Timber is a sustainable, renewable resource, exclusively harvested from regrowth forests in WA.
Strict and comprehensive legislation is in place in Western Australia to ensure sustainable forest management. Sustainable forest management balances ecological, economic and socio-cultural values of the forest. The Forest Management Plan and the WA Regional Forest Agreement outline the strict guidelines and policies that control timber harvesting in Western Australia. Both are legally binding documents prepared through scientific research and consultation and are regularly formally reviewed to ensure compliance and that the standards within maintain their world class status.
The Forest Products Commission is responsible for conducting commercial forest operations under the Forest Products Act 2000. The Forest Products Commission is certified to the Australian Forestry Standard (AS4708:2013) and the international standard for Environmental Management Systems (ISO 14001:2015)
All native forests harvested in WA are regenerated or replanted each year.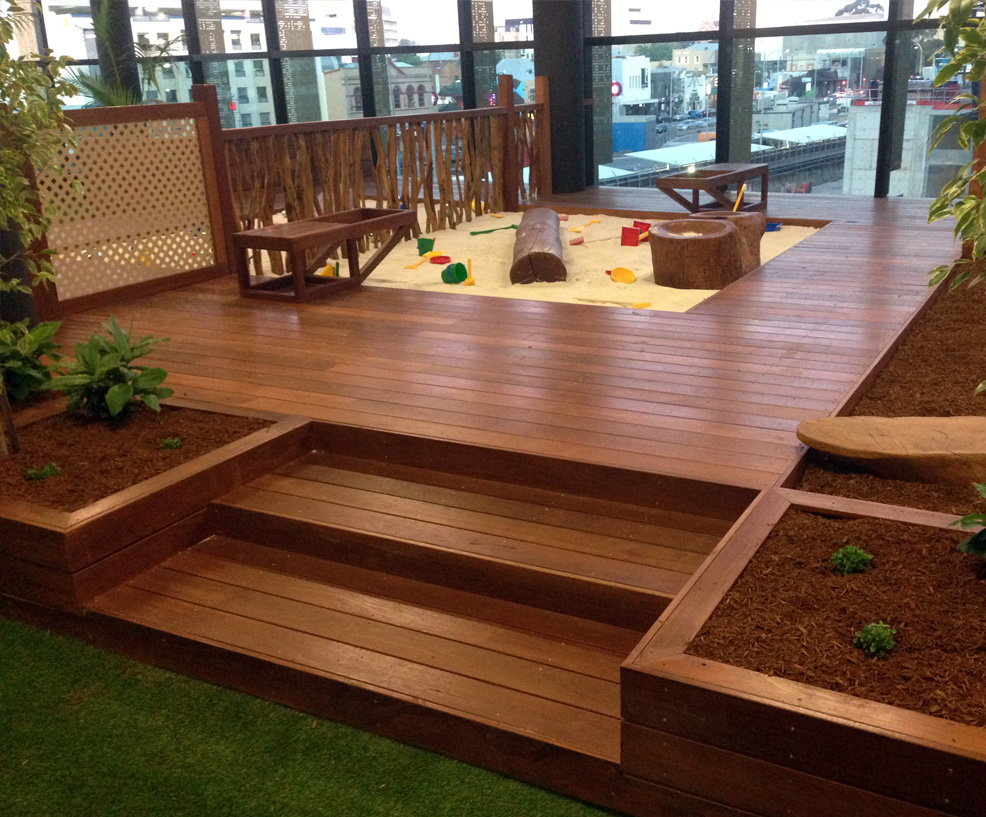 Mortlock's have supplied teak for small and large projects at our apartment complex. The quality of the timber and the helpful service has been first class. This latest project shows an old garden bed transformed into an attractive alternative space. - Anthony McCann
Thanks Mortlock as self designers and builders we loved the look of Shou sugi ban in the images we had seen on line and included it as the major feature on the front of our new home. We used the tongue and groove cladding burnt to the highest level, it well and truely lived up to our expectations in both look and workability and it's been loved by everyone who has seen it. We would highly recommend Mortlock for charred timber cladding. - Gary Crameri
Mortlocks pre oiled timber product is a quality product that makes a quality finish easy to achieve - Andrew Byers
We used the spotted gum 40 x 40mm battens on this project. I was really surprised with how quick and simple the installation was. It easily removes labour time to install, also a very sleek finish. Can't wait to use the product again. - Patrick Clark
FAQS
Is Timber good for decking?
Timber is a great option for timber decking, its termite resistance, durability, and striking appearance make it one of the best timbers to use for hardwood timber decking.
What are the benefits of Timber decking?
Timber has many benefits like termite, rot resistance, and long-term durability. Because of its longevity, Timber is often used in highly exposed to weather areas like boardwalks and marine environments.
Does timber decking bleed?
Timber is less prone to tannin leaching than timbers like merbau decking and many tropical timbers. It does still bleed tannin, Read more here
How much does timber decking cost?
Popular options for Timber decking costs start at around $85 p/m2 and can be as high as $210 per m2 not including installation, an in depth article on how much timber decking costs can be found here.
How do you maintain timber decking?
Maintaining Timber decking involves general cleaning like sweeping and mopping and re-oiling. The frequency of the re-oiling depends on how your Timber decking is exposed to the weather. For further details on maintenance Read more here.
request sample
To experience the quality and finish of our products, we encourage you to complete this form to request a sample. Our team will be in touch with you to provide you with samples of your choice, and from our experienced team's recommendations.
Request a quote
Please fill in the form below for a quote. Mortlock Timber does not offer installation however, we can recommend contracts for installation.