Article
Learning Hub
Proplank Timber Battens
Spotted Gum
Timber Ceiling Tiles
Timber Ceilings
Timber Cladding
Timber Decking
Timber Walls
Timber Grading Explained
Wood products are classified into different timber grades according to their properties such as strength, appearance and durability.
Having a grading system in place helps ensure a high level of quality control and allows consumers, builders and architects to choose the right timber products for their project.
What is timber grading?
Timber products are classified into different categories according to their properties to help you choose the wood products that are most suited to the application.
The type of project you are working on may change what you look for. For example, timber used for structural applications needs to be strong, but may not need to be aesthetic if they will not be seen.
On the other hand, timber flooring and cladding needs to have some level of strength as well as high aesthetic value.
Timber is classified according to a number of categories:
Strength (structural timber grading)
Appearance (aesthetic grading)
Durability (durability classifications)
Structural Grading
Stress grading is used to test structural properties such as the timber's strength and rigidity. Stress grades for structural timber can be obtained through visual grading, proof grading and mechanical tests.
The stress grades of hardwoods and some softwoods are given using the F grade system which is the letter 'F' followed by a number. Softwoods are given stress grades of 'MGP' followed by a number.
Appearance Grades
Appearance grades are given to help consumers decide if the timber's appearance is suitable for their project. They take into account the amount of colour variation and natural features the timber has such as gum veins and knots.
Appearance grades do not measure the timber's strength or durability.
Durability Classifications
Timber products are also classified according to how durable they are, or in other words, how well they perform over time. Different timber species groups have different natural durability properties.
Timber products are given a durability classification (high, reasonably high, moderate or low) based on their expected service life above ground and below ground.
What are the different appearance timber grades?
Select Grade
Select grade timber has a uniform appearance with minimal knots and other timber features. The grain is straight and the overall appearance is consistent, minimal and understated.
Standard Grade
Standard grade timber has a more varied appearance than select grade. There is a moderate number of timber features such as burls, knots and gum veins are visible throughout.
The distinctive markings of the timber species are highlighted to achieve a distinct and striking appearance.
Natural / Character / Feature Grade
Feature grade has the greatest amount of natural features, giving it a rustic appearance. Features such as gum veins, face checking and insect travels will be more dominant and more frequently occurring than in the standard grade.
How is timber graded at Mortlock Timber?
Mortlock timber grades its timber to standard and better grade (also called natural select grade) in accord with Australian Standards (AS) 2796.2-2006. Standard and better grade consists of 2/3 select grade and 1/3 standard grade.
Standard and better allows timber to show its natural colours and characteristics without compromising consistency. If you require another grade please speak to Mortlock Timber.
Timber Features
There are many different natural timber features that may occur. These features tell the story of the wood – where branches have grown, where insects have made their markings, how the tree has tried to heal itself and so on.
In some applications, architects and builders may decide to use a grade of wood which highlights the natural features to achieve a particular effect. For other applications, a more minimal and uniform appearance may be desired.
Please note, the images shown below are to illustrate the timber feature only. They don't indicate that your timber will be supplied with features to the extent of these images. Features may also show up differently on different timber species.
Gum Veins
Gum veins are the build up of tree sap or resin. They are formed when the tree tries to heal itself, for example after an insect attack, bushfire or a branch falling off.
Standard grade: Gum veins less than 60 mm wide and 1m long & 2mm deep are acceptable.
Select grade: Gum veins less than 2mm wide, 250mm long, and 1/2 length in total are acceptable.
Borer Holes
Borer holes are formed by beetles laying their eggs in the tree wood or bark. When the beetles are in the larvae stage, they tend to eat or 'bore' through the wood creating distinct markings. A larger exit hole may be formed when an adult beetle escapes.
Standard grade: Borer holes less than 24 per 900mm depending on timber width are acceptable.
Select grade: Borer holes less than 10 per 900mm depending on timber width are acceptable.
Tight Knots

Knots are formed when the tree trunk grows around a living branch or around the place where a dead branch has fallen off. Tight knots are dense parts of wood with an irregular grain, often appearing darker than the surrounding wood.
Standard grade: Tight Knots less than 1/3 the board width up to a maximum of 40mm are acceptable.
Select grade: Tight Knots less than 15mm wide are acceptable.
Note: Vacoa Timber is a knotty grade, the tight knot grading rules do not apply to Vacoa.
Checking

Checks are shallow cracks or separations between the wood fibres across the annual rings. They may occur during seasoning or drying of the wood.
Standard grade: Checks less than 2mm wide & 250mm long are acceptable.
Select grade: Checks less than 1mm wide & 250mm long are acceptable.
Need help choosing the right timber for your project?
At Mortlock Timber, we are committed to helping architects and builders bring their vision to life. For professional advice about timber grades and products for your project, get in touch with our friendly team today.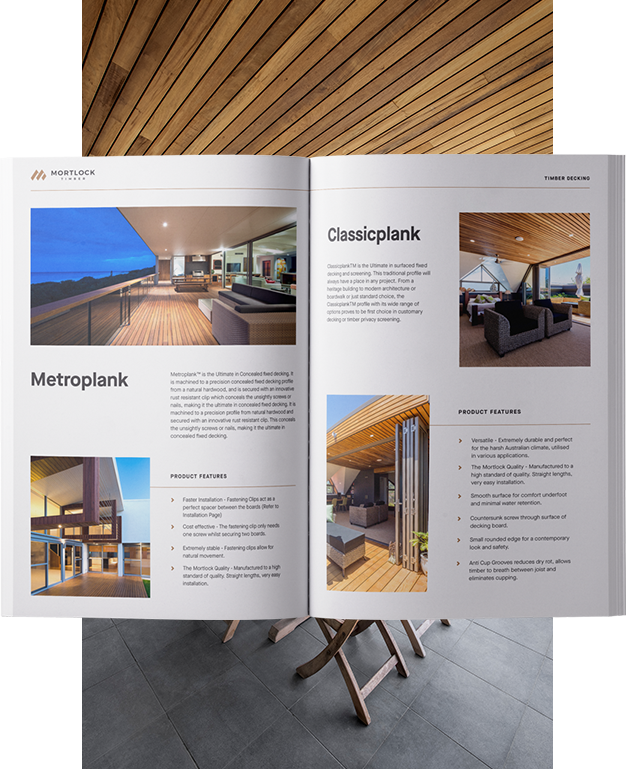 We are committed to bringing you timber products that add value and endure for years to come, even in heavy traffic and harsh weather conditions. We understand the value of efficiency when it comes to installation and keeping hardwood timber costs down. That's why we've spent decades perfecting our designs to make them easier to handle, less wasteful and more efficient to install. This efficiency allows us to offer you premier products that are more cost-effective so that you can experience greater savings on timber wall costs, timber ceiling costs, timber cladding costs and timber decking costs.
Download our Pricing and Product Guide for our complete hardwood timber price list including timber decking prices, timber wall prices, timber ceiling prices and timber cladding prices.