Scarboro Surf Life Saving Club: Sand, Sea And Style
Scarboro SLSC has been saving lives since 1928. Located on the iconic Esplanade section of Scarborough Beach, the Club patrols one of Perth's most popular beaches.
In 2018 the Club celebrated its 90th birthday and moved into stunning purpose-built facilities, commissioned as part of the Scarborough Foreshore Redevelopment.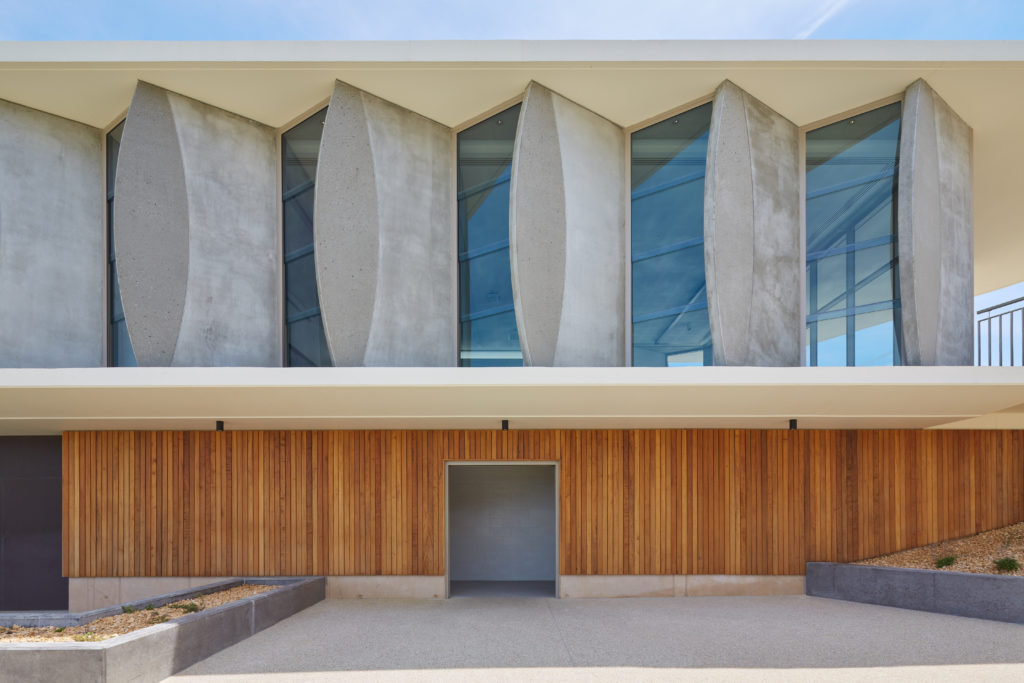 Sand and sea
The new premises were designed by Hames Sharley, a multi-disciplinary practice which specialises in architecture, landscape architecture, and urban design. The principles of the Scarboro SLSC grew from their collaboration with the borough Foreshore Redevelopment team.
Hames Sharley's approach focused around the 'sand and sea' elements so often used to describe the striking coastal location. The upper building design is inspired by the 'solid' sand form, and houses the functional service parts of the precinct. The 'transparent' forms represent sea foam*, and are made up of permeable enclosures.
Concrete fins on the sea exposed southern side of the building – inspired by surfboards and waves – enhance the transparency element. The fins provide a direct lines of sight from the entry through to the ocean, while providing structure and thermal mass for ESD compliance.
The lower facilities are finished with concrete and timber cladding to create legibility and a sense of tranquillity.
Sustainability initiatives include passive solutions that minimise energy usage, including fully opening windows and reducing the amount of direct sunlight.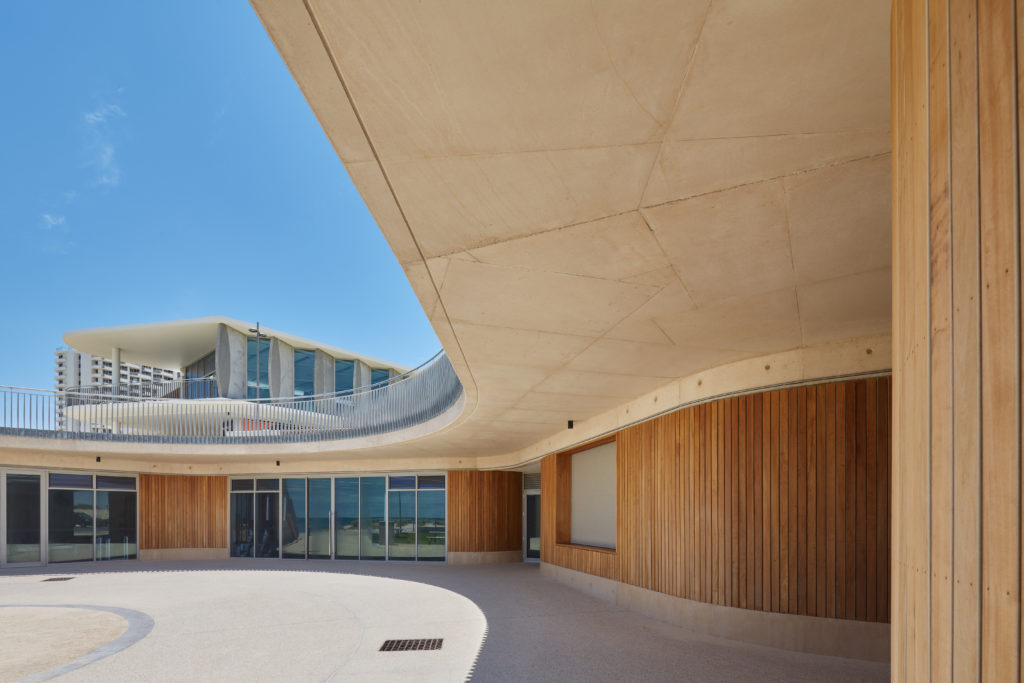 Enduring the elements
For a site exposed in equal measures to the rigours of the harsh Australian climate and a close proximity to the Indian Ocean, choosing timber cladding, screening and battens that are up to the job was critical.
Hames Sharley selected Mortlock Timber's Pacific Teak products for the build. Pacific Teak is a naturally stable hardwood, offering very low shrinkage, which remains dimensionally stable no matter what our challenging environment throws at it.
Trendplank Timber Cladding is profiled for movement. It retains strength and integrity during the natural expansion and contraction that takes place when wood is exposed to heat and water. This makes it low maintenance and gives it longevity.
The addition of Proplank Battens and Screenplank Screening meant Mortlock Timber provided the Hames Sharley and Scarboro SLSC with a complete, practical and effective solution.
MORE RECENT IMAGES
Where a low maintenance and naturally weathered timber look is required, Pacific Teak is an excellent choice. Pacific Teak will remain very stable while weathering.
Client:
Scarboro Surf Life Saving Club
Location:
Scarborough Beach, Stirling, WA
Project partners:
Mortlock Timber Group – timber ceiling and wall products, handrails
Hames Sharley – Architect
Georgiou Group – Builder
Solwest Constructions – Contractor
Mortlock Timber Group products:
Proplank 40×20 Pacific Teak Battens
Proplank is a linear timber ceiling and wall lining designed for straight or curved surfaces. Its cleverly designed and engineered spring steel clips and nylon spacer brackets can be clicked into place according to specification, along with the material selected to go into the clips. This system was designed to reduce installation and material costs without compromising the aesthetics of natural timber. FIND OUT MORE
Trendplank 120×18 Pacific Teak Cladding
Trendplank timber cladding is a concealed fixed cladding system. It is designed to allow for natural timber movement and comes with a range of proprietary corner trims and end stops for the perfect finish. Originally designed for exterior cladding, Trendplank has increasingly been used by Australia's leading architects and builders to line ceilings as well as internal and external walls. FIND OUT MORE
Screenplank 85×20 Pacific Teak Screening
Screenplank is a solid timber batten which is manufactured specifically for sun shading, privacy screening and fencing applications. Available in a range of durable species, sizes and profiles, Screenplank complements both contemporary and traditional designs.
FURTHER LINKS:
View our pricing and product guide
For in-depth information about the range of products we offer, please fill out the form below to download our Architectural Timber Pricing and Product Guide. Inside you will find illustrations, specifications, portfolio photo examples and a hardwood timber price guide to assist with budgeting.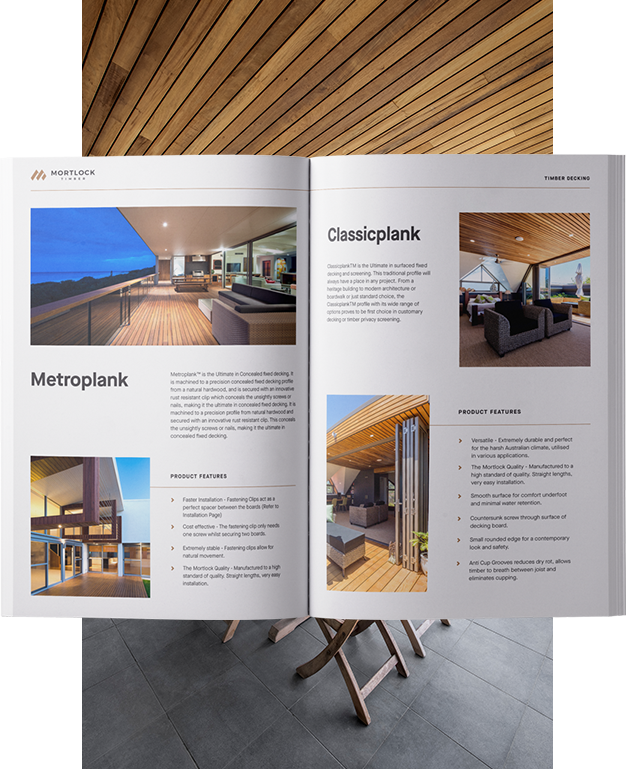 We are committed to bringing you timber products that add value and endure for years to come, even in heavy traffic and harsh weather conditions. We understand the value of efficiency when it comes to installation and keeping hardwood timber costs down. That's why we've spent decades perfecting our designs to make them easier to handle, less wasteful and more efficient to install. This efficiency allows us to offer you premier products that are more cost-effective so that you can experience greater savings on timber wall costs, timber ceiling costs, timber cladding costs and timber decking costs.
Download our Pricing and Product Guide for our complete hardwood timber price list including timber decking prices, timber wall prices, timber ceiling prices and timber cladding prices.