Corpus Christi College Theatre: Award-Winning Style And Simplicity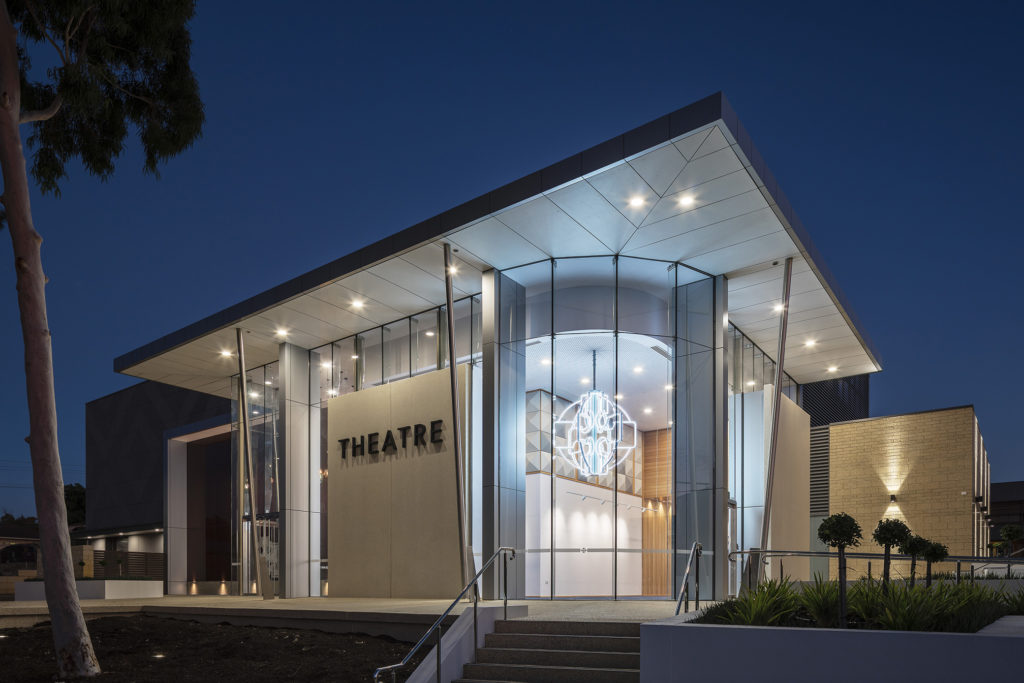 Recently recognised as a joint winner of the Master Builders Bankwest Excellence in Construction Award, the Corpus Christi College Theatre was officially opened on 27 August 2019.
The stunning theatre seats 420 guests, and its features include bespoke acoustic panelling, an enhanced sound system, a multi-function hydraulic orchestra pit, and digital LED screens and lighting.
A seamless finish
The theatre was designed by EIW Architects (EIW) from Perth, who worked with Mortlock Timber to achieve a spectacular foyer that reflected the College's identity and was both "striking and elegant."
"A huge part of the design philosophy in the interiors here was to use timber, but in different profiles, to gain lots of different textures," says Chloe Summers, design architect from EIW.
To achieve the seamless, deceptively simple design, it was critical that the selected timber products displayed no visible fixings. EIW chose Mortlock Timber's Trendplank and Proplank products to successfully realise this vision.
"The beauty of that space in the foyer is the use of different materials that we've used, including timber, natural stone and water," says Philip Idle, EIW director.
Designed for success
The theatre foyer features Mortlock Timber's Proplank timber battens and Trendplank timber cladding system on the walls and ceilings.
Proplank is a click-together batten system designed for straight and curved surfaces. It comes with proprietary corner trims and end stops, providing a high level of finish for even the most discerning architects and builders. The speed and ease of installation help reduce costs, and the system is available in an almost endless range of profile, size and spacing options.
As with Proplank, the Trendplank timber cladding system comes with matching corner trims and end stops for concealed fixing and maximum waterproofing. Its profile allows natural timber movement for longevity and low maintenance.
Proplank and Trendplank are available in a range of timber species. To align with the College's visual identity, EIW chose Tasmanian Oak with a interior poly coating as well as a Mahogany Stain.
A solid partnership
EIW Architects engaged Mortlock Timber from the documentation stage onwards, to guide them through the range of profiles and varieties they could offer and help them achieve the look. By providing ready access to professional advice, samples and custom detail drawings, Mortlock Timber helped EIW realise the design philosophy of the theatre's foyer.
"Working with Mortlock Timber was very good," says Chloe. "Jerry provided us with the documentation and level of detail that we needed to achieve what we wanted.
"We're very happy with the outcome of the project. It's been a really big signature piece. We couldn't have done it without the collaboration of everybody involved, from the builder, to the suppliers, to the design team. Everyone bought in [to the project] and we just produced a really good building.
"Mortlock Timber – great team, great product. Happy to work with them again."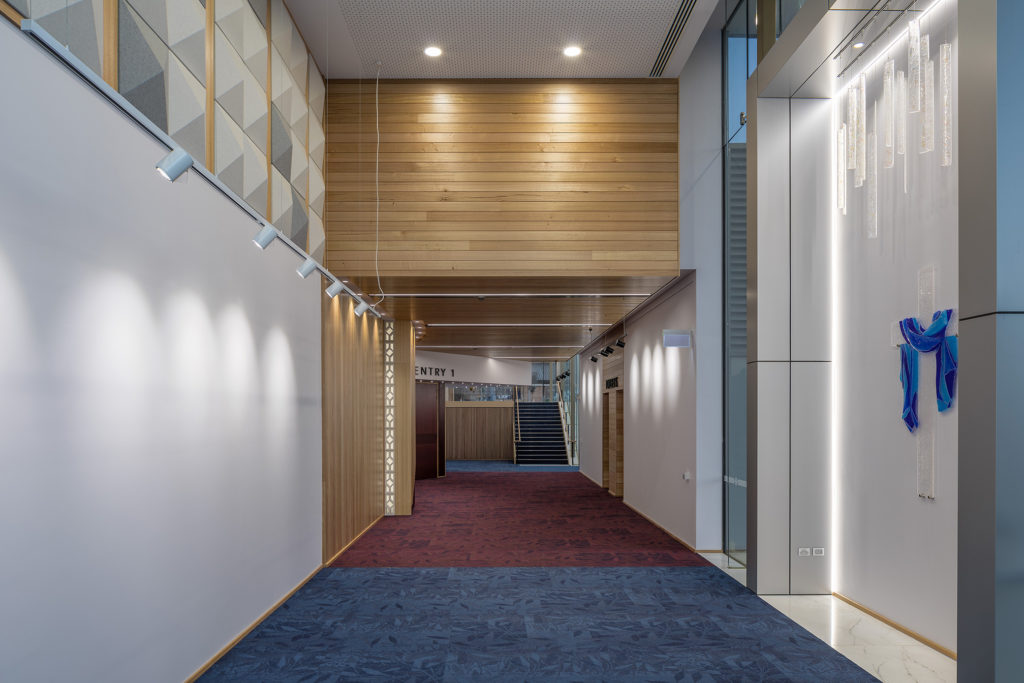 At a glance:
Client:
Corpus Christi College
Location:
50 Murdoch Drive, Bateman, Perth, WA
Project partners:
Mortlock Timber Group – timber ceiling and wall products
EIW Architects – Architects
McCorkell Constructions – Builders
MDK Carpentry and JP Blue – Contractors
Mortlock Timber Group products:
Proplank 40×30 Tasmanian Oak Battens
Proplank is a linear timber ceiling and wall lining designed for straight or curved surfaces. Its cleverly designed and engineered spring steel clips and nylon spacer brackets can be clicked into place according to specification, along with the material selected to go into the clips. This system was designed to reduce installation and material costs without compromising the aesthetics of natural timber. Read more about Proplank
120×18 Trendplank Tasmanian Oak T&G Cladding & Custom Profile
Trendplank timber cladding is a concealed fixed cladding system. It is designed to allow for natural timber movement and comes with a range of proprietary corner trims and end stops for the perfect finish. Originally designed for exterior cladding, Trendplank has increasingly been used by Australia's leading architects and builders to line ceilings as well as internal and external. Read more about Trendplank
View all the project images for Corpus Christi Theatre Gallery
View our pricing and product guide
For in-depth information about the range of products we offer, please fill out the form below to download our Architectural Timber Pricing and Product Guide. Inside you will find illustrations, specifications, portfolio photo examples and a hardwood timber price guide to assist with budgeting.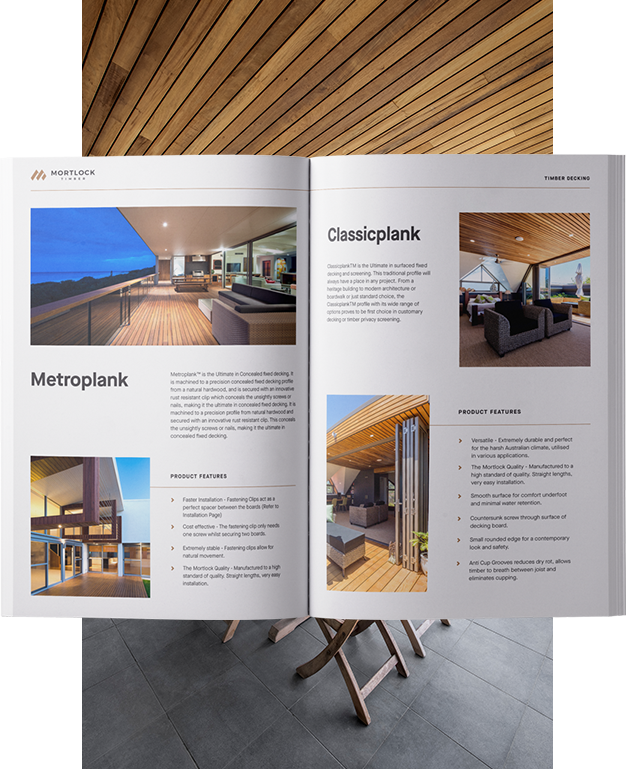 We are committed to bringing you timber products that add value and endure for years to come, even in heavy traffic and harsh weather conditions. We understand the value of efficiency when it comes to installation and keeping hardwood timber costs down. That's why we've spent decades perfecting our designs to make them easier to handle, less wasteful and more efficient to install. This efficiency allows us to offer you premier products that are more cost-effective so that you can experience greater savings on timber wall costs, timber ceiling costs, timber cladding costs and timber decking costs.
Download our Pricing and Product Guide for our complete hardwood timber price list including timber decking prices, timber wall prices, timber ceiling prices and timber cladding prices.