What is American Oak and American white oak? arent they the same thing?
No! American Oak is also known as American Red Oak – but it's not red! The name, red oak, comes from the colour of the leaves in autumn.
Which is better?
Performance-wise one is not better than the other, both timber's properties are virtually identical. The benefit is American (Red) Oak is readily available at a lower price tag.
Does one look different to the other?
American Red Oak and American White oak are virtually identical.
If you look (really) close you may notice slightly brown and yellow tones with a smooth, subtle grain in white oak compared to a pinkish tint with red undertones and a stronger grain pattern in red oak.
The end result of your project will look no different regardless of which one you use.
Which one does Mortlock supply?
When you order American Oak, you will receive American (Red) Oak. In the past, we supplied American White Oak due to lack of supply we switched to American Oak.
View our pricing and product guide
For in-depth information about the range of products we offer, please fill out the form below to download our Architectural Timber Pricing and Product Guide. Inside you will find illustrations, specifications, portfolio photo examples and a hardwood timber price guide to assist with budgeting.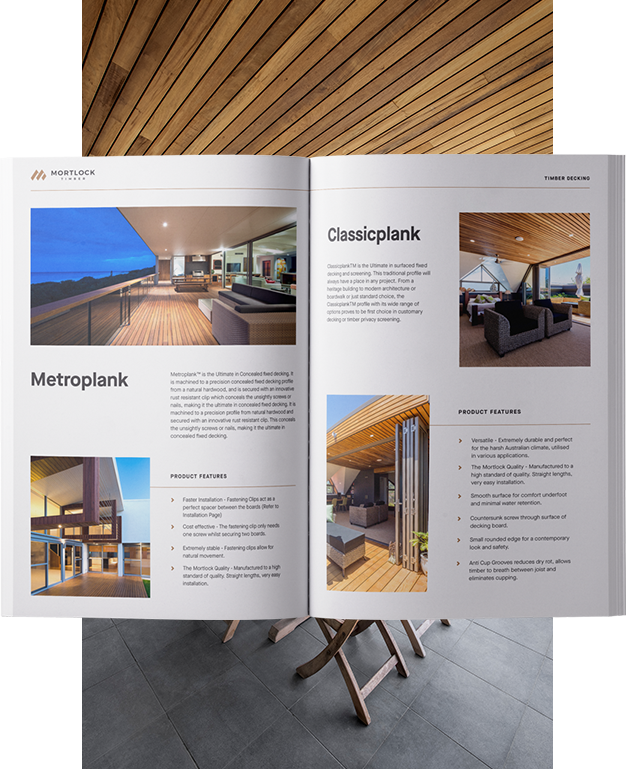 We are committed to bringing you timber products that add value and endure for years to come, even in heavy traffic and harsh weather conditions. We understand the value of efficiency when it comes to installation and keeping hardwood timber costs down. That's why we've spent decades perfecting our designs to make them easier to handle, less wasteful and more efficient to install. This efficiency allows us to offer you premier products that are more cost-effective so that you can experience greater savings on timber wall costs, timber ceiling costs, timber cladding costs and timber decking costs.
Download our Pricing and Product Guide for our complete hardwood timber price list including timber decking prices, timber wall prices, timber ceiling prices and timber cladding prices.