Biophilic designs & modern homes to inspire your next architectural project
The concept of biophilia suggests humans have an innate connection to nature and benefit from living in close connection with it. According to a growing body of research from around the world, using biophilic design principles in homes, workplaces and public spaces can have a positive effect on human health.
Biophilic design elements include the use of natural materials, views of nature, natural light, natural systems and more. Natural human and animal behaviour such as the need for security and safety can also inspire biophilic architecture.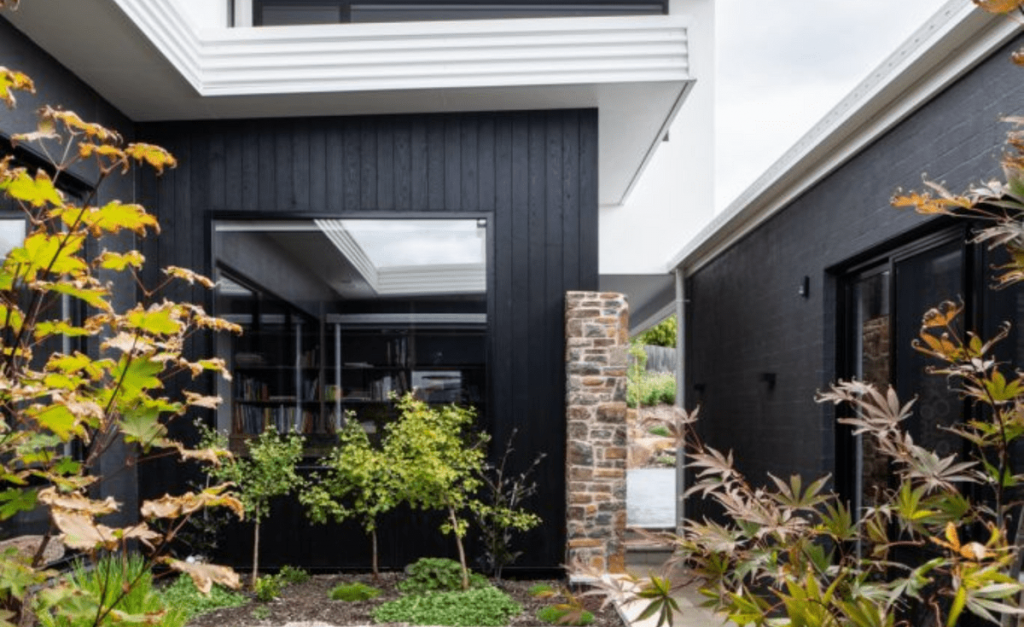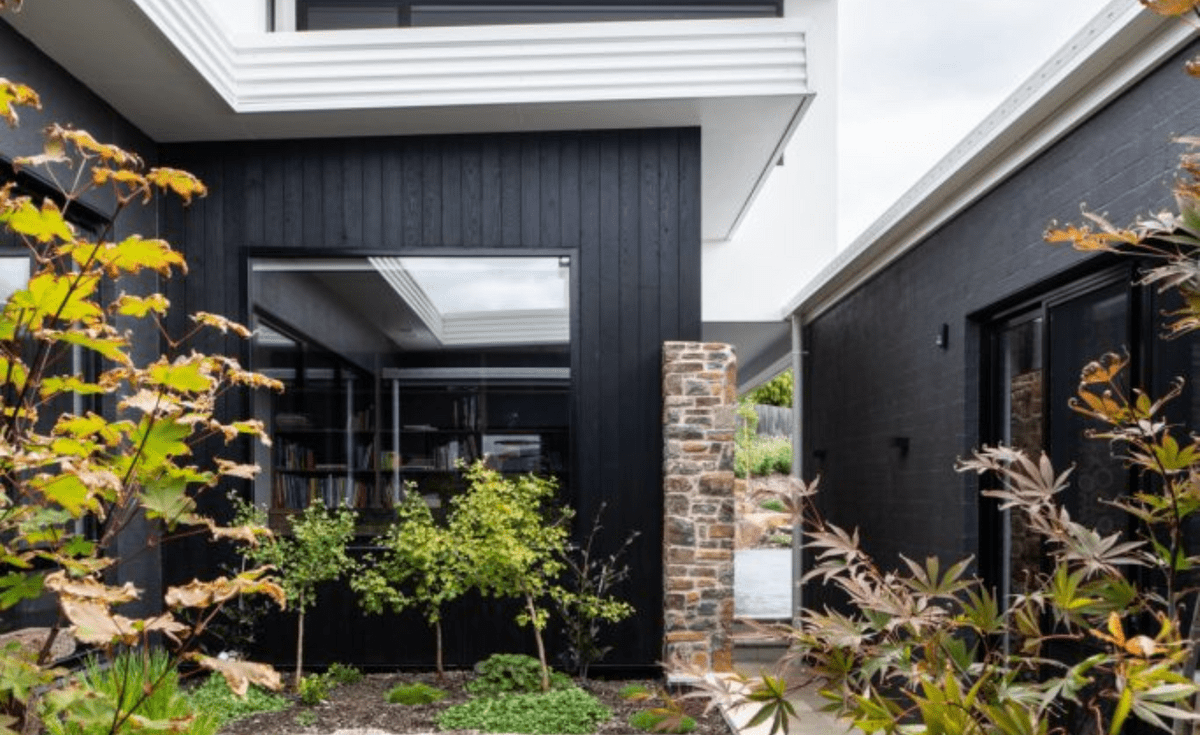 ALSO READ – What is biophilic design?
Below, we take a look at the way 5 Australian architects have put biophilic architecture principles to work.
1. Church Point Container House, Sydney
Architect / rama
Builder / Elo Silo
Photographer / Toby Peet
Read more / Green Magazine
All biophilic architecture projects start by considering the existing environment and how the built environment can co-exist with its surroundings. For this house in Church point, the client wanted a sustainable home which was at harmony with the surrounding bushland.
The house is built from six 20-foot shipping containers and a cantilevered timber box. From the outside, it has an earthy appearance. The dark grey steel and the deep tones of the blackbutt timber battens blend well with the environment.
The interior has a lighter palette with panoramic windows that allow for maximum natural light to enliven the space. Unhindered views of the bush provide a peaceful and calming atmosphere.
When the sliding doors in the living room are fully retracted, the space opens onto an external timber deck, providing a direct connection with nature. Well placed windows allow the building to breathe naturally with summer breezes and cross ventilation.
2. Killora Bay House, Tasmania
Architect / Lara Maeseele and Tanner Architects
Photographer / Adam Gibson
Read more / The Design Files
This family holiday home on Bruny Island recedes into the landscape, allowing the surrounding Tasmanian gum trees and grass trees to become the main attraction. The clients explained where the idea stemmed from: "We wanted the landscape to speak, not the architecture."
Large sliding glass doors provide uninterrupted views of the bushland, helping the residents feel a sense of belonging in the natural environment. But it's not just a visual experience. Everything from the changing light to variations in temperature and humidity is embraced in the biophilic design.
Silvertop ash cladding – which is locally sourced in Tasmania – is used on the exterior of the house. Being naturally bushfire resistant, it's ideal for the location. Dark wood is used throughout the interior spaces as well, creating a symbiotic relationship between the outdoor and indoor zones.
3. Holiday Home in Lorne, Victoria
Architect / Roger Nelson and DREAMER
Photographer / Rory Gardiner
Read more / The Design Files
This holiday home project – named 'Two Sheds' – was designed to be a retreat to nature where the clients could disconnect from their everyday urban environment.
The clients have a long term dream to rejuvenate the bushland surrounding their property, so a structure that worked with the landscape was essential. Biophilic design elements were used to create a sense of connection to nature and encourage use of the outdoor areas.
Shou sugi ban – charred timber cladding – is used on the exterior of the house, giving it a grounded appearance. Raw timber is used internally to create a light and airy interior. The natural textures of the wood are emphasised by natural lighting which filters through the generous glazing throughout.
4. 1950s Weatherboard House, Perth
Architect / Robeson Architects
Builder / Riou Renovations
Photographer / Dion Robeson
Read more / Green Magazine
The renovation brief for this 1950s weatherboard house in Perth made it clear that the garden would be a major focus and part of the overall plan for the house, not just an afterthought.
The extension opens up to the north, allowing for maximum natural lighting and leafy views. Large glazed sliding doors create a natural flow between the outside and interior spaces.
A variety of organic materials and textures are used throughout to provide visual interest and a sensory connection to nature. The house relies on cross ventilation and passive design for temperature regulation, rather than air conditioning.
5. Edgars Creek House, Victoria
Architect / Breathe Architecture
Photographer / Tom Ross
Read more / The Local Project
In urban environments, connection to nature is often lost. However, this house in the inner Melbourne suburb of Edgars Creek offers a way to live in harmony with the natural ecosystem rather than trying to control it.
The house overlooks sandstone cliffs and a native ironbark bushland – natural elements which informed the design of the space. An open air 'brise soleil' offers direct sensory connection with nature while the inner rooms provide a sense of shelter and sanctuary.
Natural materials such as rammed earth, timber cladding and ironbark decking are used to create a raw and simple space. A variety of materials and textures have been used to mimic the biodiversity found in nature.
Envisage your own biophilic design projects
Biophilic design elements allow us to create beautiful and functional spaces which promote human health and are more sustainable.
While many modern urban environments seek to preside over nature, biophilic architecture aims to achieve harmony with the local environment and its natural systems.
Planning to use ideas from biophilic architecture for your next project? Whether it's an urban design, a rural escape or a commercial project, using natural materials is a great place to start.
At Mortlock Timber, we offer a wide range of architectural timber products, including timber wall cladding, timber ceilings and decking. Our sustainably harvested local timber species are ideal for biophilic design projects, green spaces and modern built environments.
Find out more by downloading our pricing and product guide. Or call our team on 1800 894 400 to discuss your project.
View our pricing and product guide
For in-depth information about the range of products we offer, please fill out the form below to download our Architectural Timber Pricing and Product Guide. Inside you will find illustrations, specifications, portfolio photo examples and a hardwood timber price guide to assist with budgeting.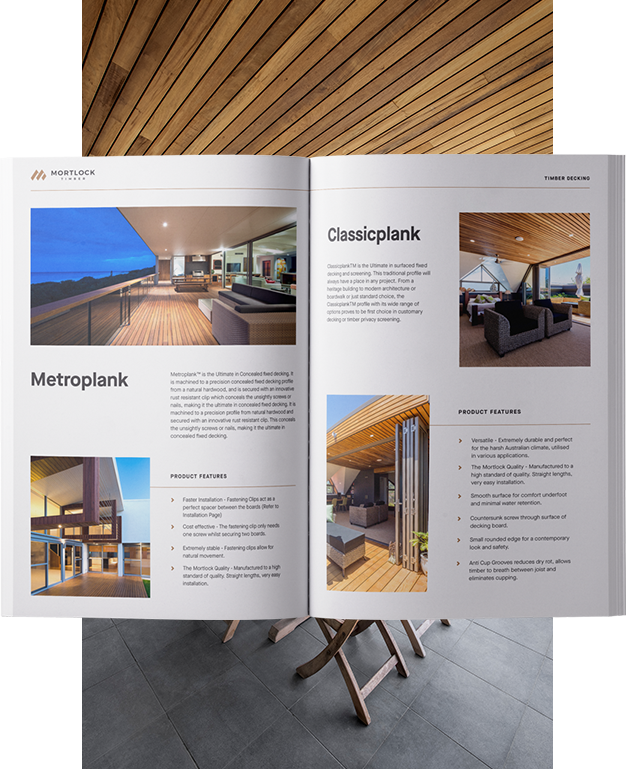 We are committed to bringing you timber products that add value and endure for years to come, even in heavy traffic and harsh weather conditions. We understand the value of efficiency when it comes to installation and keeping hardwood timber costs down. That's why we've spent decades perfecting our designs to make them easier to handle, less wasteful and more efficient to install. This efficiency allows us to offer you premier products that are more cost-effective so that you can experience greater savings on timber wall costs, timber ceiling costs, timber cladding costs and timber decking costs.
Download our Pricing and Product Guide for our complete hardwood timber price list including timber decking prices, timber wall prices, timber ceiling prices and timber cladding prices.