Article
Case Study
Learning Hub
Maddocks, A Workspace Designed For Wellness
Maddocks, a premium legal firm, made the move into a prestigious three-level signature space in Melbourne's Collins Square in 2016. From the moment they signed the initial lease in 2014, Maddocks had a clear vision of what they wanted their new workspace to achieve. And the finished fit-out was declared an unmitigated success.
The 6,250m2, largely open-plan office design promotes collaboration and supports today's increasingly flexible and mobile working arrangements. The striking triple-height interior, featuring a dramatic spiral staircase, adds a tangible sense of 'breathing-space' to enhance the relaxed business environment. And not feeling 'boxed in' encourages staff to work and hold meetings away from their desks. Shared spaces, a double-storey wintergarden, and a commercial kitchen and café offering in-house hospitality, all allow clients and staff to socialise and work side-by-side.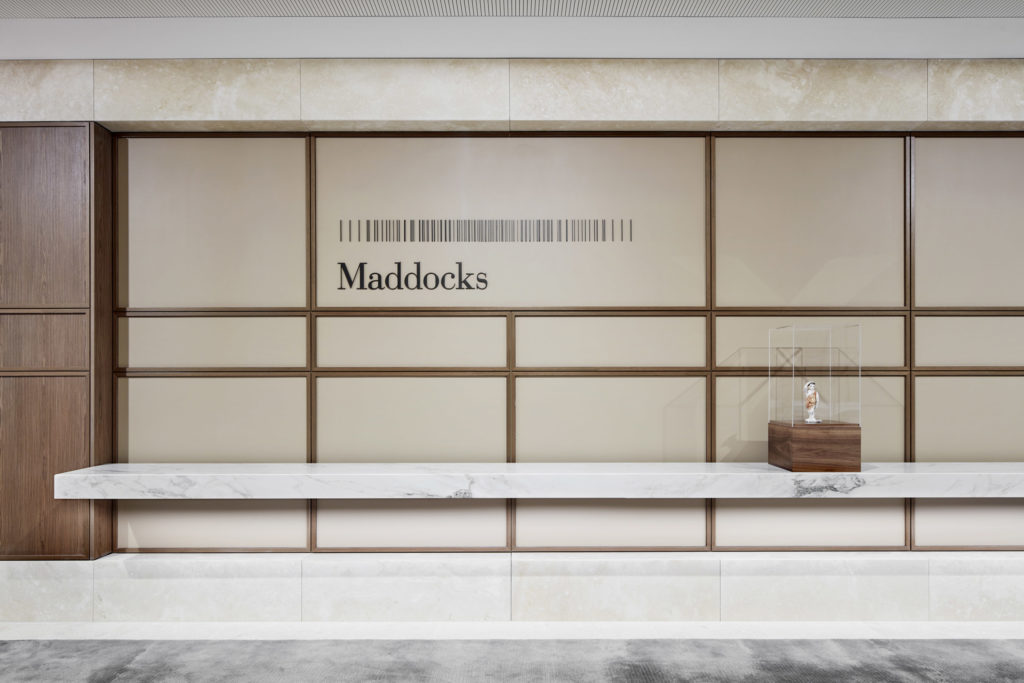 The wonder of wood
Designed by renown architectural firm Bates Smart, Maddocks' new workspace focusses on improving staff productivity and fostering day-to-day well-being. As recent research reveals that natural-looking wooden surfaces are proven to support these goals (to the extent of increasing office productivity by 8% and rates of well-being by 13%), the inclusion of extensive timber finishes for floor, wall and ceiling spaces is a natural, striking and functional design choice.
Unfortunately, one of the timber products that Bates Smart specified for the fit-out had been phased out by the original timber supplier, and the substitutes proffered didn't meet stringent project requirements. Luckily, Mortlock Timber Group held the specified product, and could also step up with their own offerings to address the unique issues presented by this site.
Mortlock Timber supplied Metroplank Pacific Teak concealed fixed timber decking for internal and external wall Panels, flooring, and their Trendplank timber concealed fixed cladding system for walls and ceilings.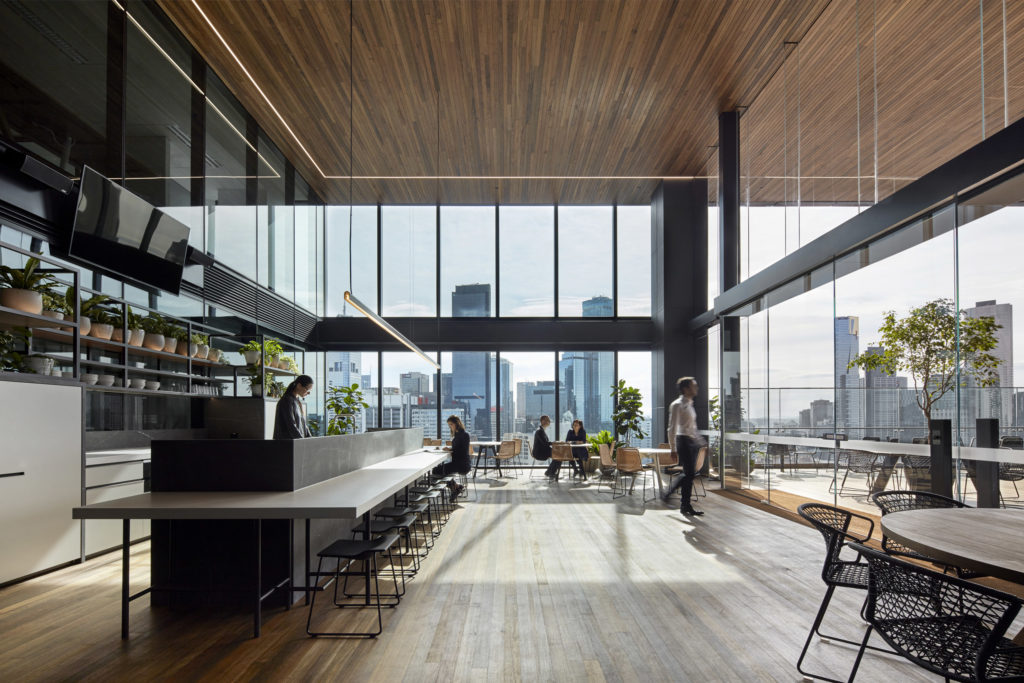 Timber solutions that work
Lai Yee Chan, Associate at Bates Smart, says the wintergarden provided specific challenges. "We had a very limited amount of underfloor cavity in that area. The timber and species we had initially selected wouldn't work with the 120mm space that was available. Generally, teak and some of the other Australian timbers swell up in those conditions – they need a lot more ventilation. Mortlock Timber, however, suggested a specific teak flooring which would work within the space constraints and solve the problem for us."
"Mortlock Timber also did something else that was quite critical for the client," says Lai Yee, "which was customising the spacing of the timber boards and the decking. A 5mm space is normal, but the client specifically asked for a 3mm spacing to minimise incidences of tripping if a client's stilettos got stuck between the gaps. Mortlock provided a specially made spacer which not only helped meet the client's 3mm space request, but complied with the functionality of the timber in those conditions."
The choice of timber was an important one for Lai Yee. "You want the finish to look great, but you always have to consider the functional aspects. It was not only important that Mortlock Timber's products met the stringent requirements, but that the builder felt comfortable with the timber so they would warranty its installation."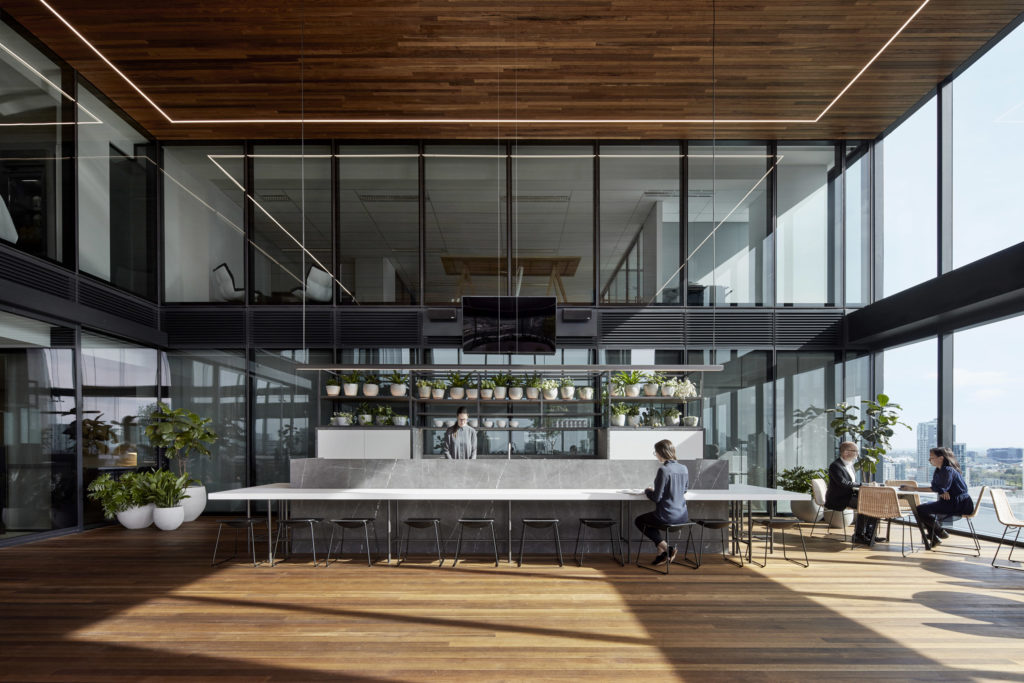 Summary
Today, more than 350 Maddocks partners and staff occupy three floors of Tower D, Collins Square. And, says Lai Yee, they are all delighted with their contemporary and stylish workspace.
"Maddocks told us that a lot of people use the wintergarden space because it gives them that natural feel. The timber supplied by Mortlock Timber is performing well and is fully compliant, so that makes them happy too."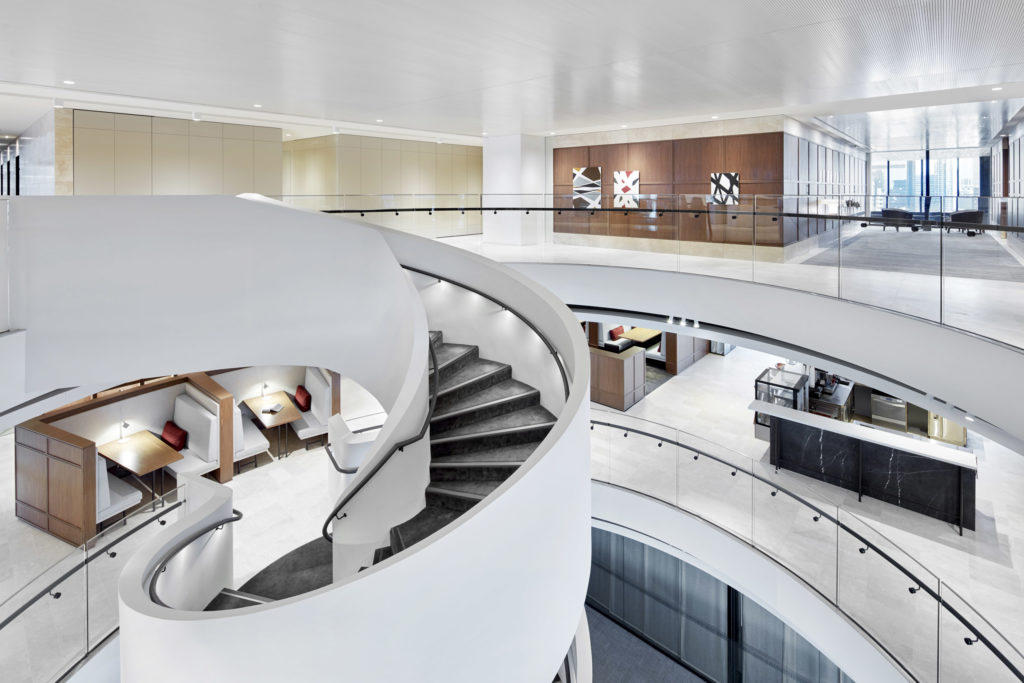 At a glance:
Client:
Maddocks
Location:
Tower D, Collins Square, Melbourne CBD
Project partners:
Mortlock Timber Group – Manufacturer of timber decking, Timber cladding and ceiling systems
Bates Smart – Design Firm
Star Ceilings – Contractor
Buildcorp Interiors – Builder
Mortlock Timber Group products:
Metroplank 85×20 Pacific Teak Decking
Mortlock Timber's Metroplank Pacific Teak concealed fixed timber decking is a result of over 20 years of testing and experience. The profile and clip design allow for exactly the right amount of natural timber movement, and has been successfully used in both commercial high traffic areas as well as luxury residential homes in some of Australia's most high-profile suburbs.
Trendplank 70×18 Pacific Teak Timber Cladding to the Ceiling
Mortlock Timber's Trendplank timber concealed fixed cladding system allows for natural timber movement. While originally designed for exterior cladding, Trendplank has become a popular choice for Australia's leading architects and builders for lining walls and ceilings, both internally and externally.
View our pricing and product guide
For in-depth information about the range of products we offer, please fill out the form below to download our Architectural Timber Pricing and Product Guide. Inside you will find illustrations, specifications, portfolio photo examples and a hardwood timber price guide to assist with budgeting.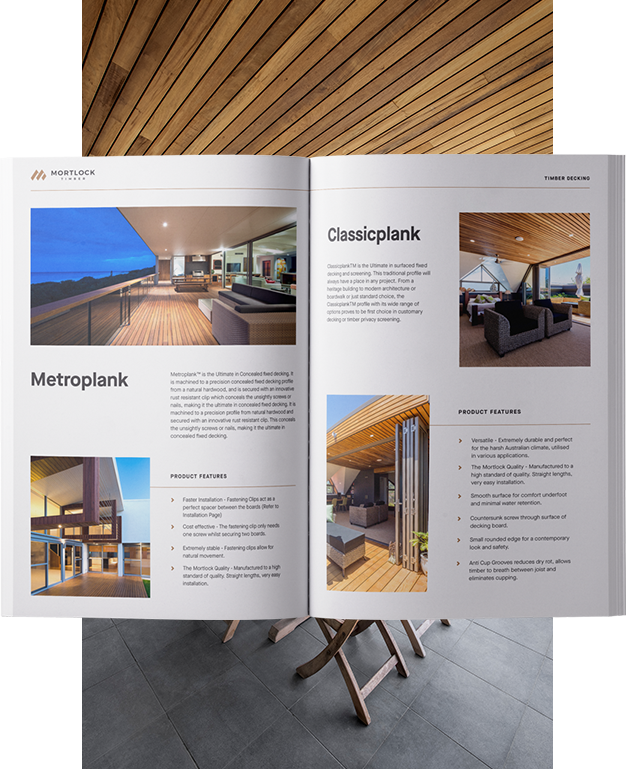 We are committed to bringing you timber products that add value and endure for years to come, even in heavy traffic and harsh weather conditions. We understand the value of efficiency when it comes to installation and keeping hardwood timber costs down. That's why we've spent decades perfecting our designs to make them easier to handle, less wasteful and more efficient to install. This efficiency allows us to offer you premier products that are more cost-effective so that you can experience greater savings on timber wall costs, timber ceiling costs, timber cladding costs and timber decking costs.
Download our Pricing and Product Guide for our complete hardwood timber price list including timber decking prices, timber wall prices, timber ceiling prices and timber cladding prices.