Horizontal Vs Vertical Timber Cladding: Know Which One To Choose
The exterior of any building is an opportunity to showcase a unique approach to cladding.
And choosing the right cladding is critical – especially when it comes to the durability and reliability of your structure. The difference between horizontal vs vertical timber cladding is a key consideration when making this decision.
With both styles having their unique pros and cons, this blog guides you towards making the right choice for your project.
What is timber cladding?
Timber cladding is the exterior layer of timber that protects your building against the natural elements from pests like termites, weather, and even fire. As the exterior layer, cladding plays an important role not just in protecting against the elements but also in showcasing the desired aesthetic of your structure. There are many different ways of installing timber cladding, but two of the most well-known techniques are external vertical timber cladding and horizontal timber cladding.
The type of material used for cladding is an important factor to consider – and there are many other factors that will determine what is best for your project, but more on that later. Let's take a closer look at the main differences between horizontal vs vertical timber cladding.
Horizontal vs vertical timber cladding
Horizontal timber cladding – as the name suggests, is horizontally oriented pieces of timber. This style is by far the most common and is known as a "safe" design choice. Vertical timber cladding, on the other hand, is made up of vertically aligned pieces of timber that make for a more striking appearance.
When it comes to comparing horizontal vs vertical timber cladding, there are many different factors that you'll want to consider. 
Wider vs taller
When choosing between horizontal vs vertical timber cladding, the most obvious difference is the effect each style has on the aesthetics of the structure. Just like how wearing clothes with vertical and horizontal stripes can make a person look taller or stockier, the same principle applies to cladding. Vertical cladding will make a building look taller and thinner, while horizontal cladding will make a building look wider or flatter.
This has important implications for the design of a building, and depending on its location, footprint and purpose, you may gravitate towards one or the other. Smaller structures might benefit from horizontal cladding which tends to make the building appear larger than it is, whereas a larger structure may want to counteract its size by opting for vertical cladding. 
Benefits of horizontal cladding
Horizontal cladding is by far the most common of the two styles. Its traditional look can be seen in many buildings – both commercial and residential across Australia and beyond. Horizontal timber cladding is also known to be relatively cheaper to install.
While horizontal timber cladding is the safer design choice, that doesn't mean that you can't make a statement with the style. Horizontal exterior cladding can be used as a feature wall and mixed in with other materials for a modern, eclectic look. 
Benefits of vertical cladding
Vertical cladding is all about bringing height and intrigue to a project. Vertical cladding is commonly used in designer projects where a more unique appearance is sought after. Because vertical cladding is orientated in the same way as rainfall – it makes it the preferred option for areas that receive heavy rainfall – although don't worry if you're opting for horizontal cladding – when installed right both these styles are highly durable and water resistant. 
What about mixing both styles?
While not a common practice, there's no rule that says you need to stick with one or the other. Mixing both horizontal and vertical cladding styles can be a design choice that will make a unique statement in your home – or on a commercial project. Mixing up the materials can also be a way of providing contrast, and allowing your inner designer to flourish. If you want to speak about custom cladding solutions, the team here at Mortlock Timber are ready to assist you. 
Choose your materials wisely
No matter which style you choose, the type of timber you end up using will dictate the final look, and of course the level of durability. Australia's often harsh climate can be a formidable adversary to long-lasting timber structures, and picking the right timber species for your location is essential to ensure the longevity of your cladding. While timber should be the first consideration, it's also worth looking into what finishes would work best on your cladding material. Contact our team here at Mortlock timber for more information on which timber finishes will work best on your house or commercial build.
Whether you're after a classic timber weatherboard look or a modern interpretation, here are some popular choices for your wall cladding project:
Pacific teak
Western red cedar
Vacoa (Nordic Pine)
If you want to learn more about how these types of timber can enhance your timber cladding project, read about 5 of Australia's most stunning timber cladding options here.
Choose Mortlock Timber for your cladding needs
If you want to ensure the durability and stylistic integrity of your external walls, it's up to you to hire the experts. Here at Mortlock Timber, our cladding specialists are ready to assist you in choosing the right timber, and style and installing your cladding to the appropriate standards. With decades of experience doing just that, you can have confidence that your cladding project will be both aesthetically sound and durable over the long term. Contact our team today to launch your exterior cladding project today.
View our pricing and product guide
For in-depth information about the range of products we offer, please fill out the form below to download our Architectural Timber Pricing and Product Guide. Inside you will find illustrations, specifications, portfolio photo examples and a hardwood timber price guide to assist with budgeting.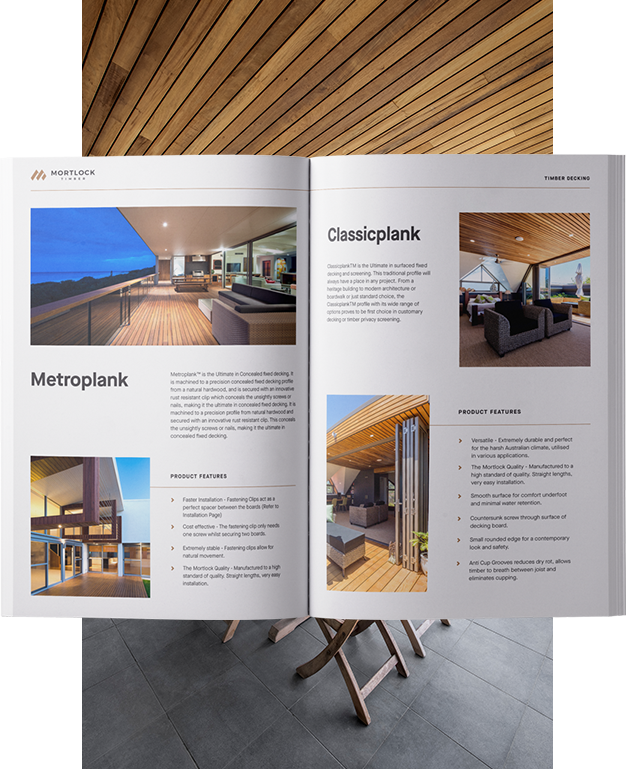 We are committed to bringing you timber products that add value and endure for years to come, even in heavy traffic and harsh weather conditions. We understand the value of efficiency when it comes to installation and keeping hardwood timber costs down. That's why we've spent decades perfecting our designs to make them easier to handle, less wasteful and more efficient to install. This efficiency allows us to offer you premier products that are more cost-effective so that you can experience greater savings on timber wall costs, timber ceiling costs, timber cladding costs and timber decking costs.
Download our Pricing and Product Guide for our complete hardwood timber price list including timber decking prices, timber wall prices, timber ceiling prices and timber cladding prices.