Article
Information
Learning Hub
Timber Ceilings
What is Fireshield Intumescent Timber coating?
When it comes to protecting interior timber surfaces from fire, Fireshield Intumescent Timber Coating is the go-to solution. Applied as the initial coat in a two-coat system, this specialised clear intumescent coating ensures robust fire resistance.  
Fireshield Intumescent Timber Coating is primarily used for commercial projects, requires strict handling and can only be applied by registered applicators. It cannot be used for applications exposed to the weather.   
In this blog we will be covering the following: 
Let's get into it.
What is Fireshield Intumescent Coating?
Fireshield Intumescent Timber coating is a waterborne intumescent basecoat that offers up to 60 minutes of fire resistance from cellulosic fires. This coating actively protects interior timber from fire with its non-combustible, water-based formula. This clear intumescent basecoat features a high-quality finish and utilizes thin film technology. 
Whether you are looking to achieve a group 1 or group 2 fire rating, this highly effective coating delivers exceptional results. Trust Fireshield Intumescent Timber Coating for superior fire protection on your interior timber projects.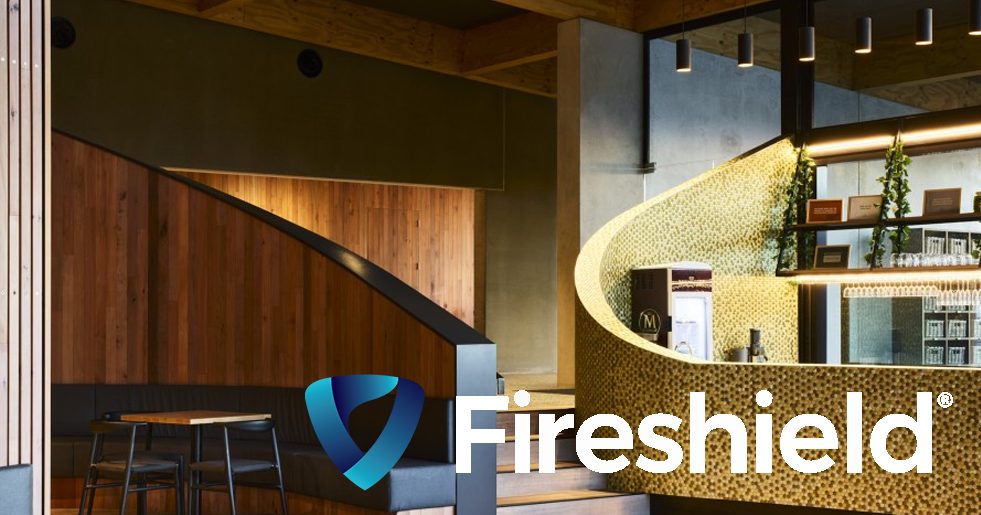 Where can you use Fireshield Intumescent Timber Coating?
Fireshield Intumescent Timber Coating must be exclusively applied to interior timber surfaces as the first coat in a two-coat system. This coating is not designed for external surfaces, joinery, doors, or window frames. This highly specialised clear intumescent coating is specifically intended for achieving group 1 or group 2 fire ratings when required.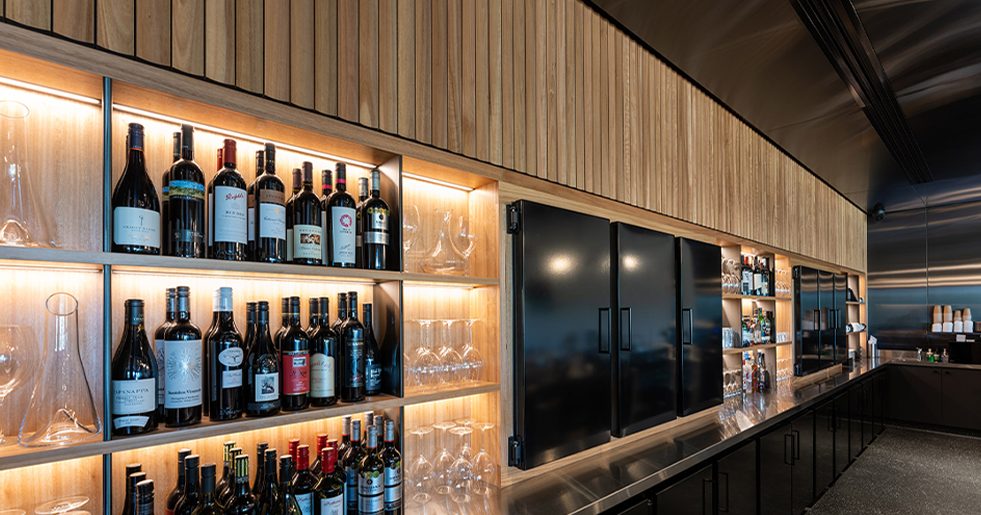 How apply Fireshield Intumescent Timber Coating
Applying Fireshield Intumescent Timber Coating requires careful adherence to the manufacturer's instructions and safety guidelines. The coating is typically sprayed onto the wood surface, forming a protective layer.  
As there is a strict application process, you must be an accredited applicator to apply this coating as correct coverage is required to ensure optimal fire resistance. Mortlock Timber is a certified registered factory applicator in Australia. 

To complete the overall fire protection coating system, a coat of Fireshield TimberClear Topcoat Matte or Semi-Gloss is applied after the initial coat of Fireshield TimberClear. 
If required, be sure to clean so that there is not any contaminant left on the surface as this will affect the visual appearance.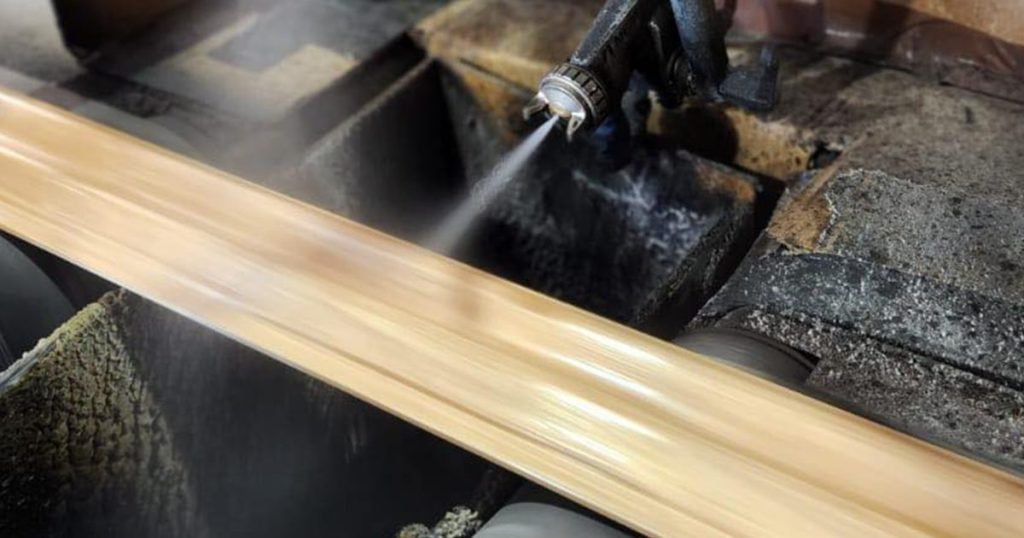 How to store and maintain Fireshield Intumescent Timber Coating 
Maintaining Fireshield Intumescent Timber Coating involves periodic inspections to check for any damage or wear. Any signs of cracks or deterioration should be addressed promptly, and the coating may need to be reapplied as per the manufacturer's recommendations to maintain its fire-resistant properties. 
The system can resist minor contact with moisture, impact and abrasion however, excessive wear or moisture contact may damage the system and if so, require inspection and remediation.
Fireshield timber intumescent systems do not require regular maintenance if undamaged. Once applied by an accredited applicator, the product is expected to pass inspection. However, if the treatment is incorrect or contact with products that negatively affect the coating occur, the product may fail inspection.
External factors such as grinding residue also impact the product and its protection properties. During the life cycle of the coating, the surface may need cleaning. It is important to avoid damaging the coating during cleaning or maintenance.  
Proper stacking and support should be employed to prevent warping, bending, or damage to the coated surfaces. 
Storage 
In the first few weeks after application, Fireshield is a sensitive product. Proper storage of timber coated in Fireshield intumescent coating is critical to maintain the effectiveness and integrity of the fire protection system.
The following must be adhered to by the applicator and/or the person receiving the product:
• The timber should be stored in a dry, well-ventilated environment to prevent moisture absorption.

• It is important to store the timber away from direct sunlight and extreme temperatures to avoid any
potential degradation or excessive heat exposure.
• Proper stacking and support must be implemented to prevent damage or warping to the coated timber.
• Timber coated with Fireshield should be separated by commercial-grade non-stick paper. If timber is stacked directly together, the timber can stick together causing damage to the coating.
If timber is left in packaging, the coating may 'sweat,' which will damage the coating and change its appearance. Please note that storage of Fireshield coated timber is at your own risk.
Neglecting to follow these guidelines may result in the coating reactivating, rendering it useless and failing to comply with a group surface rating.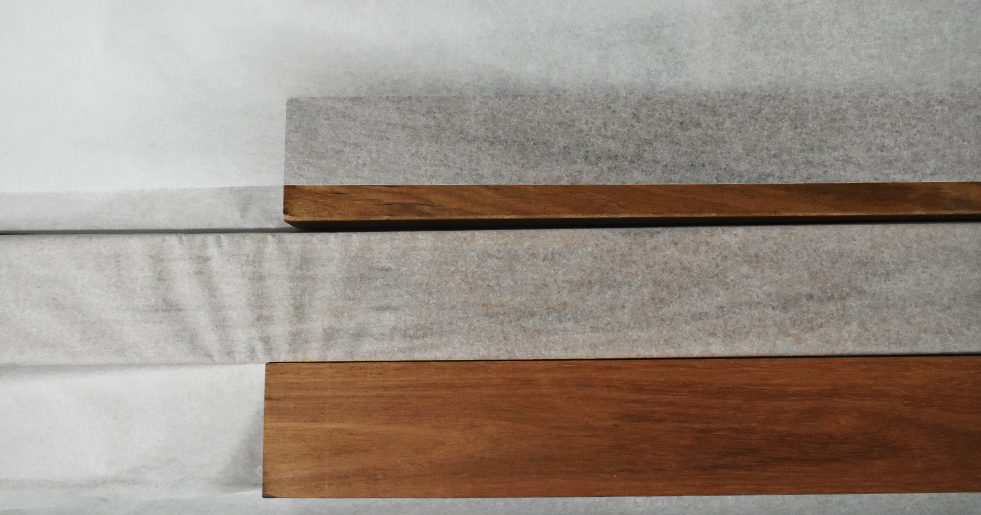 Mortlock Timber and Fireshield Intumescent Coating
Mortlock Timber offers a "just-in-time" delivery service by coating the timber only days prior to delivery to avoid product failure. This minimizes any variables that may affect the product and ensures that what clients order is in ready-to-use condition.
It is recommended to start installing Fireshield coated timber within 1 day of delivery. If your project has been delayed, we can delay the coating of your timber and deliver it a day or so before installation. Once the timber is installed, it will cure and harden completely.
Each piece of timber coated with Fireshield must be stamped to show that it has been coated by the accredited applicator.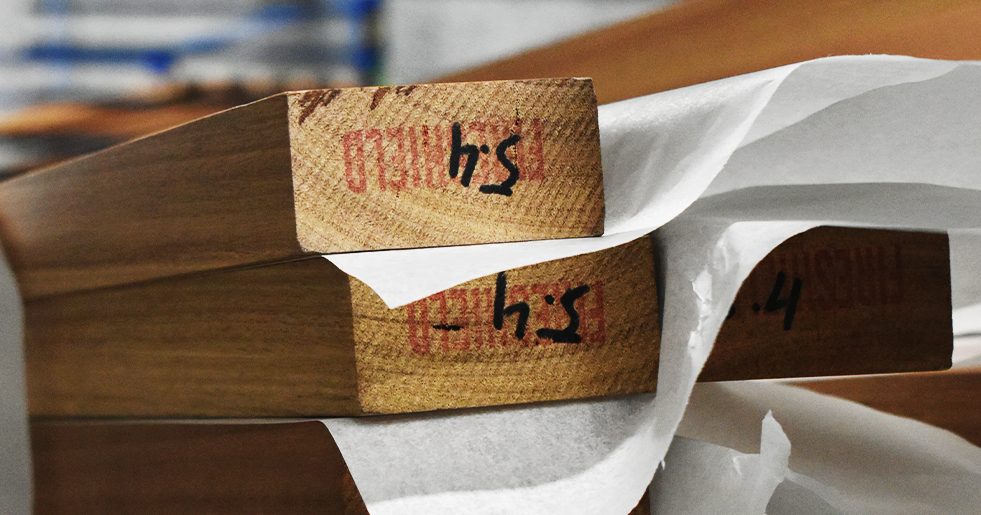 Pathway to compliance using Fireshield
In the NCC, coatings are not allowed to be used on timber for fire protection using the DEEMED TO SATISFY pathway C1.10 for surface ratings.
Australia is the only country in the world that has this rule, all coatings used on timber for fire protection are fully tested and certified for use globally.
To ensure complete compliance with regulations, we at Mortlock Timber rely on our Codemark and the performance pathway CP4 for your projects. The Codemark serves as evidence of compliance and all our test data has been reviewed and approved to make up the Codemark COC.

The Codemark is evidence of compliance and to get started, the Specifier/Architect should complete the simple 2.2.4 form for a Performance Solution, which fulfills the necessary paperwork for performance solutions. These forms can be easily issued to Specifiers for their convenience.

Both the 2.2.4 form and the Codemark should be submitted to the Certifier before purchasing the timber. Once approved, Mortlock Timber will proceed with processing your order.
If you have any questions about compliance or need assistance with the steps mentioned above, feel free to reach out to our team!
Fireshield Intumescent Timber Coating and His Majesty's Theatre 
The Perth Theatre Trust engaged TRCB architects to upgrade Perth's premier heritage theatre. The architects chose the Proplank system with the Fireshield coating to complement the existing interiors and meet the required group 1 fire rating.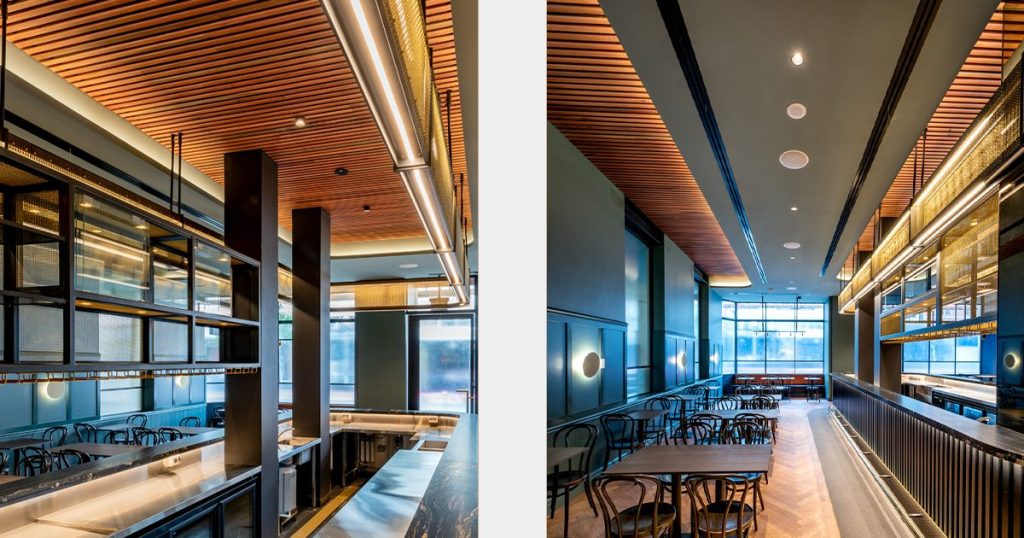 Your vision, our expertise.
At Mortlock Timber we are dedicated to:  
preserving the properties of the Fireshield protection.  
the timber's safety and integrity  
compliance with fire safety regulations. 
Finding the perfect timber and achieving the required group rating can be a challenge.  
We encourage you to consult with our experienced team to ensure that your project stands the test of time. 
To discuss your project, see pricing and receive samples, get in touch with us today! Call 1800 870 452 or request a quote.  
View our pricing and product guide
For in-depth information about the range of products we offer, please fill out the form below to download our Architectural Timber Pricing and Product Guide. Inside you will find illustrations, specifications, portfolio photo examples and a hardwood timber price guide to assist with budgeting.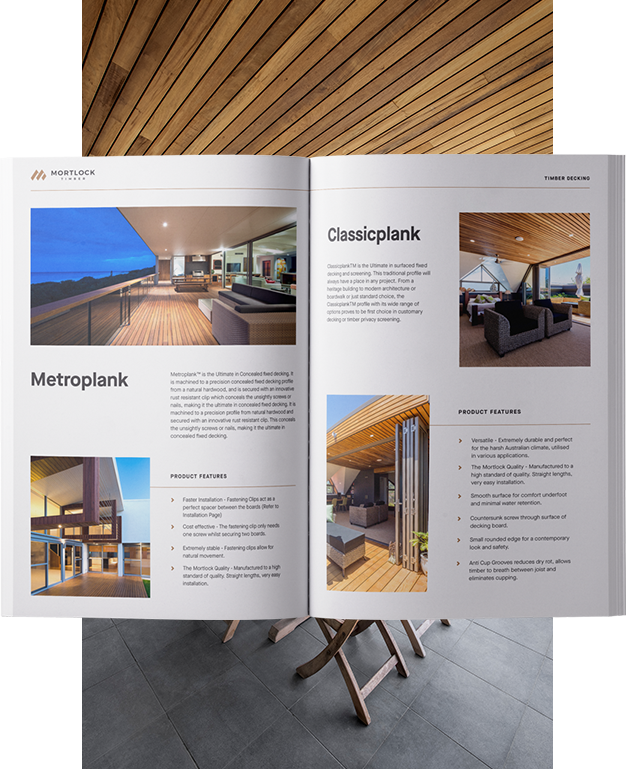 We are committed to bringing you timber products that add value and endure for years to come, even in heavy traffic and harsh weather conditions. We understand the value of efficiency when it comes to installation and keeping hardwood timber costs down. That's why we've spent decades perfecting our designs to make them easier to handle, less wasteful and more efficient to install. This efficiency allows us to offer you premier products that are more cost-effective so that you can experience greater savings on timber wall costs, timber ceiling costs, timber cladding costs and timber decking costs.
Download our Pricing and Product Guide for our complete hardwood timber price list including timber decking prices, timber wall prices, timber ceiling prices and timber cladding prices.