Design For Durability & Low Maintenence
Because of the maintenance associated with timber it's often not considered for commercial buildings, however there are a number of ways it can be included in commercial applications where little or no maintenance is required.
Weathered Timber
Weathered Timber when correctly detailed, will weather beautifully with its appearance varying dependent on the quantity of moisture on the surface. Maintaining weathered finishes requires minimal time and expense. It is important to note that weathering is a normal and healthy process in timber and should not be confused with the fungal decay which can sometimes be observed in timber cladding which has been incorrectly installed.
Some examples where weathered timber is used:
Boardwalks
Timber Screening
Timber Decking
Timber in low exposure areas
Using timber in visually-striking areas that are sheltered from exposure such as eaves and soffits are excellent examples of timber applied in an exterior application that will maximise aesthetics and minimise maintenance whilst . Timber sheltered from exposure requires no maintenance as its exposure to the elements that affects the maintenance regime require. Some areas and timber profiles that can be used are:
Satinplank Timber Lining – Often used for eaves, alfresco, feature walls and soffit lining.
Ultraplank Timber Flooring – Flooring can be used for walls and ceilings to.
Trendplank Timber Cladding – Used internally and externally.
Timber Batten – Often used for timber screening, ceiling lining battens
Mortlock Timber offers free design consultation, we advise to contact one of Mortlock Timbers consultants to discuss the details and the selection of material before specification.
View our pricing and product guide
For in-depth information about the range of products we offer, please fill out the form below to download our Architectural Timber Pricing and Product Guide. Inside you will find illustrations, specifications, portfolio photo examples and a hardwood timber price guide to assist with budgeting.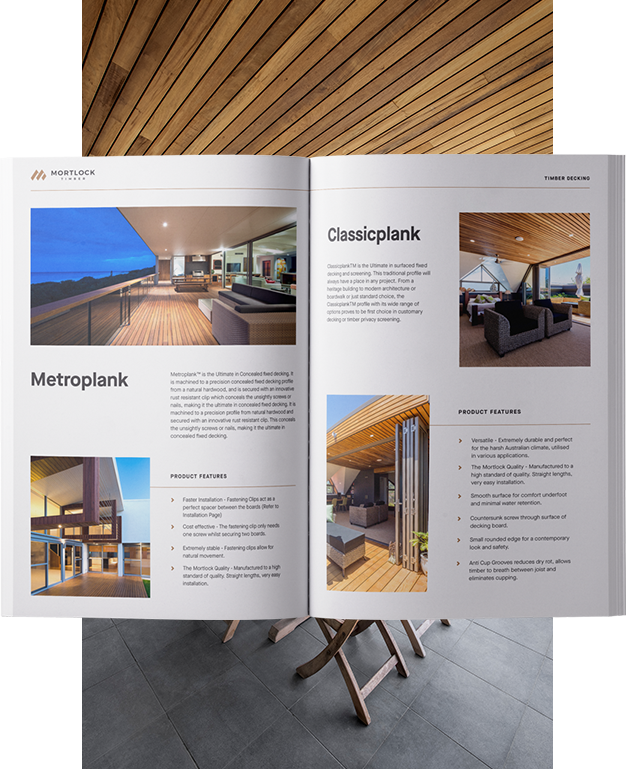 We are committed to bringing you timber products that add value and endure for years to come, even in heavy traffic and harsh weather conditions. We understand the value of efficiency when it comes to installation and keeping hardwood timber costs down. That's why we've spent decades perfecting our designs to make them easier to handle, less wasteful and more efficient to install. This efficiency allows us to offer you premier products that are more cost-effective so that you can experience greater savings on timber wall costs, timber ceiling costs, timber cladding costs and timber decking costs.
Download our Pricing and Product Guide for our complete hardwood timber price list including timber decking prices, timber wall prices, timber ceiling prices and timber cladding prices.